MURDER IN AN IRISH BOOKSHOP, by Carlene O'Connor, is the seventh book in the Irish Village Mysteries. While I haven't had the time to keep up with the entire series, I have read several. Without a doubt, each new book keeps getting better than the last… which is hard to do since I think they've all been terrific reads from the very first! Protagonist, Siobhán O'Sullivan, isn't your typical cozy mystery heroine either. Over the course of the series she's gone from an amateur sleuth trying to run her family's Irish restaurant (while raising her younger siblings after the untimely death of their parents), to becoming a professional garda, aka The Guardian of the Peace. It's been a particularly satisfying character arc to watch as Siobhán, along with the supporting characters, grows both personally and professionally. I had the good fortune to visit Ireland last year and I appreciate how Ms. O'Connor captures the setting of Ireland along with the words and mannerisms of the citizens. It made me feel like I was still there, experiencing the sights, sounds, smells, and tastes of this endearing country, especially as she portrays the small Irish village where Siobhán resides.
Ms. O'Connor sets up the mystery to capture the imagination of the reader and the intrigue starts from the very beginning. I was charmed by the new bookstore in town and how the owners showcase Irish writers. The author does an admirable job weaving several mentions of notable authors and their works into the plot without detracting from the pacing. When one of the visiting authors is murdered in the bookshop, surrounded by a group of people, Siobhán and her fiancé, Macdara Flannery find they have a complex mystery to solve. Ms. O'Connor's attention to detail and the multifaceted clues that were revealed as the story progressed, had me glued to the pages from the very start of the book until I'd read the last word. I can't wait for the next book in the series and the opportunity to be transported to the Emerald Isle for another captivating mystery!
Siobhán's family owns Naomi's Bistro in the village of Kilbane, Ireland. They serve up all sorts of mouthwatering dishes and treats and I was happy to see that Ms. O'Connor included a recipe at the back of her book for Eoin's Irish Stew. While my husband thought there could've been a larger meat to potato ratio, I appreciated the emphasis on vegetables instead of meat. Despite his wish for more beef (he was raised in the midwest after all), we both found Eoin's Irish Stew to be hearty and chock full of flavor. This warming bowl of stew is the perfect dinner for a chilly night or a simple reheat for a filling lunch the next day!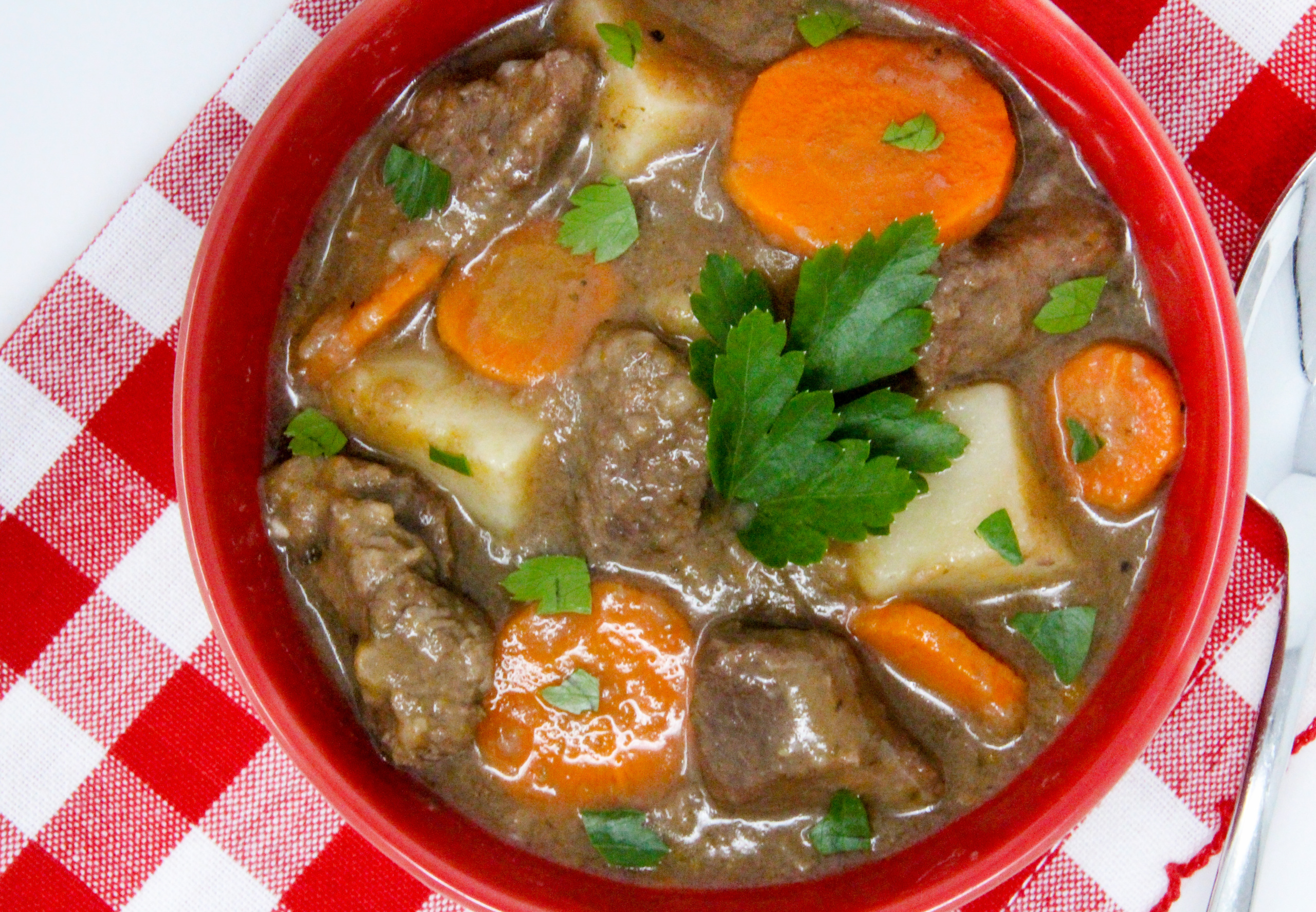 Amazon Synopsis
Between training the new town garda and trying to set a wedding date with her fiancé, Macdara Flannery, Siobhán O'Sullivan is feeling a bit overwhelmed. She's looking forward to visiting the new bookshop and curling up with an exciting novel—only to discover the shelves contain nothing but Literature with a capital L. The owner not only refuses to stock romances, mysteries, and science fiction, but won't even let customers enter his store unless they can quote James Joyce or Sean Hennessey.
Despite the owner deliberately limiting his clientele, he's hosting a reading and autographing event featuring up and coming Irish writers who will be taking up residency in Kilbane for a month. Among them is indie author Deirdre Walsh, who spends more time complaining about the unfairness of the publishing industry and megastar bestsellers instead of her own creative works, causing a heated debate among the writers. She seems to have a particular distaste for the novels of Nessa Lamb.
Then Deirdre's body is found the next day in the back of the store—with pages torn from Nessa's books stuffed in her mouth. Now, Siobhán must uncover which of Kilbane's literary guests took Deirdre's criticisms so personally they'd engage in foul play . . .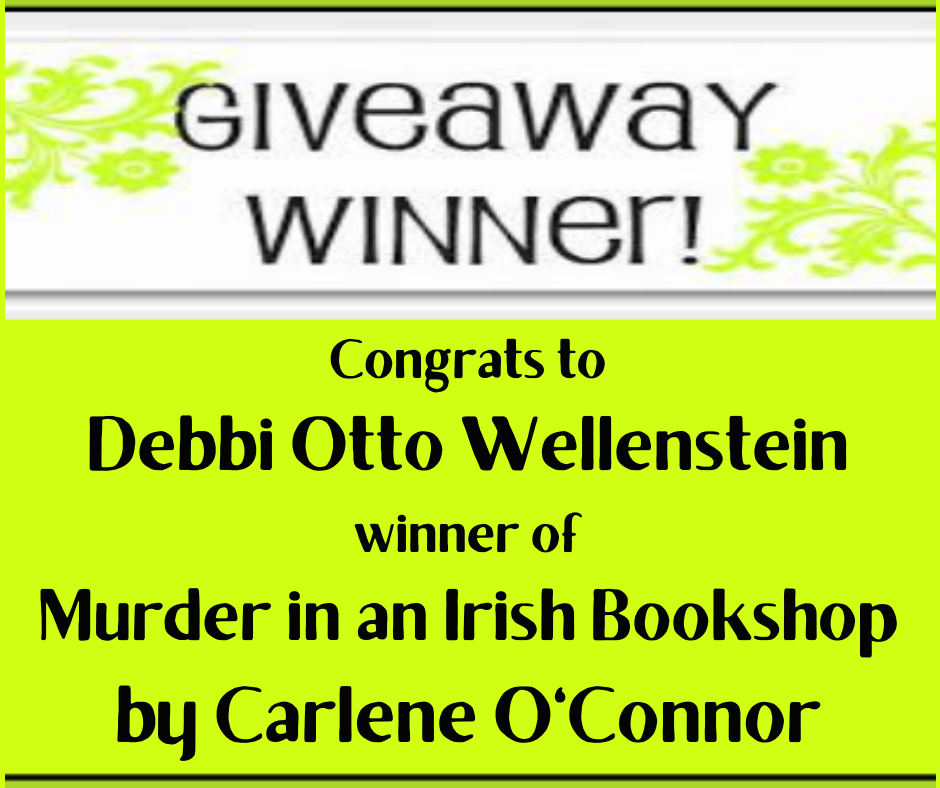 A special thanks to Carlene O'Connor for providing a winner with a print copy of MURDER IN AN IRISH BOOKSHOP.  Contest ends Sunday, March 14, 2021 at 11:59 pm PST and is limited to U.S. residents. Please use the Rafflecopter box located below to enter. The winner will be announced on this page and on Cinnamon & Sugar's Facebook page, as well as notified by email (so check your spam folder!)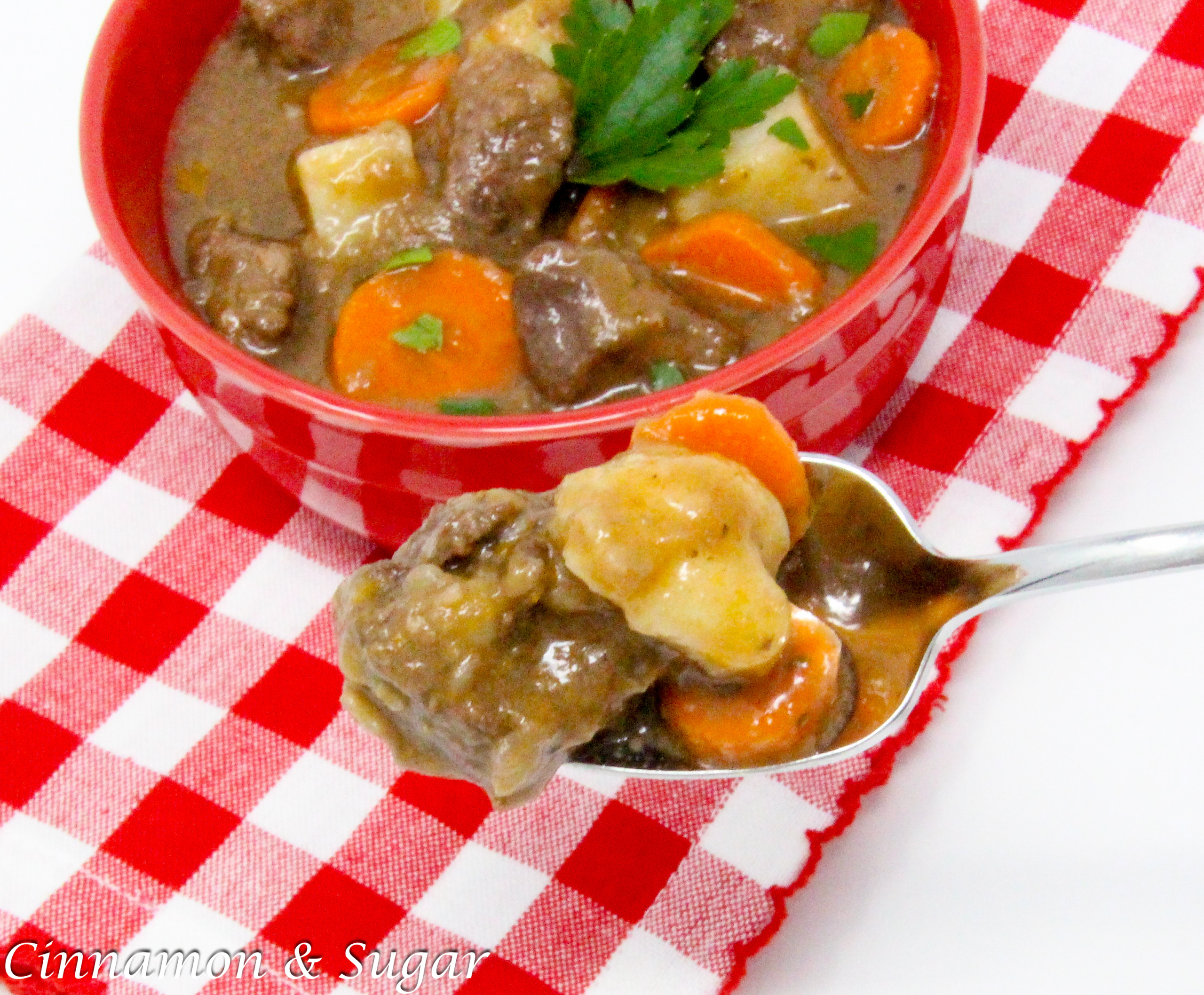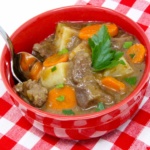 Eoin's Irish Stew
Ingredients
1-1/2

pounds

stewing beef - cut into chunks

1-1/2

ounces

(1/3 cup) flour

1/4

cup

oil (extra virgin olive or vegetable oil)

2

beef stock cubes dissolved in 1 pint of water

3

minced

garlic cloves

1

cup

Guinness Extra Stout

1

cup

heavy red wine

2

bay leaves

2

tablespoons

tomato paste

1

tablespoon

sugar

1

tablespoon

dried thyme

1

tablespoon

brown sauce (A1 Original Steak Sauce)

2

tablespoons

Irish butter

3

carrots and/or parsnips, chopped

1

onion, chopped

2 - 3

pounds

russet potatoes, peeled and cut into 1/2-inch pieces

Salt and pepper

2

tablespoons

fresh cut parsley
Instructions
Brown the beef:
Sprinkle salt and four on the beef pieces.

Heat the olive oil in thick-bottomed pot over medium-high heat. Cook beef in batches, browning meat on both sides.
Simmer:
Add garlic and saute, then add beef stock, Guinness, wine, tomato paste, thyme, sugar, brown sauce, and bay leaves. Stir to combine.

Lower heat and simmer for 1 hour, stirring a few times.
Add the vegetables:
In another pan, melt butter. Saute onions and carrots/parsnips until golden (approximately 15 minutes).

After stew has simmered for 1 hour, add the onion/carrot/parsnip/butter mix. Add potatoes.

Simmer for 40 minutes. Discard bay leaves and spoon off excess fat. Add salt and pepper to taste. Garnish with parsley.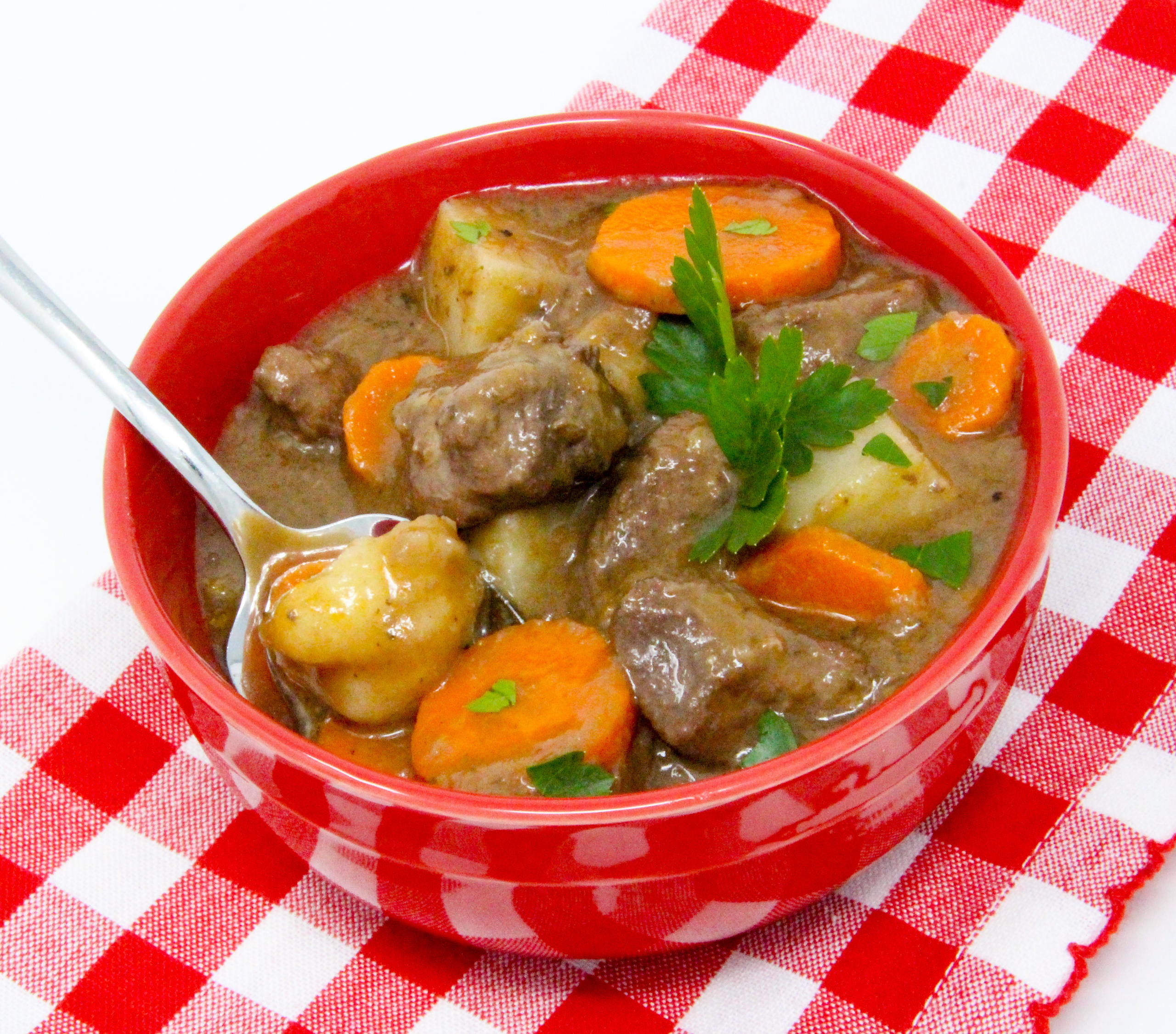 Pin to Pinerest: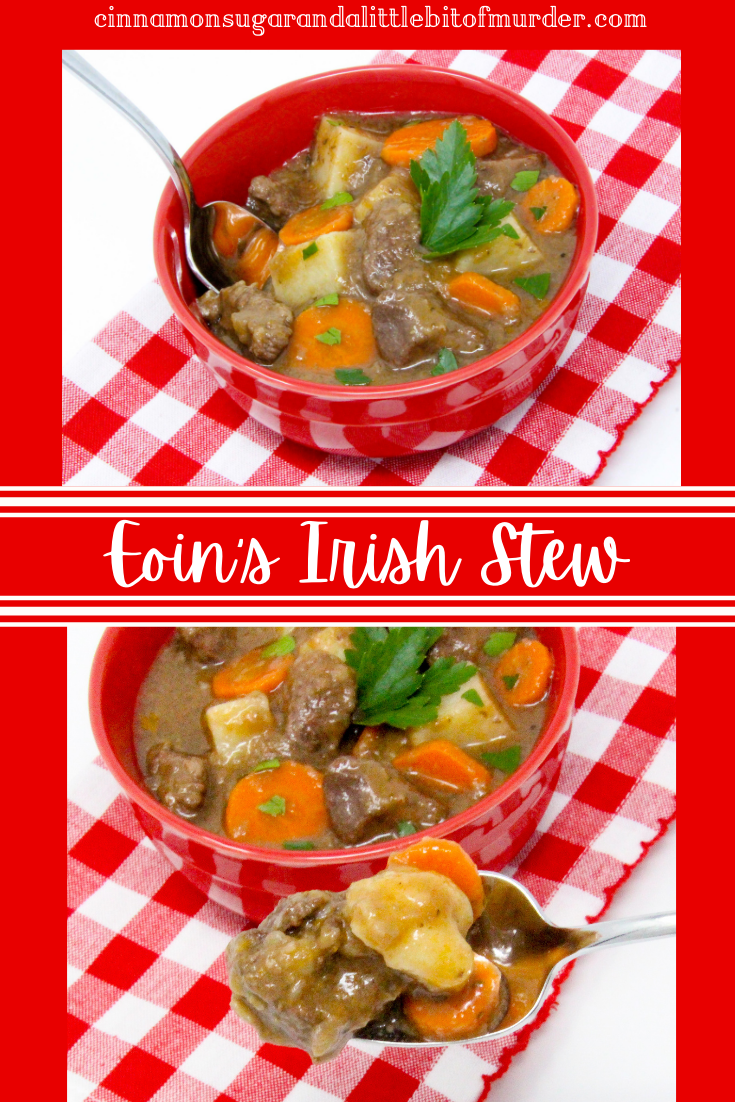 I was provided with an advance copy. All thoughts and opinions are my own.