FOUR LEAF CLEAVER is the eleventh book in the Country Store Mystery series by Maddie Day. Any mention of a cooking show competition as a plotline and I'm ready to dive right in. This newest release is centered around the filming of the "Holiday Hot-Off" competition at protagonist Robbie Jordan's country store restaurant, Pans 'N Pancakes. Adding to the appeal is the theme of Irish dishes using Irish stout as an ingredient. Ms. Day does an admirable job pulling the reader in from the very first with lots of action (be it running the restaurant, tending to customers, or investigating murders) to set a quick pace that kept me turning pages. As always, the characters are memorable, and more changes are hinted at. I'm especially happy to see that police lieutenant Buck Bird comes across more intelligently, despite his down-home sayings, which lend more depth to the investigation. It was also a pleasure having Robbie's new husband, Abe, more involved on the page this time. Their interaction adds a heartwarming feel to the story… and I loved how Abe's cooking skills earned him a spot in the competition.
When the producer is found murdered in Robbie's B & B before the competition has a chance to even start, Robbie gets pulled into the investigation. Could it be one of the contestants who had a grudge? Or one of the crew members? Or did one of the townsfolk have a run in with her? Robbie's methodical approach to sussing out clues and talking to people gives the reader plenty to mull over. With suspects aplenty, I was kept guessing until the suspenseful reveal. Ms. Day knows how to spin a tale to keep a reader engaged and this newest release adds a delightful Irish flair!
Maddie's husband, Abe, competes in the Holiday Hot-Off competition and showcases his Irish Steak and Stout Stew. With a focus on the steak, this is a hearty dish with meaty, rich flavors. It's pure comfort food for cold, chilly evenings! I made the recipe as written and my husband loved this stew with it's generous amount of steak. My personal preference would have been to add carrots, potatoes, and peas to the stew, so feel free to add extra veggies if you desire.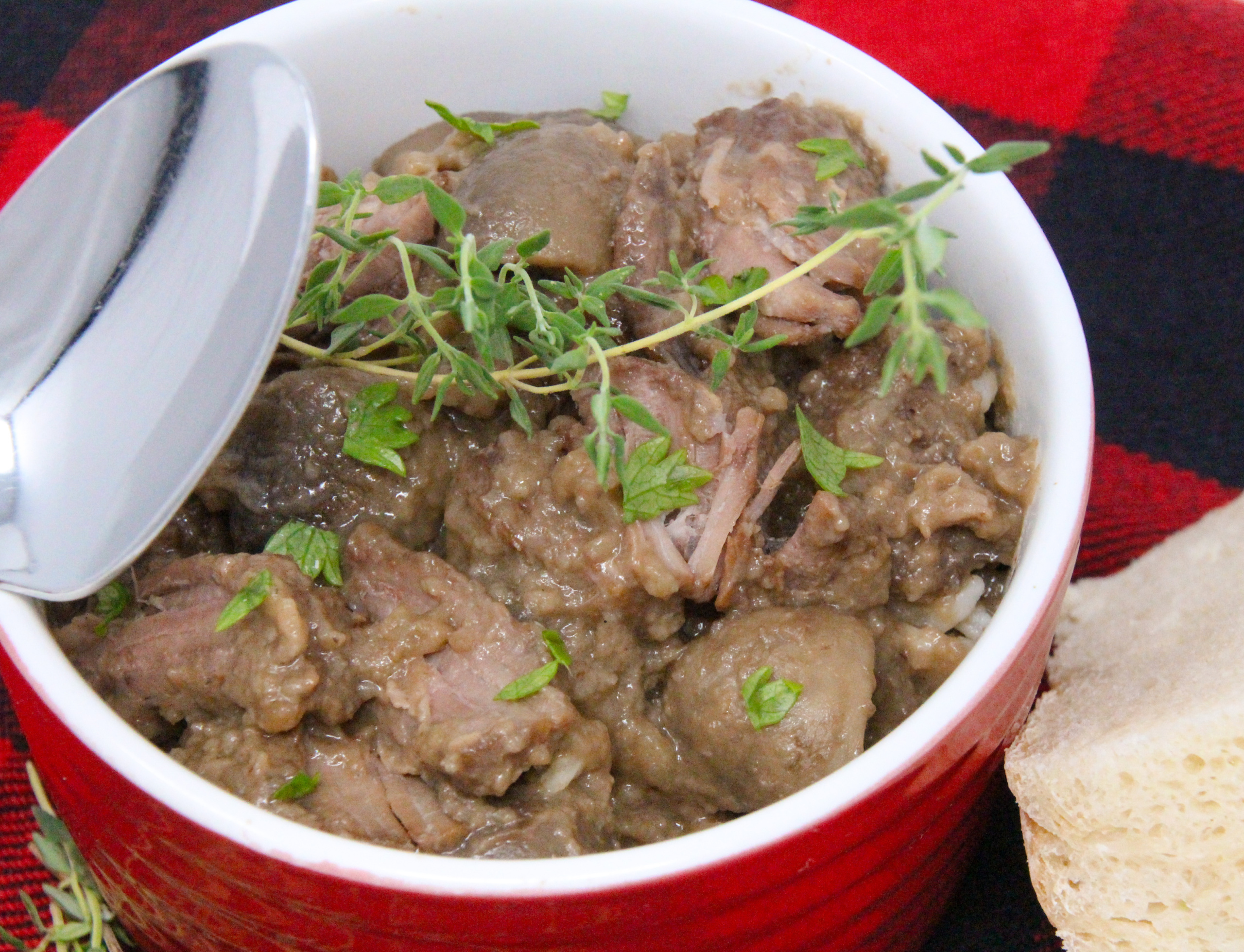 Amazon Synopsis
There's no mistaking Saint Patrick's Day at Pans 'N Pancakes. Robbie may only be Irish by marriage to Abe O'Neill, but the shelves of vintage cookware in her southern Indiana store are draped with glittery shamrocks and Kelly-green garlands and her restaurant is serving shepherd's pie and Guinness Beer brownies. The big event, however, is a televised cooking competition to be filmed on site.
Unfortunately, someone's luck has run out. Before the cameras start rolling, tough-as-nails producer Tara O'Hara Moore is found upstairs in her B&B room, bludgeoned apparently by the heavy hilt of a cleaver left by her side. Now, not only does Robbie have a store full of festive decorations, she's got a store full of suspects . . .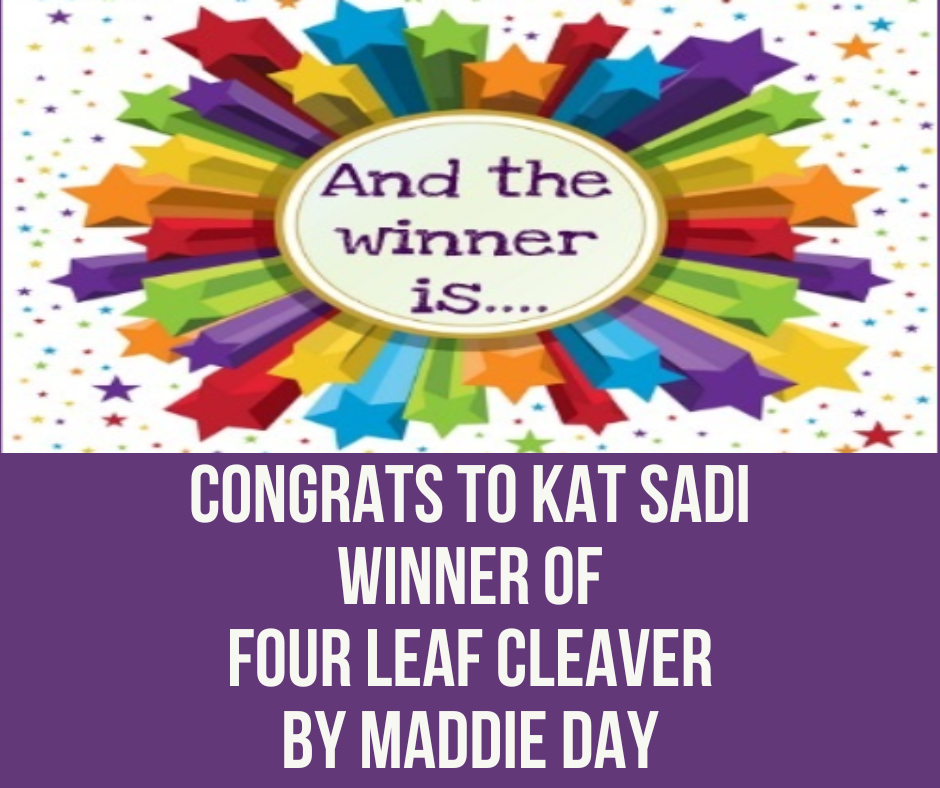 A special thanks to Maddie Day for providing a print copy of FOUR LEAF CLEAVER! Contest ends February 8, 2023 at 11:59 pm PST and is limited to U.S. residents only. Please use the Rafflecopter box located below to enter. The winner will be announced on this page and on Cinnamon & Sugar's Facebook page, as well as notified by email (so check your spam folder!)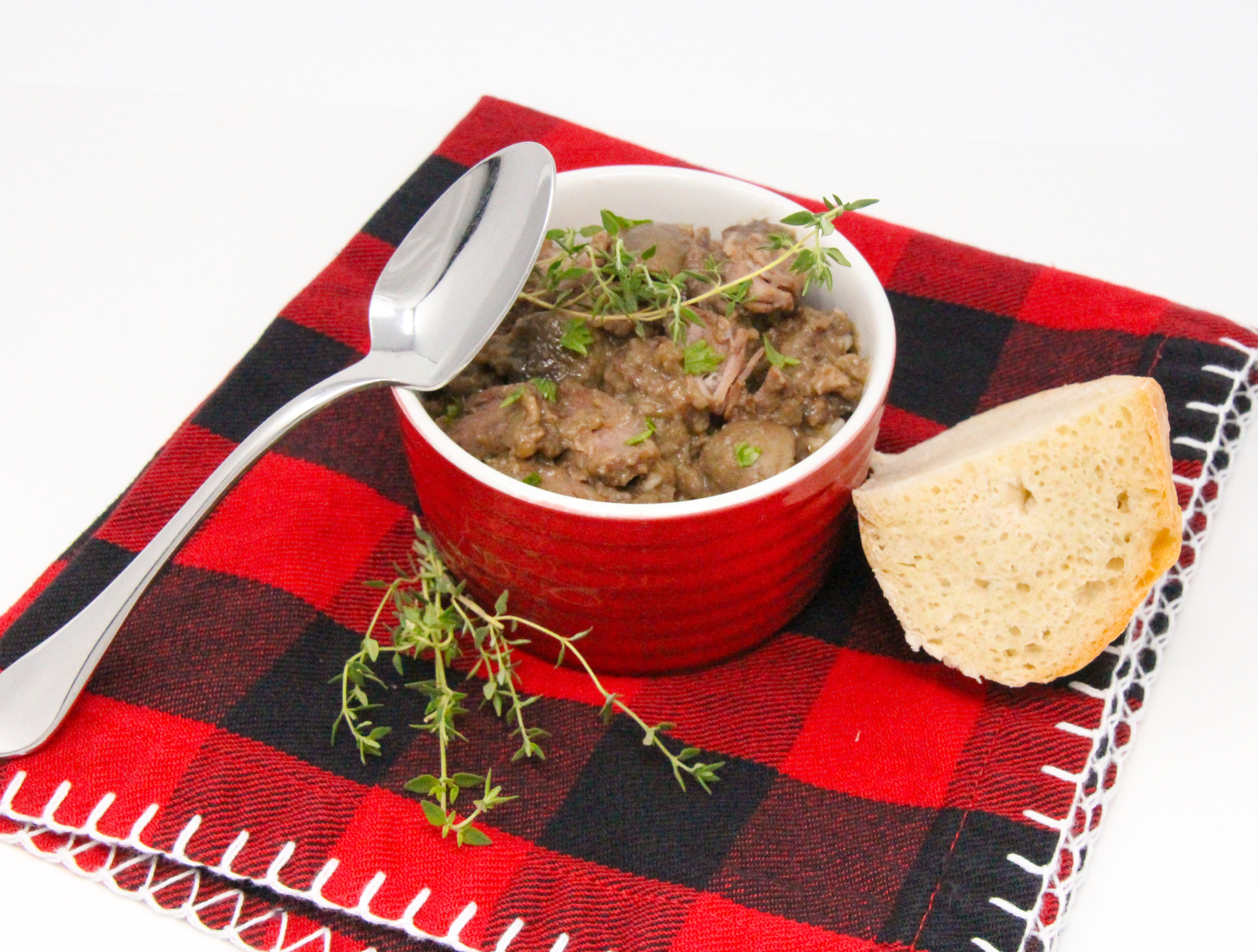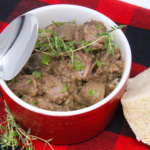 Abe's Irish Steak and Stout Stew
Abe learned to make this hearty stew from his grandfather O'Neill, who was born in County Cork.
Ingredients
2

pounds

chuck steak

3

tablespoons

all-purpose flour

1

teaspoon

salt

1/2

teaspoon

black pepper

5

tablespoons

oil, divided

1-1/4

cups

beef stock or broth

1

medium

onion, chopped

8

ounces

sliced mushrooms

1

tablespoon

tomato paste

3-4

sprigs

fresh thyme

1

cup

Irish stout
Instructions
Cut the chuck steak into 1-inch pieces removing as much visible fat as possible.

In a large bowl, combine the flour, salt, and pepper. Toss the meat with the flour mixture until each piece is thoroughly coated.

In a heavy skillet, heat 3 tablespoons of the oil over medium high heat. Cook the beef until browned on all sides. Work in batches and don't overcrowd the pan. Transfer the beef to a heavy Dutch oven as you work. When all the beef has been browned, drain off and discard any excess oil in the pan.

Add 1/4 cup of the beef broth or stock to deglaze the pan. Pour the deglazing liquid into the Dutch oven with the browned beef.

Heat the remaining 2 tablespoons of oil in the same skillet. Add the onion and mushrooms and cook 6 - 7 minutes or until light brown. Add to the Dutch oven with the beef.

Add the tomato paste, thyme, stout, and remaining beef broth or stock to the Dutch oven. Heat over medium high heat until the mixture comes to a boil. Reduce the heat and simmer gently with the lid slightly askew for 1-1/2 hours.

At the end of the cooking time, test the mixture for seasoning and add more salt if needed.
Cinnamon & Sugar's Note:
I made the recipe as written and my husband loved this hearty stew with the focus on steak. My personal preference would have been to add carrots, potatoes, and peas to the stew, so feel free to add extra veggies if you desire.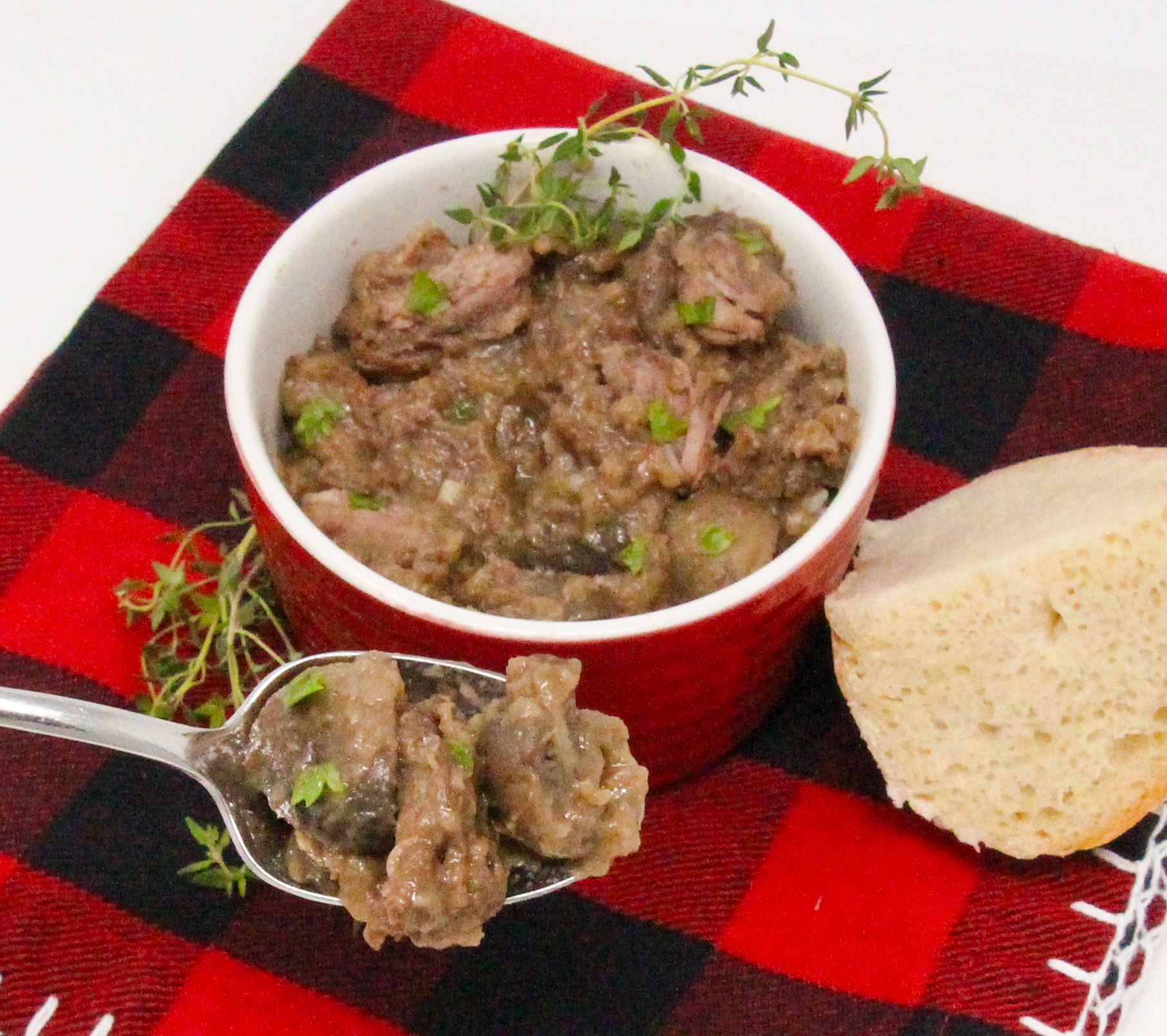 Pin to Pinterest:
I was provided with an advance copy. All thoughts and opinions are my own.