HERE COMES THE BODY, the first book in the brand new Catering Hall Mystery series by Maria DiRico (aka award-winning author Ellen Byron) combines the perfect balance of a clever mystery, zany characters, and witty humor. It captured my imagination and my attention so thoroughly, I didn't want to put it down until I'd read the very last word. As the daughter of a mobster (who's trying to go straight), protagonist Mia Carina has developed a very strong personality and has what it takes to meet life head-on and then move on (like being a person of interest in her cheating husband's disappearance). The smart-alecky responses to situations Mia finds herself in, provides plenty of laugh out loud moments, while heart-felt scenes concerning her missing parakeet brings an emotional depth to the story. I greatly enjoyed that the author embraces the vibes of Queens, New York, instead of focusing on the typical pretentiousness of Manhattan. The way she weaves the comparisons into the story provides another layer of humor.
The author's descriptive voice makes the setting come alive so I felt like I was visiting the Astoria neighborhood as she captures the flavors of the Italian and Greek residents. And oh what fun those senior neighborhood women are! Heading up the "Army" is Mia's elderly Italian grandmother, Elisabetta. She and her friends add another dimension of humor to the story. Don't think for a moment that since the story is filled with humor and entertaining characters, that the mystery has been overlooked. It hasn't in the least. HERE COMES THE BODY is well-plotted with sub-plots that intertwine with the main murder mystery, and plenty of shady characters to keep the reader guessing. Ms. DiRico touches on crime themes that many cozy mysteries might shy away from. It has a bit of an edgier feel than a typical "English Village" cozy, yet she makes it work beautifully and I am eager to read future books in this new series!
Mia's grandmother, along with the other elderly women in the neighborhood, are all great cooks. There is always an offer (or push) to eat with them and lots of yummy dishes mentioned in the book. Ms. DiRico provides a few recipes at the back of the book and I was drawn to the recipe for Farina Greek Cake. With the addition of a honey and orange zest syrup soaked into the baked cake, I was sure this cake had to be moist, flavorful and delicious… and I was right! I did have to utilize Google to find out what Farina is and much to my surprise, it's Cream of Wheat… which makes this a pantry staple type of dessert. Easy to make, the honey syrup adds a lovely flavor and texture to this dense-style cake. It also made it possible to eat over several days without the cake getting stale. A dollop of whipped cream and a few sprinkles of pistachios for garnish, Farina Greek Cake is a sweet ending to any supper.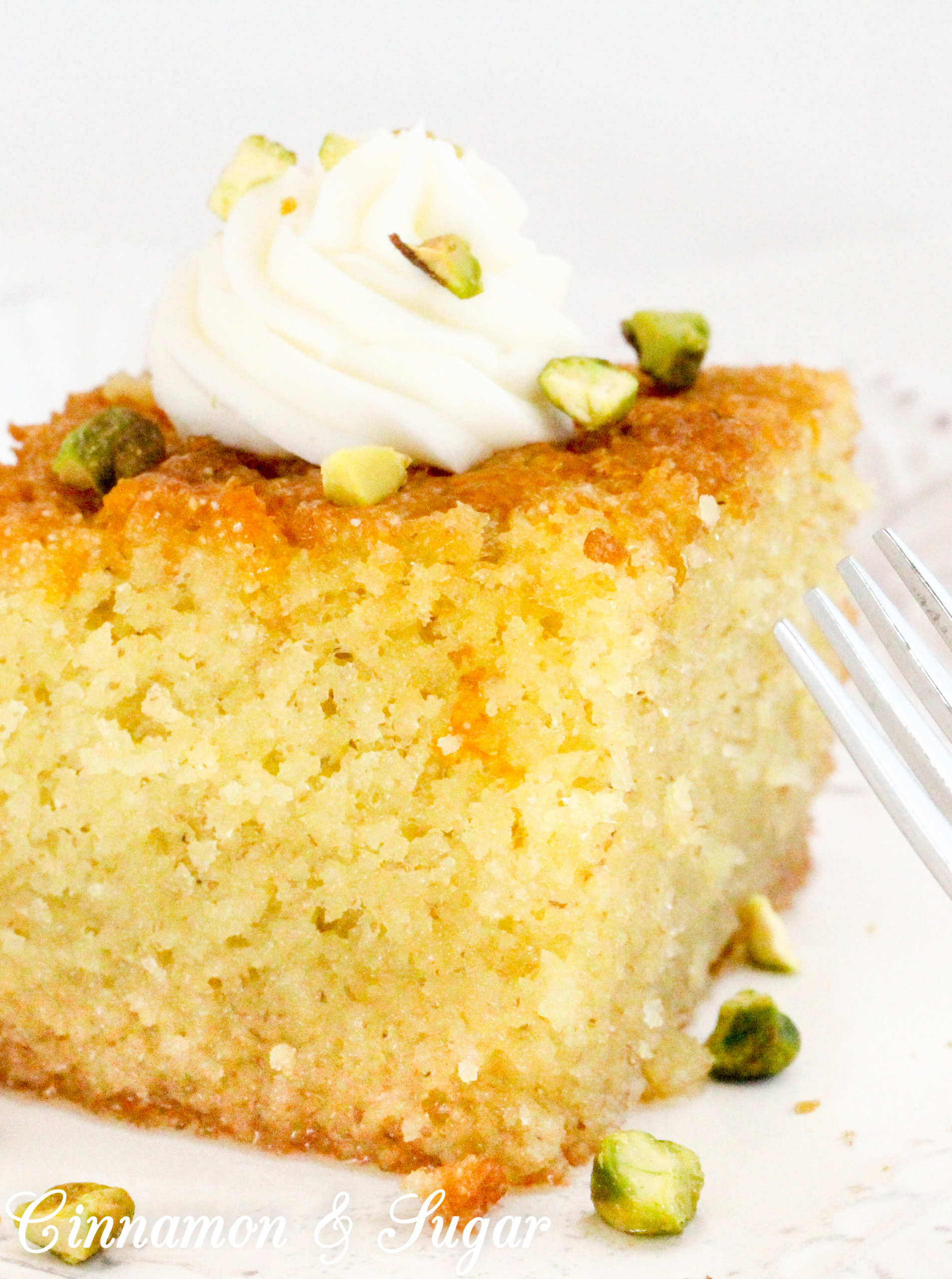 Amazon Synopsis
After her philandering husband's boat went down, newly single Mia Carina went back to Astoria, the bustling Queens neighborhood of her youth. Living with her nonna and her oversized cat, Doorstop, she's got a whole new life—including some amateur sleuthing . . .

Mia is starting work at Belle View, her father's catering hall, a popular spot for weddings, office parties, and more—despite the planes that occasionally roar overhead on their way to LaGuardia and rattle the crystal chandelier. Soon she's planning a bachelor party for a less-than-gentlemanly groom. But it goes awry when the gigantic cake is wheeled in and a deadly surprise is revealed . . .
Since some of her family's associates are on the shady side, the NYPD wastes no time in casting suspicion on Mia's father. Now, Mia's going to have to use all her street smarts to keep him out of Rikers Island . . .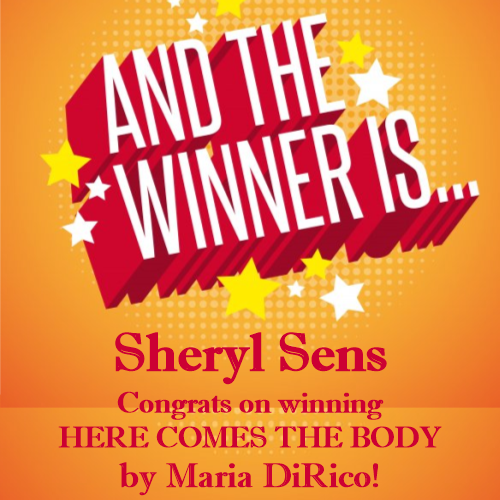 A special thanks to Maria DiRico for providing one winner with a print copy of HERE COMES THE BODY. Contest ends Sunday, March 8, 2020 at 11:59 pm PST and is limited to U.S. residents. Please use the Rafflecopter box located below to enter. The winner will be announced on this page and on Cinnamon & Sugar's Facebook page, as well as notified by email (so check your spam folder!)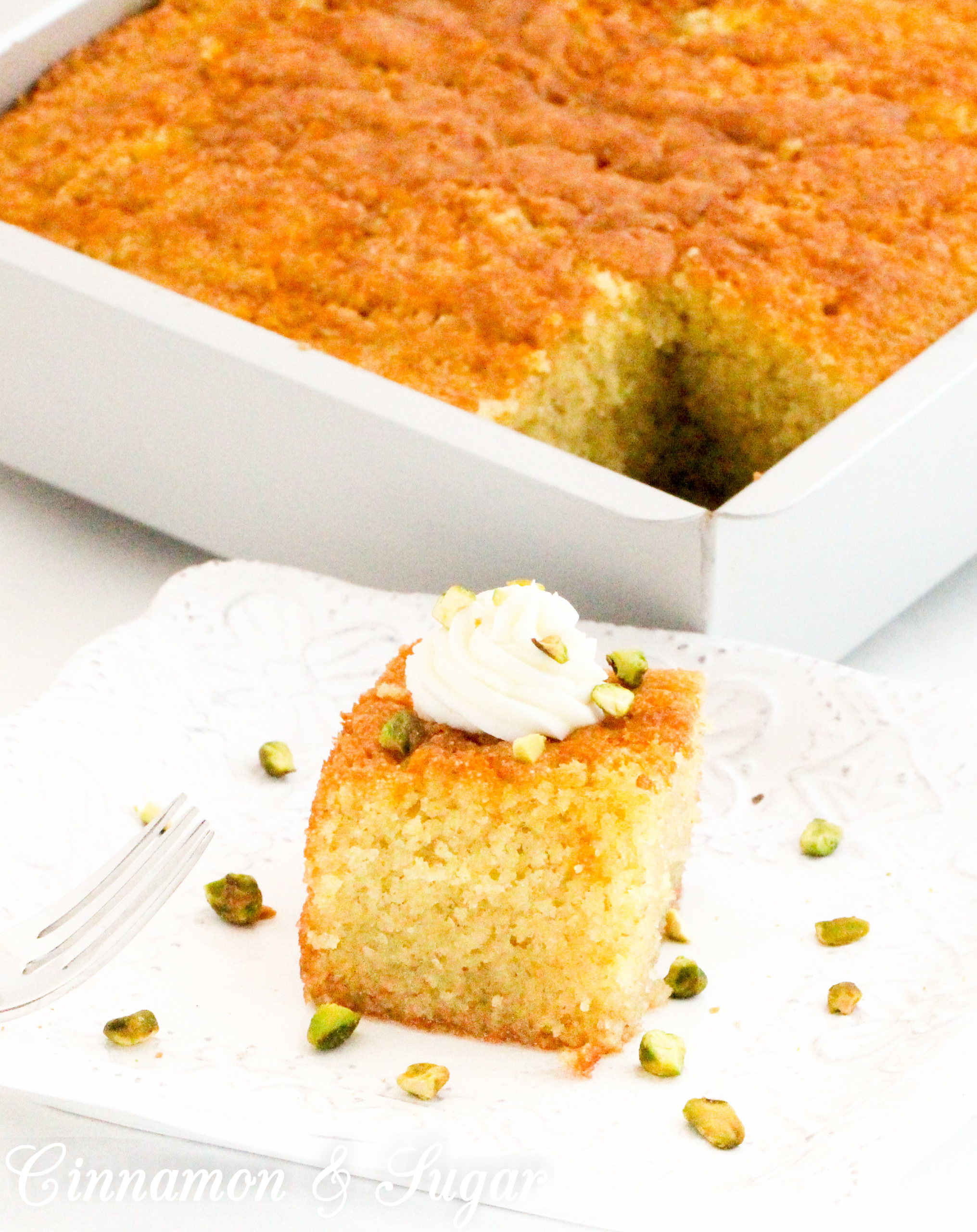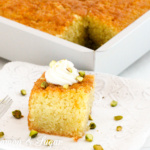 Greek Farina Cake
Ingredients
Ingredients for the Cake
1

cup

flour

1/4

teaspoon

salt

1

tablespoon

double-acting baking powder

1

cup

(2 sticks) unsalted butter, softened

1

cup

sugar

6

eggs

3/4

cup

regular, uncooked farina
Ingredients for the Syrup
2

cups

water

2

cups

sugar

1-1/2

teaspoons

vanilla

1

teaspoon

orange zest

1/4

cup

honey
Optional
Whipped cream

Crushed pistachio nuts
Instructions
Instructions for the Cake
Preheat oven to 350 degrees (F).

In a medium bowl, combine flour, salt, and baking powder. Set aside.

Cream the butter with an electric mixer. Slowly add the sugar, then add the eggs one at a time at slow speed, making sure to beat well after adding each egg.

While running the mixer on medium speed, slowly add the flour mixture, and then the farina. Mix well until all the ingredients are thoroughly combined.

Pour batter into an 8" x 8" baking pan and bake for 35 - 40 minutes, until a toothpick inserted to test it comes out clean.
Instructions for the Syrup
While the cake is baking, combine the water, sugar, vanilla, orange zest, and honey in a heavy saucepan. Bring to a boil and then reduce to a simmer. You can simmer it for the duration of the cake's baking time. If you turn the heat off, make sure to heat up the syrup again before using to finish the cake.
Instructions for Finishing the Cake
While the cake is hot, poke about a dozen holes in it. Ladle the hot syrup onto the cake, waiting for one ladle of syrup to absorb before adding another. (You can use all the syrup or half of it, saving the other half for future use.

When the cake has cooled completely, cut it into sixteen squares. As an option, you can add a spoonful of whipped cream to each piece and sprinkle with pistachio nuts.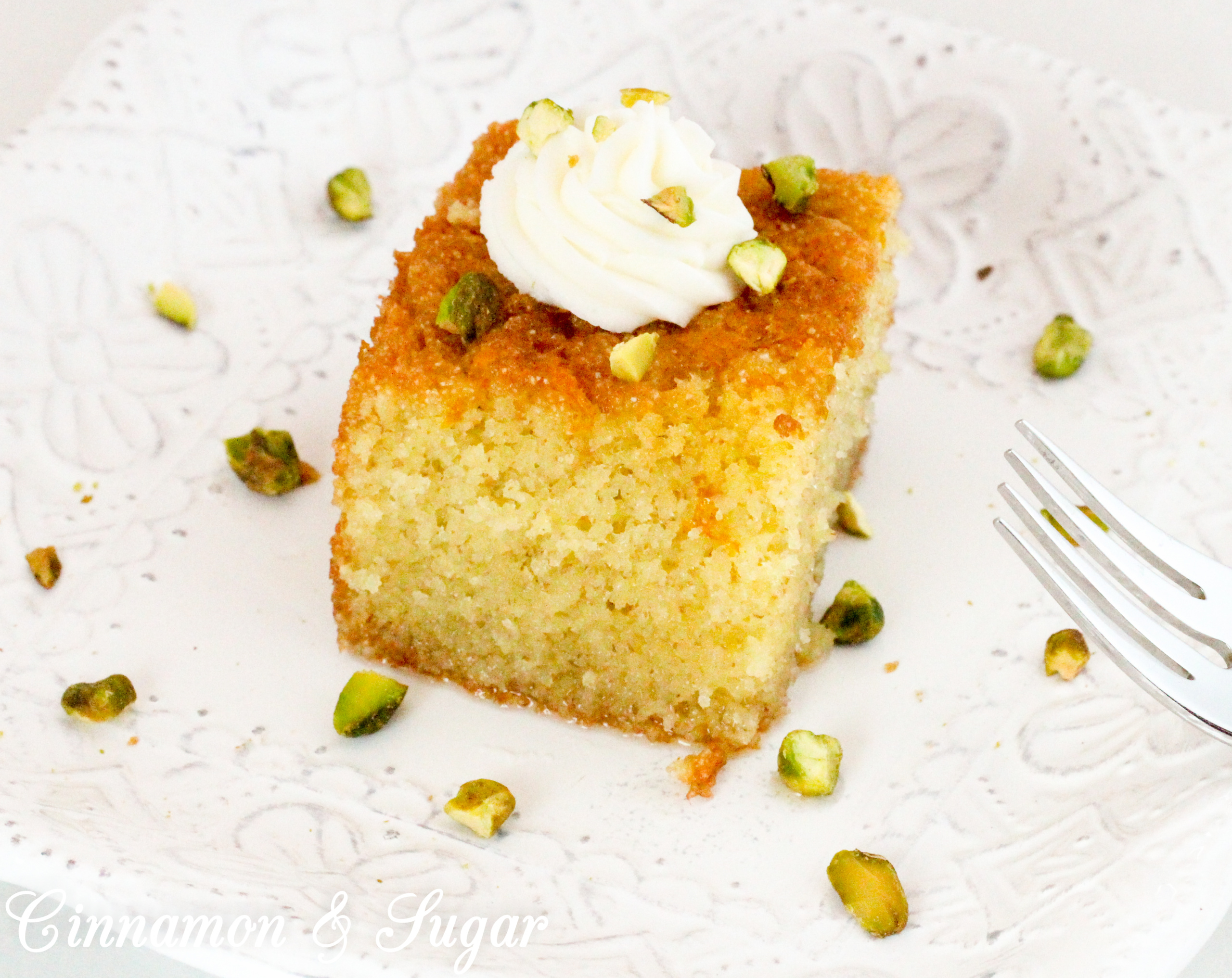 Pin to Pinterest:
If you receive my blog post via email you will need to visit my website to view the video.
I was provided an advance copy. All thoughts and opinions are my own.