I've been a long-time fan of The Callie's Kitchen Mystery Series by Jenny Kales! Featuring Greek-American Calliope Costas, this feisty food business owner and amateur sleuth lives in a scenic Wisconsin town with colorful characters — and a high murder rate. Ms. Kales provides several yummy recipes at the back of each of her cozy mysteries and I was thrilled when I found that she had compiled and then added numerous recipes to create The Callie's Kitchen Mysteries Cookbook! 
Full of mouth-watering dishes, Ms. Kales includes a full range of dishes from Appetizers, Beverages, Salads and Sides, Soups and Stews, Main Dishes, and of course my favorite, Sweet Treats! I appreciate that the index recipe list links to the actual recipe page, which saves time from having to scroll through to find the right spot. I also love that Ms. Kales starts each recipe with a blurb, alerting the reader to either that it's a new recipe or which book the recipe was featured in. She also gives some fun tidbits about the storyline in her books or insight into the recipe. It provides added entertainment when browsing for a new recipe to try out. The hardest part when reading through Callie's Kitchen Mysteries Cookbook? Trying to narrow down which recipe I want to try first since I want to make them all!
I've had the opportunity to make several dessert dishes from her four mystery books, and each of them are amazingly delicious. I'm re-sharing Ms. Kale's recipe for Chai Spice Cake because it's super yummy, looks festive, and isn't too difficult to make. Plus I really like that the recipe includes using individual spices to create the chai mix instead of having to track down and buy a specialty spice. Included is a yummy cream cheese glaze for the Chai Spice Cake, but if pressed for time I think a sprinkling of confectioners' sugar would be a simple alternative. I've made this cake a few times and always receive huge compliments on it!
Amazon Synopsis
You're invited to Callie's Kitchen, where Greek food meets Midwest comfort cooking…
The Callie's Kitchen Mysteries Cookbook is filled with Mediterranean-meets-Midwest comfort food recipes! You'll find every delicious recipe from each one of the books in the popular culinary cozy mystery series, plus many new bonus recipes. Also included are book excerpts, brand-new scenes, family lore and kitchen tips from Callie "Calliope" Costas herself, Greek-American foodie, business owner and amateur sleuth.
Now you can share Callie's Greek specialties with your family and friends, including:
George's Spanakopita (Spinach-Feta Pie with Phyllo)
Kourabiethes (Greek snowball cookies)
New Year's Meat-Leek Pie with Phyllo
Zucchini Fritters with Greek Yogurt Sauce
My Big (Low) Fat Greek Salad
You'll also find Callie's Midwestern favorites, such as:
Wisconsin Supper Club Cheese Spread
Callie's Sour Cherry Pie
Pumpkin Spice Scones
If you've ever wanted to visit Callie's fictional Wisconsin eatery, this cookbook is the next best thing. Bring the scrumptious flavors of Callie's Kitchen right into your own home by ordering today!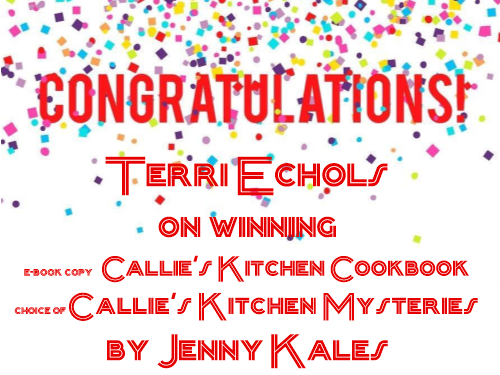 A special thanks to Jenny Kales for providing one winner with an e-book copy of Callie's Kitchen Cookbook PLUS your e-book choice of one of Callie's Kitchen Mysteries listed below! Contest ends Friday, February 21, 2020 at 11:59 pm PST. Please use the Rafflecopter box located below to enter. The winner will be announced on this page and on Cinnamon & Sugar's Facebook page, as well as notified by email (so check your spam folder!)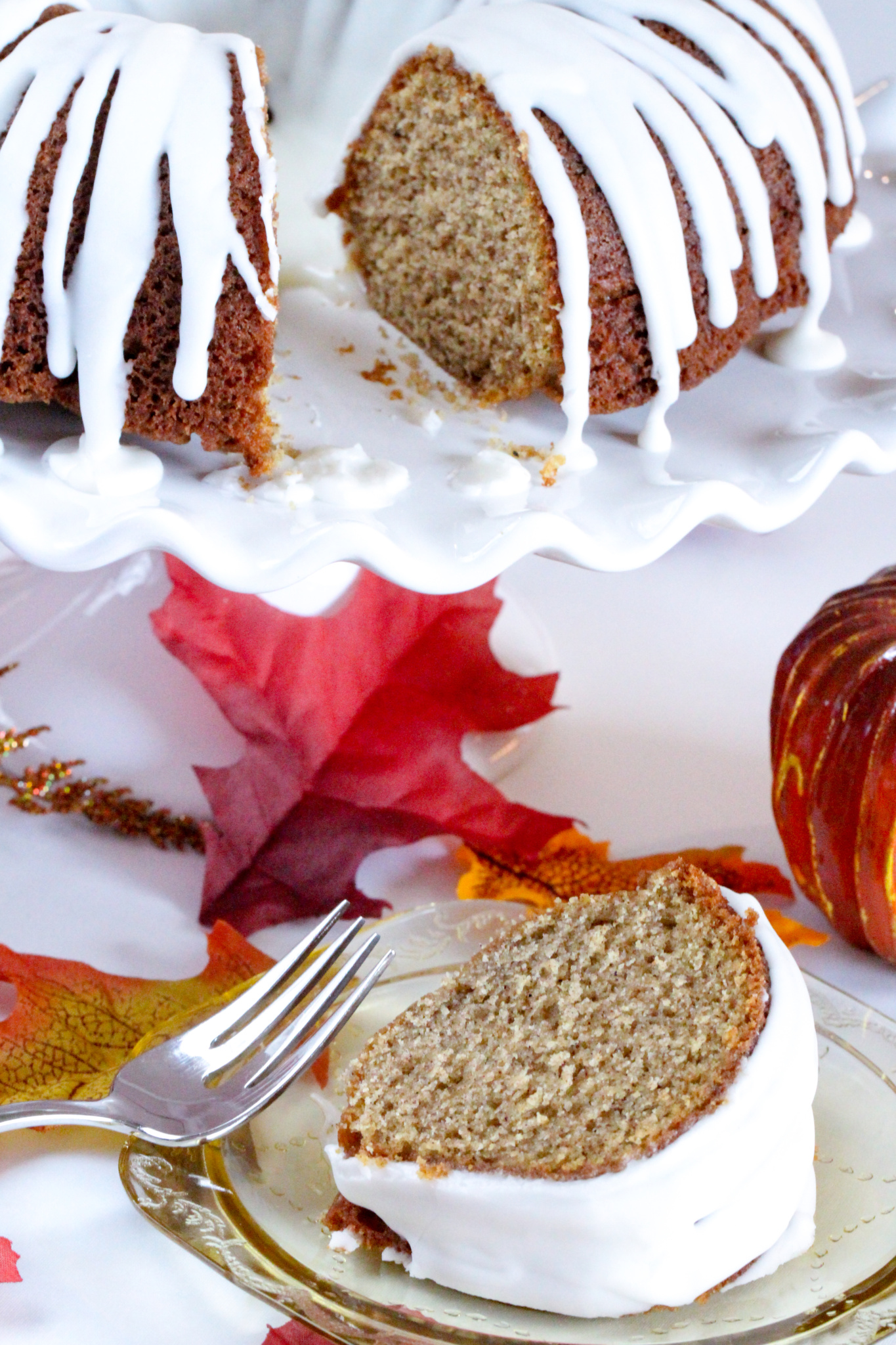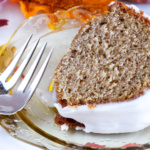 Chai Spice Cake
Bring out your best Bundt pan for this one and you will have one impressive cake to share at a fall gathering or the holidays. I use my Vintage Star Bundt pan for this, but any Bundt or tube pan will work. With its warm blend of spices, this cake could even grace the table at a special brunch. An easy glaze recipe is included, but you could also dust this cake with powdered sugar for a simple decoration. Either way, this cake is full of scrumptious flavor.
Ingredients
Cake:
2

cups

all-purpose flour

1

teaspoon

baking powder

1

teaspoon

baking soda

Pinch

salt

1/2

cup

unsalted butter, softened

4

tablespoons

cream cheese, softened

2

eggs

1

cup

sugar

1

cup

sour cream

1

teaspoon

vanilla extract
Chai spice mix:
1-1/2

teaspoons

ground cinnamon

3/4

teaspoon

ground ginger

1

teaspoon

ground cardamom

1/2

teaspoon

ground cloves

1/4

teaspoon

ground nutmeg

Pinch

finely ground black pepper
Cream Cheese Glaze:
1

tablespoon

very soft cream cheese

1

cup

powdered sugar

1 - 2

tablespoons

milk

1

teaspoon

vanilla extract
Instructions
Cake
Preheat oven to 350 degrees (F).

Spray a Bundt pan or tube pan with Pam baking spray (with flour).

Mix flour, baking powder, baking soda, salt and chai spice in a medium bowl. Set aside.

Beat butter and cream cheese with sugar until very light and fluffy, about 5 minutes.

Add eggs, one at a time, beating until blended.

Add flour mixture in thirds, alternating with sour cream. Do not overbeat.

Add the vanilla extract and mix until just blended.

Pour batter into Bundt pan and smooth the top. Bake for 38-40 minutes. Check for doneness by testing the center with a toothpick; it should come out clean. Be careful not to overbake.

Cool in pan for 10 minutes before unmolding to cool completely on a wire rack. Let cool a little longer before slicing the cake. It is best served warm.
Cream Cheese Glaze:
Whisk ingredients together until the glaze is smooth and pourable. Add a little more milk if the mixture is too stiff. Drizzle over top of cake.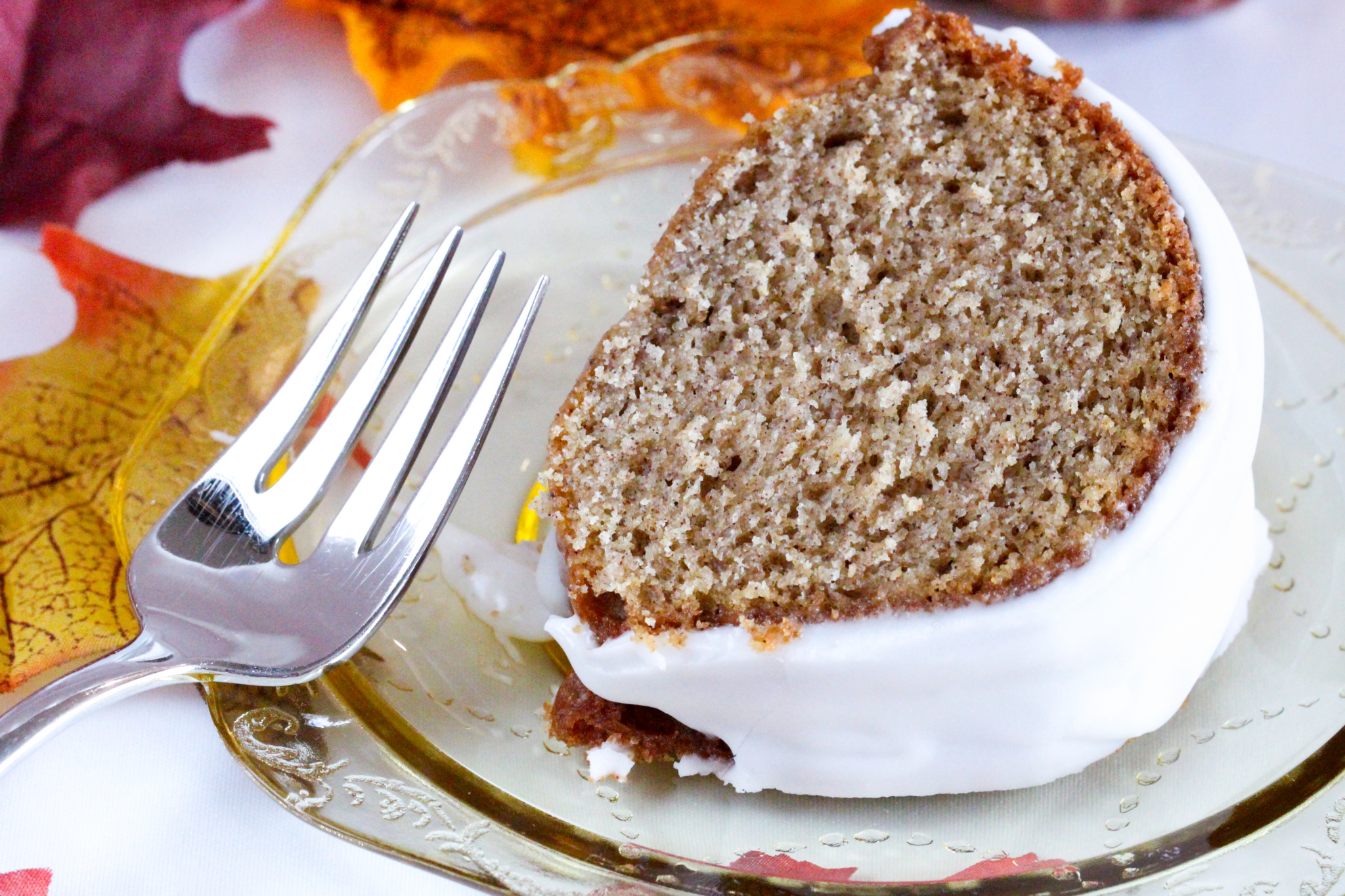 Pin to Pinterest: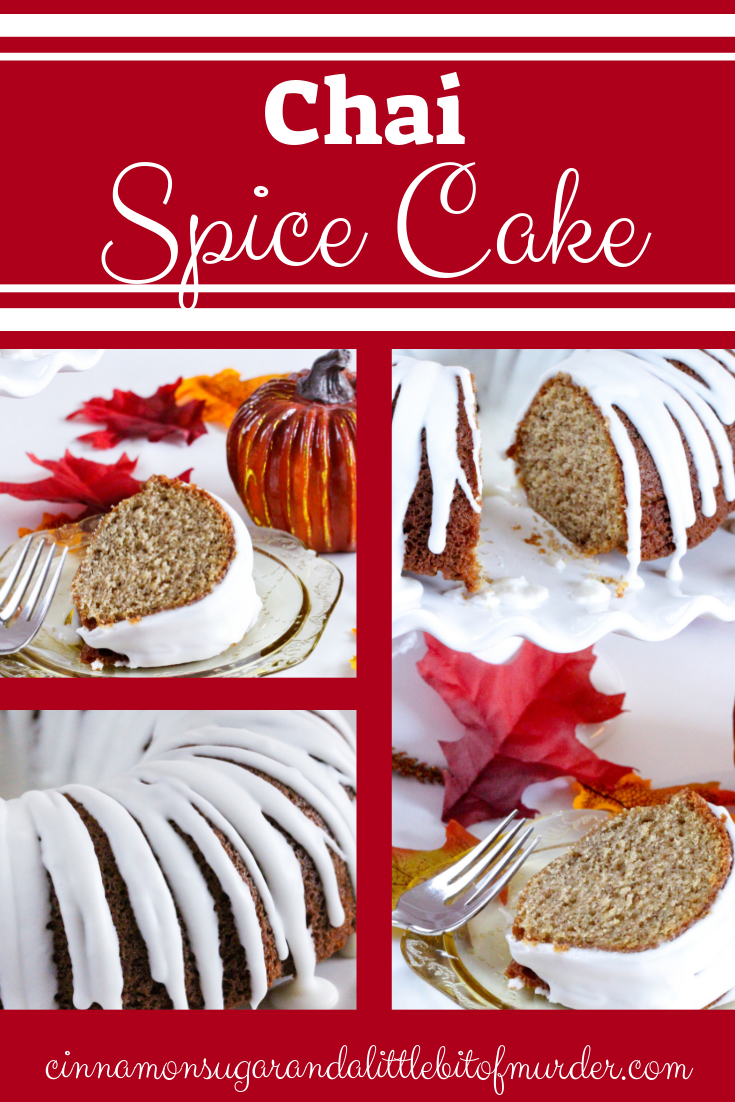 If you receive my blog post via email you will need to visit my website to view the video.
Here's a link to Paximathia (Spiced Greek Biscotti), one of the recipes in SPICED AND ICED, and was passed down from Ms. Kale's husband's grandmother! This recipe is the second most visited page on my blog and is in the top 10 most watched YouTube videos on my channel!