THE ENEMY YOU GNOCCHI, the third book in the Italian Chef Mysteries by Catherine Bruns, continues the story of Italian chef, Tessa Esposito, with a temptingly delicious read. From the start, the author's strong descriptive voice brings the reader right into the thick of things, with the sights, sounds, aromas, and tastes of Tessa's cooking evoking the holiday season. Ms. Bruns has also taken care to create memorable characters that complement each other on the pages, as well as change and grow over the course of the series. Especially enjoyable are Tessa and her cousin/best friend, Gabby. Their repartee adds a sense of family and closeness, which allows the reader to feel like they're getting to know them on a deeper level. While this book can be read as a standalone, starting from the beginning builds an appreciation for how the characters' personalities and lives move forward.
With a tightly plotted mystery of finding out who would have wanted to kill Santa during the town's Festival of Lights, including Tessa herself, I was kept glued to the pages. There were clues to keep me on my toes and suspects aplenty that kept me guessing, unsuccessfully I should add. The surprising and suspenseful reveal had me on the edge of my seat until I'd read the very last page. This drool-worthy mystery is a great way to usher in the holiday season while munching on cookies and sipping hot cocoa!
With so many mouthwatering dishes and desserts mentioned throughout the story, it was a pleasure finding several recipes at the back of the book. I also had the honor of creating the recipe for Gingerbread Pizzelles, a holiday twist on the quintessential Italian cookie. While a pizzelle iron is preferable for cooking these lacy cookies, you can use a skillet instead. Either way, the warming spices and sugary goodness will make your kitchen smell like Christmas!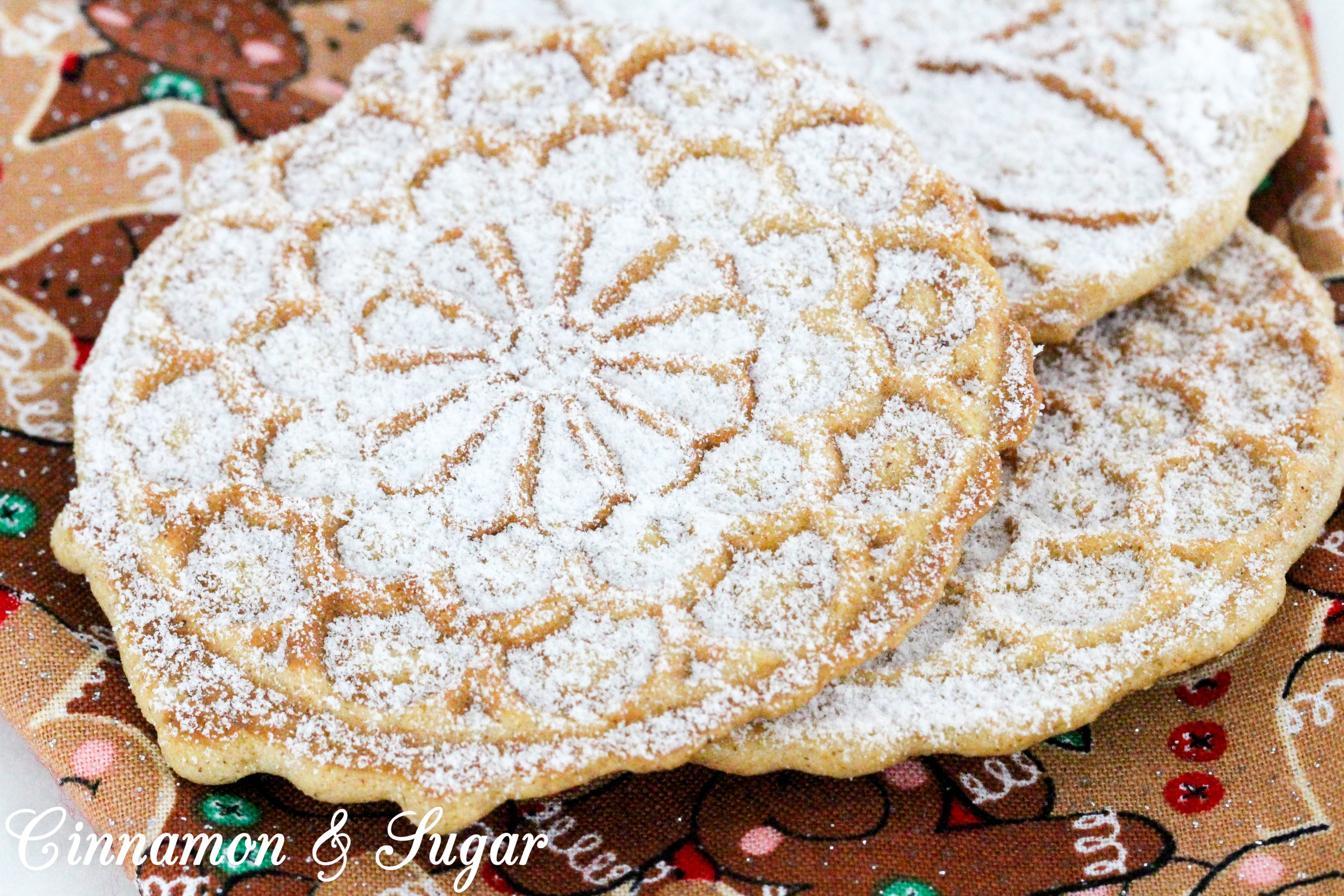 Amazon Synopsis
It's Christmas time in Harvest Park, so grab your cocoa and sleuthing snow boots for a Christmas cozy mystery sure to sleigh!
It's the deadliest thyme of the year…
With snow dusting the ground and sauce sizzling on the stove, local chef Tessa Esposito is ready to serve up some holiday cheer. And with the annual Festival of Lights underway, it seems nothing can dim her spirits. Not even Mario Russo, the newest scrooge in town whose espresso bar has been quickly disrupting businesses and stealing customers from Harvest Park's favorite coffeehouse.
But when Mario is discovered at the festival's opening, face down in a Santa suit, Tessa realizes the bah humbug runs deeper than she could have imagined. And when one of her dearest friends is implicated in the crime, she must make a list of Mario's enemies, check them twice, and discover the cold-blooded killer. Especially before they can sleigh again.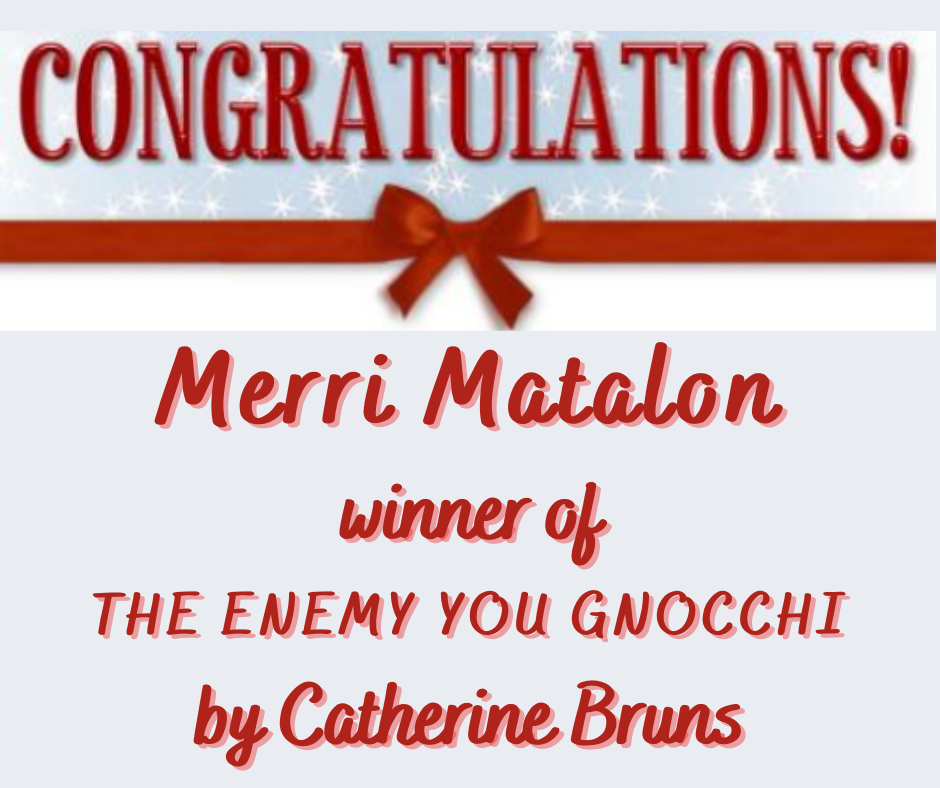 A special thanks to Poison Pen Press for providing one lucky winner with a print copy of THE ENEMY YOU GNOCCHI. Giveaway is limited to U.S. residents. Contest ends November 7, 2021 at 11:59 pm PST. Please use the Rafflecopter box located below to enter. The winner will be announced on this page and on Cinnamon & Sugar's Facebook page, as well as notified by email (so check your spam folder!)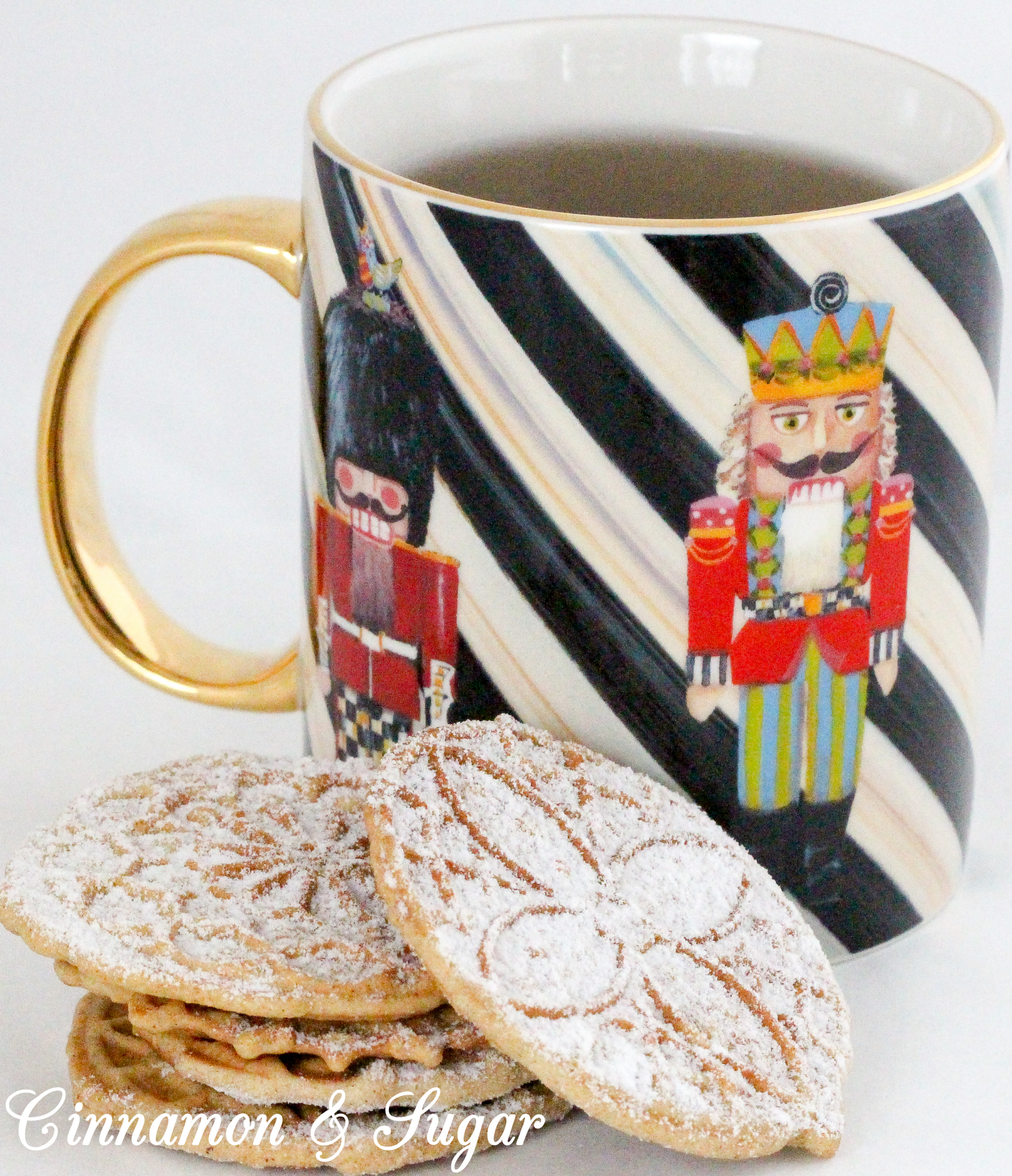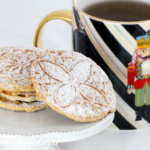 Gingerbread Pizzelles
Recipe makes approximately 50 3-1/4" pizzelle. Quantities may be different depending on the size of your iron. 
Ingredients
3

eggs

1/2

cup

granulated sugar

1/4

cup

brown sugar

2

tablespoons

molasses

1/2

cup

coconut oil, melted and cooled to room temperature

1

teaspoon

vanilla extract

2

teaspoon

baking powder

1/2

teaspoon

salt

2

teaspoon

ground cinnamon

1

teaspoon

ground ginger

1/4

teaspoon

allspice

1/4

teaspoon

ground cloves

2

cups

all-purpose flour
Optional
Confectioners' sugar for dusting cookies
Instructions
In a large bowl, whisk together the eggs, granulated sugar, brown sugar, molasses, coconut oil, and vanilla until smooth.

Whisk in the baking powder, salt, cinnamon, ginger, allspice, and cloves. Once incorporated stir in the all-purpose flour.

Heat pizzelle iron according to manufacturer's instructions. Spray or brush the iron with high temperature cooking spray or vegetable oil.

Once pizzelle iron is hot, drop batter by tablespoon into the center of each cookie well. Close iron and bake until cookies are golden brown in color.

Transfer hot cookies to a wire rack to cool. Repeat with remaining batter.

If desired, dust cookies with confectioners' sugar.

These are best served within a day of making. Leftovers can be stored in an airtight container for up to a week but the cookies will soften over time.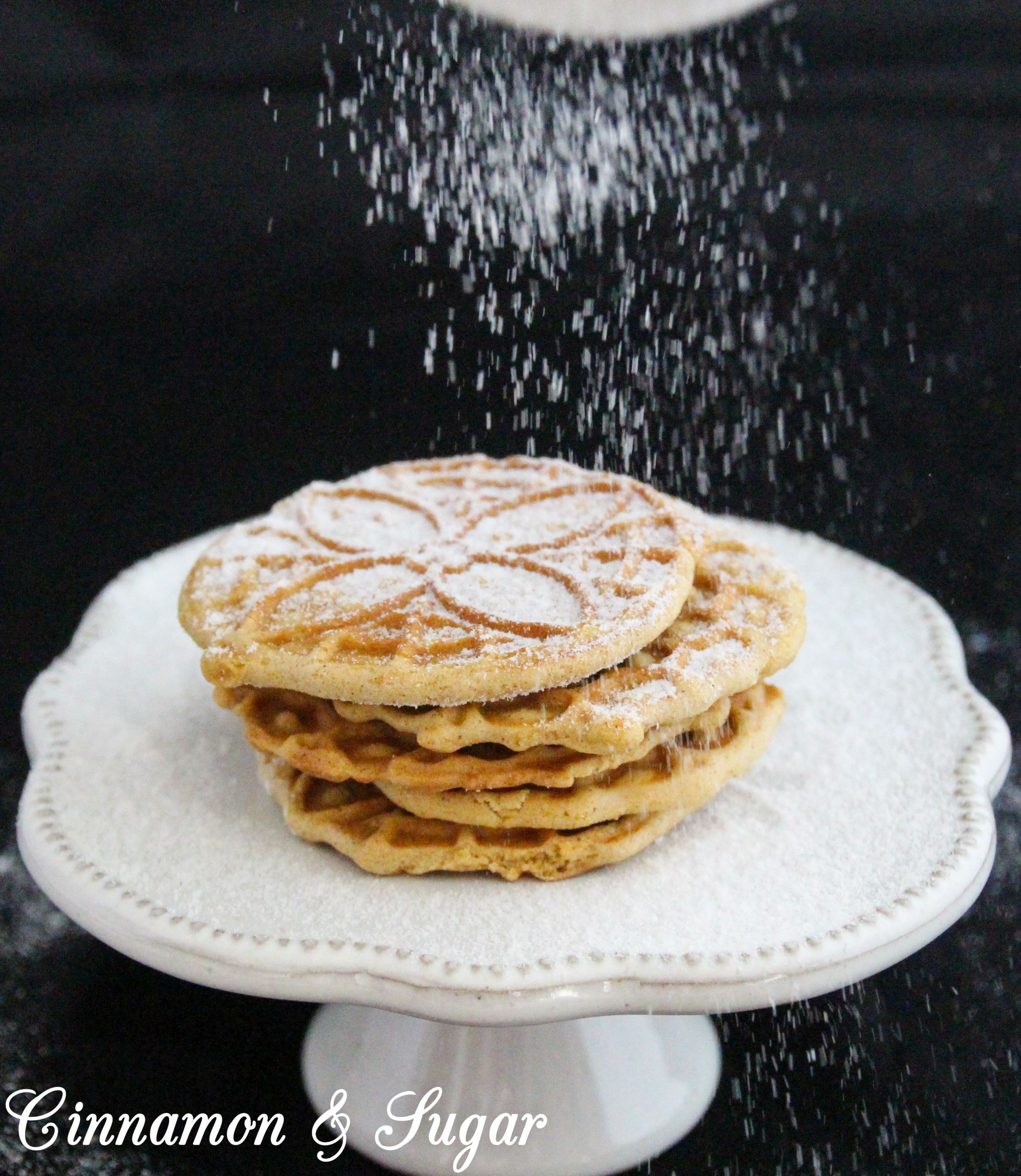 Pin to Pinterest: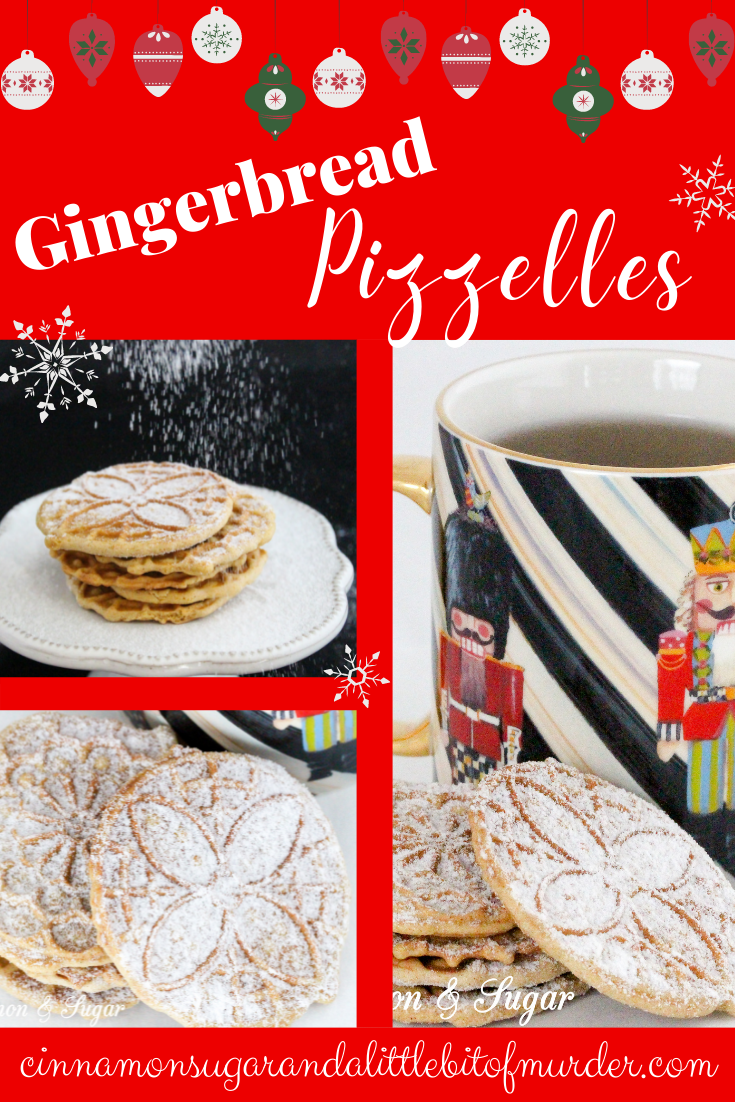 I was provided with an advance copy. All thoughts and opinions are my own.