AN EGGNOG TO DIE FOR is the second book in the Cape Cod Foodie Mystery series by Amy Pershing. This delightful holiday read starts out with an entertaining quote from Clark Griswold (of National Lampoon's Christmas Vacation fame) and sets the stage for plenty of humor and memorable characters on the pages. Protagonist Samantha Barnes (aka Sam) is a foodie, writing restaurant reviews and making videos for the local Cape Cod Clarion. Sam is a quirky character but I quickly became enamored with her witty one-liner zingers and her self-deprecating humor. She doesn't take herself entirely seriously. Surrounding Sam is an equally endearing set of supporting characters—human (friends & family), animal (her overly large dog named Diogi), machine (her ancient and cranky pickup truck, Grumpy), and setting (Cape Cod). All are well-developed and unique in their own ways. The author's descriptive voice shines so the reader feels like they really get to know each aspect. And I just love that Sam's parents are included in this newest release, having decided that it wouldn't feel like Christmas celebrating in tropical Florida. They add another dimension of character development in the reader getting to know Sam along with them being a great support system for her.
While murder is never funny, Ms. Pershing sets the stage with humor and you can only shake your head and think "it could only happen to Sam." With a curmudgeonly Santa dead and Sam "starring" in another embarrassing viral video, the mystery of whodunit pulls Sam into the investigation. Well-plotted and with a quick pace that begs the reader to keep turning pages, there were suspects galore. Even Sam's mother gets the investigation bug and with her background as a reporter, she's ready to steamroll everyone around her in her quest to assist her daughter. Sam most certainly has her hands full keeping her mother out of trouble, finding the grinch who did Santa in, all the while preparing to host her Christmas Eve dinner of the Feast of Five Fishes for all her friends and family. With so much going on, Ms. Pershing does an admirable job of juggling the characters, the action, and the murder investigation and kept me glued to the pages until I'd read the very last word. This series is quickly becoming one of my top favorites and I can't wait to find out what's next in store for Sam!
As you read through An Eggnog to Die For, be prepared to be hungry during the entire book! Not only are there mouthwatering dishes mentioned and described, there are numerous tips on preparing the ingredients and dishes, that, as a foodie myself, I found intriguing. And while I'm not a fan of eggnog, her descriptions made me tempted to hunt down some recipes to try out. Surprisingly there aren't any eggnog recipes at the back of the book, however, Ms. Pershing does provide several recipes for a Winter's Eve warm and cozy dinner. While the savory dishes piqued my interest, I couldn't pass up the opportunity to try her recipe for Blender Chocolate Mousse… OH-MY-WORD!!! There almost wasn't enough left over for me to share with anyone else. Rich, creamy, and oh so delightful, the extra kick of espresso added a yummy depth to the dark chocolate. I appreciated that the author "cooks" the eggs with boiling sugar syrup, so I felt confident that it was safe to serve to everyone. Since holiday dinners can get hectic, making this chocolate mousse the day before allows the cook to focus on other dishes but will still wow the guests with this delectable dessert!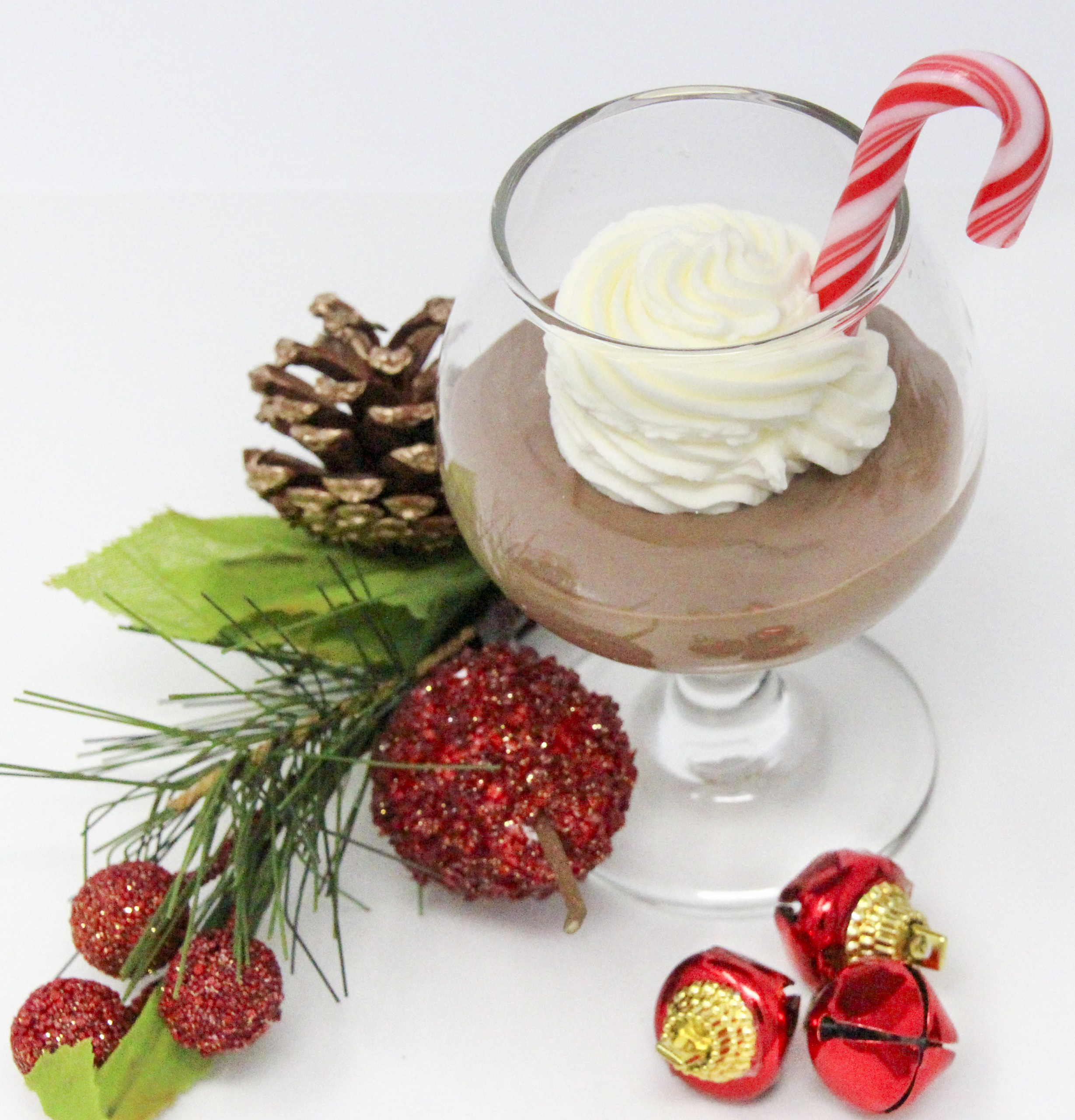 Amazon Synopsis
Christmas is coming to Cape Cod, but when Sam Barnes finds a very dead Santa in a very hip restaurant, it's up to her to sift out suspects who have been naughty vs. nice….
Professional foodie Samantha Barnes has a simple Christmas list: a quiet holiday at home with her dog and a certain handsome harbor master; no embarrassing viral videos; and no finding dead bodies. Unfortunately she's got family visiting, she's spending a lot of time in front of the camera, and she's just stumbled over the lifeless body of the town's Santa Claus.
Plus, Sam's plans for Christmas Eve are getting complicated.  There's the great eggnog debate among her very opinionated guests.  There's the "all edible" Christmas tree to decorate.  And there's her Feast of the Five Fishes prepare. Nonetheless, Sam finds herself once again in the role of sleuth. She needs to find out who slayed this Santa—but can she pull off a perfect feast and nab a killer?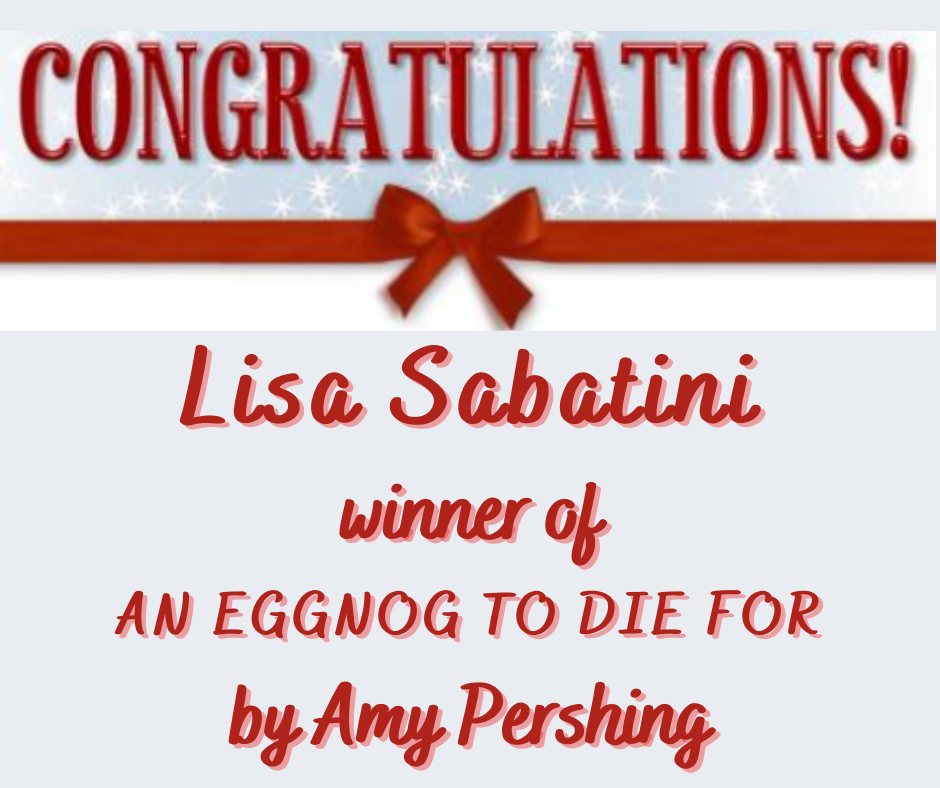 A special thanks to Amy Pershing for providing a winner with a print copy of AN EGGNOG TO DIE FOR.  Contest ends Sunday, November 14, 2021 at 11:59 pm PST and is limited to U.S. residents. Please use the Rafflecopter box located below to enter. The winner will be announced on this page and on Cinnamon & Sugar's Facebook page, as well as notified by email (so check your spam folder!)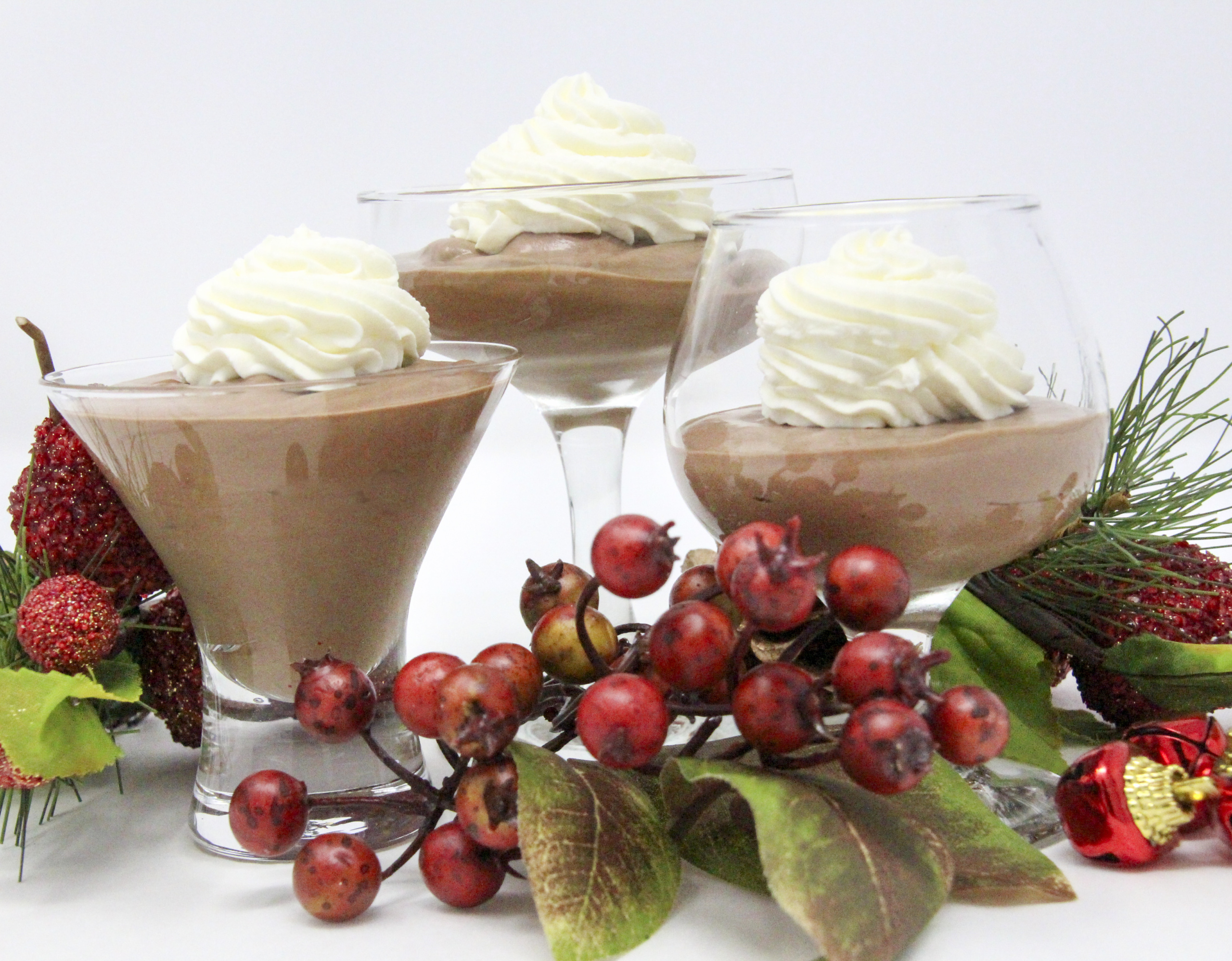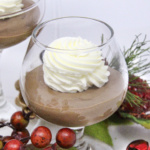 Blender Chocolate Mousse
Yum. Just yum. And easy?! The hot sugar water melts the chocolate and cooks the eggs. If you can find dark chocolate chips, you don't even have to chop the chocolate. And if your grocery store carries cold-brew coffee concentrate, you don't have to brew the coffee. Do bring those eggs out of the fridge at least an hour before making this, though, to bring them to room temperature.
Serves 4 to 6
Ingredients
3/4

cup

heavy cream (plus more if you want whipped cream on top

2

large eggs, at room temperature

6

ounces

dark chocolate, roughly chopped (or dark chocolate chips)

1/4

cup

granulated sugar

1/4

cup

water

1/4

cup

strong (brewed) espresso (or very strongly brewed coffee or cold-brew coffee concentrate)

1/2

teaspoon

vanilla extract

1/4

teaspoon

kosher salt
Instructions
In a large bowl, whip the cream to medium glossy peaks, about 3 minutes. Set aside in the fridge.

Once the eggs have reached room temperature, crack them into a blender and add the chocolate. Cover and blend on medium-high speed for a minute or so. Turn the blender off.

In a small saucepan over low heat, combine the sugar and water and stir until dissolved. As soon as the syrup begins to boil, turn off the heat.

Turn the blender back on and slowly pour the hot sugar syrup into the chocolate mixture. (If your blender top has a removable filler cap, take it out and pour the sugar syrup through that, which will keep any splattering to a minimum.) The hot sugar syrup will melt the chocolate and cook the eggs. Keep the blender running and add the coffee, vanilla, and salt. Blend for another minute or so until the mixture is very smooth and has cooled to room temperature.

Fold 1/2 cup of the chocolate mixture into the chilled whipped cream until smooth, then add the rest of the chocolate mixture to the cream mixture and fold until there are no streaks.

Pour into individual bowls or glasses and let the mousse set in the fridge until firm, at least 2 hours or up to 24 hours. Serve chilled with extra whipped cream, if desired.
Cinnamon & Sugar's Notes
If you forget to take the eggs out of the refrigerator early enough, simply add them to a bowl of warm (not hot!) water while you collect the rest of the ingredients.

While in the middle of preparing this, I had to leave and tend to other unanticipated responsibilities. I placed the blender of chocolate mixture into the fridge until I could get back 2 hours later. The chocolate mixture thickens and as a result, it was difficult to fully incorporate into the whipped cream without deflating the mousse. It still turned out amazing and the bottom line is, it's better to under mix than over mix should your chocolate mixture firm up before adding to the whipped cream.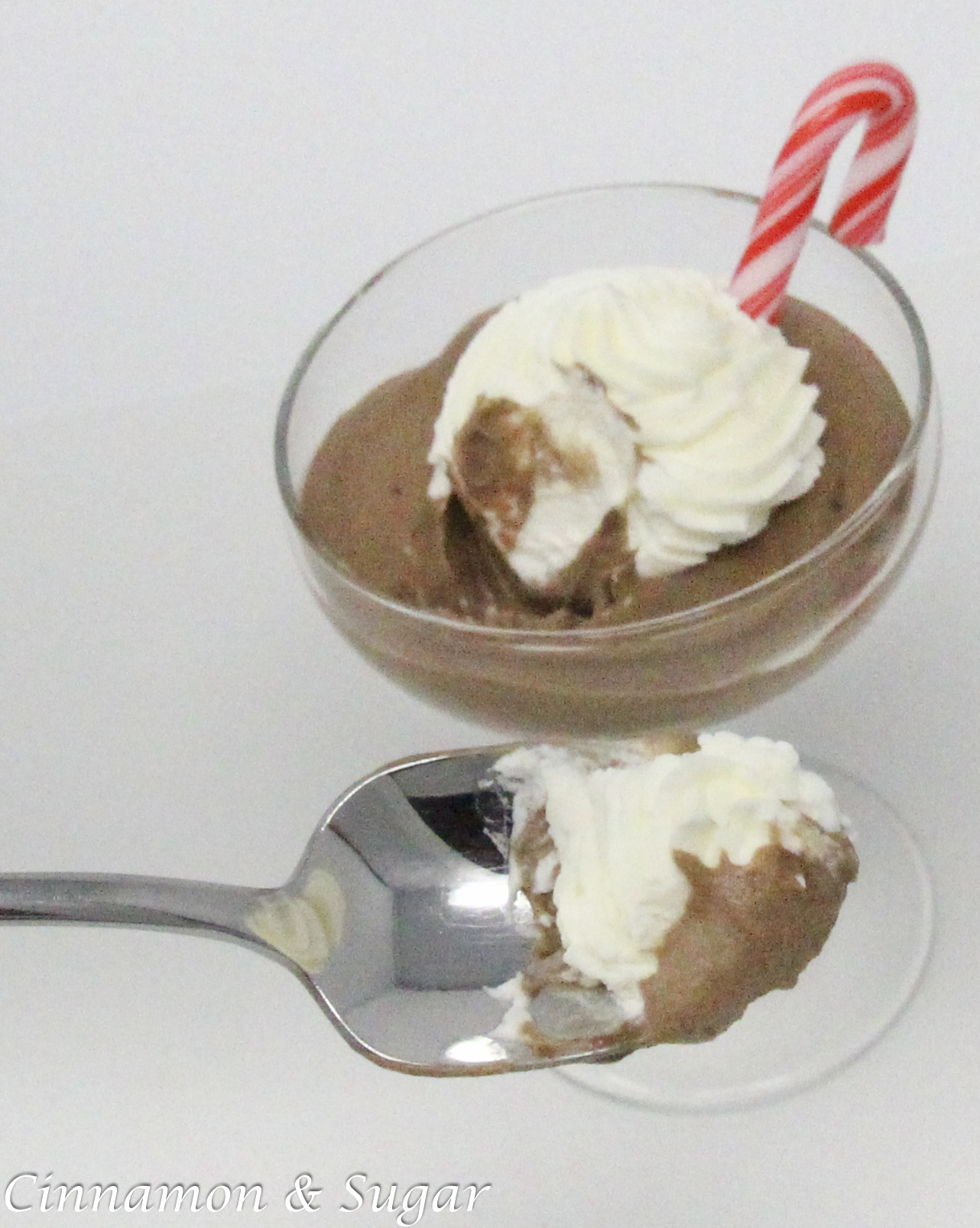 Pin to Pinterest: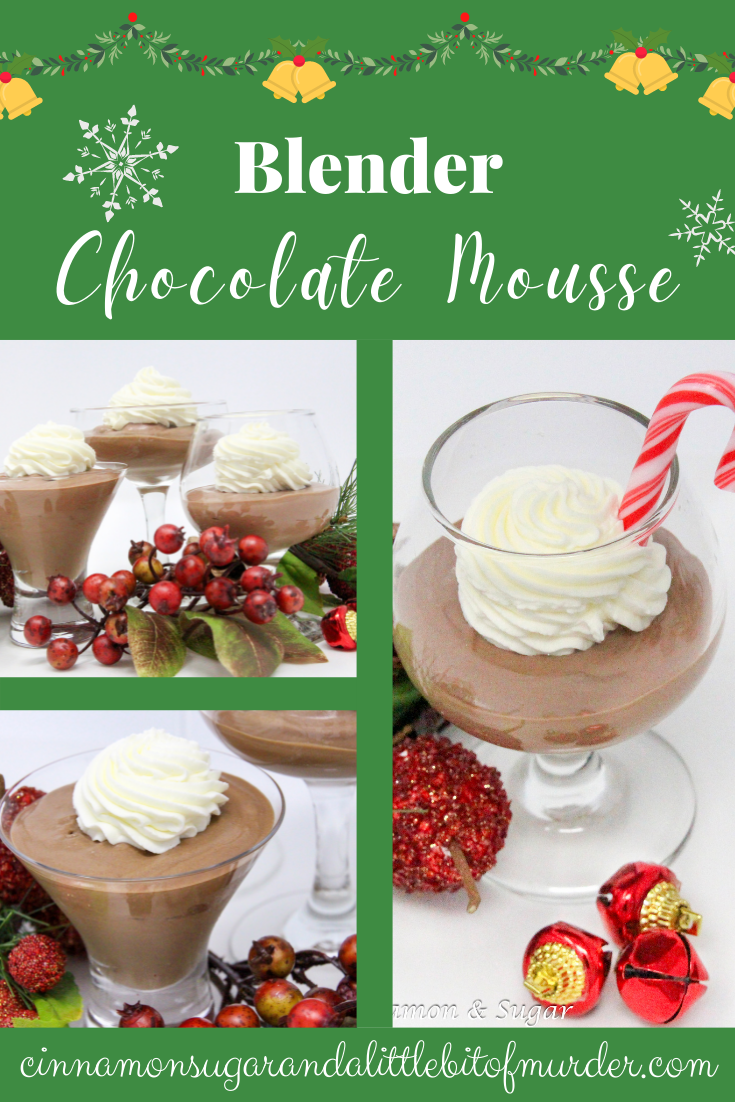 I was provided with an advance copy. All thoughts and opinions are my own.