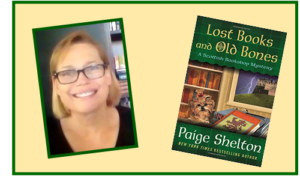 I am so happy to have Paige Shelton on my blog today to share an amazing shortbread recipe and celebrate her upcoming release, LOST BOOKS AND OLD BONES, with you! Be sure to check out her giveaway below the recipe, too!
* * * * * * * * * *
Of course, shortbread direct from Scotland is the best shortbread in the world. Except for your grandmother's. No one can beat your grandmother's anything. Having said that, I do love shortbread. Known by a number of different names in the UK, I was first introduced to these cookies as Empire Biscuits. They are addictive. So, no matter if you call them Imperial Biscuits, Double Biscuits, German Biscuits, Linzer Biscuit, or Empire Biscuits, they are delicious. And pretty easy to make. If you're craving something sweet, these are the way to go. Also, if you'd just like a yummy recipe for shortbread, this one is good.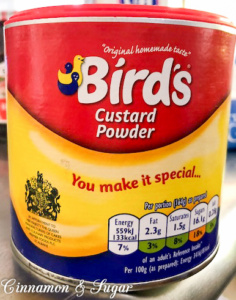 I found a tip somewhere on the Internet, and I have really enjoyed what this ingredient does to shortbread. Bird's Custard Powder.
Instead of 4 cups of the flour, I use 3 cups flour, and one cup of the custard powder. If you don't want to track down some Bird's, just use 4 cups flour. I ordered mine from Walmart.com. This recipe should yield about 24 sandwich cookies (more might be possible if you make small, thin cookies), but I make my cookies bigger than the normal "biscuit" size, so I only get about 18.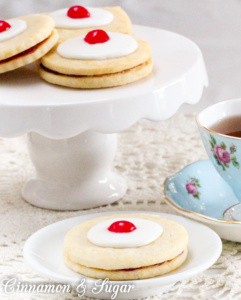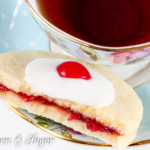 Empire Biscuits
Ingredients
For the biscuits:
2 to 2-1/2

cups

butter, softened

1

cup

white sugar

3

cups

sifted all-purpose flour

1

cup

Bird's Custard Powder (or substitute with flour)
For the filling and topping:
1

cup

raspberry preserves

12

or more maraschino cherries
For the icing:
4

cups

confectioners' sugar

1/4

cup

milk
Instructions
Preheat oven to 350 degrees F.
For the biscuits:
In a large bowl, cream together the butter and sugar until smooth. Gradually stir in the flour and custard powder until well blended. Start with 2 cups butter. Add more if you can't keep the dough together enough to roll it out. It takes some work and some getting used to. If your dough seems too sticky, add a bit more flour at a time until it can be rolled out.

On a lightly floured surface, roll the dough out to ¼ inch thickness. Cut into rounds using a cookie cutter.

Bake for 8 to 10 minutes. Allow cookies to cool on baking sheet for 5 minutes before removing to a wire rack to cool completely.

Sandwich one teaspoon of preserves between two cookies. Repeat until all cookies are used, or all jam is gone, and remaining cookies must be sacrificed to the baker for all her hard work.
For the icing:
In a medium bowl, gradually stir the milk into the confectioners' sugar until the icing is of a spreadable consistency. Spread on top of the sandwiched cookies. Top each cookie with half a cherry while the icing is till wet. If you're feeling like a rebel, go ahead and top with something else. Anything you like would work just fine.
Cinnamon & Sugar's Notes:
Here is a recipe for making your own custard powder to use:
1 cup confectioners' sugar;
1/2 cup powdered milk;
1/2 cup cornstarch;
1 teaspoon vanilla powder (if you don't use, add 1 teaspoon vanilla extract to shortbread recipe);
1 teaspoon salt;
Whisk together and then measure out 1 cup to use for shortbread recipe.

If you substitute flour for the custard powder, but sure to add 1 teaspoon of salt to the shortbread recipe.
Thanks to Kim for letting me stop by today! See you all in the bookstores.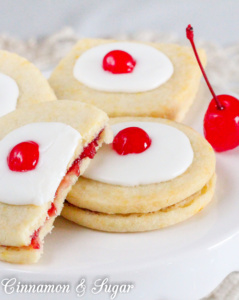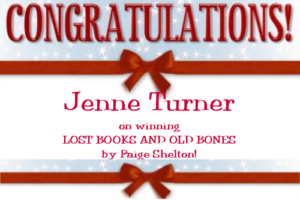 A special thanks to Paige Shelton for providing a hardcover copy of LOST BOOKS AND OLD BONES for one lucky winner. Contest is limited to U.S. residents only and ends Wednesday, April 4, 2018 at 11:59 pm PST. Please use the Rafflecopter box located below to enter. The winner will be announced on this page and on Cinnamon & Sugar's Facebook page, as well as notified by email (so check your spam folder!)
Pin to Pinterest: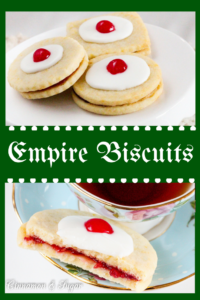 If you receive my blog post via email you will need to visit my website to view the video.
My Review
I've been a fan of the Scottish Bookshop Mystery series by Paige Shelton and was excited to read an advance copy of her third book, LOST BOOKS AND OLD BONES. Not only did it meet my high expectations but I think it's the best book in the series so far! Ms. Shelton captured my attention starting with her Acknowledgments and continuing all the way through to her list of real-life victims at the back of the book. I couldn't put the book down and devoured it in one sitting while neglecting to pause to even take a single note for my review. I greatly admire the protagonist, Delany, from Kansas in America, as the Scottish people are prone to call her. She has an adventurous spirit, enjoys researching historical books and items, and has a kind, friendly heart to those she meets… even to those who might not seem to deserve her compassion. She is surrounded by a wonderful cast of characters that greatly add to the enjoyment of the story. I adore The Cracked Spine, the delightful bookshop with its mysterious treasures and tomes! It's a place I could spend days and days exploring and wish it were a real location. It's also the perfect setting from which to feature Delany getting involved in murder mysteries.
Ms. Shelton weaves an intriguing plot incorporating not only a modern day murder but a murder that spans a decade and several historical murders from the early 1800's! While the plot lines are intricate, the author writes skillfully so that the reader never feels lost. In fact, the suspense kept me on the edge of my seat, turning pages faster and faster to see how she would tie the seemingly unrelated deaths together. Ms. Shelton deftly brings the threads of the story together in an exciting and very satisfying conclusion that leaves me pleading for the next book to release soon!
Amazon Synopsis
Delaney Nichols, originally of Kansas but settling happily into her new life as a bookseller in Edinburgh, works at The Cracked Spine in the heart of town. She's recently befriended a few medical school students after they came into the shop to sell some antique medical tomes. But when one of the students' friends is found murdered outside in the alley, Delaney takes it upon herself to help bring the murderer to justice.
During her investigation, Delaney finds some old scalpels in the bookshop's warehouse―she finds out that they belonged to a long-dead doctor, whose story might be connected to the present-day murder. It's all Delaney can do to race to solve this crime before time runs out and she ends up in danger herself.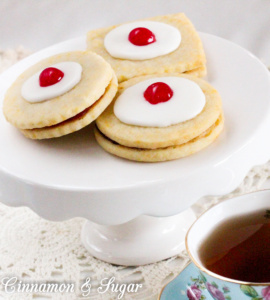 I was provided an advance copy with the hopes I would review. All thoughts and opinions are my own.