THE UNINVITED CORPSE, the first book in the brand new Food Blogger Mystery series by debut author Debra Sennefelder, was such a fun read for me as a fellow blogger! Protagonist Hope Early writes the blog, "Hope at Home". I so enjoyed seeing her blogging process along with her ideas for creating recipes. Hope has some baggage that she's brought back to the small Connecticut town and she's learning to move past her perceived failures. But trying to settle in "back home" has its own problems and among them, her sister being accused of murdering the real estate agent she's in competition with. It doesn't help that Hope was the one to find the body and as she starts asking questions around town, finds that her sister had several reasons to kill the victim. Despite that, Hope is loyal and learns how important it is to take time to connect with her family and friends without having ulterior motives. There is also humor interjected via the character of Hope's former reality show manager and his ideas he pitches to her for new reality shows. I've never been a fan of reality shows aside from Cupcake Wars and the cake challenges on the Food Network and Ms. Sennefelder brings to light what I've always envisioned them to really be: contrived contentious situations having nothing to do with reality.
Being the first book in a new series, the author introduces many characters all at once. I'll admit I had a hard time following who was who at the beginning of the book but once the murder happens the story falls in place and the pace picks up. In addition to Hope's sister being a viable suspect, Ms. Sennefelder weaves in several other suspects who wanted the abrasive real estate agent dead. The climatic ending brought good resolution to the mystery and wrapped up the subplots nicely.
One of the scenes in the book revolves around Hope creating a blog post for celebrating National Chocolate Chip Cookie Day. She develops five recipes for her blog post in the story (and they all sound amazing). Ms. Sennefelder shares two of those chocolate chip cookie recipes at the back of the book plus other delectable sounding treats. I chose to make Hope's Favorite Chocolate Chip Cookies because these generously-sized cookies are thick and soft with just a bit of chewiness thanks to the addition of a bit of bread flour. While I've never met a chocolate chip cookie that I didn't like, these are perfection!
Amazon Synopsis
Leaving behind a failed career as a magazine editor and an embarrassing stint on a reality baking show, newly divorced lifestyle entrepreneur Hope Early thought things were finally on the upswing—until she comes face-to-face with a murderer . . .

Hope's schedule is already jam packed with recipe testing and shameless plugs for her food blog as she rushes off to attend a spring garden tour in the charming town of Jefferson, Connecticut. Unfortunately, it isn't the perfectly arranged potted plants that grab her attention—it's the bloody body of reviled real estate agent Peaches McCoy . . .

One of the tour guests committed murder, and all eyes are on Hope's older sister, Claire Dixon—who, at best, saw Peaches as a professional rival. And suspicions really heat up when another murder occurs the following night. Now, with two messy murders shaking Jefferson and all evidence pointing to Claire, Hope must set aside her burgeoning brand to prove her sister's innocence. But the closer she gets to the truth, the closer she gets to a killer intent on making sure her life goes permanently out of style . . .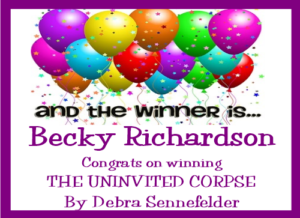 Thanks to Debra Sennefelder for providing a print arc copy of THE UNINVITED CORPSE for one lucky winner. Contest is limited to U.S. residents only and ends Sunday, April 1, 2018 at 11:59 pm PST. Please use the Rafflecopter box located below the recipe to enter. The winner will be announced on this page and on Cinnamon & Sugar's Facebook page, as well as notified by email (so check your spam folder!)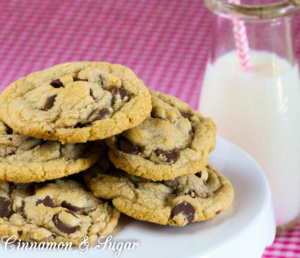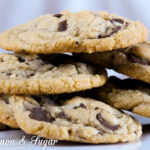 Hope's Favorite Chocolate Chip Cookies
Posted by Hope Early: I know it's wrong to have a favorite cookie. As a food blogger, I shouldn't play favorites with recipes but I can't help myself with these cookies. Loaded with chocolate chips, these buttery, thick, soft chocolate chip cookies are heavenly. You won't want to miss out on these. Seriously.
Ingredients
3/4

cup

unsalted butter, melted

1

cup

packed light brown sugar

2/3

cup

granulated sugar

1

large egg

1

large egg yolk

1

tablespoon

vanilla

2

cups

all-purpose flour

1/3

cup

bread flour

3/4

teapoon

baking soda

3/4

teaspoon

kosher salt

1-2/3

cups

semi-sweet chocolate chips
Instructions
Preheat oven to 350 degrees (F) and line cookie sheet pans with silicone baking sheets. (Or line with parchment paper.)

Cream butter and sugar together in the bowl of a stand mixer with paddle attachment, about 3 - 4 minutes. Scrape sides of bowl as needed. Reduce speed of mixer and then add in the egg and egg yolk, one at a time, beating well to incorporate into mixture.

Whisk together flours, baking soda, and salt in a separate bowl. Slowly add flour mixture to the butter mixture and mix until just combined. Be careful not to overmix.

Scoop dough by rounded tablespoon and drop onto prepared pan, 2-inches apart to allow room for spreading. Then drop another scoop (approximately 1-1/2 teaspoons) of dough onto top of each cookie. Press lightly together making sure to not flatten the cookie.

Bake for 9 - 12 minutes, rotating half-way through baking, or until cookies have spread out and the edges are golden, but the center of the cookie still looks soft and just slightly undercooked. Every oven is different, so I like to bake two cookies first to get the timing down correctly and then fill up the next cookie sheet.

Let cookies cool on cookie sheet for 5 minutes. Then remove to a wire rack to cool completely. Cookies will store in an airtight container for up to 3 days.
Notes
Makes about 3 dozen cookies.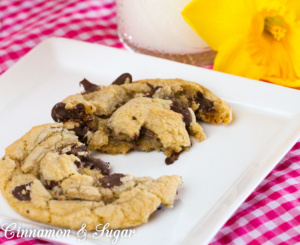 Pin to Pinterest: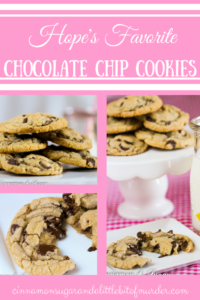 If you receive my blog post via email you will need to visit my website to view the video.
I was provided an advance copy with the hopes I would review. All thoughts and opinions are my own.