WEDDING CAKE CRUMBLE, the tenth book in the Cupcake Bakery Mysteries by Jenn McKinlay is a delightful addition to her very entertaining series! I've been waiting on pins and needles from her release last year to find out what new escapades protagonist, Mel (Melanie) Cooper and her best friend, Angie DeLaura find themselves in. Ms. McKinlay does not disappoint and I was glued to the pages, even forgetting to take notes for my review! The story picks up with Angie getting ready to marry their friend, Tate, who is also co-owner of their Fairy Tale Cupcake Shop in Scottsdale, Arizona. But of course the wedding plans aren't going smoothly, especially when the two women find Angie's photographer murdered seven days before the wedding.
As Mel and Angie start looking into the murder (because they just can't help themselves) the author throws in several twists. Could it be that Angie is actually the target? I love the cast of characters working at Fairy Tale Cupcake, especially octogenarian Marty. Mel and Angie have taken him in and made him one of "their people". The friendship between Mel, Angie, Tate and the crew is admirable and heartwarming, bringing a sentimental note to the story. As the plot progresses many suspects come to light while the body count starts rising and more twists are thrown in. The ending wraps up the threads nicely while leaving the reader waiting to see what new adventure awaits the gang at the Fairy Tale Cupcake Shop!
Reading about the cupcake shop will leave you craving some sweet treats. Luckily for the reader, Ms. McKinlay provides several delectable cupcake recipes at the back of the book. All sound amazing and it was very difficult to choose just one to try for this blog post. In the end I decided on Black Forest Cupcakes, which Jenn has graciously allowed me to share with you. The rich, dark chocolate cupcakes are supremely moist but the surprise is the cherry filling hiding beneath mounds of fluffy vanilla buttercream. One bite and you'll think you've stepped foot into the delightfully yummy Fairy Tale Cupcake Shop!
Amazon Synopsis
With Angie and Tate's wedding just around the corner, it's a happy time for Melanie Cooper and the bakery crew. Not only are they finessing the last minute details of the big day, but their bakery, Fairy Tale Cupcakes, has just been hired to bake cupcakes for the blockbuster book signing of a controversial author who wrote a steamy bestseller filled with juicy local gossip.
But one by one, the people Angie has hired to work at the wedding begin turning up dead. As the body count rises, the bestselling author is the next to bite the dust. Mel quickly realizes she needs to figure out how the murders are connected and why–before the killer brings the entire cupcake crew crumbling down. After all, Angie and Tate deserve their sweet happily ever after.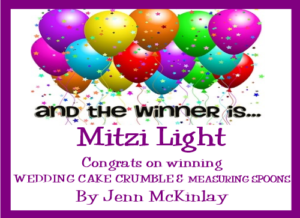 A special thanks to Jenn McKinlay for providing a print copy of WEDDING CAKE CRUMBLE plus fun measuring spoons for one lucky winner. Contest is limited to U.S. residents only and ends Sunday, April 8, 2018 at 11:59 pm PST. Please use the Rafflecopter box located below to enter. The winner will be announced on this page and on Cinnamon & Sugar's Facebook page, as well as notified by email (so check your spam folder!)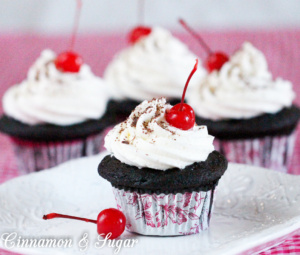 Black Forest Cupcakes
A rich chocolate cupcake with cherry filling and vanilla cream frosting.
Ingredients
Cupcakes
1-1/3

cups

flour

1/4

teaspoon

baking soda

2

teaspoons

baking powder

3/4

cup

unsweetened cocoa powder

1/4

teapoon

salt

4

tablespoons

butter, softened

1-1/2

cups

sugar

2

eggs

1

teaspoon

vanilla extract

1

cup

milk
Vanilla Buttercream Frosting
1/2

cup

(1 stick) salted butter, softened

1/2

cup

(1 stick) unsalted butter, softened

1

teaspoon

clear vanilla extract

4

cups

sifted confectioners' sugar

2

tablespoons

milk
Garnish
Chocolate shavings

12

fresh cherries with stems (if unavailable substitute maraschino cherries)
Instructions
Cupcakes
Preheat oven to 350 degrees (F). Line cupcake pan with paper liners.

In a medium bowl, sift together flour, baking soda, baking powder, cocoa powder, and salt. Set aside.

In a large bowl, cream the butter and sugar, adding eggs one at a time. Mix in the vanilla.

Add in the flour mixture alternately with the milk until well blended.

Fill paper liners two-thirds full. Bake 18 - 22 minutes. Remove to wire rack and cool completely.
Vanilla Buttercream Frosting
In a large bowl, cream butter and vanilla. Gradually add confectioners' sugar, one cup at a time, beating well on medium speed and adding milk as needed. Scrape sides of bowl often. Beat at medium speed until light and fluffy. Makes 3 cups of icing.
Assembling the cupcakes
Using a melon baller, scoop out the center of the cooled cupcakes no more than halfway down. Spoon in the cherry pie filling. Using a pastry bag, pipe the vanilla buttercream over the top of the cupcake. Garnish with chocolate shavings and a fresh cherry on top.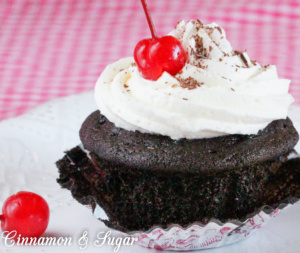 Pin to Pinterest: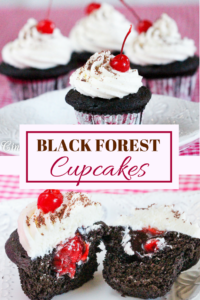 If you receive my blog post via email you will need to visit my website to view the video.
I was provided an advance copy with the hopes I would review. All thoughts and opinions are my own.