BEYOND A REASONABLE DONUT is the fifth book in the Deputy Donut Mysteries by Ginger Bolton. This series just gets better and better with each new addition! With strong characters, led by protagonist Emily Westhill, the reader is enticed into getting to know them better while the well-developed plot kept me turning pages to find out what happens next. With a fun-filled Friday the thirteenth Faker's Dozen Carnival as the backdrop, Emily's Deputy Donut Café is well suited to the theme as they serve up piping hot corny fritters. The author does an admirable job of capturing the essence of a small-town carnival from the food, the music, the rides, and the entertainment. Of course, carnivals have a sullied reputation for attracting grifters and the wrong sorts of people, and Ms. Bolton uses that aspect to set up the murder. A missing bucket of sugar, a sticky-fingered magician, a mime, and a rodeo performer add to the twists and turns of the plot.
When the mime attacked and left for dead in Nina's (Emily's employee/friend) home, Nina is the number one suspect and is thrown into jail. Knowing her friend wouldn't have committed the crime, Emily begins asking questions. First and foremost is what was the relationship between the mime and Nina? They share a very strong resemblance. Trying to piece together if Nina could have been the intended target and delving into the past Nina had tried so hard to hide, Emily's investigation is more complicated than traversing a house of mirrors. Ms. Bolton provides plenty of misdirection and suspects to keep the reader guessing. With a darling puppy and Emily's protective cat, Deputy Donut, involved in the exciting reveal, this cozy mystery ticks all the boxes for a tilt-a-whirling ride!
With lots of fair food mentioned throughout the book and of course delectable donuts served at Emily's Deputy Donut Café, the reader's appetite will be whetted. The author includes a couple of recipes at the back of the book for the home cook to try. I couldn't pass up the opportunity to try the "Corny Fritters" since they can be served savory, spicy, or sweet depending on individual tastes. It's also fairly simple since you can bypass the effort of using fresh corn (unless you want to) and instead use either canned or frozen corn. With just a few other pantry and dairy staples, these mix up quickly and it didn't take long for little hands to pluck these tasty snacks off the cooling rack for nibbling pleasure.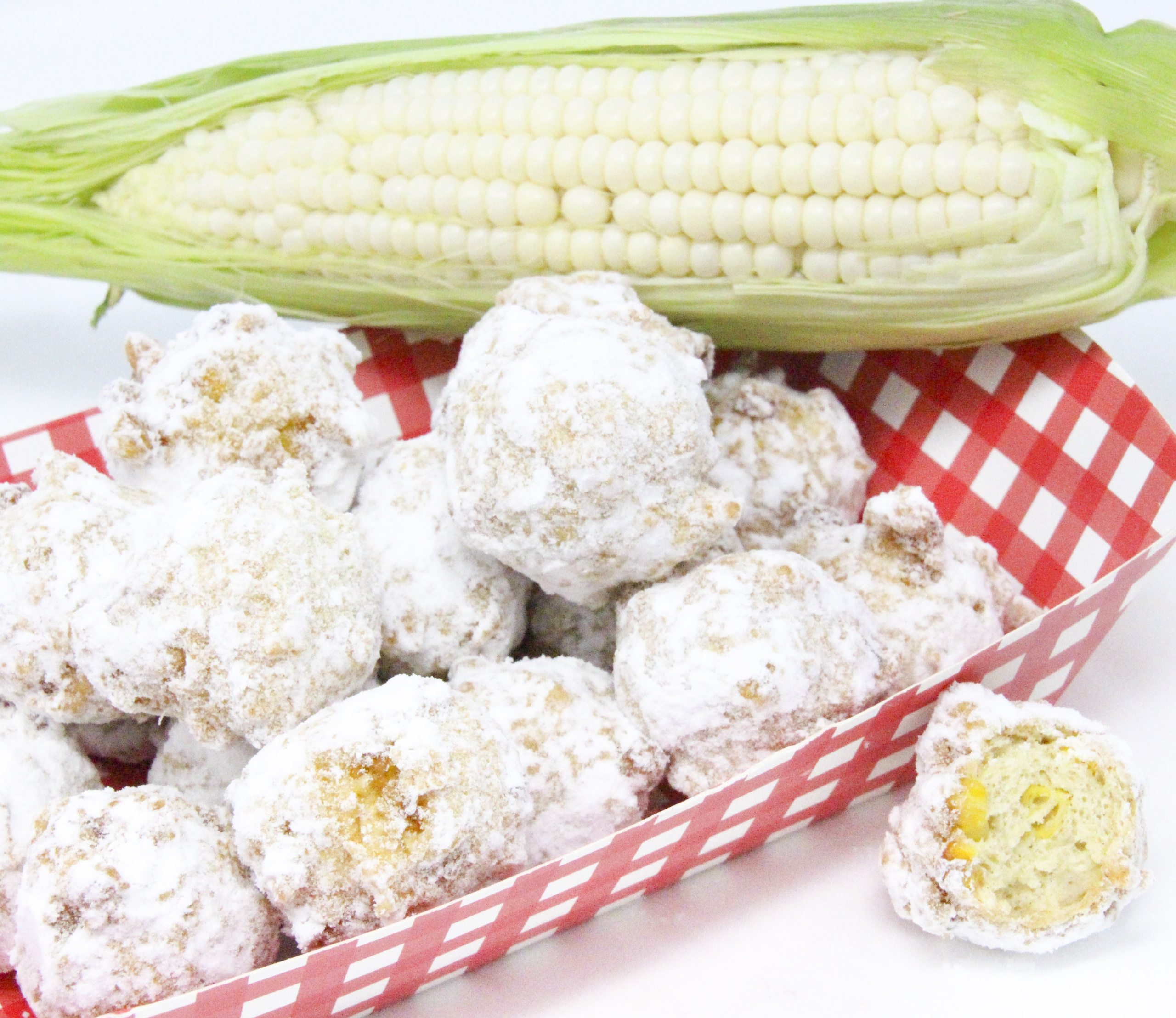 Amazon Synopsis
Selling her corn fritters at a carnival, Deputy Donut Café owner Emily Westhill faces off against a murderer who doesn't play fair . . .
Emily and her assistant, Nina, are looking forward to manning the Deputy Donut tent at the Faker's Dozen Carnival in Fallingbrook, Wisconsin—a festival held on Friday the thirteenth to celebrate good and bad luck. But Emily has barely dropped the corn fritters in oil when bad luck boils up. First, their bucket of confectioner's sugar disappears—and then while a mime creates a distraction, a magician robs their cash register.
After the carnival, their misfortune continues. Emily discovers that someone has broken into artist Nina's loft and vandalized a large painting in progress with the bucket of stolen sugar, which is now on the head of the mime, who seems to have been suffocated. Emily would bet Nina was the intended victim, but the cops think Nina silenced the mime. Now Emily must catch the killer white-handed—before someone else kicks the bucket . . .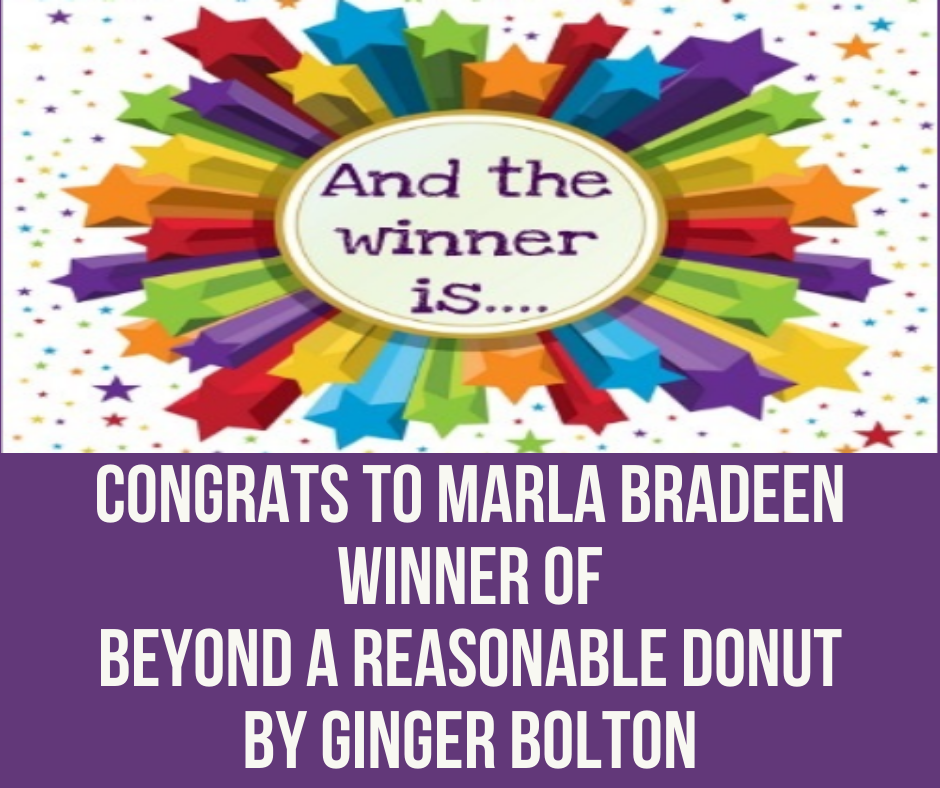 A special thanks to Ginger Bolton for providing one lucky winner with a print copy of BEYOND A REASONABLE DONUT! Giveaway is limited to U.S. residents. Contest ends Sunday, May 30, 2021 at 11:59 pm PST. Please use the Rafflecopter box located below to enter. The winner will be announced on this page and on Cinnamon & Sugar's Facebook page, as well as notified by email (so check your spam folder!)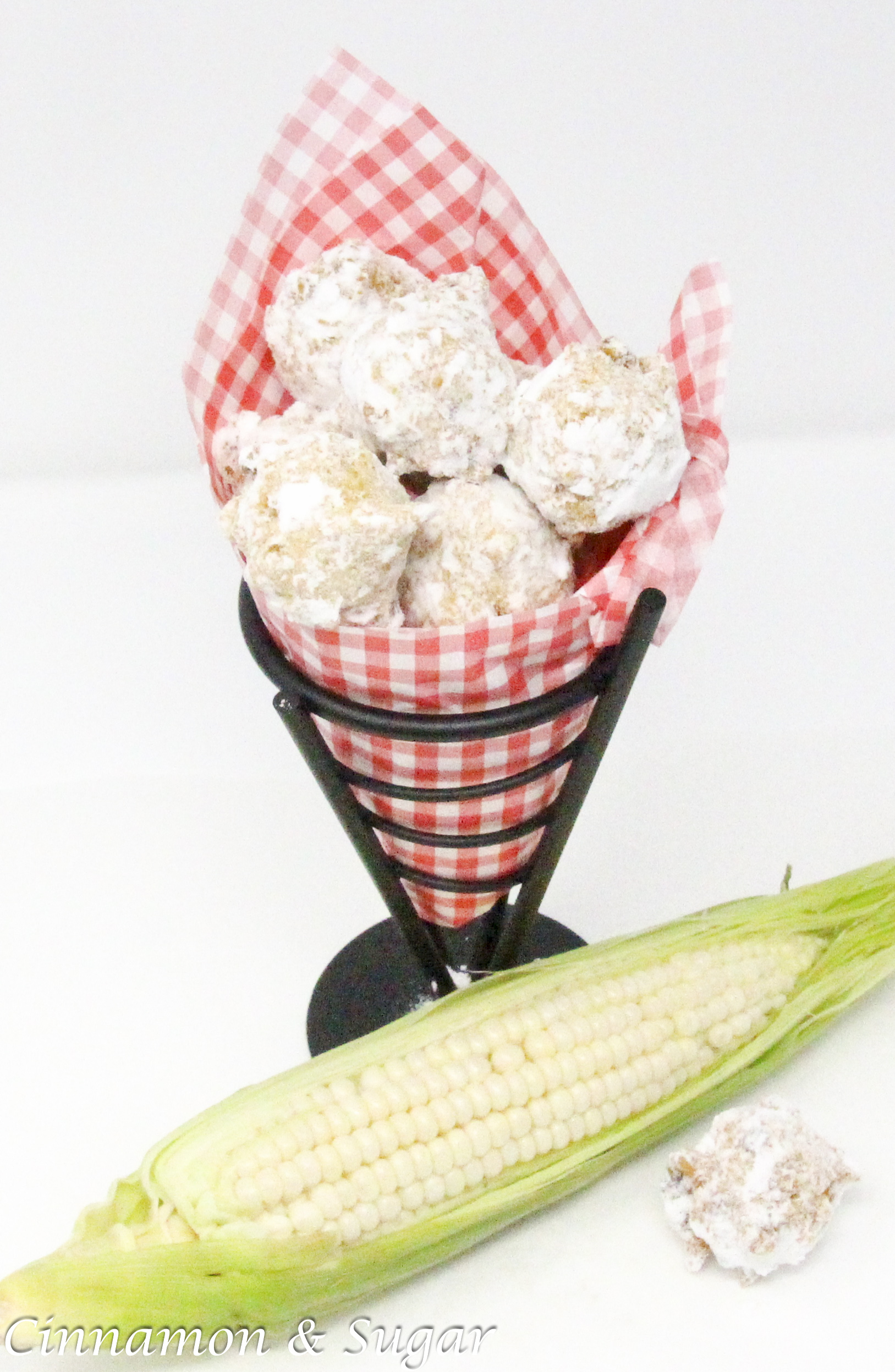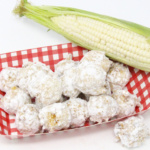 Corny Fritters
Ingredients
1

cup

all-purpose flour

1

teaspoon

baking powder

1/2

teaspoon

salt

2

eggs, beaten

3

tablespoons

milk

1/2

cup

corn kernels - fresh, frozen, or canned. If using frozen, thaw first, then drain and pat dry on paper towels. If using canned, drain and pat dry with paper towels.
Choose 1 of the following seasonings
1

teaspoon

(or to taste) sweet smoked paprika for regular corny fritters

or

1

teaspoon

(or to taste) whole black peppercorns for pepper-corny fritters

or

1/4

teaspoon

(or to taste) powdered ancho or other hot ground chiles for turbo-charged spicy corny fritters

Vegetable oil with a smoke point of 400 degrees (F) or higher (or follow your deep fryer's instruction manual)
Optional:
Granulated sugar

or

Confectioners' sugar
Instructions
Sift the flour with the baking power and salt.

Stir in eggs, milk, corn kernels, and your choice of seasoning, until blended.

When oil reaches 370 degrees (F), drop batter by spoonfuls into the oil without crowding them. Fry until both sides are golden, approximately 1 minute per side, turning once.

Lift basket to drain, then drain fritters on paper towels.

While still warm, roll in sugar (if desired) and serve with guacamole and/or sour cream.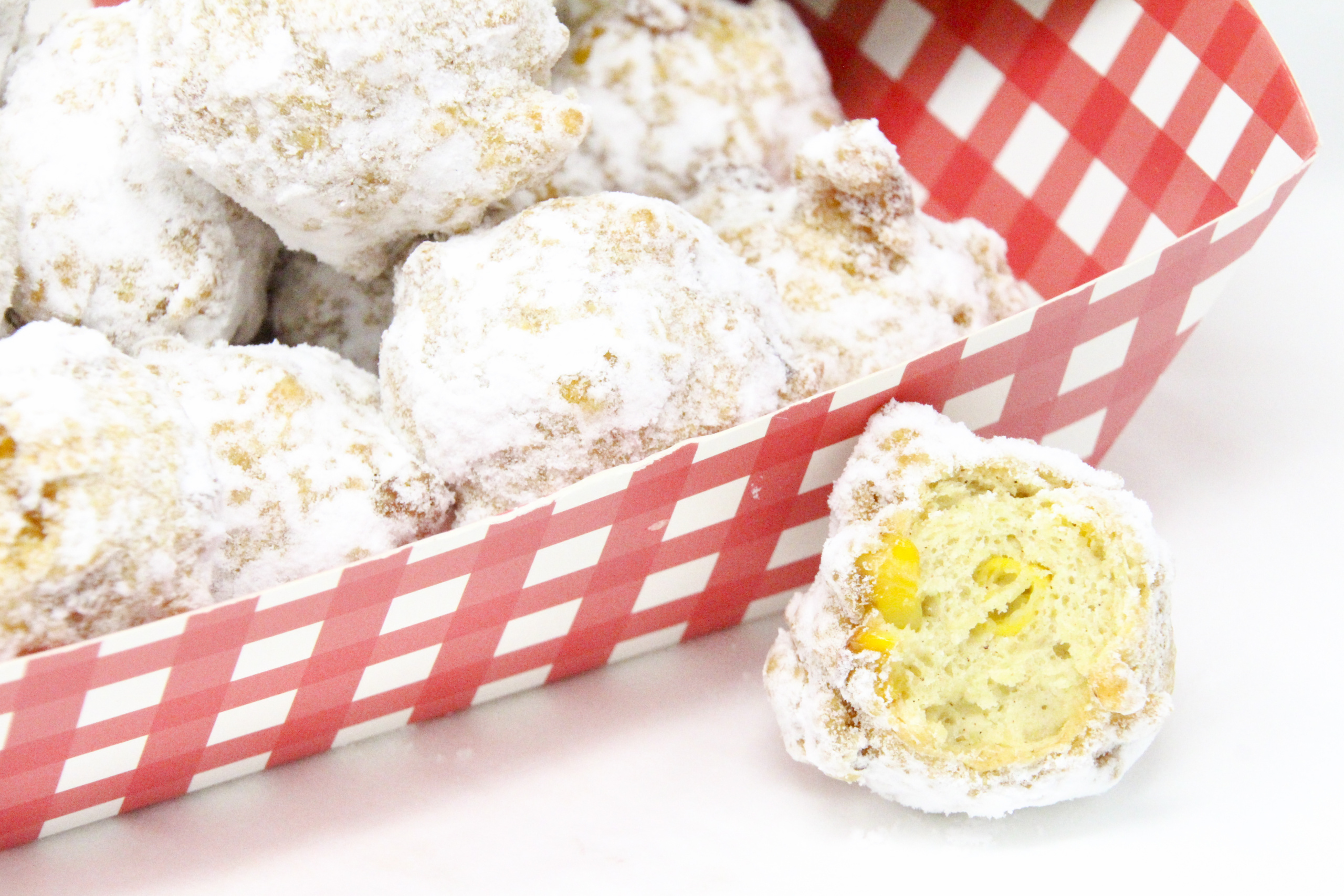 Pin to Pinterest: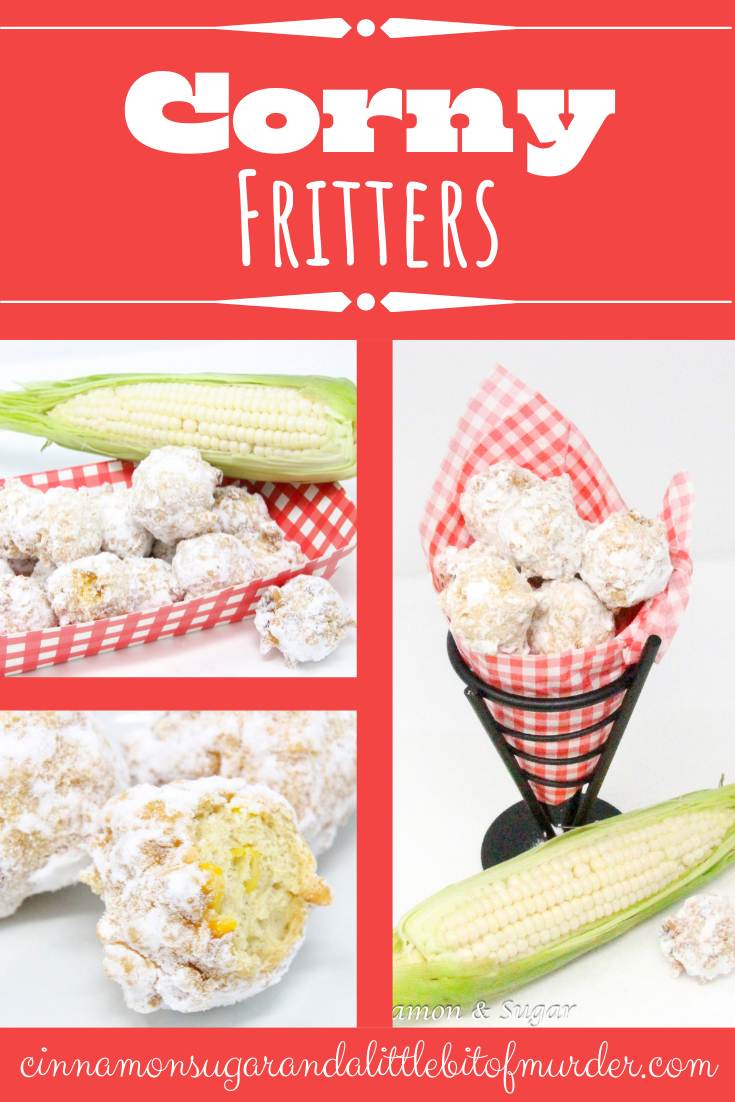 I was provided an advance copy. All thoughts and opinions are my own.