FATAL FAMILY TIES by S.C. Perkins is another tantalizing addition to the Ancestry Detective Mystery series. From the very first page, the author weaves a fascinating tale containing a current day murder, a hunt for missing historical art, a civil war deserter, and a descendant intent on saving her family's reputation. At the center is the delightful protagonist and expert genealogist, Lucy Lancaster. With southern charm, witty repartee, and a strong determination for finding the truth, Lucy draws the reader in and holds their attention with each passing page. Ms. Perkins descriptive voice brings the setting of Austin and Houston to life, along with the aspects of tracing genealogy and historical art restoration. I appreciate that there are enough details woven into the story which makes it obvious the author has done extensive research, yet those details are written in an effective manner without slowing the pace down.
I loved that her new boyfriend, special agent Ben Turner, is featured alongside Lucy this time. They make a great team and even though this is Lucy's story to tell, Ben is there to provide assistance while he admires and respects her investigation skills. Not only is she talented in discovering minute details that have been buried in historical documents and family lore, but she's quite adept at hunting down clues to unveil a killer. There were enough suspects to keep me guessing and several misdirects that I fell for, so when the big reveal came, I was left speechless… in a good way. The story wrapped up in a highly satisfying conclusion and left me waiting on pins and needles for the next installment in this intriguing series!
While there aren't any recipes included in the book, Ms. Perkins certainly knows how to whet the readers' appetites with delectable mentions of regional delicacies. She has kindly allowed me to share her mom's melt-in-your-mouth recipe for Sour Cream Pecan Coffee Cake Muffins, which she has Lucy's mom make in Fatal Family Ties. I know when a recipe is a winner when I catch my granddaughter eating not one, but two muffins, and wanting a third. This is one where she wanted to keep the entire batch (and it makes plenty) instead of sharing with other friends and neighbors. Rich and tender, thanks to a generous amount of sour cream, the addition of brown sugar, cinnamon, and pecans layered in the center of the muffins make these extra delicious. A confectioners' sugar glaze with additional pecans make these not only a tempting treat for breakfast, but suitable for dessert!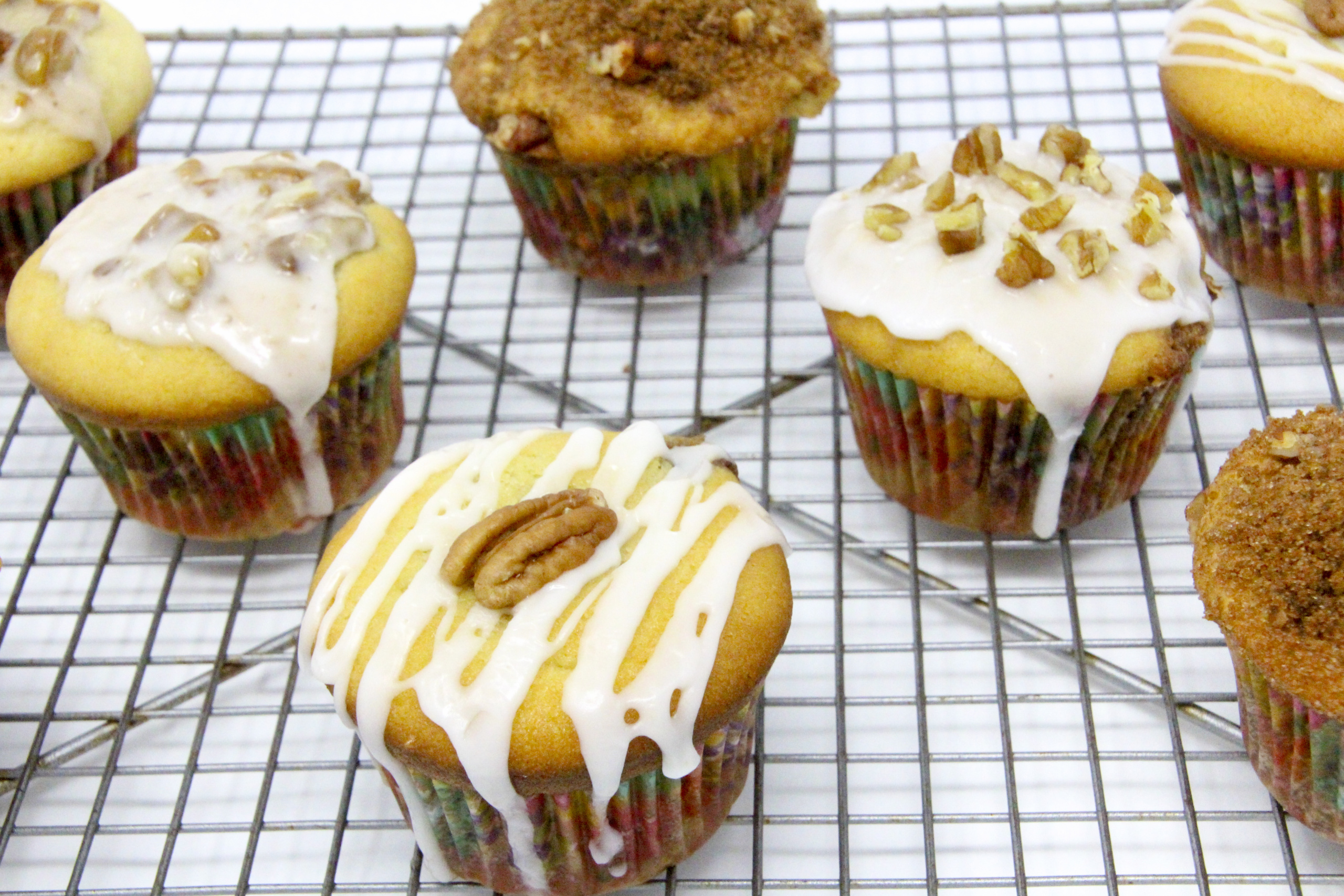 Amazon Synopsis
Lucy is just about to tuck into a plate of tacos at her favorite Austin joint, Big Flaco's, when she gets an unexpected visit from her former—and least-favorite—co-worker. Camilla Braithwaite hasn't gotten much friendlier since the last time Lucy saw her, but that doesn't stop her from asking a favor. In her hand is a newspaper feature on an ancestor, a civil war corporal—and a liar, according to the article. Charles Braithwaite is depicted as a phony and a deserter, and Camilla wants Lucy's help clearing his name.
Lucy would prefer to spend her free time with her new beau, special agent Ben Turner, but takes the case, making no promises that Camilla will like the outcome of her investigation. Camilla leads Lucy to the Texas History Museum, where their first clue is a triptych painting, passed down in the Braithwaite family for generations, one panel of which has disappeared. But before Lucy can get much further, a member of the Braithwaite family is murdered in his own bed, and another panel of the painting found missing.
There are no shortage of suspects among the Braithwaite clan—including Camilla herself. This case will take Lucy to Houston and back again as she works to find the truth, and catch an elusive killer.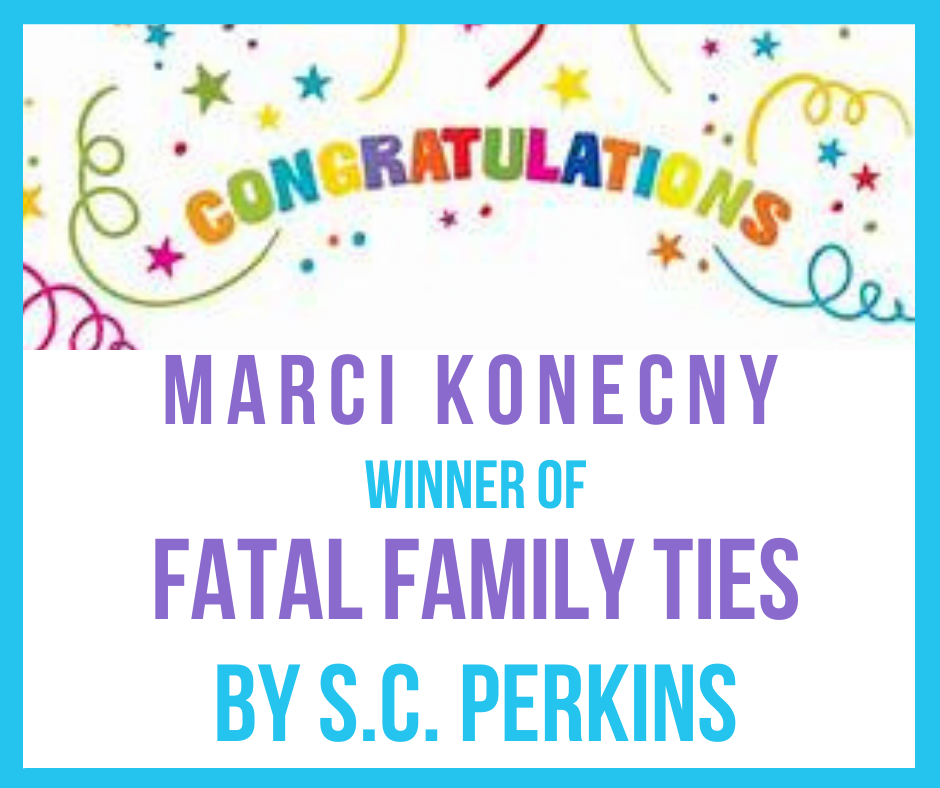 A special thanks to S.C. Perkins for providing one lucky winner with a print copy of FATAL FAMILY TIES! Giveaway is limited to U.S. residents. Contest ends Wednesday, July 28 , 2021 at 11:59 pm PST. Please use the Rafflecopter box located below to enter. The winner will be announced on this page and on Cinnamon & Sugar's Facebook page, as well as notified by email (so check your spam folder!)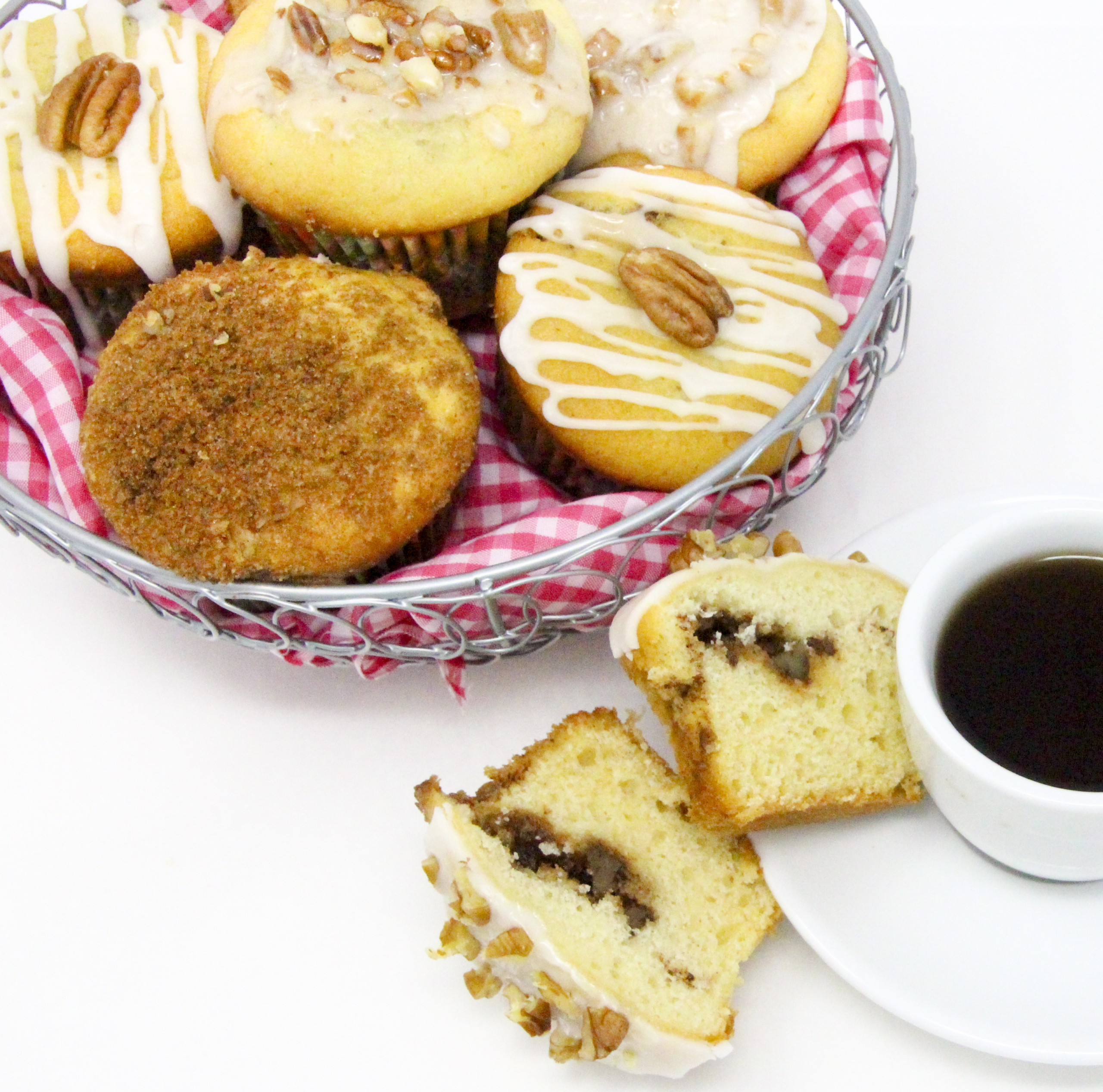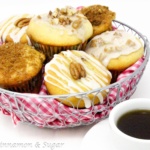 Sour Cream Pecan Coffee Cake Muffins
Ingredients
3/4

cup

butter, softened

1-1/2

cups

sugar

3

eggs

2

teaspoons

vanilla extract

3

cups

all-purpose flour

1-1/2

teaspoons

baking soda

1-1/2

teaspoons

baking powder

1/2

teaspoon

salt

1

pint

sour cream

3/4

cup

dark-brown sugar, firmly packed

2

teaspoons

cinnamon

1

cup

pecans coarsely chopped (walnuts also work well)
Powdered sugar glaze
1-1/2

cups

powdered sugar

2

tablespoons

water

1

teaspoon

vanilla

1/2

cup

Pecans – either chopped or a half pecan for each muffin*
Instructions
Line muffin with cupcake liners. This makes 18–24 coffee cake "muffins".

Preheat oven to 350 degrees F.

Combine butter and sugar and cream until light and fluffy. Add eggs, one at a time. Beat well after each egg. Stir in vanilla.

In a separate bowl, combine flour, baking soda, baking powder, and salt.

To the butter/sugar mixture, alternate adding flour mixture and sour cream. Mix well each time.

In a separate bowl, combine brown sugar, cinnamon, and chopped pecans and mix well.

Spoon one rounded tablespoon of batter into each cupcake liner. Then add 1 rounded tablespoon of the brown-sugar/cinnamon/chopped pecans mixture. Add another rounded tablespoon of batter on top.

Bake for 20 minutes, checking occasionally for doneness.

Make glaze, mixing ingredients well. Drizzle glaze over each muffin while still warm.

*Note about glaze: You can either mix 1/2 cup coarsely chopped pecans into glaze and then spoon over each muffin. Or omit chopped pecans from glaze and place a pecan half on top of each muffin and then drizzle with plain glaze.
Note:
These muffins freeze and thaw well. Can be easily reheated in microwave. Start with 15 seconds. Add more time if needed.
Cinnamon & Sugar's Note:
I had some leftover brown sugar, cinnamon, and pecan mixture so I sprinkled it over the tops of some of the muffin batter just prior to baking, then omitted the glaze once baked.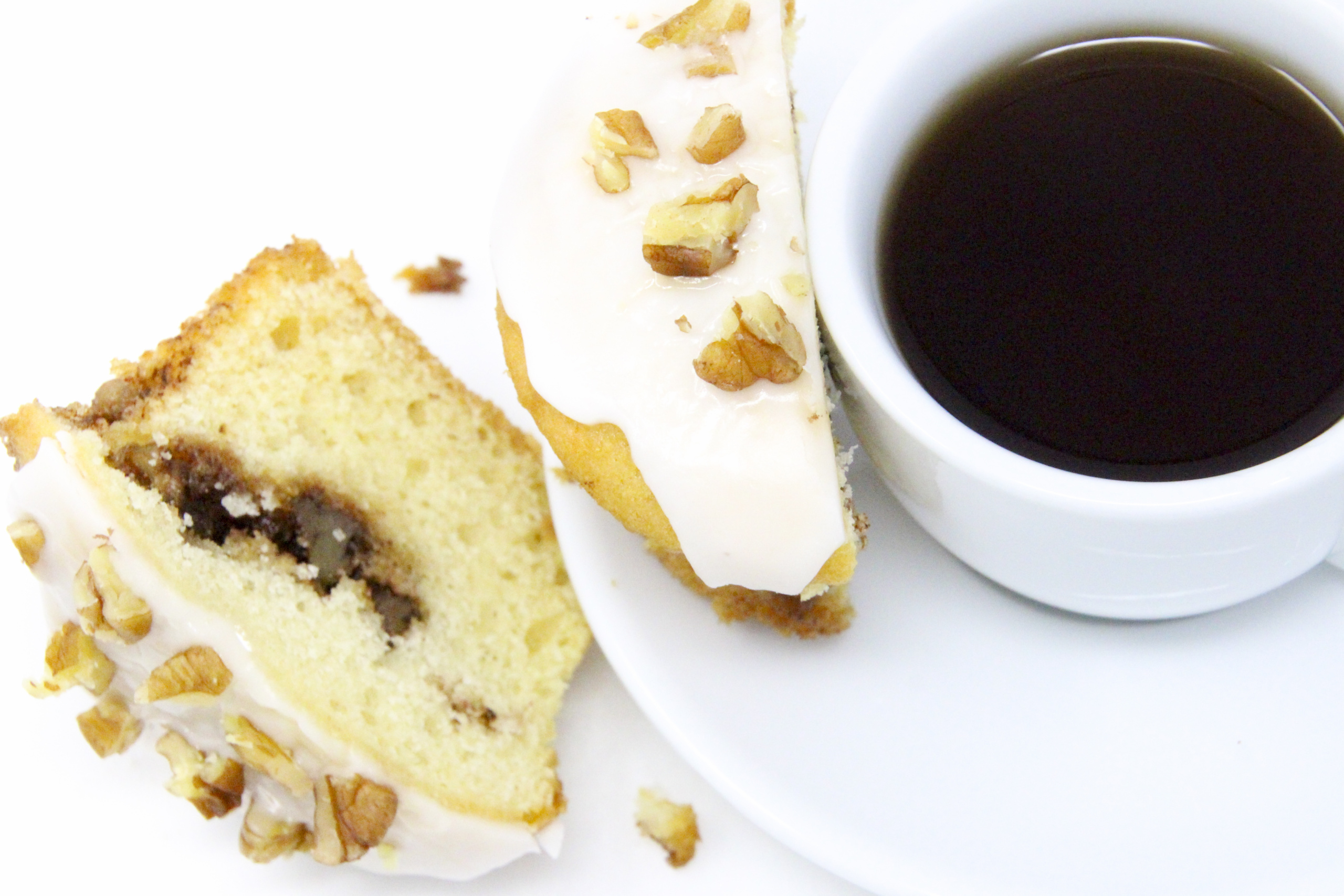 Pin to Pinterest: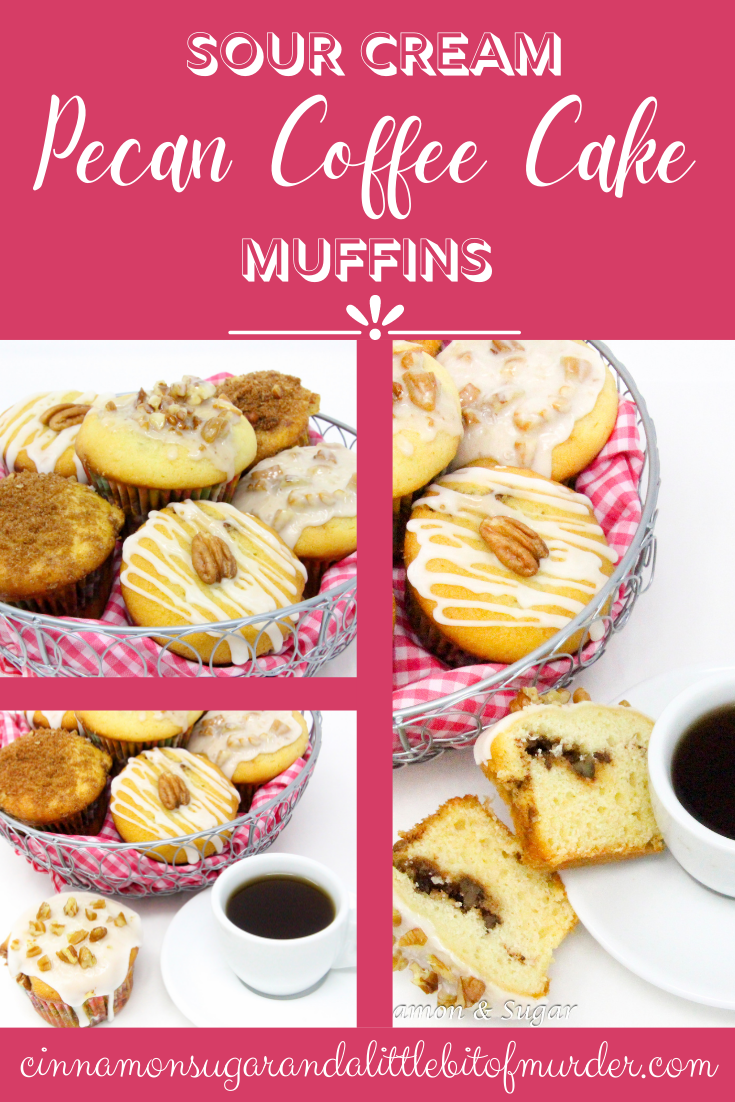 I was provided with an advance copy. All thoughts and opinions are my own.