THE MOUSSE WONDERFUL TIME OF THE YEAR, the tenth book in the Oxford Tearoom Mystery series by H.Y. Hanna, is a delightful Christmas cozy that captures the feeling of an Agatha Christie book! When the protagonist, Gemma Rose, is roped into catering a traditional Christmas children's tea at a local mansion, little did she know she'd be snowed in with a murderer. From a letch of a prodigal son, to an unloving octogenarian, to an Oxford professor, to a chauffeur, to a doormat of a wife, to the housekeeper, it takes all Gemma's experience to find out who had reasons to murder…and to keep the four Old Biddies out of trouble. To make matters worse, her adorable cat, Muesli, is back to making mischief for Gemma while endearing herself to everyone else. While the suspect list was limited because of the "locked house" scenario, each of the people there had plenty of reasons to want the victim dead which kept me guessing. With the reveal (again done in an Agatha Christie fashion) I enjoyed the way the clues were pieced together to find the culprit.
Once again, the Old Biddies steal the scenes they crash and provide some laugh out loud moments. I love their feistiness and the fact that they formed a granny band of carolers called 'The Twelve Greys of Christmas'. Over the course of the series, Ms. Hanna has created a wealth of supporting characters for Gemma, each well-developed. However, in this newest release, we don't see many of them or if we do, it's very limited. Instead, Gemma is surrounded by strangers (except for the Biddies) and it has forced her to be more independent and resourceful. While I missed the supporting characters, like the hot Detective Inspector Devlin O'Connor, it was nice to see Gemma on her own and see how she's grown over the series. Ms. Hanna does end the book with a Christmas gathering at Gemma's parents' house that added levity to the book and left me with holiday cheer.
As owner of Little Stables Tearoom, Gemma's bakery chef creates so many mouthwatering treats for the Christmas tea, including little mince pies. Ms. Hanna has provided a recipe at the back of the book for Mince Pies but I wasn't sure what to think about the recipe, until I read through the ingredients. I was relieved to find nary a scrap of meat. Instead, the pies are filled with yummy things like apples and raisins and brandy. As the author was developing her recipe, she consulted with me on the pastry since British and American recipes can greatly vary. As a result, I was pleased when she decided to include my recipe for Easy Peasy Pie Dough which is practically hassle-free. I'll admit when I'm super busy, especially around the holidays, it's nice to take the easy route and buy pre-made pie dough. Pillsbury refrigerated dough is the best I've tried but if you have the time, homemade makes your dessert even better. While I was tempted to try the traditional British pastry dough, I decided to stick with my tried and true since I knew I could make it dairy-free so my husband could enjoy this dessert. The pastry dough is light and flaky, while the rich flavors of the filling marry together after a day or so of marinating. You'll feel like you're taking a bite of the holidays with every forkful of yumminess!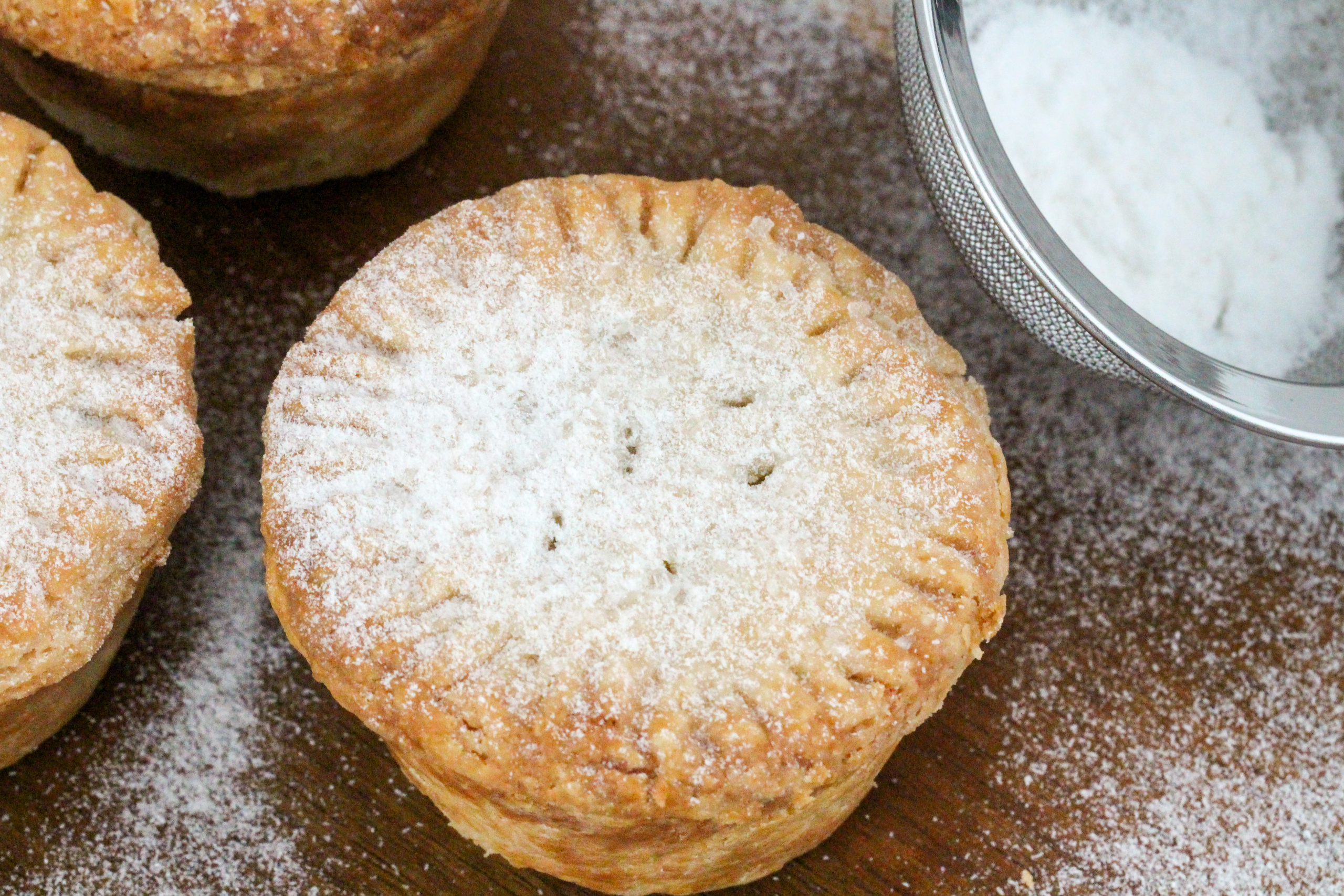 Amazon Synopsis
Tearoom sleuth Gemma Rose is looking forward to a holiday filled with delicious Yuletide treats, time with friends and family, and maybe even a "white Christmas" in Oxford… But when she's snowed in at a country manor, she finds herself stumbling on a puzzling murder—complete with a body in the library, a house full of suspects and a trail of mysterious footprints!
Luckily, the nosy Old Biddies are on hand to help… not to mention her cheeky tabby cat Muesli. Add in some carol singing, Christmas baking and flannel underwear, and Gemma's stocking is bursting at the seams. Can she solve this festive whodunnit in time to enjoy the most wonderful time of year?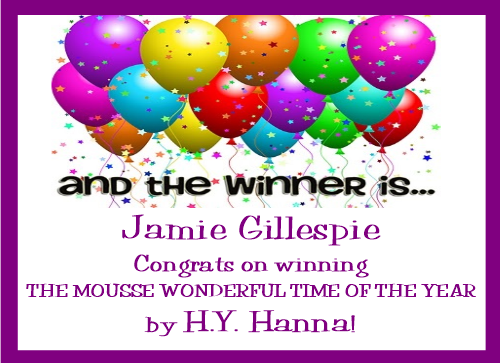 A special thanks to H.Y. Hanna for providing one winner with their choice of print or an e-book copy of THE MOUSSE WONDERFUL TIME OF THE YEAR.  Contest ends Saturday, January 4, 2020 at 11:59 pm PST . Please use the Rafflecopter box located below to enter. The winner will be announced on this page and on Cinnamon & Sugar's Facebook page, as well as notified by email (so check your spam folder!)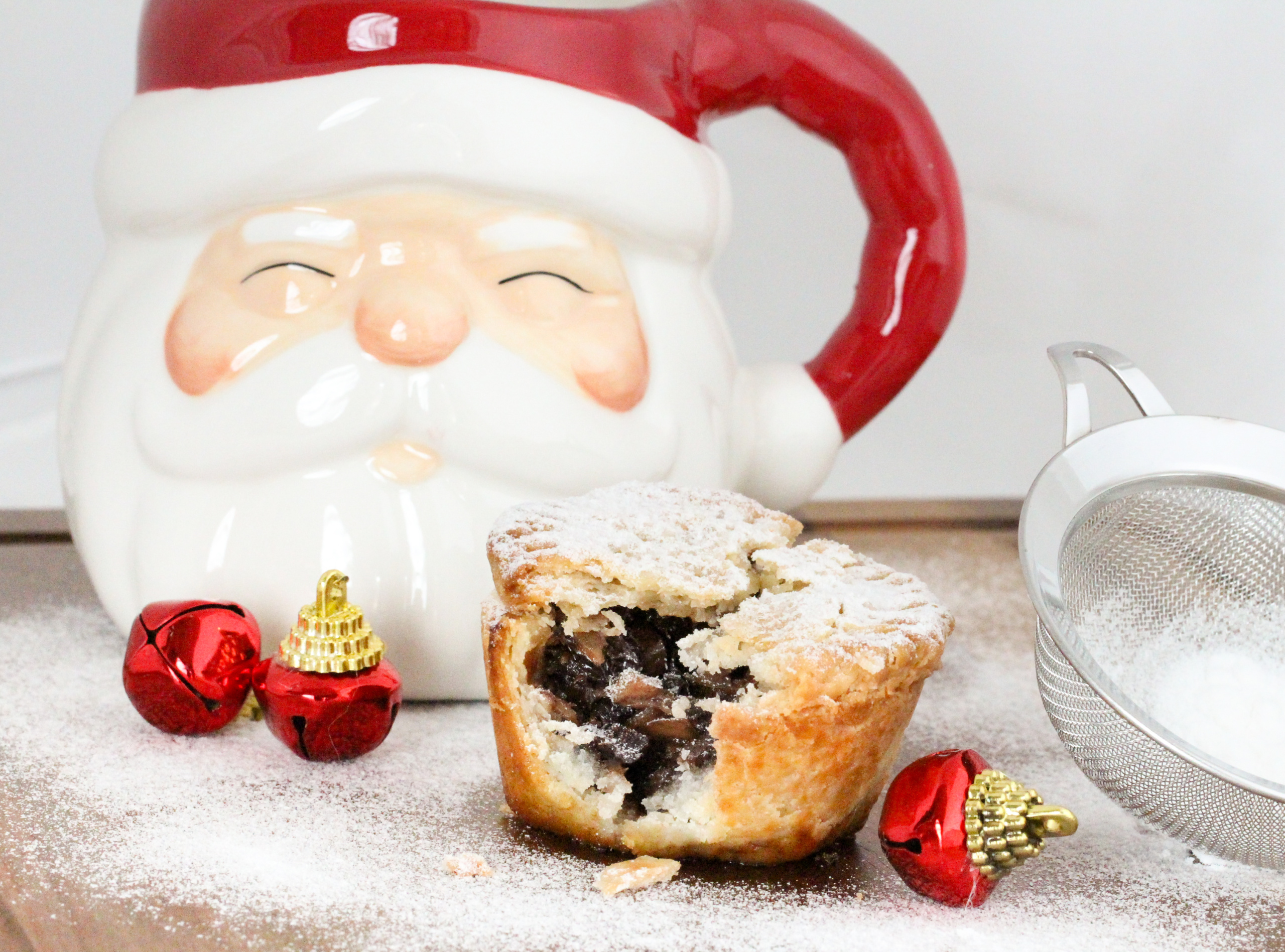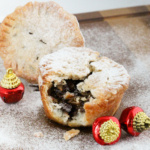 Christmas Mince Pie
This is the key ingredient to mince pies! You can buy ready-made mincemeat but it is easy to make your own and you can add/adjust the different fruit portions and sweetness to suit your taste. Below is a traditional recipe but modern variations can also include dried cranberries, dried apricots, even dried tropical fruit like pineapple. You can also substitute rum or sherry instead of the traditional brandy. Contrary to popular belief, mincemeat does not need to be made months in advance - even a few days of marinating will produce wonderful flavours.
** Note: the traditional mincemeat recipe calls for "suet" which is a form of animal fat. This can be hard to source or you may not wish to use it. Alternatives can be used, although the end result might taste slightly different. Vegetable shortening is recommended as the best alternative, although butter can also be used.
Ingredients
1

large Bramley (or Granny Smith) apple, finely chopped (the skin can be left on if you wish)

2/3

cup

(120g / 4-1/4 oz) raisins

1/2

cup

(75g / 2-3/4 oz) currants

1/2

cup

(85g / 3 oz) sultanas (aka golden raisins)

1/3

cup

(55g / 2 oz) mixed peel (mixed candied citrus peel)

Finely grated zest of 1 lemon

Finely grated zest of 1 small orange

2-1/2

tablespoons

orange juice

2-1/2

tablespoons

lemon juice

1/2

cup

(100g / 3-1/2 oz) lightly packed dark brown sugar

1/4

cup

(40g / 1-1/2oz) chopped blanched almonds or almond flakes

1/2

cup

(65g / 2-1/4 oz) suet (or vegetable shortening or butter) - this should be finely grated or chopped into small pieces. Putting the butter in the freezer briefly makes it firm enough to chop or grate easily.

1

teaspoon

ground cinnamon

1/4

teaspoon

ground nutmeg

Large pinch of ground cloves

1/3

cup

(80ml / 2-1/2 fl oz) brandy

Shortcrust pastry or pie crust dough
Instructions
Mix all the ingredients, except the pie dough, in a large, heatproof bowl and combine well - in particular make sure that the pieces of suet / butter are well distributed and thoroughly mixed in with the other ingredients. Cover and set aside in a cool place overnight (or 12 hours) to marinate, so that the flavours have time to mingle and develop.

Preheat the oven to 235 degrees (F) (120 degrees C / Gas 1/2). Cover the bowl loosely with foil and cook for 2 hours, stirring occasionally.

Remove the bowl from the oven and set aside to cool, stirring it from time to time. The fat/butter should have melted and coated everything.

Once it has cooled, use to fill mince pies. Or, it can be transferred to sterilized jars and stored in the refrigerator for a few days. For longer storage, process in a canning water bath to seal the jars and use within six months.
To prepare the Mince Pie
Preheat oven to 425 degrees (F) (220C/200C fan/gas 7)

On a lightly floured surface, roll out one of the dough halves thinly (about 1/8" or 3mm).

Use a round cutter that's slightly larger than the holes in a shallow tart pan (or a muffin pan will work) to cut out rounds of pastry to line each hole.

Fill each pastry case with a generous dollop of mincemeat using a slotted spoon to drain the juices as you scoop up the mixture.

Roll out the second portion of dough and cut slightly small rounds to place as lids over each pie.

Brush the edges of each pie with a bit of egg wash (egg beaten with a teaspoon of water), then press gently down along the edges to seal. You can use the tines of a fork to press the two sections of dough together around the edges of the pie, as well as giving it a pretty ridged edge.

Cut 3 small slits in the top of the crust to allow steam to escape.

Place in the oven and bake for about 20 minutes, or until the crusts are golden.

Remove from the oven and allow the pies to cool slightly, before gently taking them out of the tart pan. Place on a rack to cool. Sift icing sugar over the top of the pies and serve warm.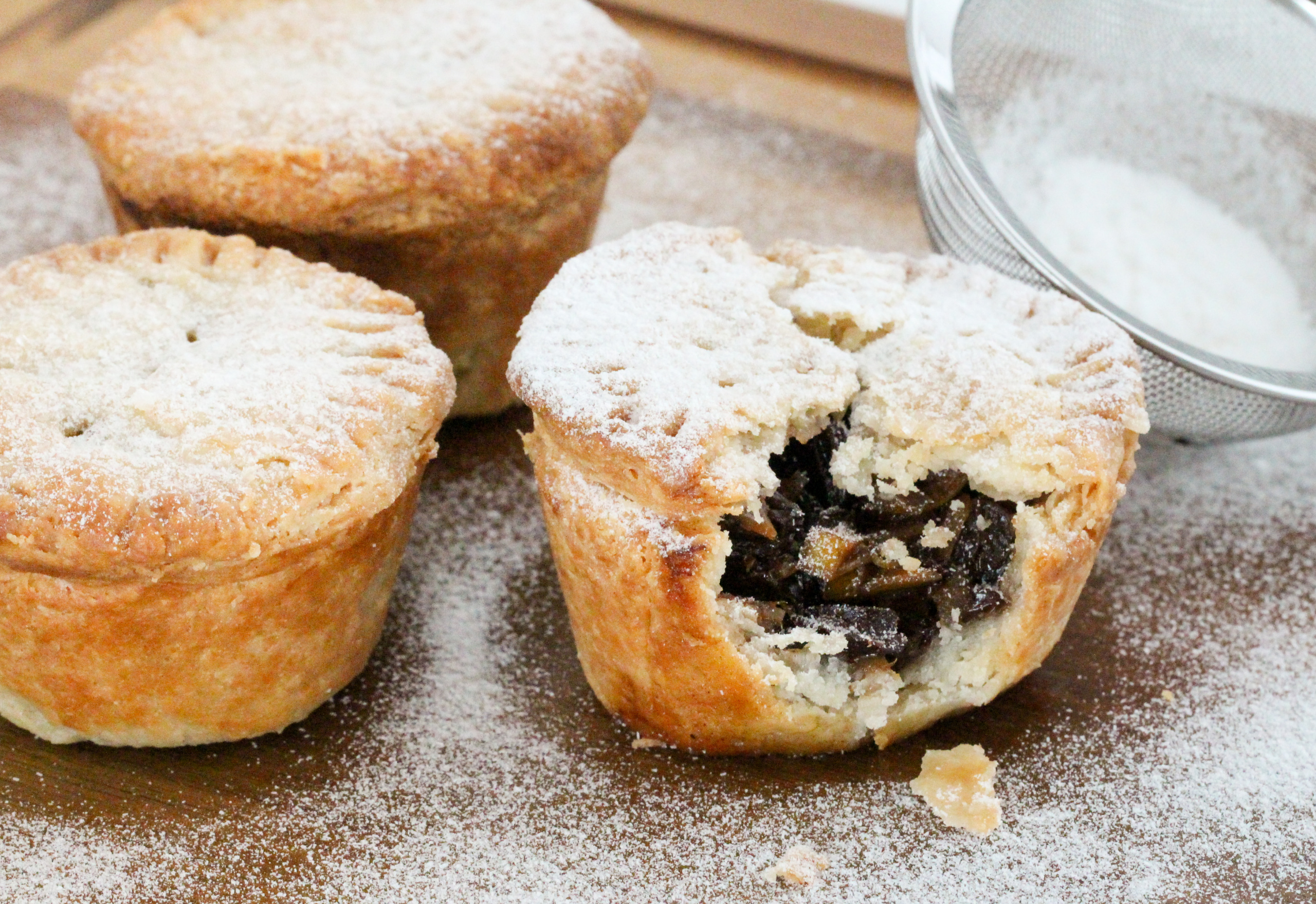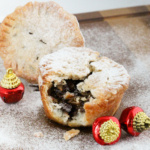 Shortcrust Pastry
A traditional British recipe
Ingredients
3

cups

(375g) all-purpose flour

1-1/4

cups

(260g) unsalted butter, softened

1

cup

(125g) icing sugar, plus extra for sprinkling

A little cold water
Instructions
Mix the flour, icing sugar, and butter in a large bowl, using your fingertips to gently rub the butter into the flour, until they are thoroughly mixed and the mixture resembles coarse breadcrumbs. *You can also do this in a food processor (on pulse mode), which will be quicker and might be better as you want to handle the flour as little as possible.

Add in a bit of cold water at a time and mix gently (or pulse in the food processor) until the mixture comes together.

Tip the mixture out onto a floured surface and gently fold until you get a smooth dough. Be careful not to over-mix or knead too vigorously, otherwise the dough will become tough. You just want to have the dough come together into a cohesive ball.

Divide the dough in half and wrap each piece in plastic wrap (cling film) and chill in the refrigerator for 30 minutes.

Roll out the shortcrust pastry dough according to your pie or tart directions.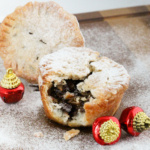 Easy-Peasy Pie Crust
As previously developed and published by Cinnamon, Sugar, and a Little Bit of Murder
Ingredients
2-1/2

cups

(12-1/2 oz) all-purpose flour

2

tablespoons

(1 oz) granulated sugar

1

teaspoon

salt

1-1/4

cup

vegetable shortening OR 3/4 cup vegetable shortening and 1/2 cup unsalted butter, all thoroughly chilled. I use all shortening to keep it dairy-free and vegan.

1/4

cup

vodka, any brand, chilled

2-3

tablespoons

ice cold water
Instructions
Place flour, sugar and salt in a food process and pulse 5 times until combined. (Alternately, you can mix in a large bowl with a fork.)

Add shortening (cut into medium/small pieces) and butter if using (cut into small cubes) and pulse about 15 times. (Or use a pastry cutter and work shortening and butter in until it becomes small pea-sized.) Scrape down bowl and pulse 3 or 4 more times. Mix 2 tablespoons of ice cold water with the chilled vodka and sprinkle over the flour mixture. If you live in a very dry place or have central air or heat going, you may need to add the additional tablespoon of water. This dough can handle being more moist than traditional pie crust recipes.

Pulse just until the dough begins to stick together. It took me about 6 pulses. You don't want it to come together in a ball. Overworking the dough is what makes it tough. (Or use a fork to work the liquid into the dry ingredients.)

Transfer the dough onto a non-stick surface and divide dough in half. Compress each half into a ball and flatten, then wrap well with plastic wrap. Refrigerate for at least an hour and up to 3 days.

Rolling it out:

Remove one disk from the refrigerator and place on well-floured work surface. I love my silicone mat and rolling pin for this. Flour the top of the dough along with your rolling pin. Roll the dough into a circle large enough to fit your pie plate with some overhang.

Carefully place the dough into your pie plate then press into the bottoms and sides. If the dough tears just compress it back together. If there's more than 1 inch of overhang, trim the excess and reserve the dough for cinnamon pie dough rolls.

If you are baking a single piecrust recipe, roll the top crust under to form a nice edge and flute or score with the back of a fork. Bake as your pie recipe directs.

Or, roll out and bake according to your pie or tart directions.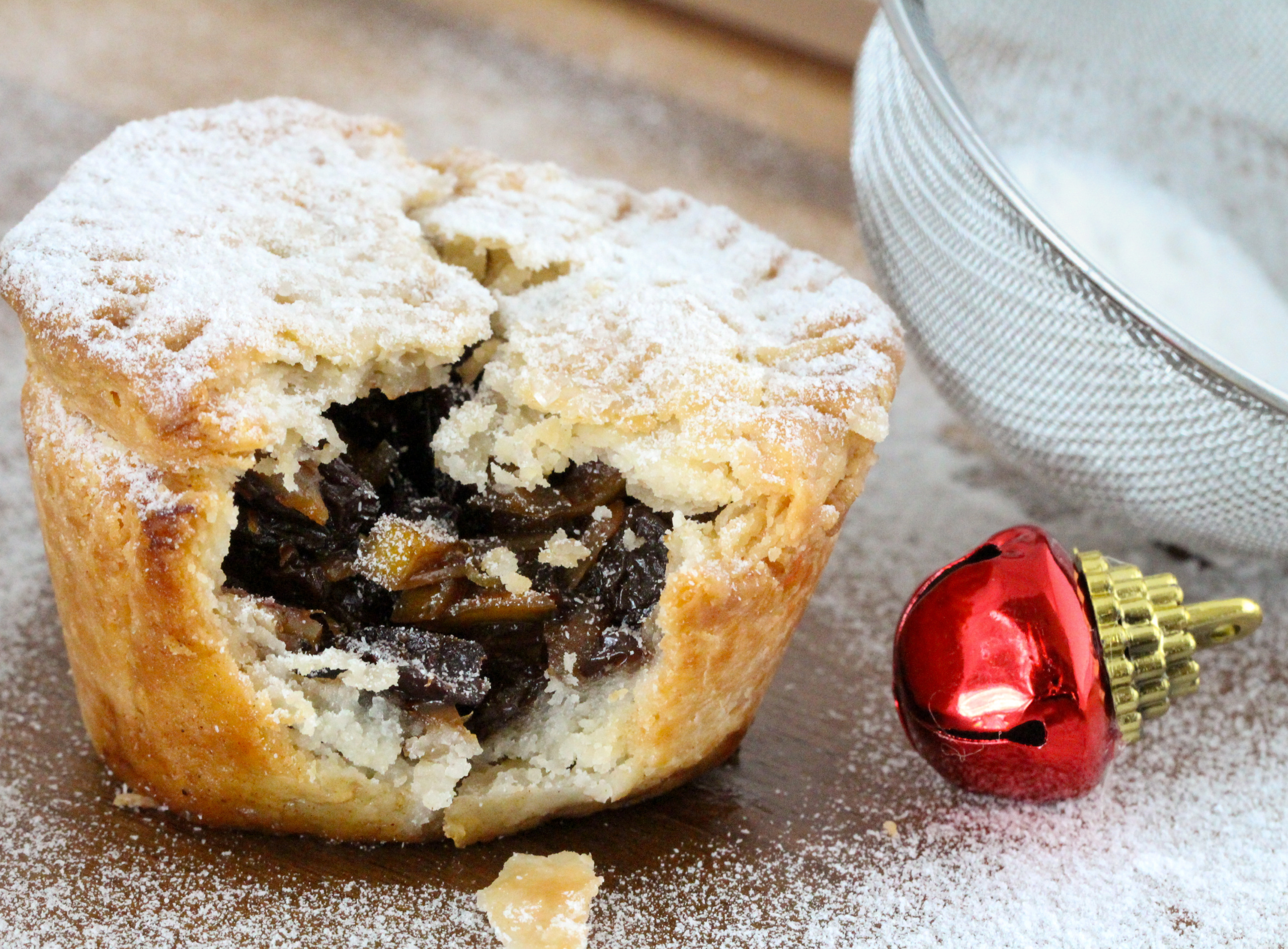 Pin to Pinterest: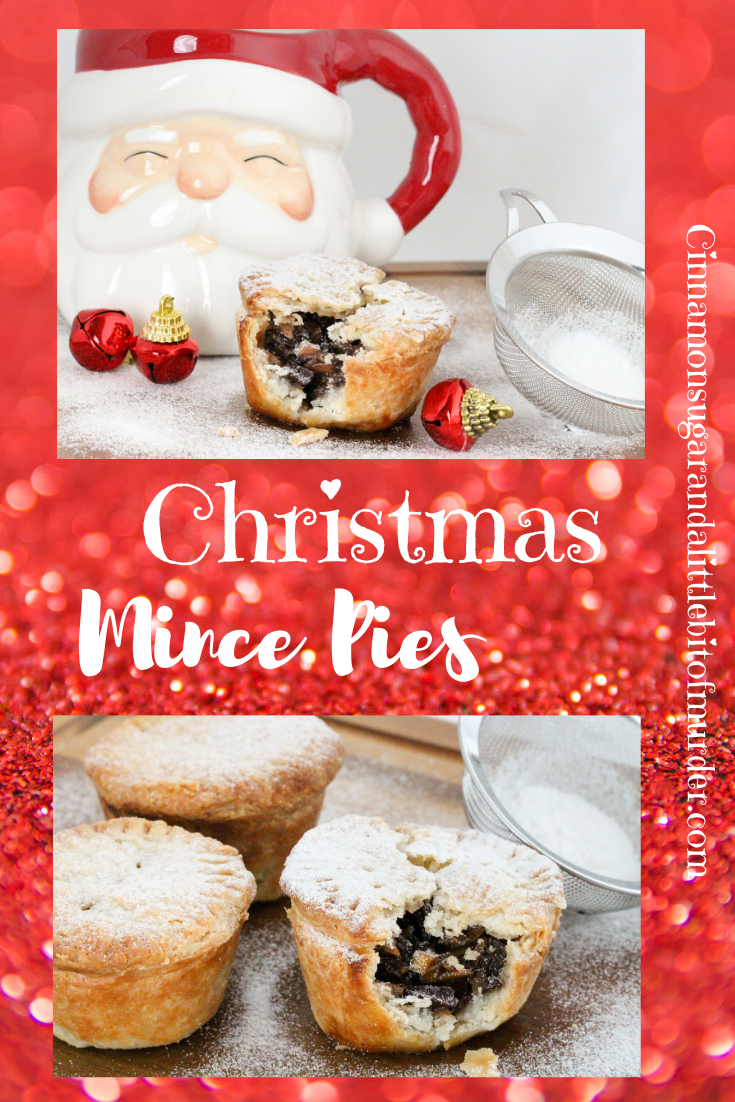 If you receive my blog post via email you will need to visit my website to view the video.