A SPRINKLE IN TIME, the second book in the Shake Shop Mysteries, by Dana Mentink, is another fantastic read in an entertaining series! With characters who practically beg to become your friend, the story kept me captivated from the very first. The author has created quirky characters and developed unique relationships between them, which gives the cozy mystery book a fresh twist. Trinidad Jones, newly moved to Upper Sprocket, Oregon thanks to a cheating ex-husband, has finally gotten her ice cream shop, Shimmy and Shake Shop, up and running. I adore that her Cuban grandfather, Papa Luis has left Miami and moved in with her for the foreseeable future. He's become a bit of a sidekick along with her elderly failed service-dog rescue, Noodles. The pair add moments of humor to lighten the story. The author's descriptive voice lends to the overall enjoyment and I couldn't help but chuckle over her description of Noodles trying to take part in the Yodel fest event.
When Papa Luis discovers a body in the trunk of his beloved 1951 Buick, it disappears before the police arrive. Ms. Mentink sets up several sub-mysteries within the mystery as Trinidad tries to determine if the body was even dead, and the identity of the body, and who might have put the body in the trunk in the first place. As she tries to investigate—something she is loath to do—her two friends, Bonnie and Juliette, who also happen to be ex-wives of her ex-husband, help. I adore the development of the friendship between the three women and am glad to see the reader gets to know more about them. As the identity of the body becomes known, it becomes apparent that many people had reasons to hate him. And with a thirty-year-old cold case involving a missing local young woman thrown in, the twists just keep coming. Ms. Mentink does an admirable job keeping the book on pace and the subplot threads straight without it becoming confusing. As all was revealed, it all came together in a satisfying, cohesive story.
With the backdrop of the setting featuring the Shimmy and Shake Shop, Trinidad's massive Freakshake creations lends plenty of opportunities to make the reader crave ice cream desserts. The multitude of yummy descriptions had me drooling. The author has included a couple recipes at the back of the book, one of which is Cheery Cherry "Do-it-Yourself" Pickle Jar Ice Cream. Featured at a little girl's birthday party for guests having the opportunity to make their own ice cream, I couldn't wait to try this super simple take on homemade ice cream. It was every bit as easy and fun as I'd imagined and the resulting frozen dessert was quite delicious! I found that storing the ice cream long-term resulted in very hard ice cream, but a quick zap in the microwave to soften worked perfectly. Delicious on its own or drizzled with chocolate syrup or speckled with chocolate sprinkles, this ice cream is a fun and delicious treat that kids and adults alike can make!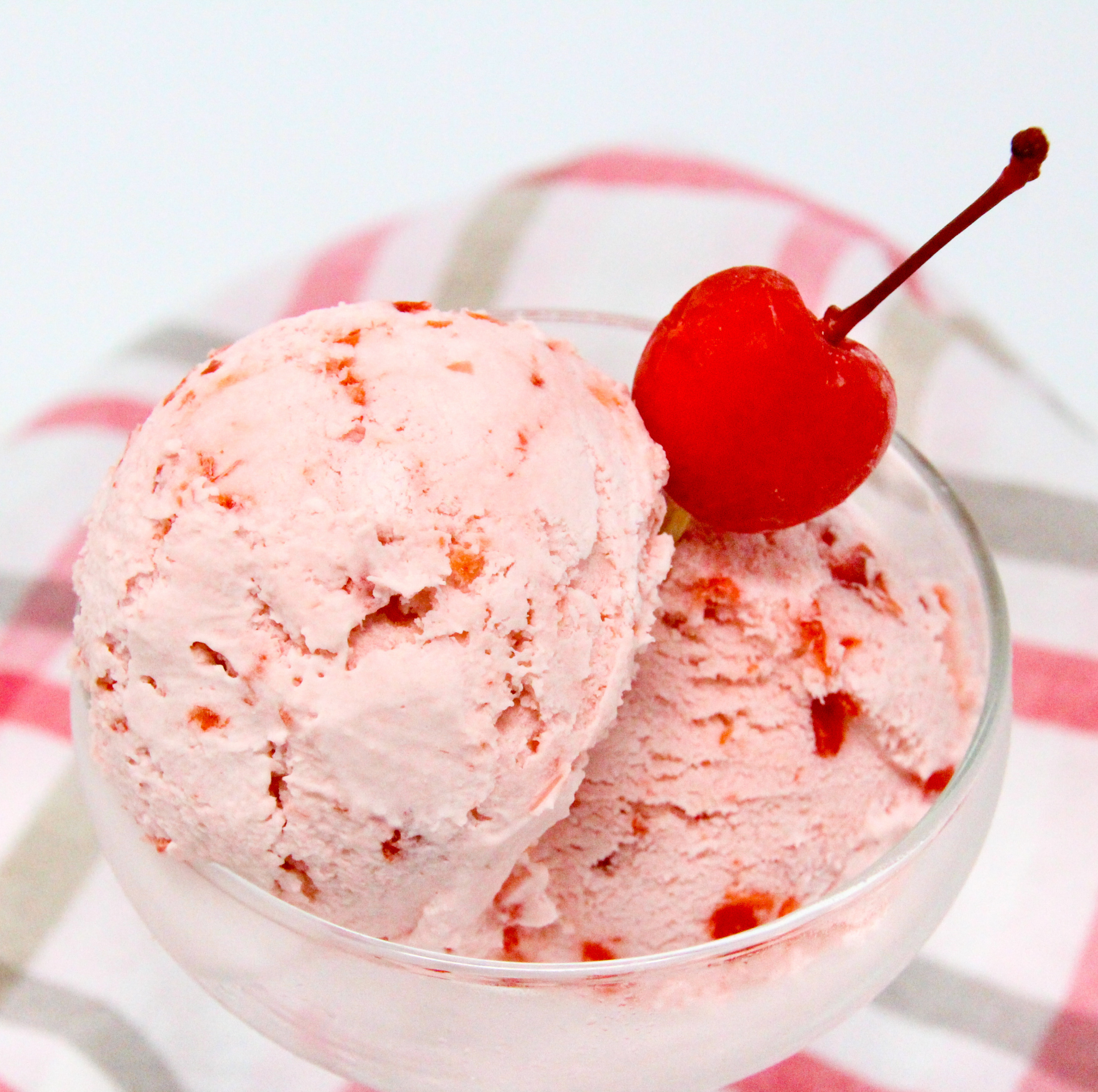 Amazon Synopsis
It's Alpenfest in Upper Sprocket! Yodelers are congregating in the square, tourists flocking to the town, and Trinidad Jones is scooping up some fall flavors at her Shimmy and Shake Shop.
The cherry on the sundae is her upcoming feature in The Scoop magazine. She's determined to serve up the perfect interview, but it won't be easy, thanks in part to her meddling Cuban grandfather Papa Luis who has decided to make Sprocket his home for the foreseeable future. Papa Luis has set himself up as a taxi driver in his classic 1951 Buick.
But things take a turn when Papa Luis tells her he's found a corpse in his trunk. Upon closer investigation, they realize the body has disappeared. With the assistance of Juliette and Bonnie (her sisterhood of exes) and the way too handsome nut farmer Quinn Logan, Trinidad must solve the mystery of the disappearing corpse, before her grandfather is up to his neck in a murderous mess.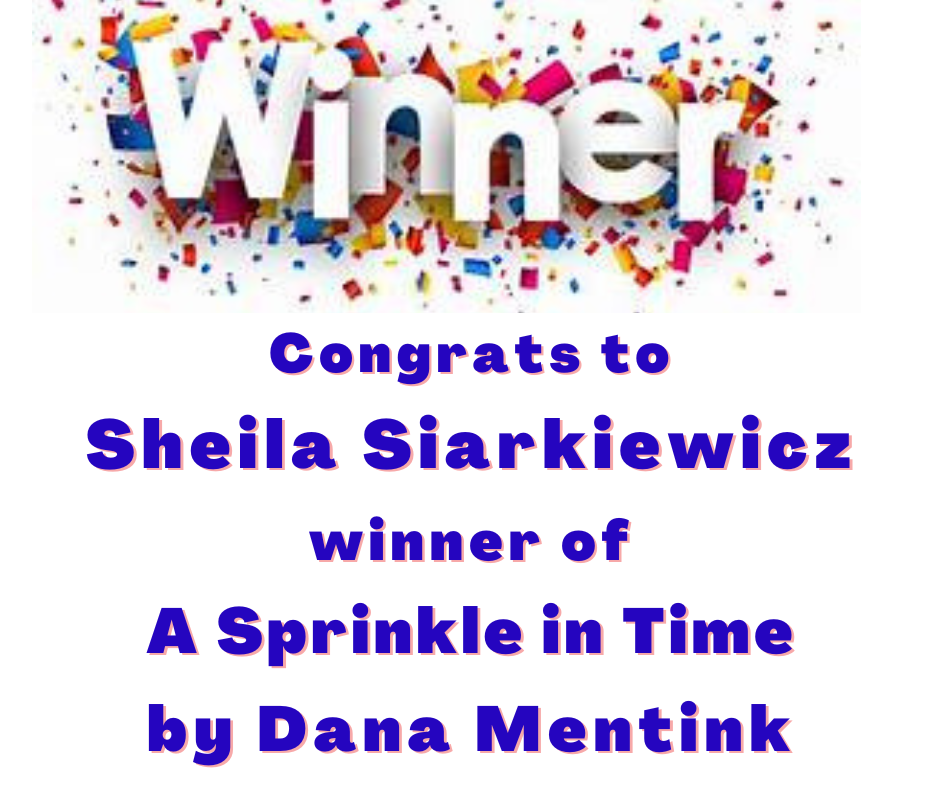 A special thanks to Poisoned Pen Press for providing a print copy of  A SPRINKLE IN TIME. Contest ends June 1, 2022 at 11:59 pm PST and is limited to U.S. residents only. Please use the Rafflecopter box located below to enter. The winner will be announced on this page and on Cinnamon & Sugar's Facebook page, as well as notified by email (so check your spam folder!)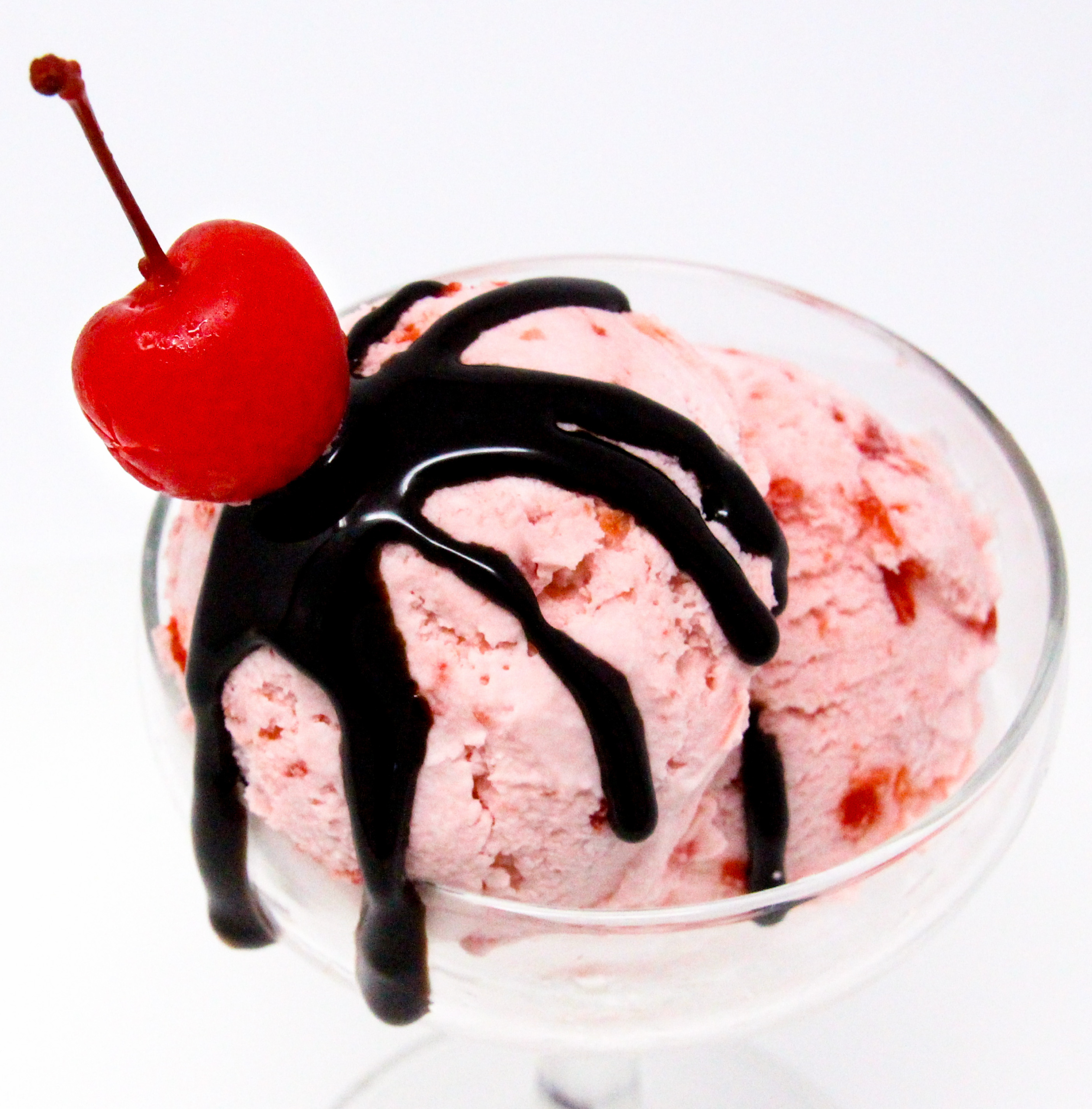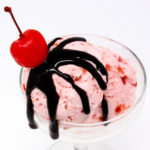 Cheery Cherry "Do-it-Yourself" Pickle Jar Ice Cream
This works best in a clean 16-ounce or larger pickle or jelly jar. It's a fun activity for kids and adults alike!
Ingredients
1

cup

whipping cream

3

tablespoons

maraschino cherry juice

2

tablespoons

sugar

1/2

teaspoon

vanilla

1

pinch salt
Optional add-ins
1/4

cup

finely chopped maraschino cherries

2

tablespoons

chocolate sprinkles
Instructions
Pour all of the ingredients into the jar except the optional add-ins. Close the lid tightly and shake for five minutes. (Recruit help if your arms get tired!)

Put the jar into the freezer and let sit for two hours.

Add your mix-ins to the jar, if you'd like. Stir the mixture around if it has gotten too solid.

Freeze for another hour until desired consistency.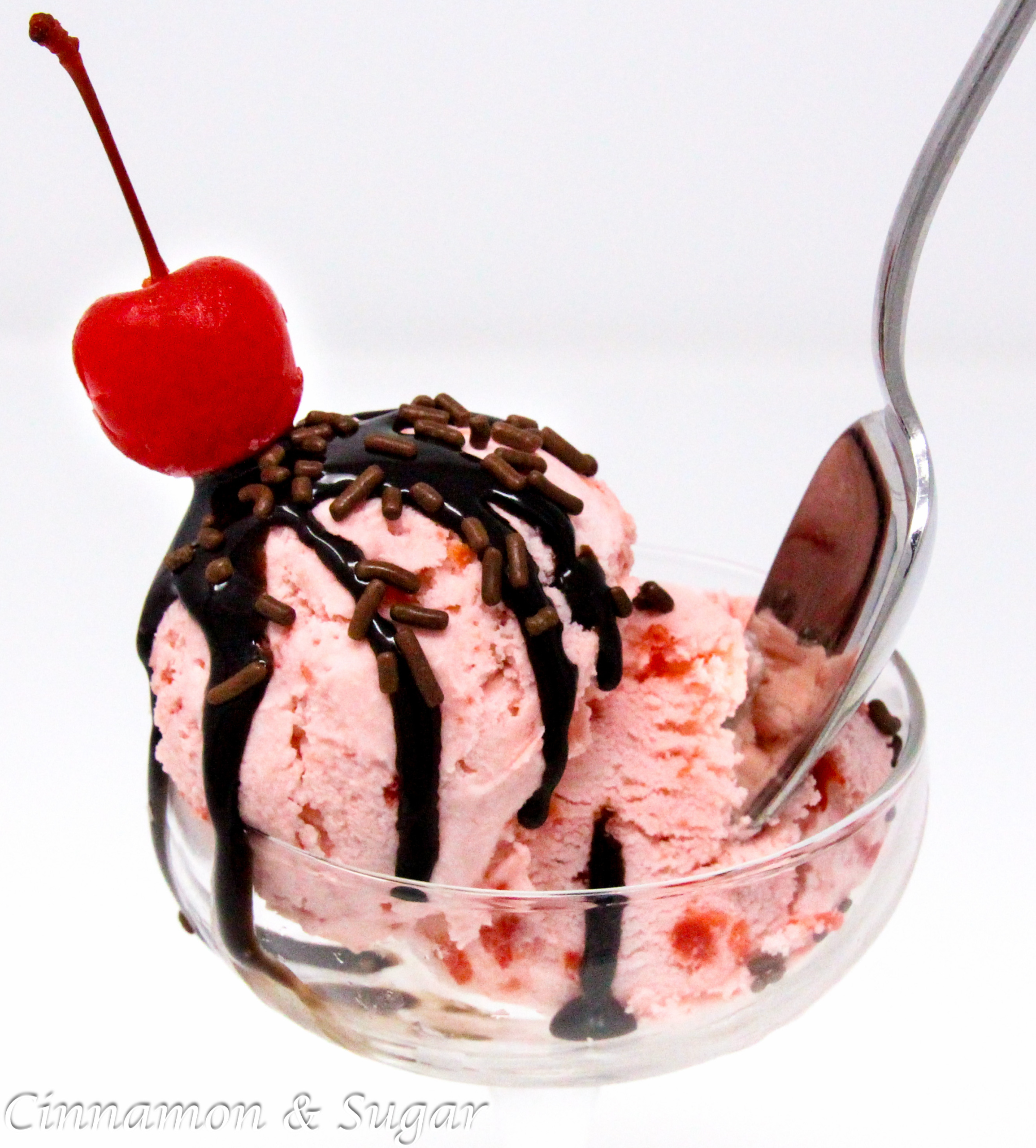 Pin to Pinterest: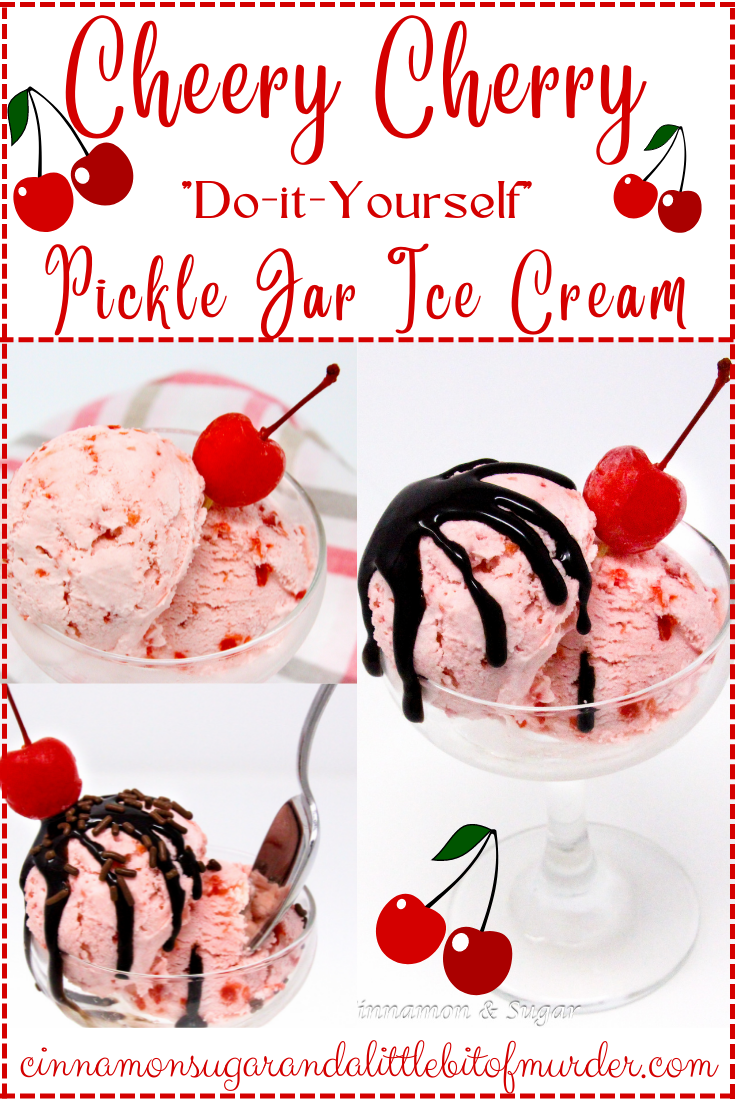 I was provided with an advance copy. All thoughts and opinions are my own.