THE DIVA SAYS CHEESECAKE, the fifteenth book in the Domestic Diva Mystery series by Krista Davis, hits all the right marks for capturing my attention and keeping it throughout the entire book. And if you haven't read any in the series, this can be read as a standalone. However, with the memorable and relatable characters that populate the series, it's been a pleasure reading from the first and watching the character growth and the changes over the years. Protagonist Sophie Winston is one of those people you'd love to have as your best friend. She's kind, she loves to share her baked goods, and she's ready to jump in and help whenever someone has a problem. The author weaves a puzzling mystery into the charming setting of Old Town Virginia, set against the backdrop of A Midsummer Night's Dream festivities. Her descriptive voice makes the words come alive on the pages so that the reader feels like they're right there experiencing everything Sophie does. Another favorite aspect of each book is the advice column question, to either Sophie or her nemesis, Natasha, and the corresponding answer that begins each chapter. These are entertaining all on their own!
When Bobbie Sue Bodoin, the Queen of Cheesecake's husband is found murdered, she begs Sophie to solve the crime. Adding to the urgency, the police have named one of Sophie's close friends, Bernie, as the prime suspect. I love the loyalty that Sophie and her friends show toward each other and they all pitch in to help Sophie sleuth. I also enjoyed that with the spotlight turned on Bernie, the reader has an opportunity to know him better and find out some of his closely held secrets. There are plenty of suspects for Sophie to sift through, and the clues are woven in for an armchair detective to collect. I'll admit I was thrown off scent by some of the twists and turns, but it made the story even more intriguing as it unfolded.
Did someone say cheesecake? With the title and theme of the book, Ms. Davis does an admirable job of weaving in mouthwatering descriptions of cheesecake throughout the book and includes several delectable recipes. I was intrigued by her Blackberry No-Bake Cheesecake recipe. It sounded like a refreshing for a summer dessert with no need to turn on the oven. I loved that it needs to be made the day before serving, which frees up time when entertaining guests. While it had a lighter consistency than baked cheesecake, it was creamy and oh-so-yummy and I'll be making this again and again, whenever blackberries are in season!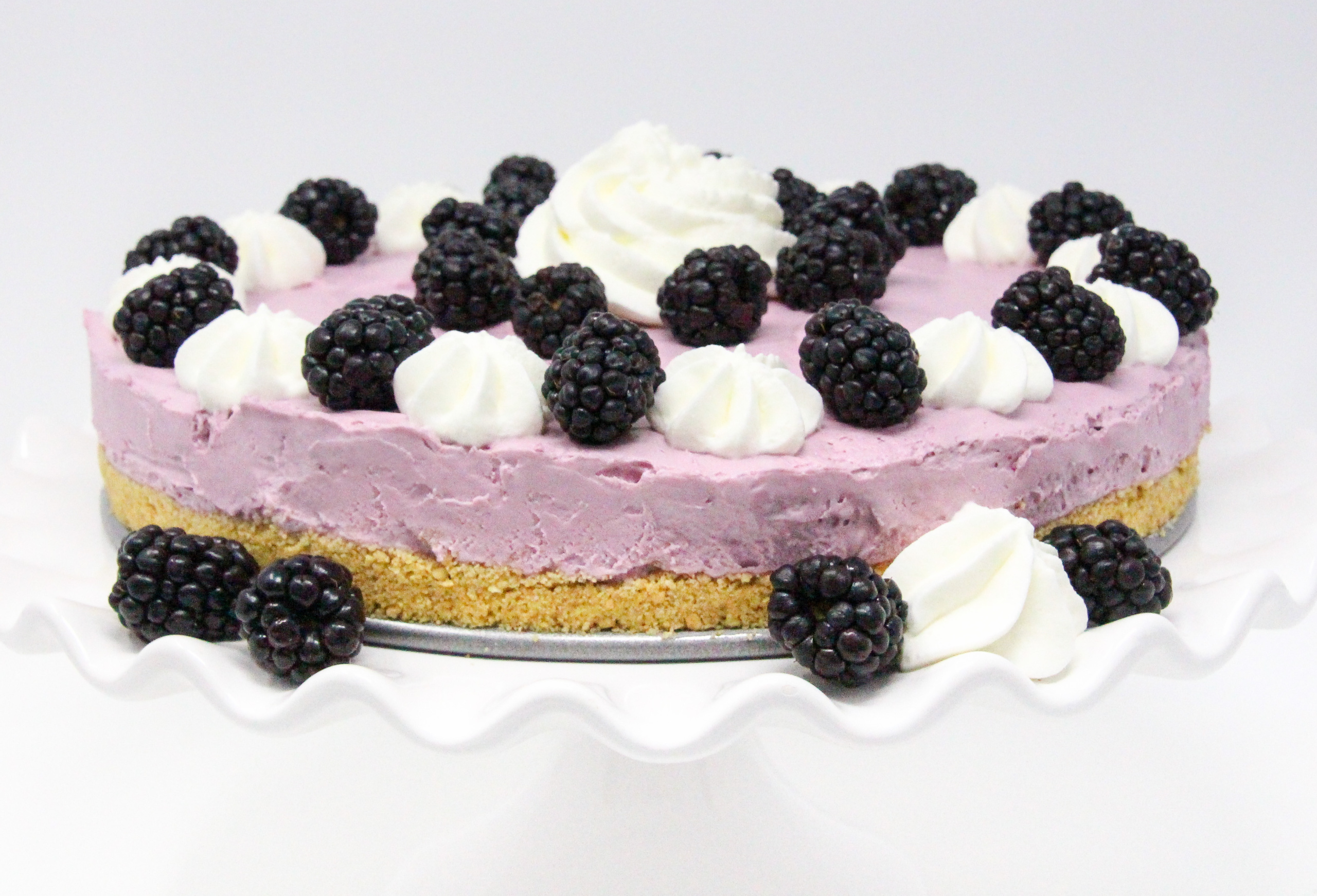 Amazon Synopsis
Old Town's midsummer festivities are getting a tasty addition this year. To coincide with a public performance of Shakespeare's "A Midsummer Night's Dream," Bobbie Sue Bodoin, the Queen of Cheesecake, has hired Sophie to organize a dinner with a dessert buffet on the waterfront. Bobbie Sue's homegrown company is thriving, and since her baking dish overfloweth, she wants to reward her employees.
Bobbie Sue has only one menu demand: no cheesecake! But her specialty isn't the only thing missing from the evening—Tate, Bobbie Sue's husband, is too, much to her annoyance. Next morning, however, Tate's dead body is discovered. Bobbie Sue insists she didn't kick her spouse to the curb, and begs for Sophie's help finding the real killer. Digging in, Sophie discovers an assortment of Old Town locals who all had reason to want a piece of Tate. Can she gather together the crumbs the killer left behind in time to prevent a second helping of murder?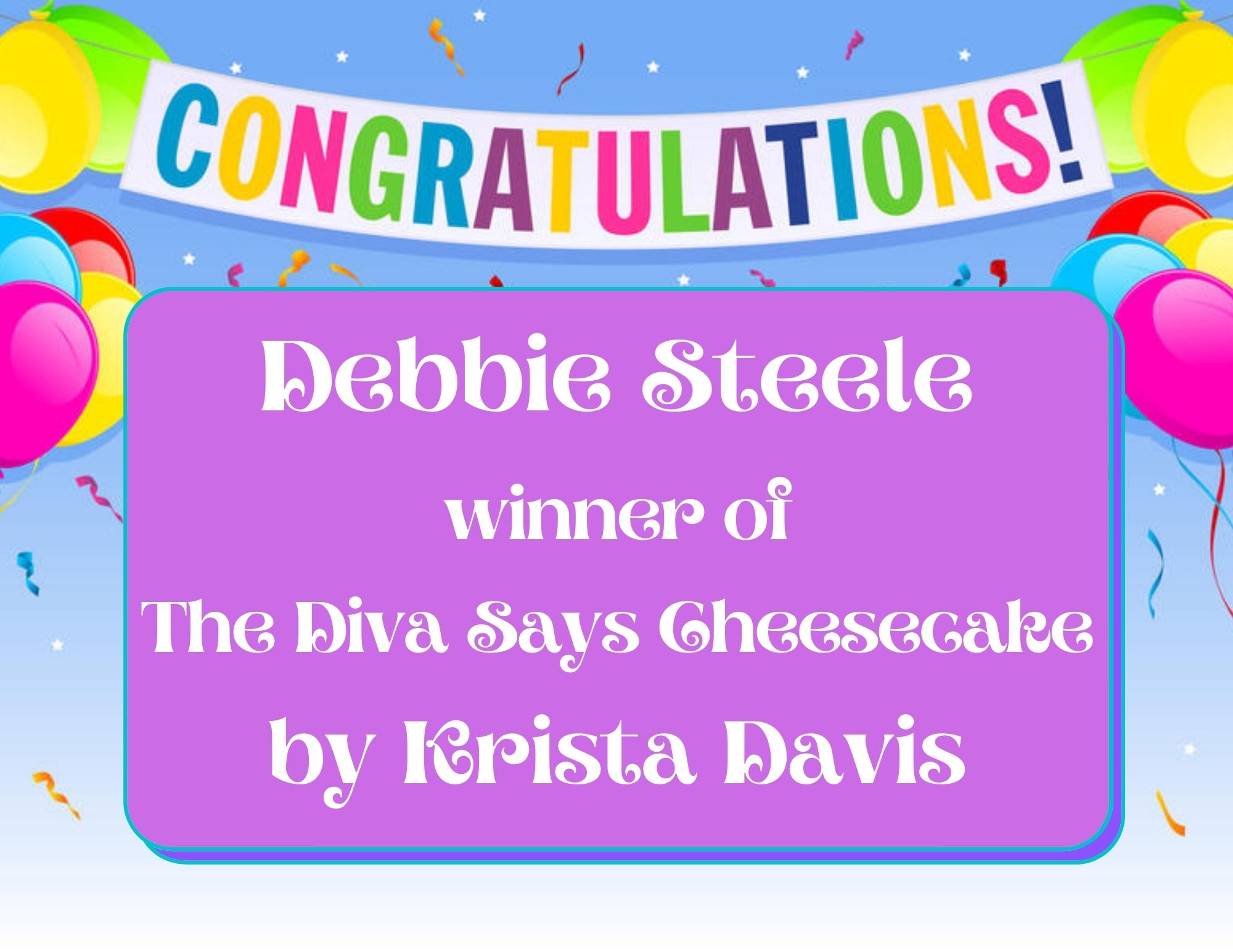 A special thanks to Krista Davis for providing a print copy of  THE DIVA SAYS CHEESECAKE. Contest ends June 8, 2022 at 11:59 pm PST and is limited to U.S. residents only. Please use the Rafflecopter box located below to enter. The winner will be announced on this page and on Cinnamon & Sugar's Facebook page, as well as notified by email (so check your spam folder!)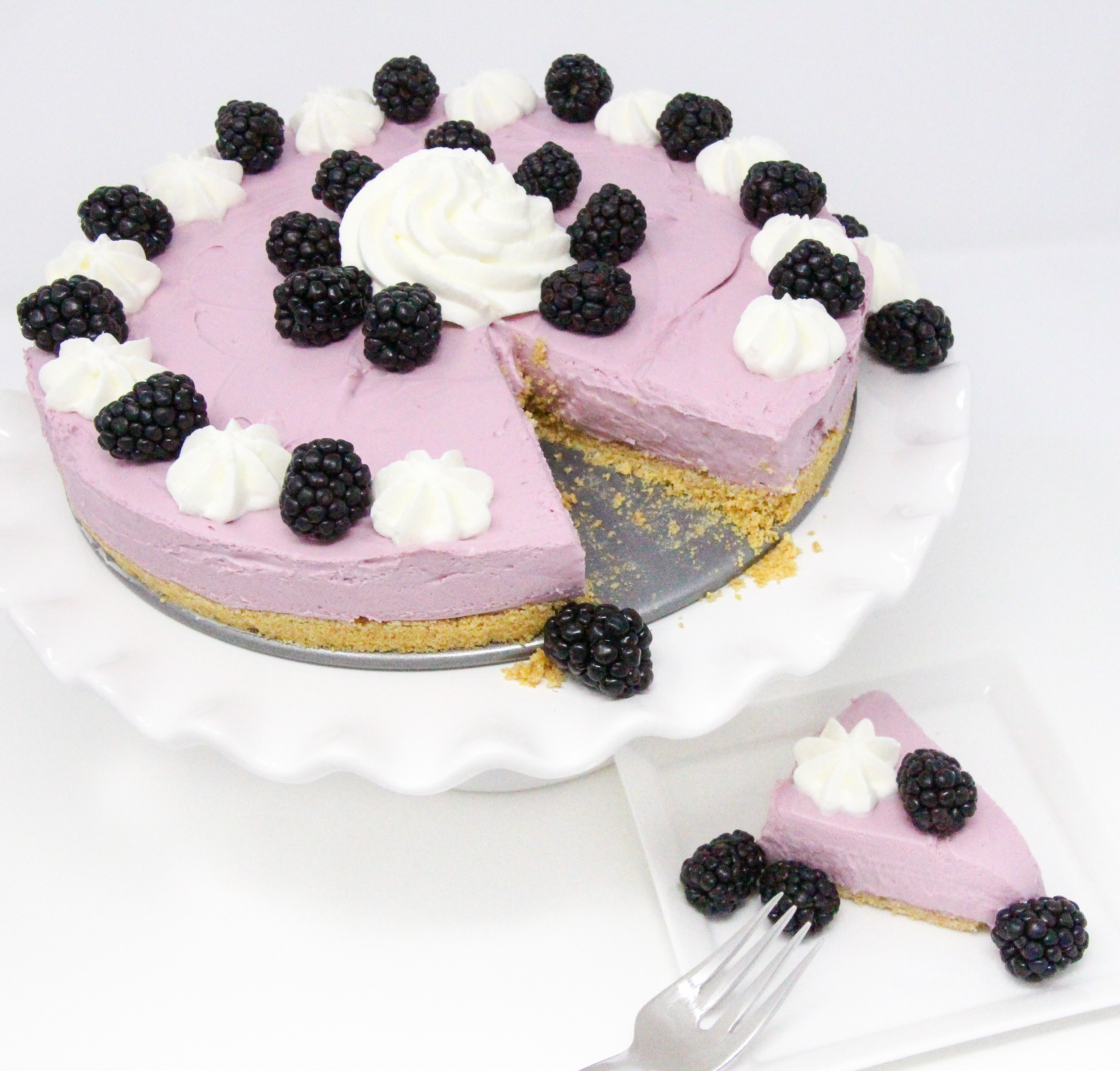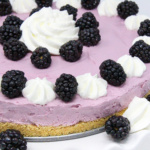 Blackberry No-Bake Cheesecake
This is a lovely, creamy not overly sweet cheesecake for hot days.
Ingredients
9

graham crackers (one pack)

1/4

cup

butter, melted + 1 tablespoon for greasing the pan

2

cups

(around 12 ounces) blackberries, plus some for decorating

2/3

cup

+ 1 tablespoons sugar

2

tablespoons

cornstarch

2

tablespoons

water

2

(8-ounce packages) cream cheese

1

cup

heavy (whipping) cream
Instructions
Butter the bottom and sides of a 9- or 10-inch springform pan. You can use parchment paper around the sides if you like.

Placed the graham crackers in a food processor and pulse until fine. While it's running, pour in the melted butter. Press the mixture into the bottom of the springform pan and set aside. Wipe the bowl and blade of the food processor clean.

Cut cream cheese into 8 chunks and place in food processor.

Place sugar and cornstarch in a heavy bottomed pot and stir with a whisk to blend and get rid of chunks. Do not heat yet. Add 2 tablespoons of water and whisk to combine.

Wash the blackberries and pour them into double paper towels so they won't be soggy. Add to the pot with the sugar mixture. Cook on medium high, stirring constantly, until they bubble. Turn the heat down and simmer stirring for 1-1/2 minutes. Pour through a sieve into the food processor on top of the cream cheese. Pulse four or five times, then push on and mix together until no white spots show.

Whip the cream until it begins to take shape. Beat to a soft peak.

Fold the whipped cream into the cream cheese, 1/3 at a time, until mixed. Pour into the prepared springform pan and refrigerate overnight.

To serve, loosen the sides with a slim knife if necessary, and remove from the pan. Decorate with blackberries.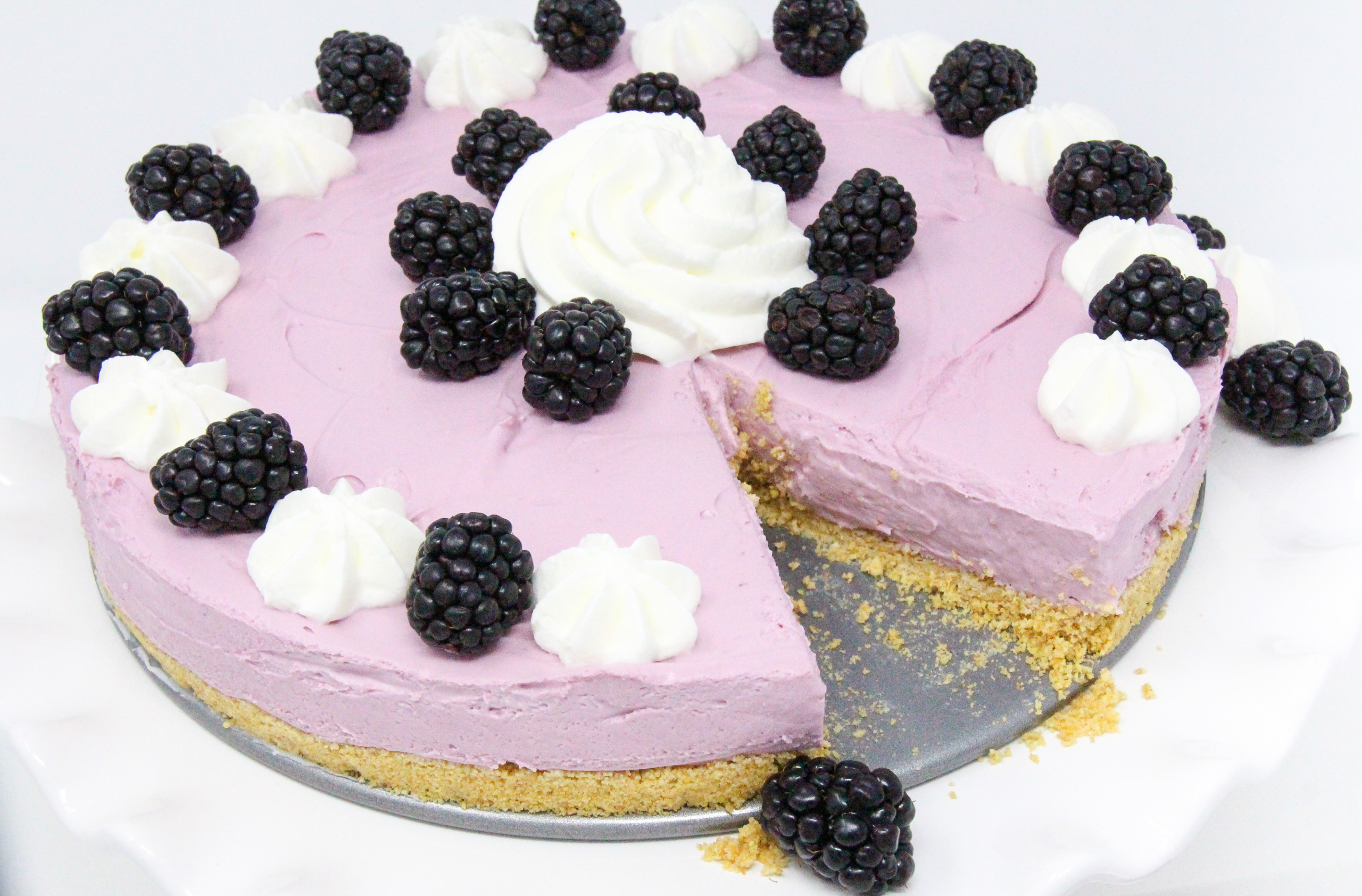 Pin to Pinterest: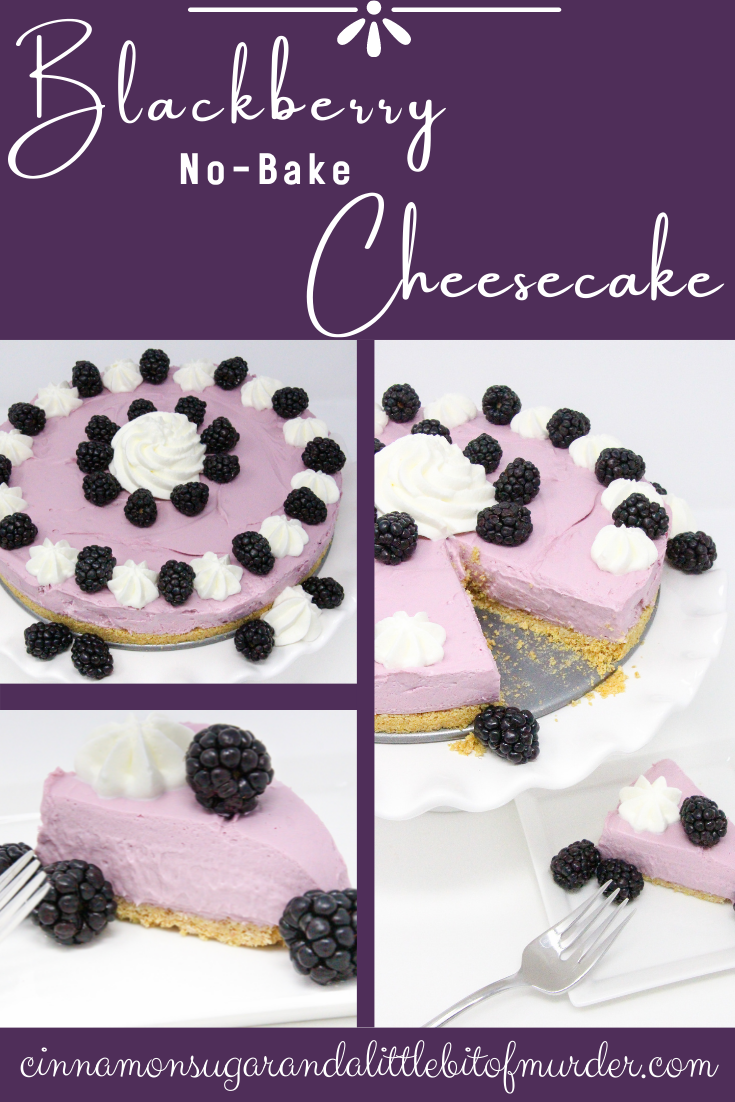 I was provided with an advance copy. All thoughts and opinions are my own.