THE DIVA DELIVERS ON A PROMISE is the sixteenth book in the Domestic Diva Mystery series by Krista Davis. You can always count on Ms. Davis to provide intriguing characters you'd love to hang out with and a puzzling murder to solve with tantalizing food to keep you company! In this newest release, we find event planner, Sophie Winston, handling the convention for the Association of Ghost Kitchens. I was fascinated by both the name of the group and the concept behind it, which is restaurants/kitchens that do delivery only and don't have customers come to them. The author weaves the details of this concept into a subplot, so that the reader learns a lot yet is entertained at the same time. Another feature in "The Diva" books is that each chapter starts with an advice column question addressed to either Sophie or her frenemy, Natasha. You can count on Sophie to give practical advice and answers while Natasha… well, I wouldn't follow any of her advice. I always look forward to reading each question and answer for both the opportunity to learn something and to get a chuckle now and then.
While I'd suggest that "The Diva" books are character driven, Ms. Davis pens smartly plotted mysteries, full of intrigue and misdirection, to keep the armchair detective on their toes. The Diva Delivers On a Promise is no exception, and I found myself immersed in the story, turning page and page to find out what happens next. With subplots threaded throughout, the author does a marvelous job of bringing them all together at the end, answering all the questions, and delivering a highly satisfying conclusion.
Sophie is quite the consummate hostess—as are several of her acquaintances—and they treat their friends and guests to all sorts of yummy goodies, so be sure to check out the recipes at the back of the book! If you've followed my blog for long, you'll know that I adore cookies and love collecting cookie recipes. Naturally, I had to try out the Cherry Chocolate Chip Cookies provided at the back of the book. There's something special about the combination of chocolate and cherries, and these cookies were absolutely delicious. I like that there are more cherries than chocolate, so that the fruit flavor isn't overwhelmed while the addition of oatmeal provides a heartier chew. Do what Sophie does… bake a batch for yourself and to share, then mix up another batch to keep in the freezer for when you're craving a tempting treat or have unexpected guests drop by.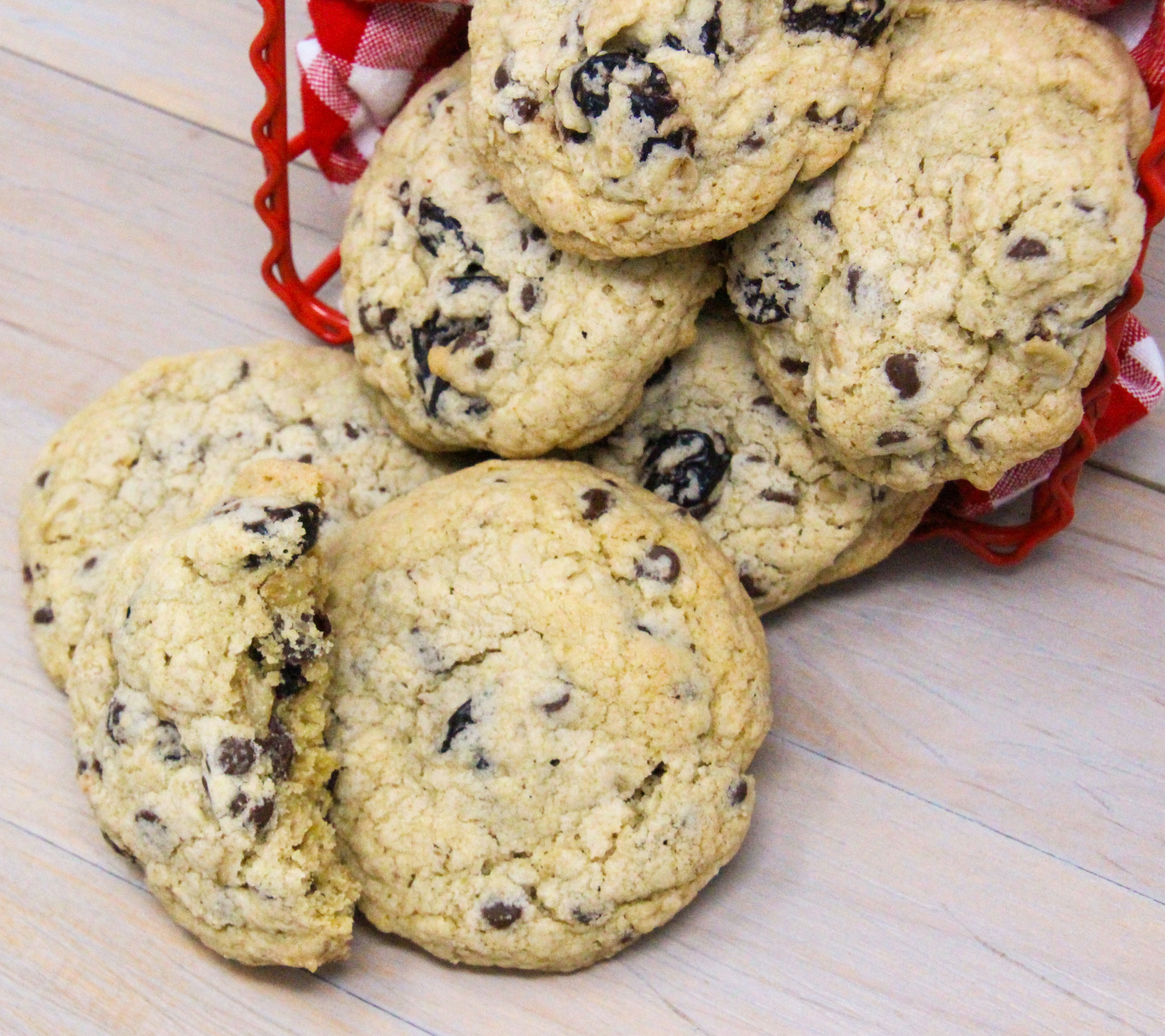 Amazon Synopsis
Sophie is busy handling the first ever convention of the Association of Ghost Kitchens—restaurants that do delivery only—but she's taking a little time out for a lunch meeting organized by A Healthy Meal. The group is dedicated to providing meals for children in need, and as a bonus, it'll give Sophie the perfect opportunity to ogle the lavish Old Town home of socialite Geraldine Stansfield. Gerrie's dining room is impeccably furnished, the table laden with gleaming crystal and prized china. If it weren't for the dead man lying on the floor, everything would be perfect . . .
No one knows the victim—or at least, no one claims to. But a little snooping by Sophie reveals links to many local notables. In fact, not only was he a client of Geraldine's late husband, an attorney—every member of the Stansfield clan knew the deceased. But only one knows what he was doing in Gerrie's house.
Gerrie's elegant abode looks spotless, but there's plenty of dirty linen in those family closets. Now Sophie will have to get the killer to come clean before he spoils another appetite—for good . . .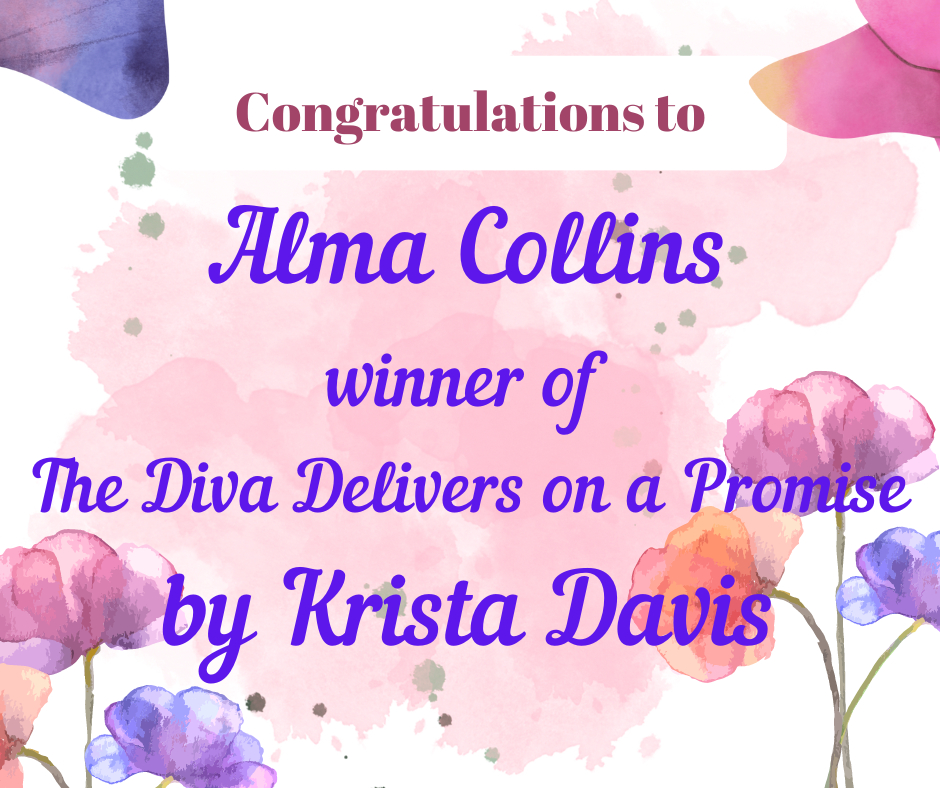 A special thanks to Krista Davis for providing a print copy of THE DIVA DELIVERS ON A PROMISE! Contest ends May 31, 2023 at 11:59 pm PST and is limited to U.S. residents only. Please use the Rafflecopter box located below to enter. The winner will be announced on this page and on Cinnamon & Sugar's Facebook page, as well as notified by email (so check your spam folder!)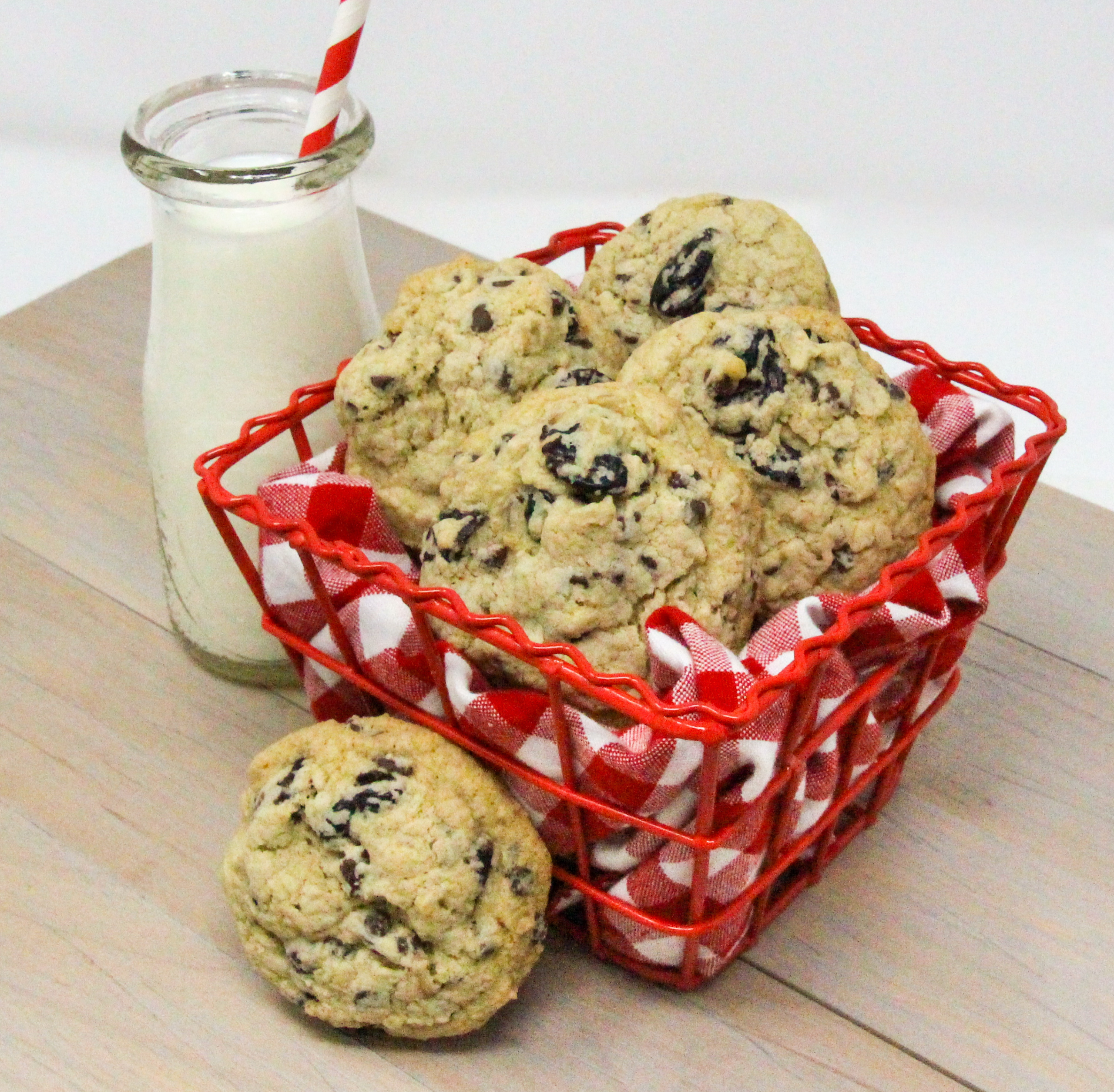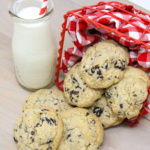 Cherry Chocolate Chip Cookies
Ingredients
1-3/4

cup

flour

1

teaspoon

baking powder

1/2

teaspoon

baking soda

1/2

teaspoon

pink sea salt

12

tablespoons

(a stick and a half) unsalted butter

1/2

cup

sugar

1/2

cup

light brown sugar

1

large egg

1

teaspoon

vanilla

1/2

cup

old-fashioned oatmeal (not quick cooking)

1-1/2

cups

dried pitted cherries

2/3

cup

semi-sweet chocolate chips
Instructions
Preheat oven to 350 degrees (F). Line a baking tray with parchment paper.

In a bowl, mix together the flour, baking powder, baking soda, and salt. Set aside.

Cream the butter with the sugars for about 2 minutes. Add the egg and beat well. Add the vanilla and beat.

Mix the flour, a spoonful at a time, beating on low until it's incoroporated.

Add the oatmeal and beat briefly. Add the dried cherries and chocolate chips and beat on the lowest speed just to mix.

Spoon onto the prepared baking sheet, keeping them 1 or 2 inches apart. Bake large cookies about 15 minutes and small cookies 12 minutes.

Remove from oven and cool on a baking rack.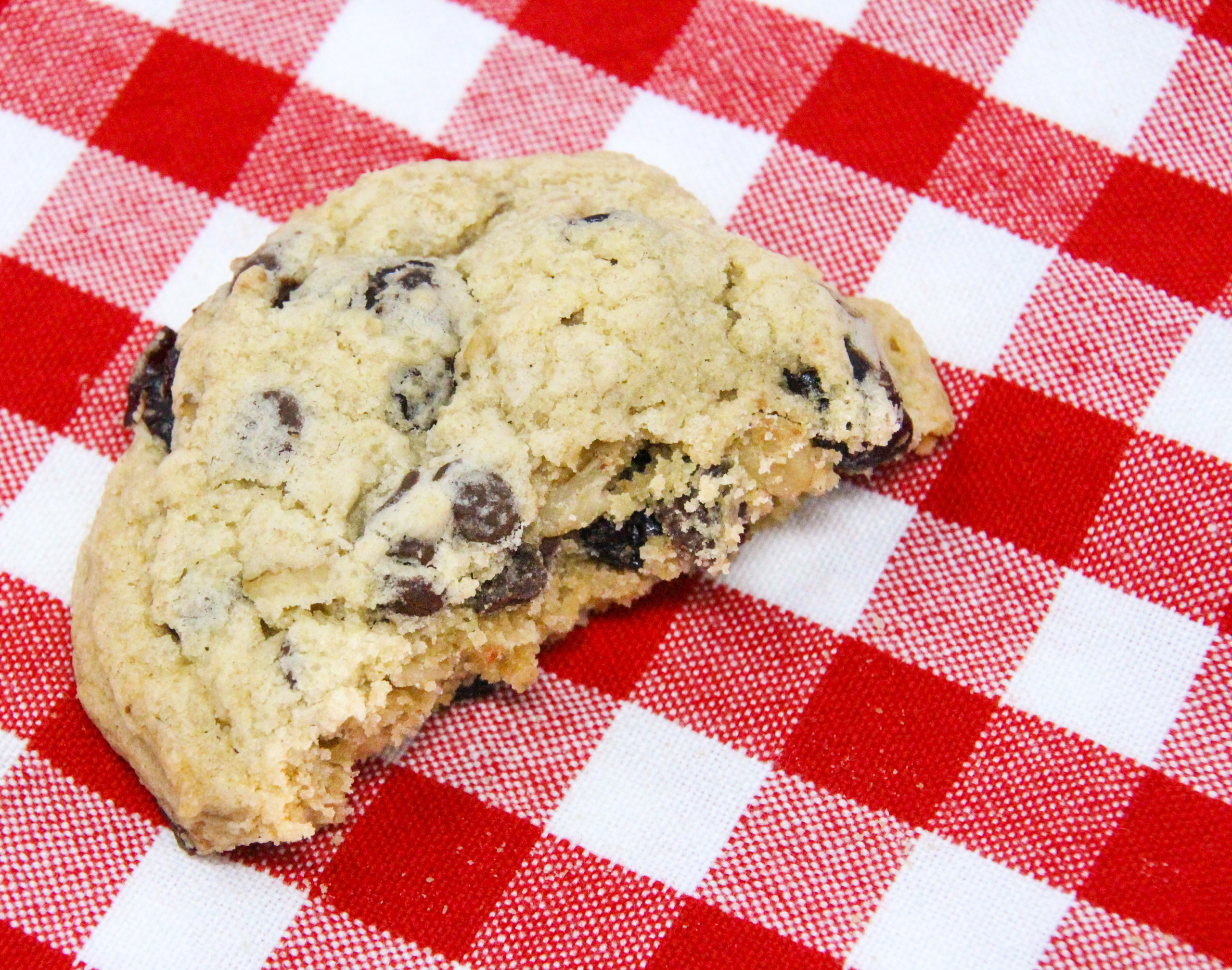 Pin to Pinterest: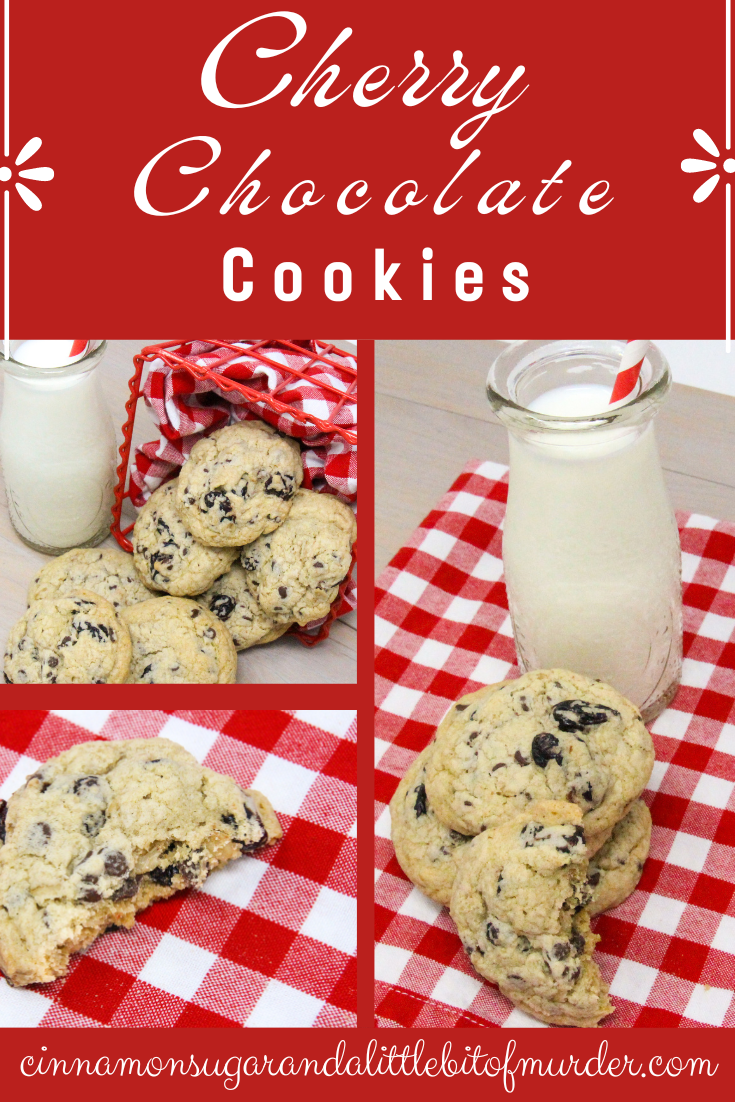 I was provided with an advance copy. All thoughts and opinions are my own.