BLUEBERRY BLUNDER is the eighth book in the Amish Candy Shop Mystery series by Amanda Flower. Set in Amish country, protagonist Bailey King runs the family-owned candy shop, Swissmen Sweets, with her Amish grandmother. On top of starring in the hit TV show, Bailey's Amish Sweets, Bailey is also trying to build a candy factory in town, in order to grow the family business. But the Amish community, including her grandmother, are not happy with the expansion and the general contractor is making the project even more difficult. Ms. Flower weaves a tempting tale with sweet characters (I couldn't help but fall for Jethro, the pig, who steals each scene he's in!), a close-knit community, and a well-plotted, puzzling murder to solve.
Having lived my entire life in California, I'm not familiar with the Amish. I appreciated the care the author gives in providing a good overview of the community, from their lifestyles to their beliefs, without ever bogging down the story. In this modern day, it's difficult to envision anyone living without electricity, smartphones, or motor vehicles, yet Ms. Flower manages to bring that community and some of the challenges they face to life on the pages.
The murder mystery itself was well thought out, and there were a slew of people who had issues with the contractor, Wade. But why was he killed in Bailey's factory, especially after she argued with him? With so many suspects to sift through, Bailey has her work cut out for her to prove her innocence. And with a reality TV cameraman and a gung-ho producer dogging her every step, Bailey has to tread lightly out of respect for the Amish ways. Ms. Flowers proves once again she knows how to put together a mystery that's full of heart in a charming setting!
With the first Annual Blueberry Bash gearing up in town, Bailey comes up with blueberry treats for their candy shop. Luckily for the reader, she provides a recipe for Bailey's Blueberry-and-Cream Fudge at the back of the book. White chocolate layered with a fresh blueberry coulis combines two delectable tastes into one delicious candy. The recipe is straightforward, however, the fudge was super thick and a bit difficult to work with. Plus, the blueberries didn't "swirl" quite like I'd envisioned. Still, the resulting sweet was quite yummy tasting, and I enjoyed the way the blueberries complemented the white chocolate. I included my notes in the recipe portion on my take when I made it the second time.
Amazon Synopsis
Bailey King, star of TV's Bailey's Amish Sweets, is building her dream candy factory in Harvest, Ohio. But no sooner is the frame of the new building up than she finds the dead body of a surly contractor who has a long list of enemies—including people in the Amish community. To add to the drama, Bailey is being filmed by a crew for her upcoming show. . .
When Bailey's TV producer pitched a reality show about building the factory, Bailey was shocked that the network picked it up. She's not shocked that many of the Amish working on the jobsite refuse to be on camera. However, local community organizer Margot Rawlings is ecstatic—because the filming coincides with Harvest's First Annual Blueberry Bash. Margot believes the media attention will make Harvest the most popular destination in Holmes County. But now, the county may become known for all the wrong reasons . . .
Bailey will have to sift through a crowd of angry villagers and thousands of blueberries to solve the murder, save her new venture, and protect her Amish friends. At the same time, she and her longtime boyfriend, Aiden Brody, are making big decisions about their future together—a future that may be in jeopardy if Bailey is the next pick on a killer's list . . .
A special thanks to Kensington Publishing for providing a print ARC copy of BLUEBERRY BLUNDER! Contest ends May 24, 2023 at 11:59 pm PST and is limited to U.S. residents only. Please use the Rafflecopter box located below to enter. The winner will be announced on this page and on Cinnamon & Sugar's Facebook page, as well as notified by email (so check your spam folder!)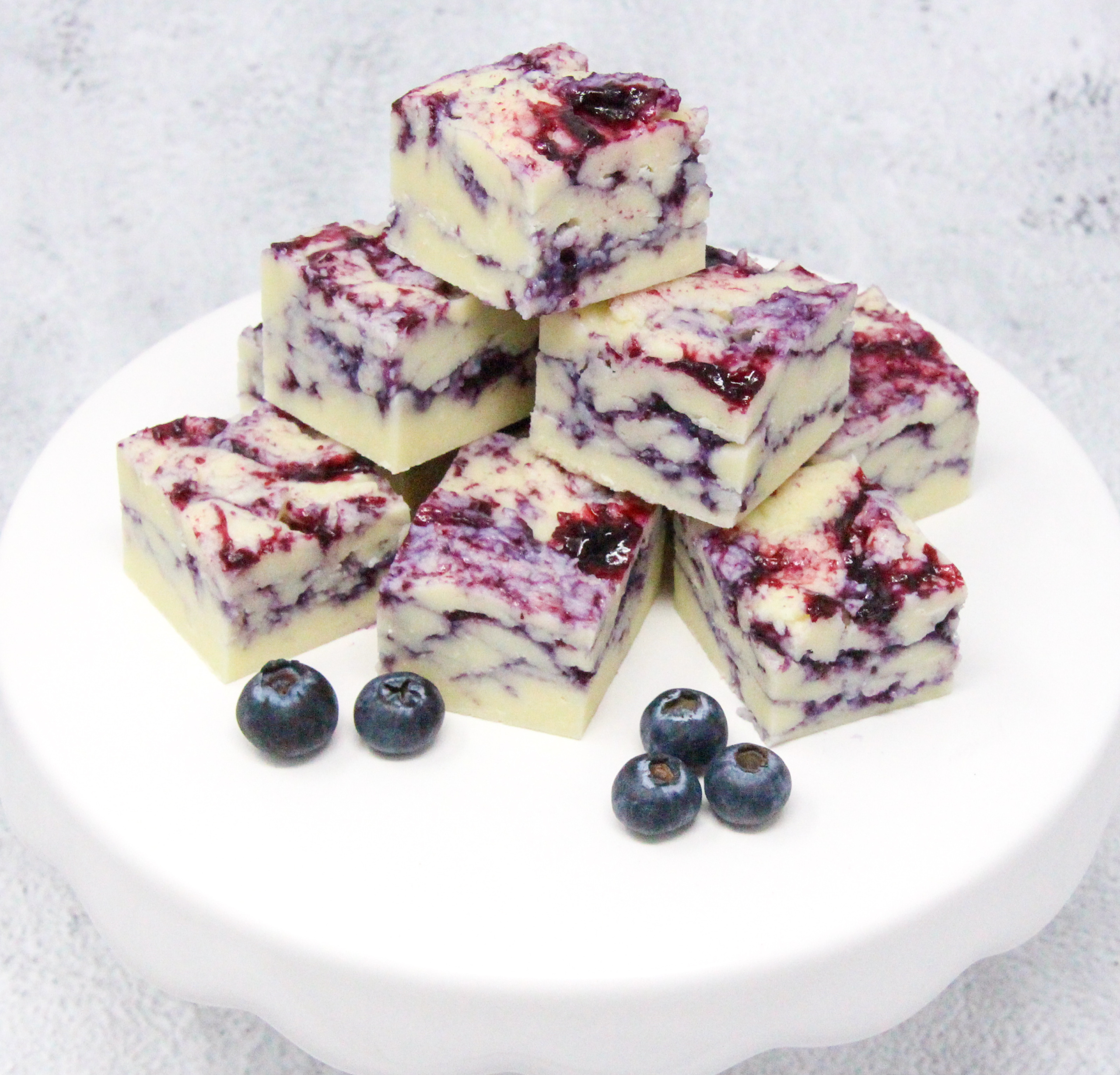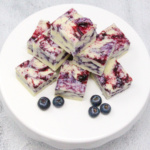 Bailey's Blueberry-and-Cream Fudge
Ingredients
1

cup

fresh blueberries (don't use frozen!)

1/2

tablespoon

cornstarch

1

tablespoon

lemon juice

1/4

cup

sugar

24

ounces

white chocolate chips

1/4

stick

unsalted butter

14

ounces

sweetened condensed milk
Instructions
Make the blueberry sauce. In a small saucepan add blueberries, sugar, lemon juice, and cornstarch over medium heat.

Stir continuously and smash the blueberries until you have a thick sauce like a puree.

Using a fine mesh strainer, push the puree through into a bowl and set aside.

Make the fudge cream. Over a double boiler, add the white chocolate chips, sweetened condensed milk, and butter.

Stir continuously to blend and until all the chocolate is melted.

Line a 9x9 pan with parchment paper.

Pour 1/3 of the white chocolate mixture into the 9x9 pan.

Pour 1/3 of the blueberry sauce on top of the chocolate in the pan.

Using a knife, swirl the white chocolate and blueberry sauce together.

Repeat steps 7-9 two more times.

Place in the fridge to set for at least three hours.

Cut into pieces and enjoy. The fudge can last refrigerated for a week in an airtight container.
Cinnamon & Sugar's Notes:
I'd suggest using an 8x8-inch pan.

The "fudge" is very thick and difficult to spread. Use the back of a large spoon or a silicon spatula to press the white chocolate fudge into layers.

I made this twice. The second time I added 2 tablespoons of heavy cream to the white chocolate chips, which made the texture a bit more creamy.

Don't use the microwave to melt the white chocolate chips with sweetened condensed milk and butter. The white chocolate easily overheats and will cause the mixture to turn grainy.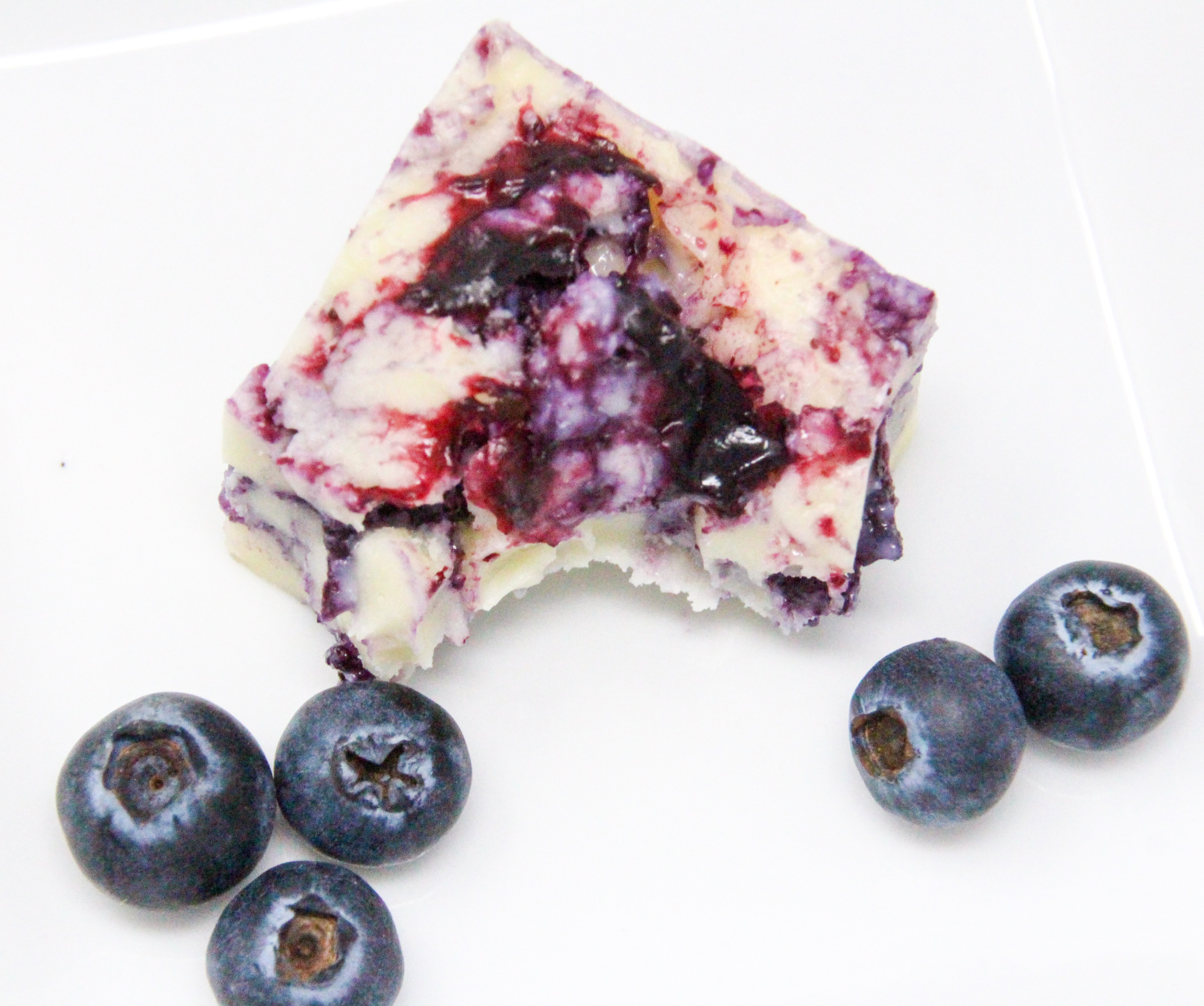 Pin to Pinterest: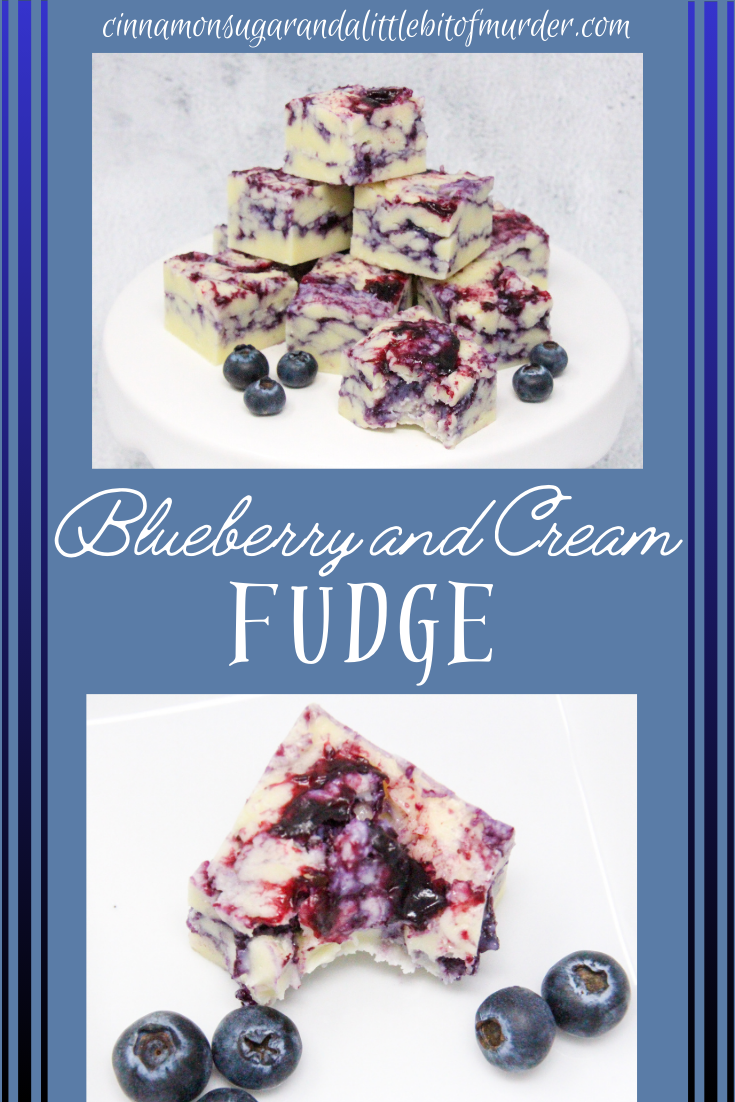 I was provided with an advance copy. All thoughts and opinions are my own.