LONG ISLAND ICED TINA, is the long anticipated second book in the Catering Hall Mystery series by Maria DiRico (aka award-winning author Ellen Byron). The author proves her writing prowess once again by penning a laugh-out-loud cozy featuring protagonist Mia Carina, daughter of a "recovering" mobster. This alone sets the scene for plenty of opportunities for things to go hilariously wrong when the "Family" is hovering in the shadows and Mia is determined to keep her dad on the straight and narrow. Ms. DiRico enthralls the reader with vivid descriptions of Queens along with other notable New York locations. Using all five senses, the reader feels like they're experiencing it all – the good and the bad – alongside Mia. Besides the well-developed protagonist, the author has plenty of other supporting characters who are equally appealing and zany providing entertainment all on their own. The quintessential interfering Italian grandmothers, who spout off Italian phrases, give a feeling of authenticity. (And don't worry, there is plenty of context so you know exactly what they're saying without knowing a foreign language.)
Combining a murder with a baby shower celebration isn't a scenario I've come across and I have to say, Ms. DiRico does a marvelous job of setting up the crime. It's not much of a surprise when Mia stumbles across the victim who was hated by so many. When the soon-to-be mom's mother and grandmother are implicated, Mia steps in to investigate. Adding to the murder mystery is a multifaceted plot involving art theft, a suspicious competing venue owner and chef, and an employee who seems intent on sabotage. As the story progresses the threads come together into a cohesive story and I turned the pages faster and faster to find out what happened next. While the action-packed reveal provided tension, the author interjected just the right dose of humor to keep it cozy light which I appreciate. With the final last page read, I'm back to counting down the days until the next book in this highly entertaining series is released next year!
The theme of running a banquet hall and Mia having an Italian grandmother who loves to cook, there is food galore mentioned throughout the story. I was pleased to see that there are a number of recipes included at the back of the book, especially one for Cannoli Cake. Oh. My. Word. It just doesn't get much more decadent than this! Starting with a boxed cake mix (yay for making this dessert easier), the combination of rich ricotta, mascarpone cheese, and cream cheese in the luscious filling and frosting, takes the taste to the stratosphere when paired with chocolate chips. I changed the addition of the chocolate chips just a bit, to use in between the layers and then use as a garnish, instead of mixing directly in the frosting. However you choose to include, this dessert is one that you'll love to serve for special occasions or when you feel the need to spoil yourself or a loved one.
Amazon Synopsis
Mia Carina is back in the borough of Queens—in charge of the family catering hall, Belle View Banquet Manor, and keeping her nonna company. But some events—like murder—are not the kind you can schedule . . .
 
Mia's newly pregnant friend Nicole plans to hold a shower at Belle View—but Nicole also has to attend one that her competitive (and mysteriously rich) stepmother, Tina, is throwing at the fanciest place in Queens. It's a good chance for Mia to snoop on a competitor, especially since doing a search for "how to run a catering hall" can get you only so far.
Mia tags along at the lavish party, but the ambience suffers at Nicole's Belle View shower when a fight breaks out—and then, oddly, a long-missing and valuable stolen painting is unwrapped by the mom-to-be. Tina is clearly shocked to see it. But not as shocked as Mia is when, soon afterward, she spots the lifeless body of a party guest floating in the marina . . .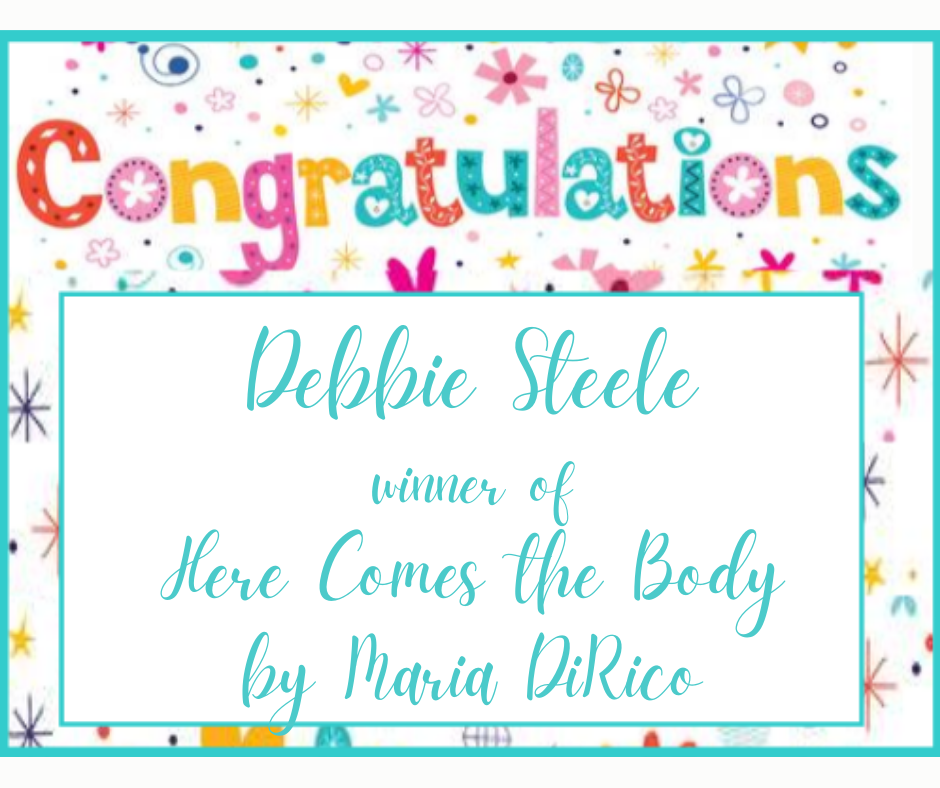 A special thanks to Maria DiRico for providing a winner with a print copy of HERE COMES THE BODY, the first book in the Catering Hall Mystery series.  Contest ends Sunday, February 28, 2021 at 11:59 pm PST and is limited to U.S. residents. Please use the Rafflecopter box located below to enter. The winner will be announced on this page and on Cinnamon & Sugar's Facebook page, as well as notified by email (so check your spam folder!)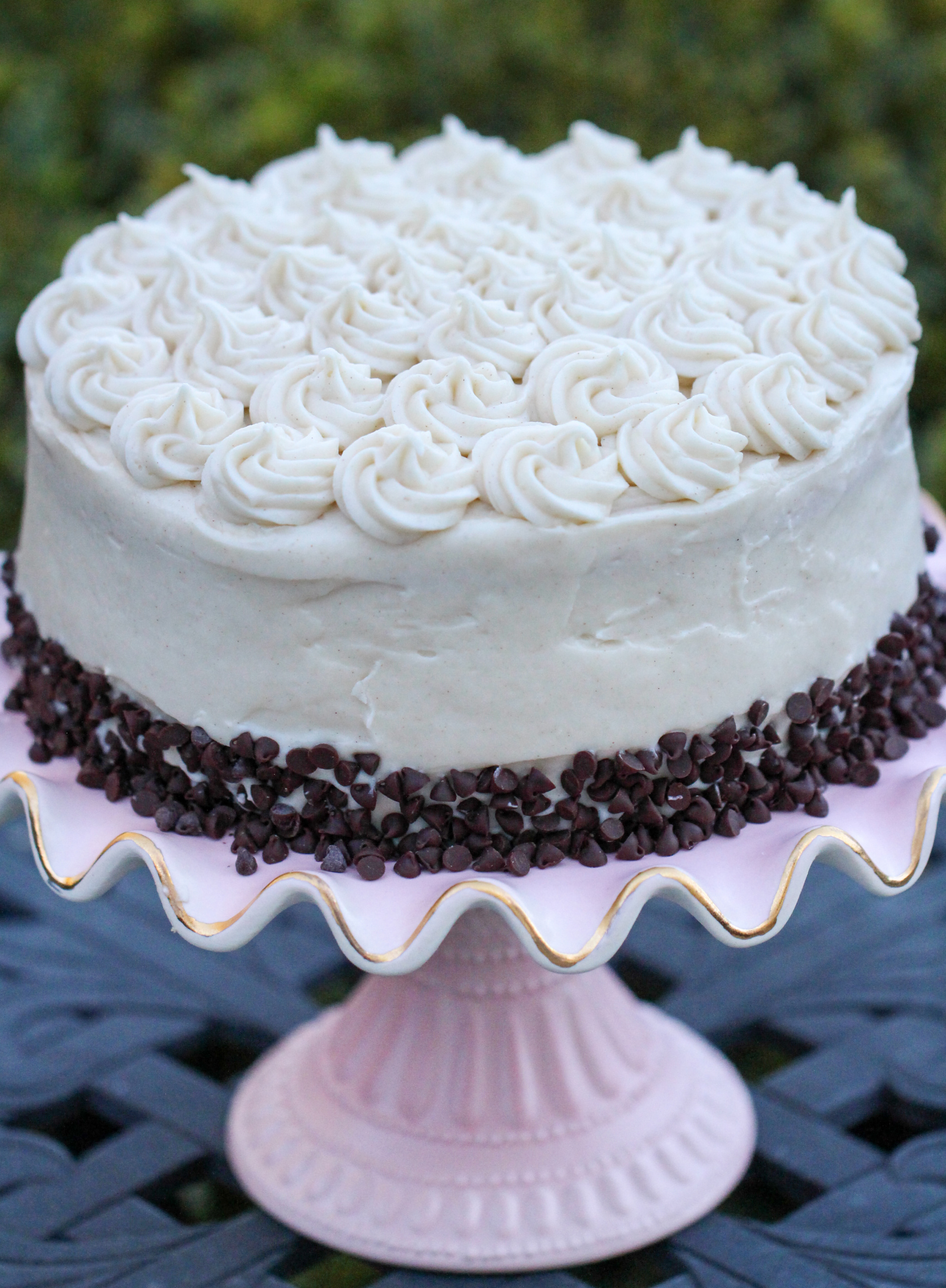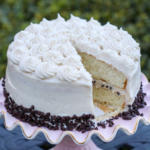 Cannoli Cake
NOTE: Step one is draining the ricotta so that your filling doesn't end up watery. I wrap mine in cheesecloth, then place it in a strainer that fits over a mixing bowl. I set a heavy can on top of the cheesecloth-wrapped ricotta and let it drain overnight in the refrigerator.
Ingredients
Cake
1

package white cake mix

1/4

cup

plain Greek yogurt

1/2

cup

vegetable oil

1

cup

water
Filling and Frosting
1

(16 ounce)

tub ricotta drained (see above instructions)

1

(8 ounce)

container mascarpone cheese (doesn't have to be drained if it has the consistency of cream cheese)

1

(8 ounce)

container cream cheese (regular or light)

3

cups

powdered sugar

1

teaspoon

vanilla

1

teaspoon

almond extract

1

teaspoon

orange juice

1/2

teaspoon

cinnamon

1/4

teaspoon

salt

1/2

cup

to a 1 cup of mini chocolate chips
Instructions
The Cake:
Beat the cake mix with the yogurt, oil, and water – slowly at first to combine the ingredients, then on medium speed for two minutes. Pour the batter into two 8" cake pans.

Bake for 25-35 minutes — until a toothpick inserted in the center comes out clean.

Let the cake cool completely.
The Filling and Frosting:
Beat the ricotta, mascarpone, and cream cheese together until thoroughly blended. Add the vanilla, orange juice, almond extract, cinnamon, salt, and powdered sugar until all are well combined. (NOTE: add the sugar one cup at a time and mix slowly at first so that powdered sugar doesn't go flying out of the mixing bowl. Trust me, it happens!)

Gently fold the chocolate chips into the filling mix. Start with half a cup of chips. Add more if desired.
Assembly:
Flip the first cake layer out of its pan onto a plate upside down, so that the flat bottom is on the top. Add a heaping amount of filling and spread it. Place the second layer on top and frost the top and sides with the filling. (NOTE: add the second layer right-side up, so that the flat bottom of it sits on top of the first layer.)

Serves 8-16, depending on the size of the slices.
Cinnamon & Sugar's Notes:
To duplicate my design:

Mix cake batter as directed, but add in 2 eggs for a firmer cake texture. Bake and cool as directed.

Before making the frosting, line a baking sheet with 2 layers of heavy duty paper towels. After draining the ricotta overnight, spread the ricotta in a thin layer on top of the paper towels. Allow to sit for 15 minutes. Scoop the ricotta into a mixing bowl and proceed with the frosting recipe. Discard the paper towels. 

Mix 1-1/2 cups frosting with 1/4 cup mini chocolate chips. Use as the filling between the two layers of cake.

Beat in an additional 1 – 2 cups powdered sugar into the reserved frosting, until fairly stiff. Spread a thin coat (crumb coat) of frosting over the cake and refrigerate until set. Spread a heavy layer of frosting over the crumb coat. Press 1/2 cup mini chocolate chips around the base of the cake, to make a 2-inch border. Using a large star tip, use the remaining frosting to pipe swirls or rosettes over the top of the cake. Refrigerate until firm.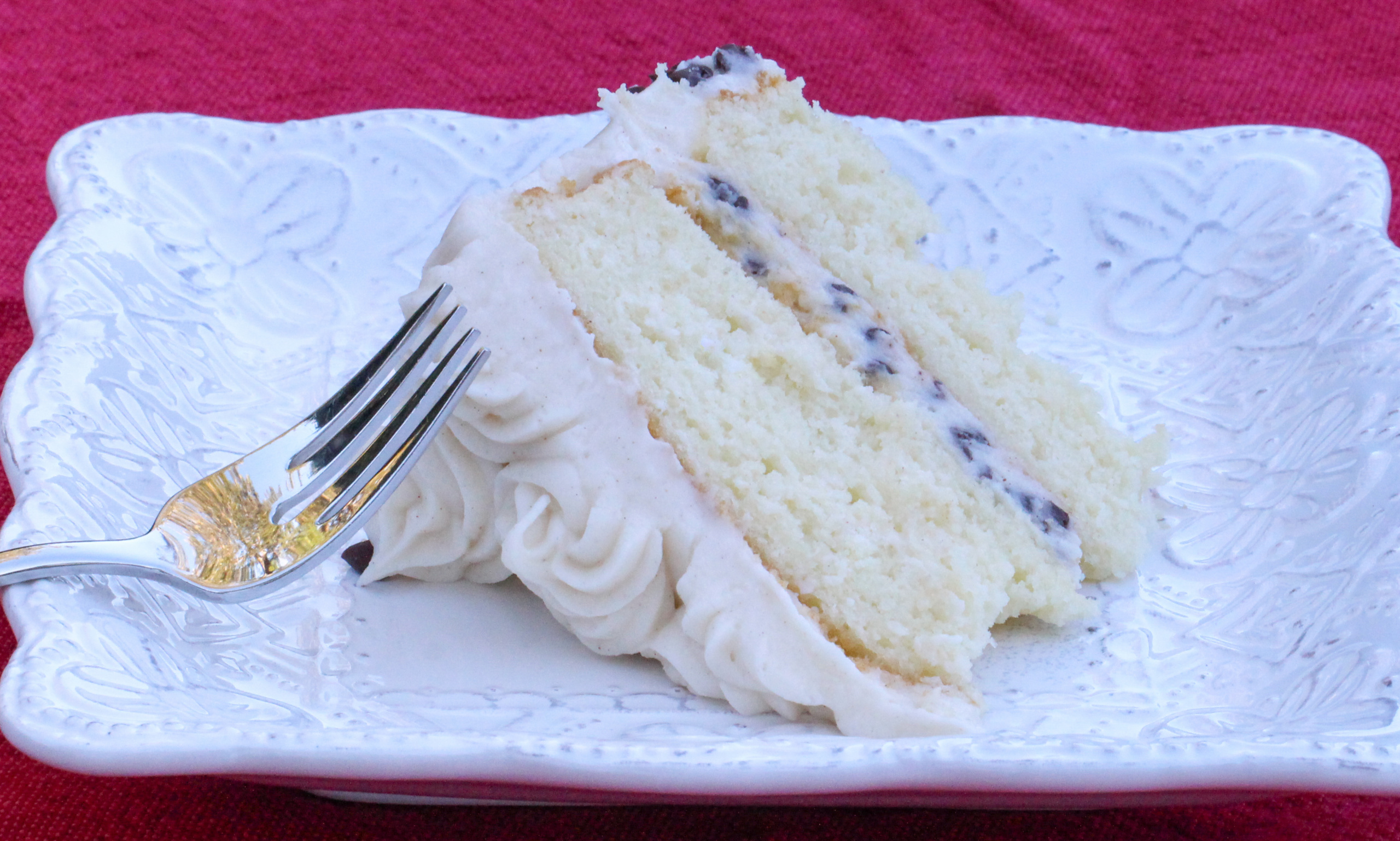 Pin to Pinterest: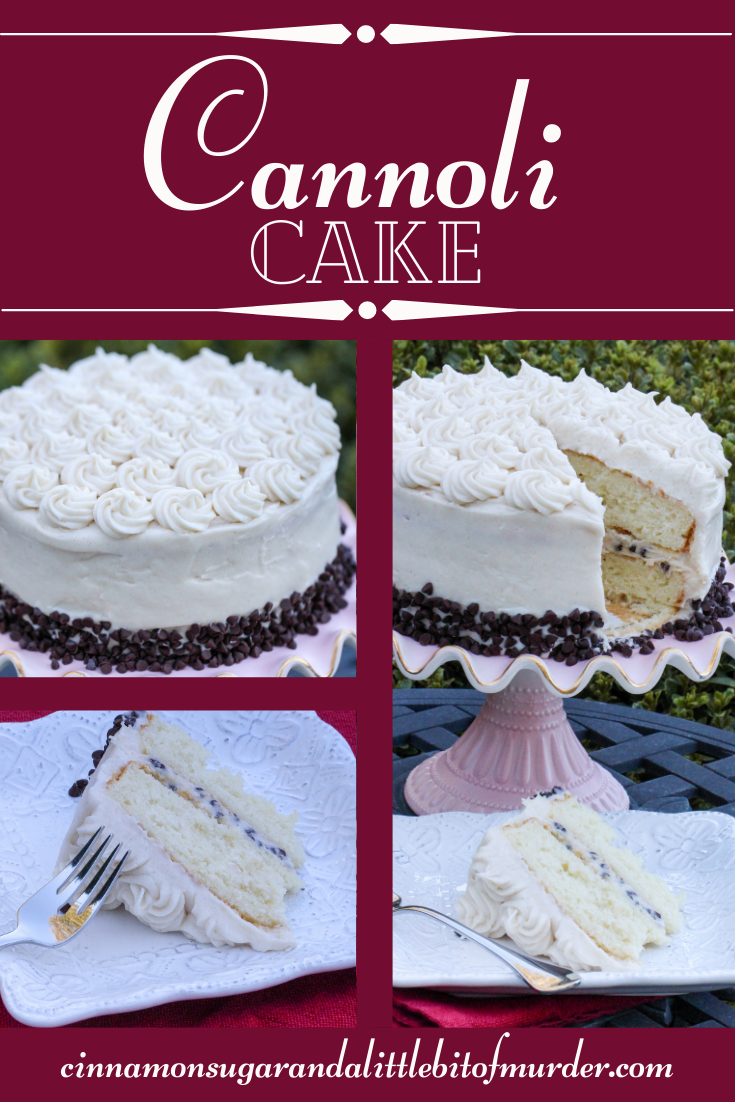 Thanks to Carnival Books and Ellen Byron, I'm thrilled to be moderating this delightful and humorous panel of amazing culinary cozy authors! I hope you'll be able to join our FREE zoom event!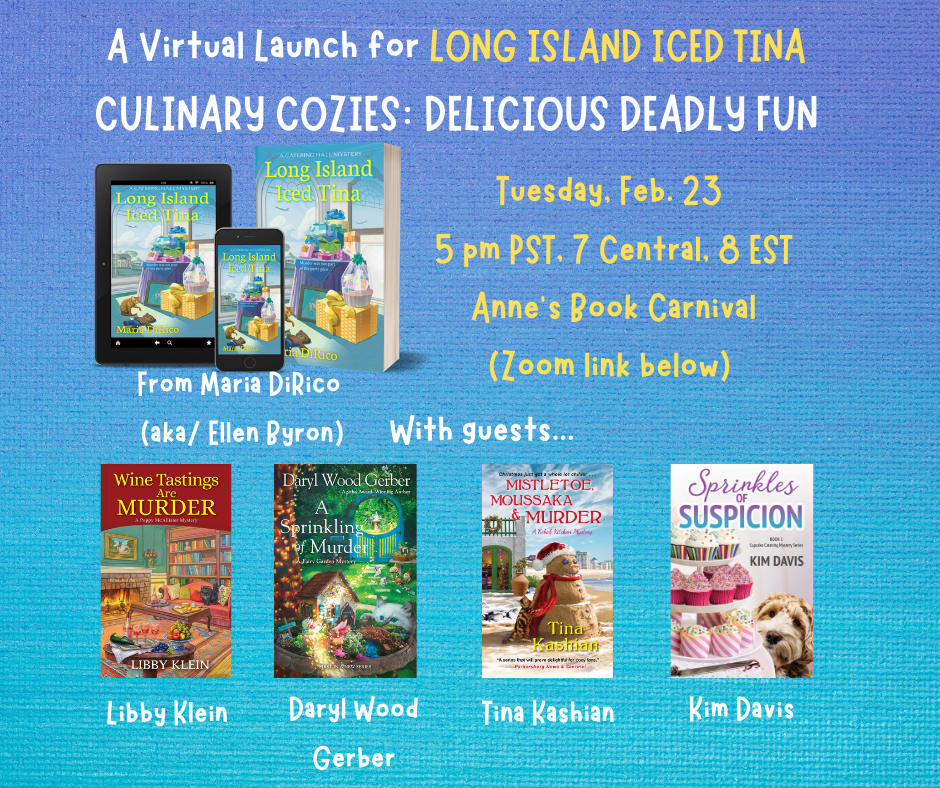 Zoom Information
Book Carnival is inviting you to a FREE Zoom event.
Topic: Culinary mysteries with recipes from Italy, Greece, Middle Eastern, Paleo and Gluten Free (not a country, obviously!)
Time: Feb 23, 2021  5:00 P.M. (PST), 7:00 (Central), 8:00 (EST) (US and Canada)
Join Zoom Meeting
https://us02web.zoom.us/j/82673548968?pwd=V3dOcStsazFlUmxsTHpXYVo3T1dIQT09
Meeting ID: 826 7354 8968
Passcode: 295149
One tap mobile
+16699006833,,82673548968#,,,,
*295149# US (San Jose)
+12532158782,,82673548968#,,,,
*295149# US (Tacoma)Dial by your location
+1 669 900 6833 US (San Jose)
+1 253 215 8782 US (Tacoma)
+1 346 248 7799 US (Houston)
+1 301 715 8592 US (Washington DC)
+1 312 626 6799 US (Chicago)
+1 929 205 6099 US (New York)
Meeting ID: 826 7354 8968
Passcode: 295149
Find your local number: 
https://us02web.zoom.us/u/kdKzbknbmR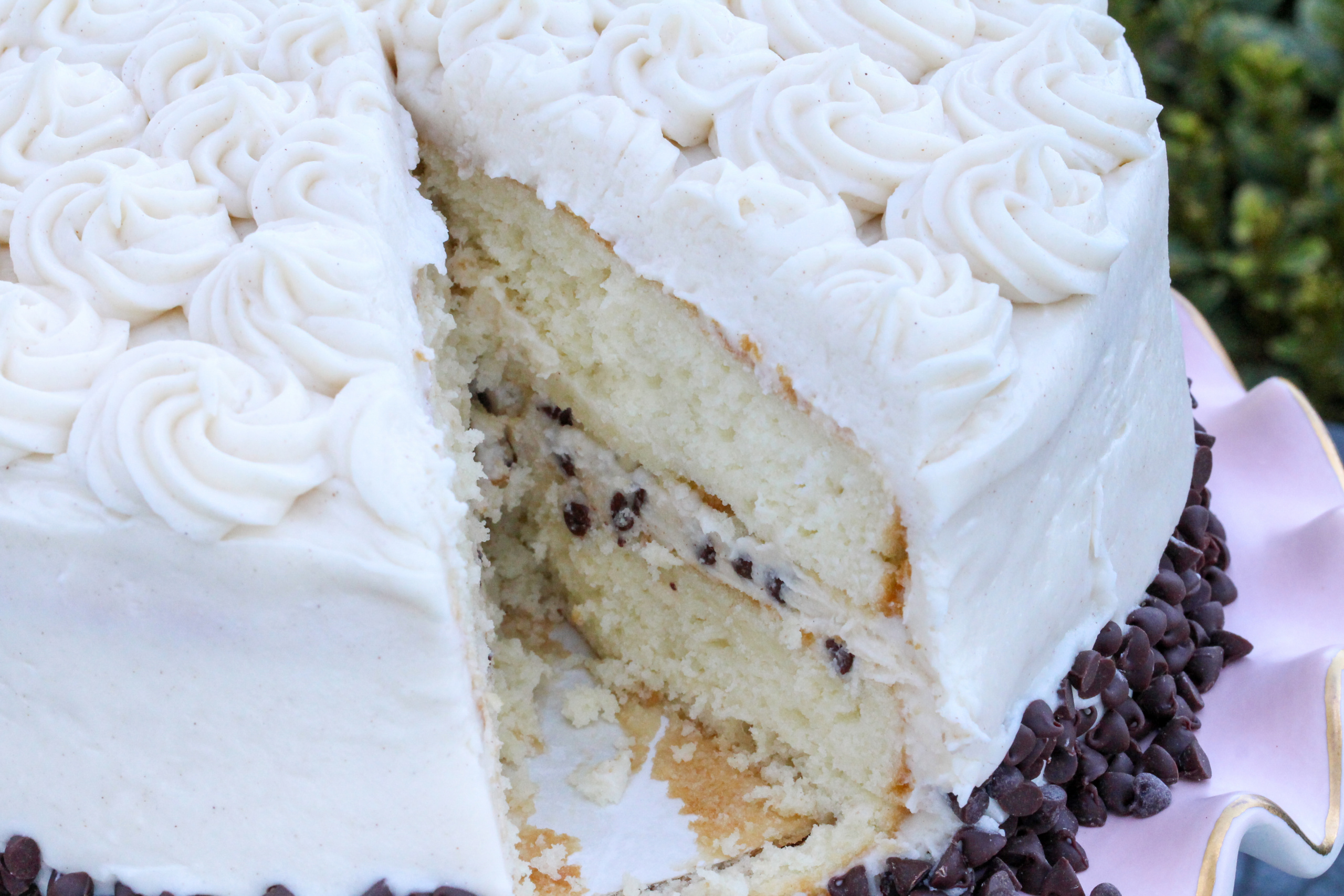 I was provided with an advance copy. All thoughts and opinions are my own.