A SIDE OF MURDER is the first book in the brand new Cape Cod Foodie Mystery series by Amy Pershing. Starting an inaugural book of a new series sometimes leaves me with trepidation since I don't know the characters and often there's too much backstory which can slow down the plot. However, Ms. Pershing hit this one out of the ballpark and I was captivated from the very first page! The author exhibits a great sense of timing with her zingy one-liners and the humor starts from the opening scene. Protagonist, trained chef Samantha Barnes, who loves to laugh, made me laugh right alongside which quelled any trepidation I might have had before starting the book.
Fleeing New York after an altercation with her ex went viral on YouTube, Samantha returns to her childhood home of Cape Cod. Moving into the falling down house she's inherited from her Aunt Ida… along with a huge, untrained puppy named Dioge (D-O-G), she tries to decide what to do with her life. Her good friend (who's editor of the Cape Cod Clarion) ropes Samantha into writing a restaurant review column. I love that Samantha's parents were the editor-in-chief and senior journalist for the paper before they retired to Florida. This allows the reader to get a glimpse into her family even if they appear offstage. The setup also showcases the town and contributes to the appealing setting of Cape Code. Since Samantha grew up in the area, she still has close friends. They are equally well-developed, including Dioge, with their own quirks adding to the humorous interaction.
Samantha discovers the body of a former waitress (and all around mean person) at the restaurant she's reviewing. She doesn't believe law enforcement's theory that it was an accidental drowning. Appearing on scene and giving support to her observations is the handsome harbormaster (and teen crush), Jason. Except he doesn't want her to get involved so she channels her mother's journalistic skills and ignores him. As evidence and clues pile up, the suspect list gets longer and longer. Ms. Pershing does an admirable job providing plenty of red herrings that kept me off track and guessing as the story progressed. With the final suspenseful reveal, all the clues popped into place and left me with a satisfied grin on my face!
Being a Cape Cod Foodie Mystery series, you can count on there being loads of food mentioned. What I enjoyed even more was the author's tips interjected on dishes the protagonist fixed and ate during the book. The tips are helpful and are provided in a breezy manner that made me feel like I was sitting in the kitchen watching a friend cook. Ms. Pershing also includes several recipes at the back of the book. If you've followed my blog for long, you'll know I'm a HUGE fan of cookies and you can never have too many recipes for chocolate chip cookies. I was intrigued with the author's recipe for Sam's Thin and Chewy Chocolate Chip Cookies which relies on high-fat butter, such as a French or Irish Brand. Plus, the butter needs to be super soft which contributes to the spread and chew of the cookie. These cookies did not disappoint and they were gobbled up just as quickly as they cooled down. I'll be adding this recipe to my cookie baking rotation to share with family and friends!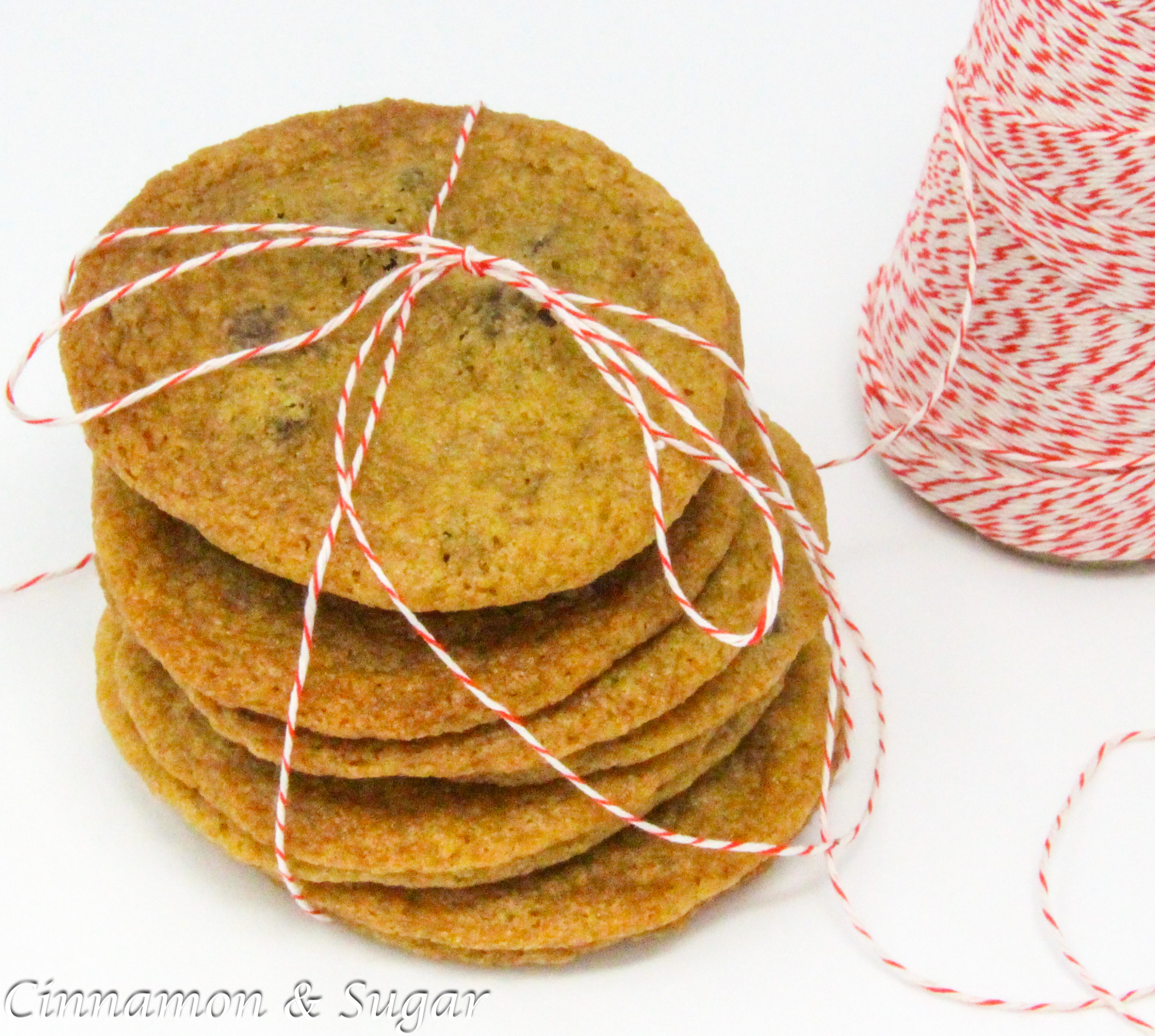 Amazon Synopsis
Beautiful Cape Cod, Massachusetts, is known for seafood, sand, surf, and, now…murder.
Samantha Barnes was always a foodie.  And when the CIA (that's the Culinary Institute of America) came calling, she happily traded in Cape Cod for the Big Apple.  But then the rising young chef's clash with another chef (her ex!) boils over and goes viral. So when Sam inherits a house on the Cape and lands a job writing restaurant reviews, it seems like the perfect pairing. What could go wrong? Well, as it turns out, a lot.
The dilapidated house comes with an enormous puppy. Her new boss is, well, bossy.  And the town's harbor master is none other than her first love.  Nonetheless, Sam's looking forward to reviewing the Bayview Grill—and indeed the seafood chowder is divine. But the body in the pond outside the eatery was not on the menu. Sam is certain this is murder. But as she begins to stir the pot, is she creating a recipe for her own untimely demise?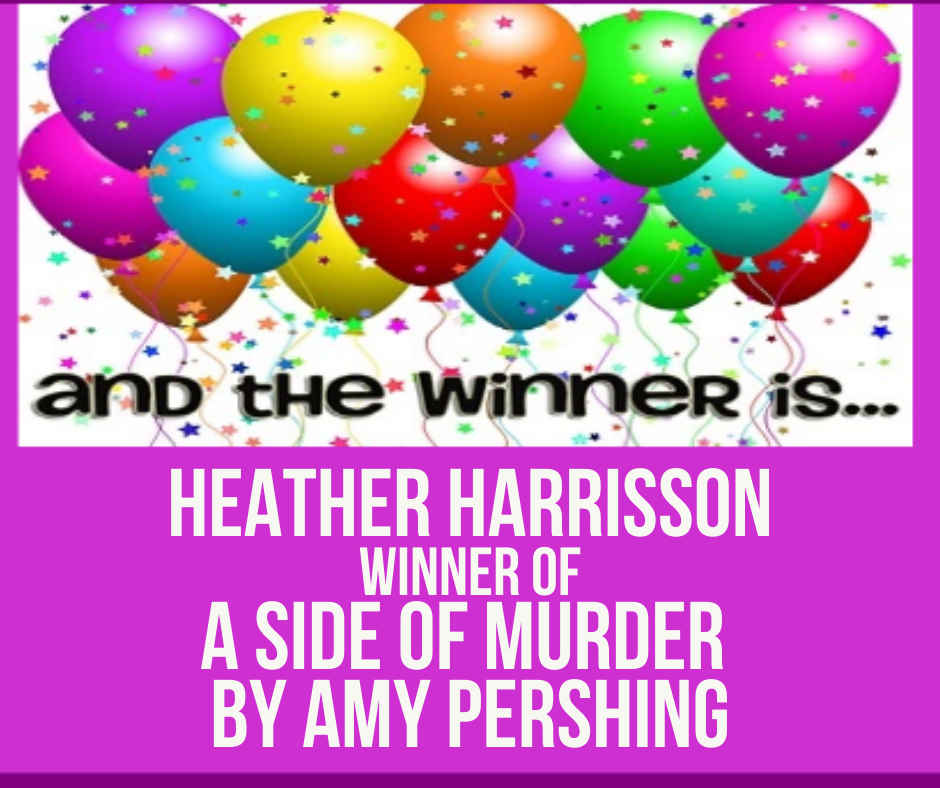 A special thanks to Amy Pershing for providing a winner with a print copy of A SIDE OF MURDER.  Contest ends Wednesday, February 24, 2021 at 11:59 pm PST and is limited to U.S. residents. Please use the Rafflecopter box located below to enter. The winner will be announced on this page and on Cinnamon & Sugar's Facebook page, as well as notified by email (so check your spam folder!)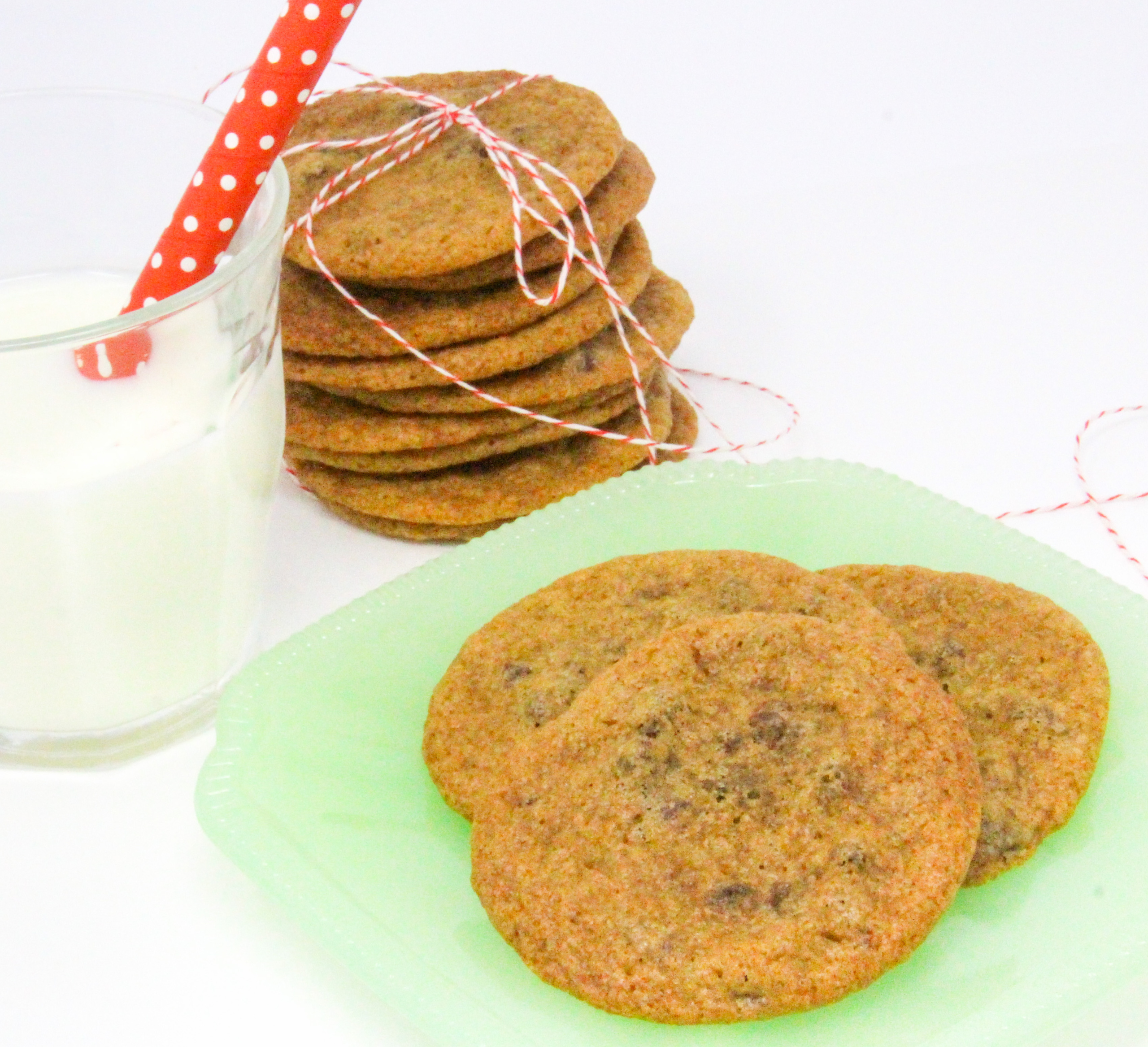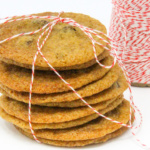 Sam's Thin and Chewy Chocolate Chip Cookies
The trick here is to use high-fat butter, which usually means a French or Irish brand. Many supermarkets carry Irish Kerrygold butter, which works beautifully. Make sure the butter is really room temperature, which means so soft you can poke a finger through it. Also, if you use salted butter, you may want to skip adding any more salt to the batter.
Makes about 4 dozen cookies
Ingredients
10

ounces

high-fat French or Irish butter, softened to room temperature

1-1/4

cups

dark brown sugar

3/4

cup

granulated sugar

1

tablespoon

vanilla extract

2

teaspoons

kosher salt (or 1 teaspoon table salt like Morton's)

2

large eggs

1-3/4

cups

(10 ounces) all-purpose flour (plus another 2 tablespoons of flour set aside to coat chocolate chips)

1

teaspoon

baking soda

8

ounces

semi-sweet chocolate chips
Instructions
Preheat oven to 350 degrees (F).

Combine butter, brown sugar, granulated sugar, vanilla, and salt in a bowl and cream on medium-high speed until light, about 3 minutes. Add the eggs and mix on medium speed until blended, about 2 minutes.

Whisk the flour and baking soda together in separate bowl, then mix into the dough at medium speed until well combined.

In another bowl, combine the chocolate chips with the extra 2 tablespoons flour. Use a spatula to stir the flour-coated chips into the dough by hand.

Drop the dough by slightly rounded tablespoons onto cookie sheets, preferably lined with parchment paper. To allow for spreading, 12 cookies per sheet works well.

Bake until golden brown, 8 - 10 minutes. Let the cookies cool for 5 minutes before transferring them to a wire rack to cool completely.
Cinnamon & Sugar's Note
Bake a test cookie before baking the entire batch. If they spread out too thin for your liking, mix in 2 tablespoons all-purpose flour into the dough. Repeat with another test cookie.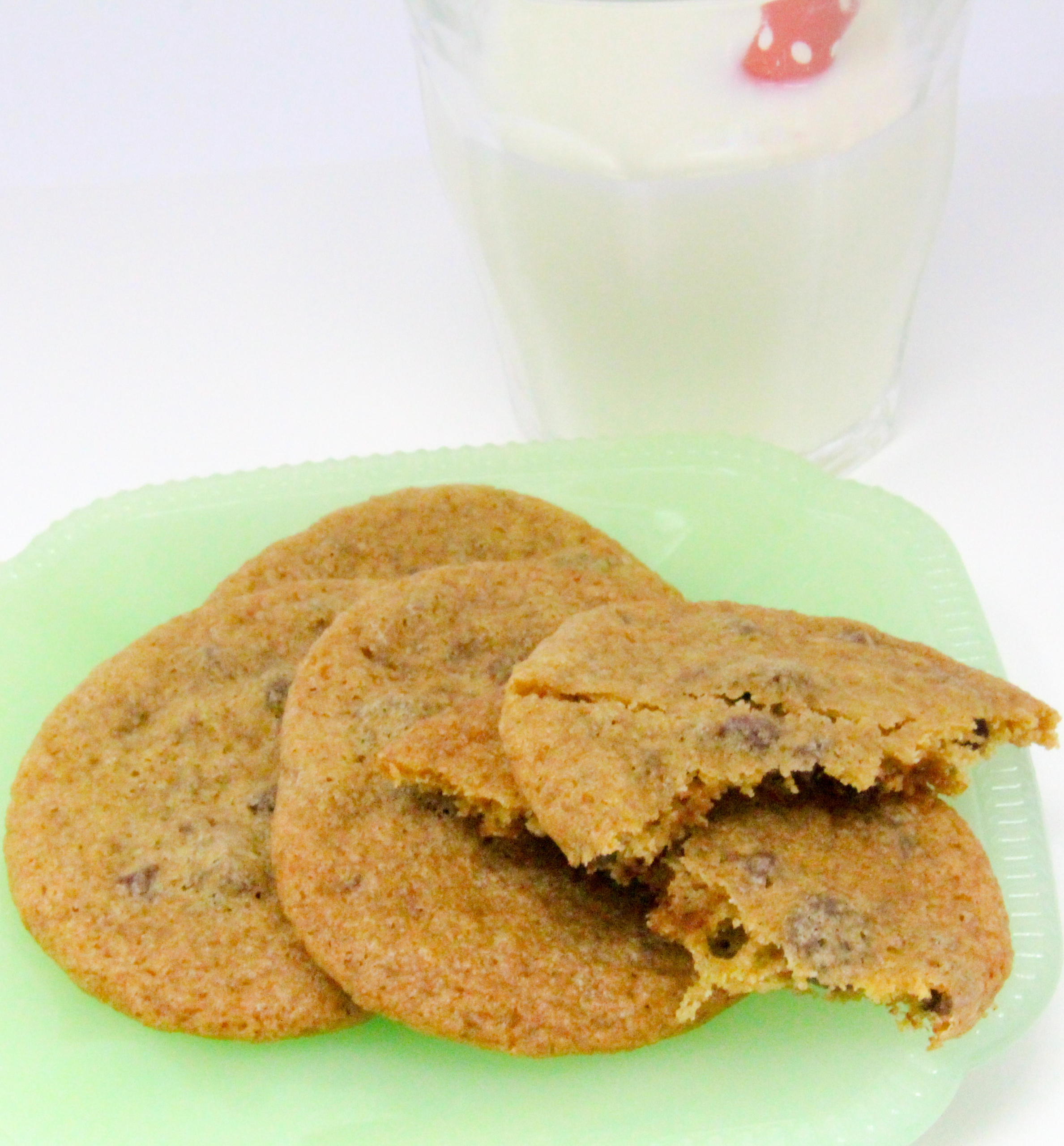 Pin to Pinterest: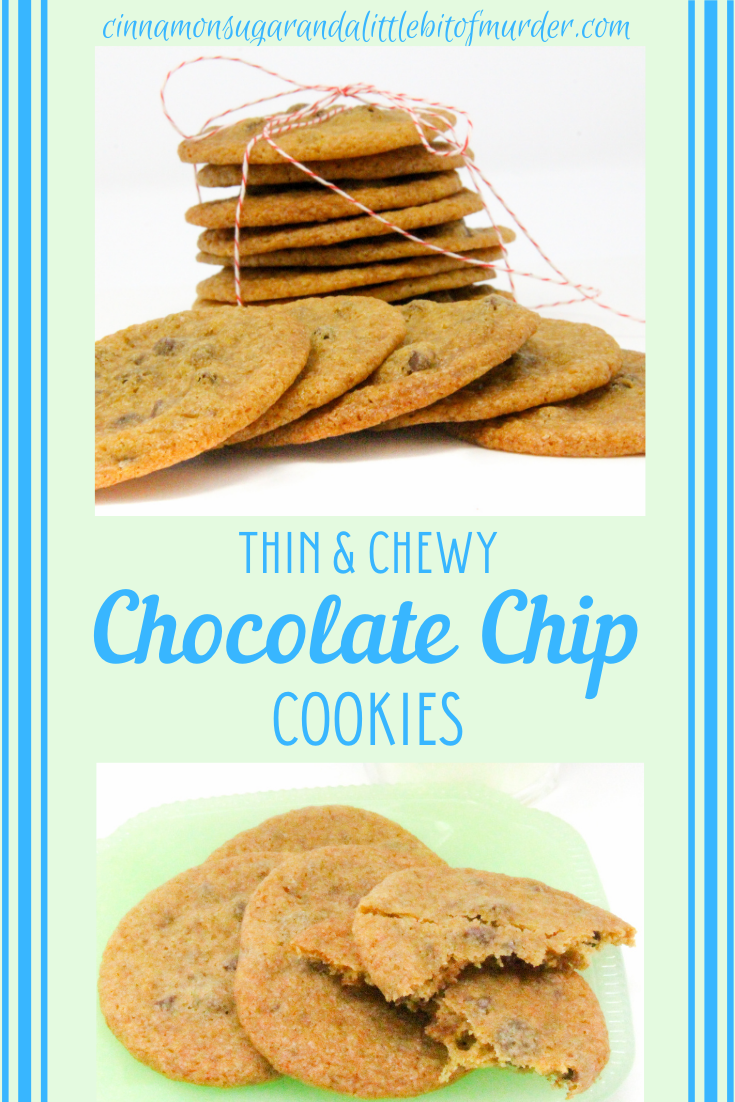 I was provided with an advance copy. All thoughts and opinions are my own.