PEPPERMINT BARKED is the long anticipated sixth book in the Spice Shop Mysteries by Leslie Budewitz. With its festive cover, the reader is enticed into settling in, with a mug of hot cocoa, and enjoying the spirit of the holidays. The tempting descriptions of protagonist Pepper Reece's Spice Shop and the surrounding shops in Seattle's Pike Place Market delighted my senses. The author makes each scene come alive as the market gears up for the themed "A Dickens of a Christmas" celebration from decorations to costumed carolers to gaily wrapped packages. I especially love Pepper's shop, with the fragrance of spices and the friendly, close-knit employees. Ms. Budewitz has done an admirable job in creating characters a reader can connect with and care about. It's been a pleasure watching them change and grow over the course of the series
Except, everything's not all sugar and spice for Pepper and her employees when a neighboring shop assistant is brutally attacked and left for dead. You can always count on Ms. Budewitz to create intricate and well-plotted mysteries, and Peppermint Barked is no exception. Not only are there suspects galore, but the reader is left to guess—just like Pepper—if the young woman was even the intended victim. This adds another layer to peel back in the quest to find the truth. As Pepper makes her way through the market talking to shop owners and picking up gossip, half-truths and secrets are discovered. Fitting the clues together will test the armchair detective's skills and, as I headed toward the suspenseful conclusion, I found myself turning pages faster and faster. With a tidy wrap up of the plot threads running through the story, there's a hint of future changes to come… and I can't wait to find out what's next!
Running a spice shop, Pepper immerses herself in food throughout the book, so be prepared to be hungry for Christmas goodies while you read. And, as usual, you can count on Ms. Budewitz sharing several mouthwatering recipes at the back of the book for the home cook to try out. It was difficult to pick out just one to try but, if you've followed my blog for long, you'll know I love cookies… especially Christmas cookies. And nothing is more festive than peppermint-flavored Candy Cane Cookies! The colorful twists of the peppermint and red cookie will add a delicious and jolly look to your holiday cookie platter, or use them to decorate your organic Christmas tree!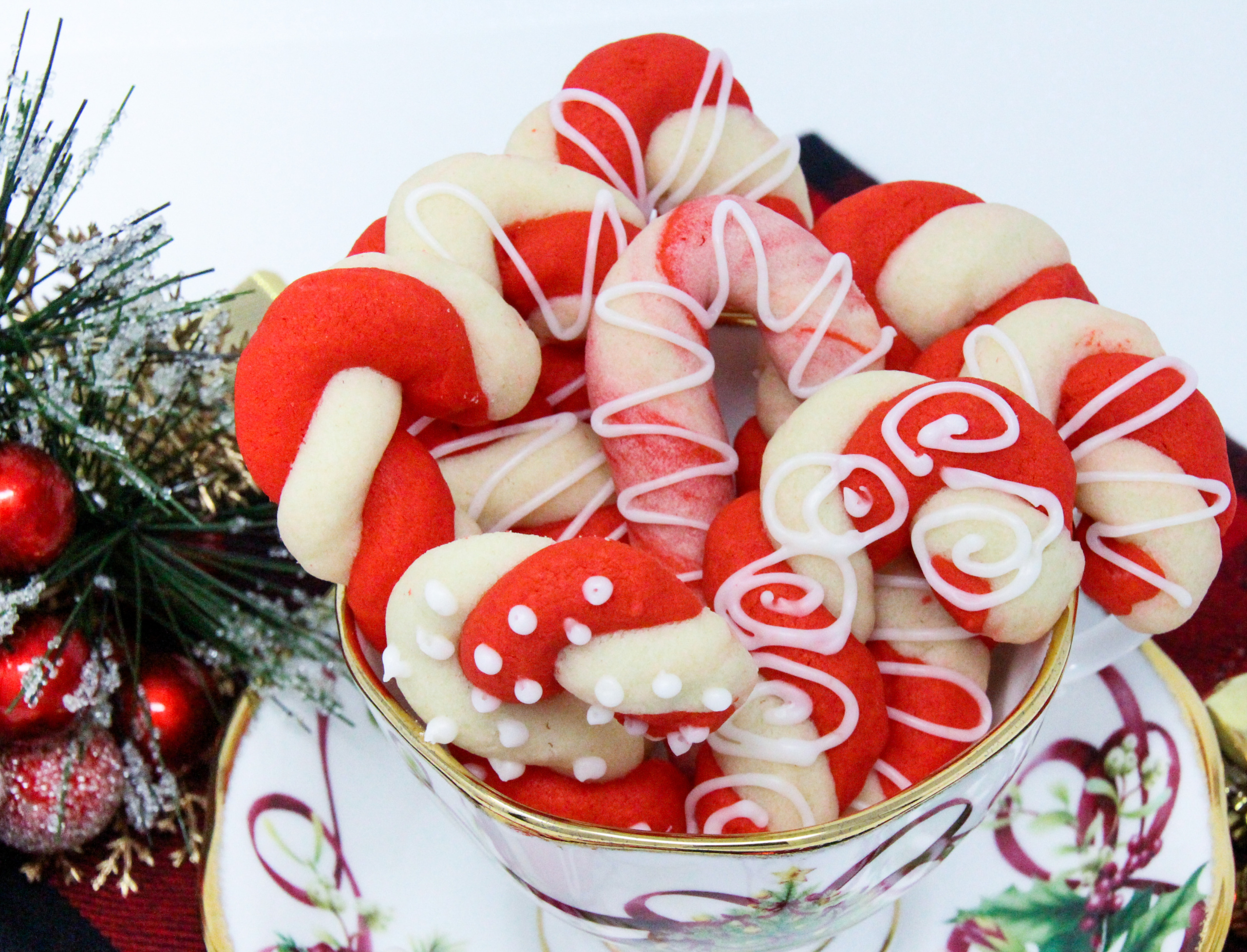 Amazon Synopsis
As the holiday season lights up Seattle's famed Pike Place Market, Pepper Reece's beloved Spice Shop is brimming with cinnamon, nutmeg, and shoppers eager to stuff their stockings. Add to the mix a tasty staff competition—a peppermint bark-off—along with Victorian costumes for this year's Dickensian Christmas theme, and Pepper almost forgets to be nervous about meeting her fisherman boyfriend's brother for the first time.
But when a young woman working in her friend Vinny's wine shop is brutally assaulted, costumed revelers and holiday cheer are the last things on Pepper's mind. Who would want to hurt Beth? Or were they looking for Vinny instead?
The vicious attack upsets everyone at Pike Place, but none more than Pepper's own employee, Matt Kemp. At first, Pepper is baffled by his reaction, but his clandestine connection to Beth could hold the key to the assailant's motive. Or perhaps it's Vinny's ex-wife who knows more than she's letting on . . . and what about the mysterious top-hatted man with whom Pepper saw Beth arguing that morning?
As the secrets of the market come to light, long-held grudges, family ties, and hidden plans only further obscure the truth. Is it a ghost of the past rattling its chains, or a contemporary Scrooge with more earthly motives? As Pepper chases down a killer, someone is chasing her, and in the end, the storied market itself may hold the final, deadly clue.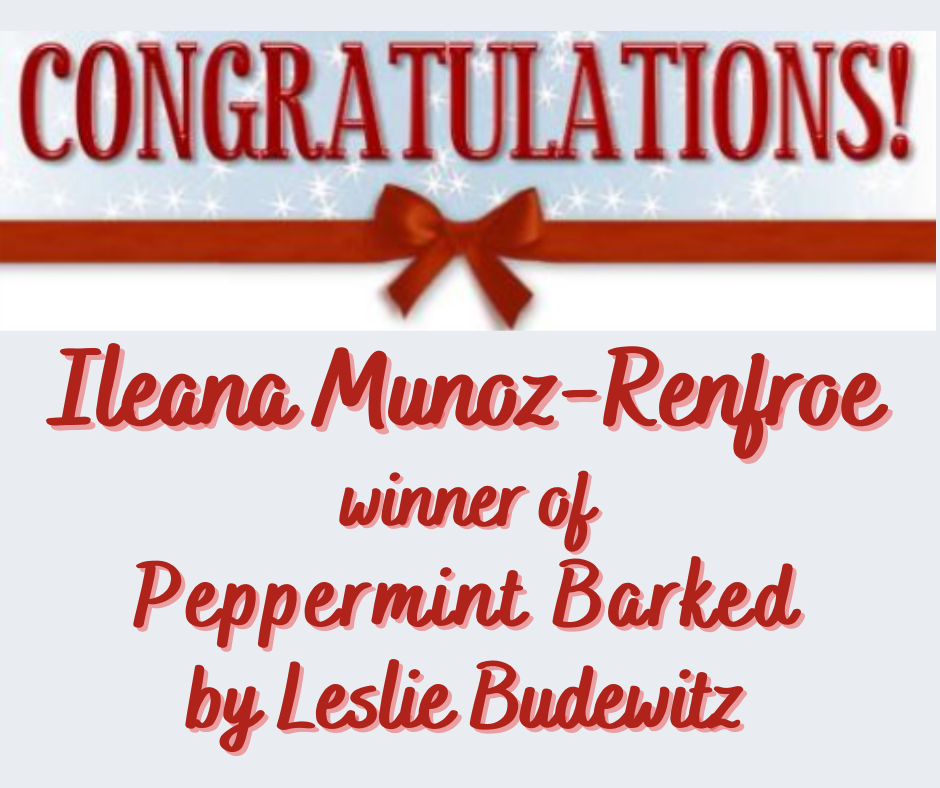 A special thanks to Leslie Budewitz for providing a print copy of PEPPERMINT BARKED. Contest ends July 27, 2022 at 11:59 pm PST and is limited to U.S. residents only. Please use the Rafflecopter box located below to enter. The winner will be announced on this page and on Cinnamon & Sugar's Facebook page, as well as notified by email (so check your spam folder!)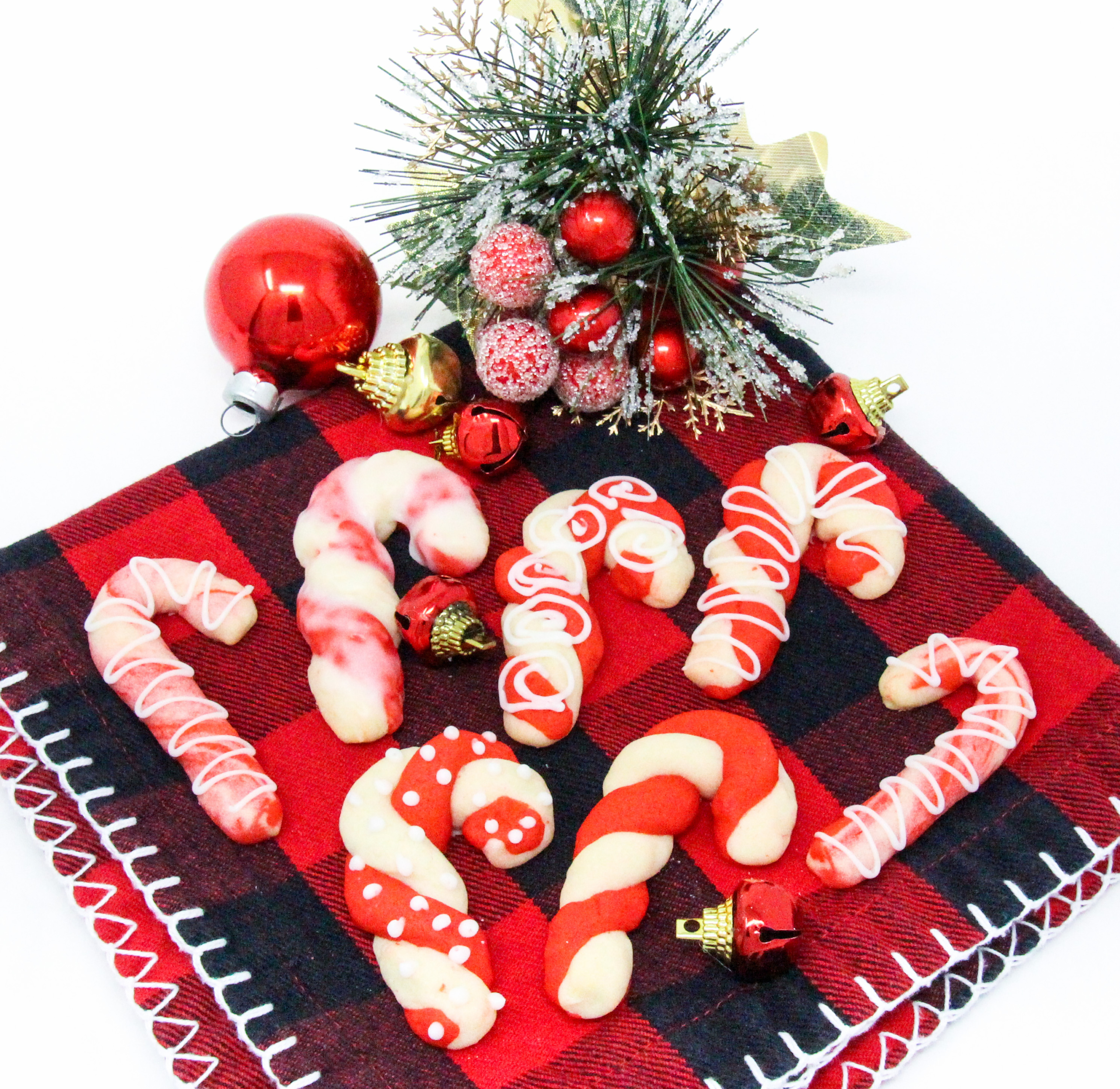 Candy Cane Cookies
Food and memory are closely intertwined, especially at the holidays. Stoic Matt gets a little weepy as he remembers making these with his mother, who hung a few on the tree--and pretended to be surprised when they disappeared!
Makes 4 dozen.
Ingredients
1

cup

(2 sticks) butter, at room temperature

1

cup

powdered sugar

1

egg

1/2

teaspoon

vanilla extract

1/2

teaspoon

peppermint extract

2-1/2

cups

all-purpose flour

dash of salt

1/2

teaspoon

red food coloring
Peppermint Glaze (optional)
1

cup

powdered sugar

1/4

teaspoon

peppermint extract

1-2

tablespoons

water
Instructions
Using your mixer, beat the butter until softened. Add the powdered sugar and beat until fluffy.

Add the egg, vanilla, and peppermint, and beat well.

Add flour and salt and mix thoroughly.

Divide dough in half and mix food coloring into one half. Shape each half into balls, cover, and chill about 30 minutes.

Heat oven to 375 degrees. Line baking sheets with parchment paper or silicone liners.

Roll the plain dough, about a teaspoonful at a time, into a 4-inch rope. Repeat with the red dough. Place a plain and a red rope side by side and twist together, then pinch the ends to seal. Shape twisted ropes into canes and place 2 inches apart on the baking sheet.

Bake 8 - 10 minutes or until done; bottoms of the cookies will be lightly browned. Remove and cool and on a wire rack.
For the glaze:
Mix the powdered sugar, peppermint, and enough water to make a think glaze; brush on cooled cookies.
Cinnamon & Sugar's Notes:
Since I made these during the hot summer, I found the dough needed to be kept refrigerated and removed a bit at a time to work with. After forming the candy cane cookies and placing them on baking sheets, I chilled for ten minutes before baking as directed.

I used scraps of the leftover cookie dough to marble together then formed candy cane cookies.

The glaze adds another delicious layer of peppermint flavor, however it does partially cover up the vivid red color of the cookie. You can brush the underside of the cookies with the glaze and leave the tops intact, or pipe thickened glaze in decorative patterns on top of the cookie.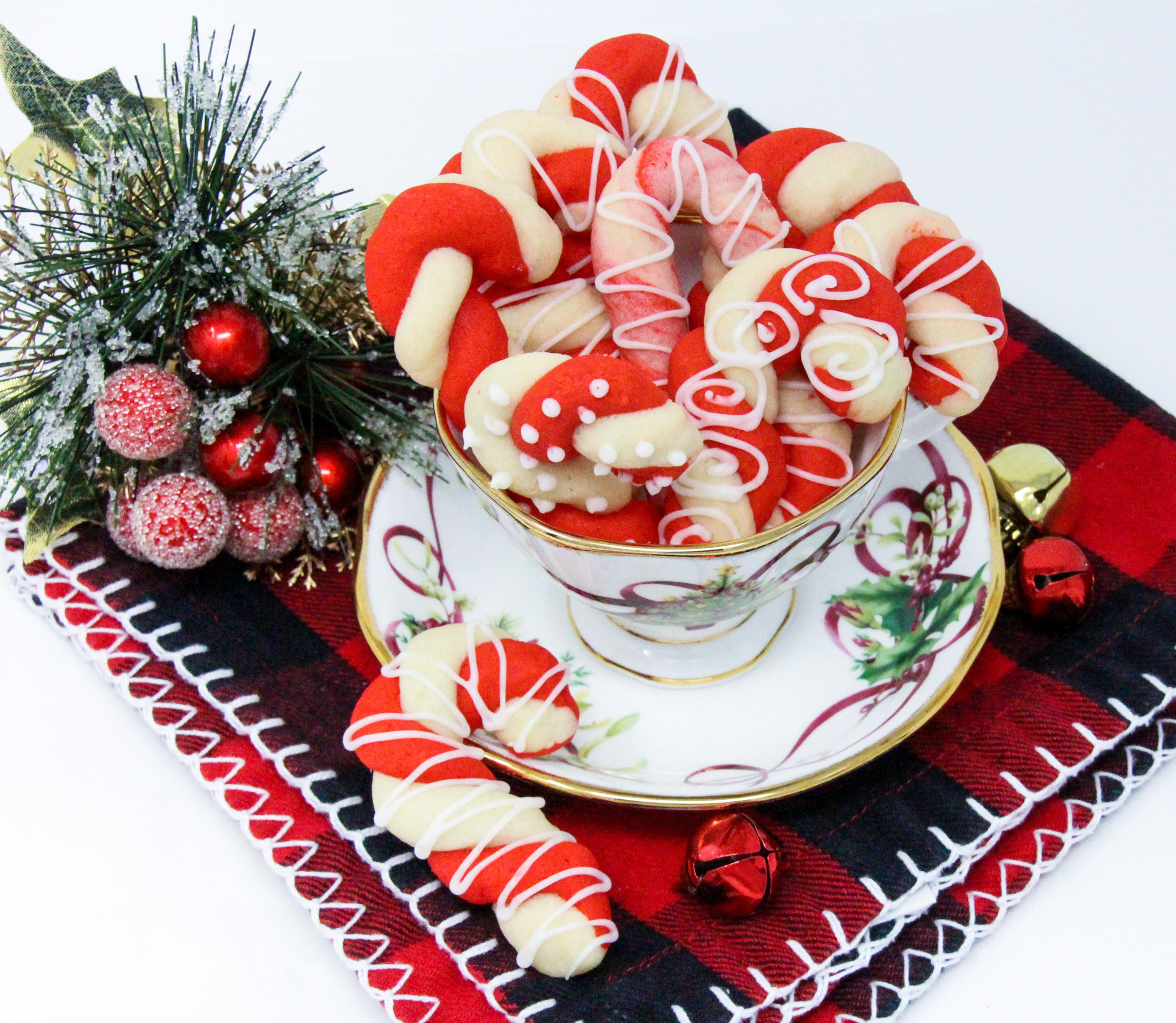 Pin to Pinterest: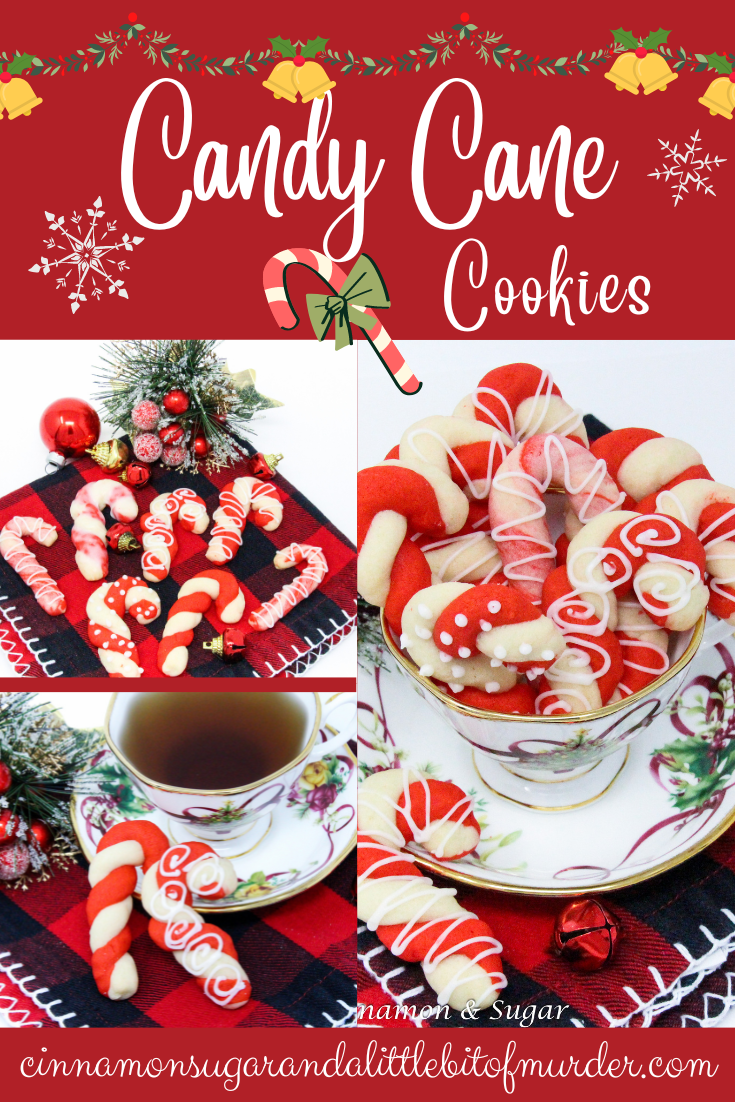 I was provided with an advance copy. All thoughts and opinions are my own.