MURDER IN A CAPE COTTAGE is the fourth book in the Cozy Capers Book Group Mysteries by Maddie Day. In this newest release, 'Mac' MacKenzie Almeda is preparing for her nuptials to baker Tim Brunelle. What should have been a week filled with bridal activities and fun turns into a nightmare when a skeleton is found inside a walled in space in Tim's hundred-year-old cottage. To up the creepiness factor, the skeleton was dressed in an old-fashioned bridal gown and had been chained to the wall. With only a few days until her wedding, Mac decides she must find out what happened to the bride and find justice before she says her vows.
This brings a sense of urgency to the storyline. With a fast-paced plot that starts from the very first page, Ms. Day pens an intriguing cold case murder mystery. Using her connection to the community, Mac chats with elderly townsfolk, and researches old newspapers hunting for clues of the identity of the dead bride. I'm always in awe of writers who can successfully navigate putting together a cold case mystery and provide enough clues and twists to make it interesting. And Ms. Day does not disappoint. Adding to the enjoyment are the supporting characters, from Mac's dear grandmother, her African gray parrot (who provides moments of levity), to her Cozy Caper's book group who helps suss out clues. As they track down information, it becomes apparent that someone in town has a vested interest in keeping the crime unsolved. With the suspect list growing and the days counting down to Mac's wedding, I felt the need to read faster and faster to find out what happens next. I, for one, can't wait for the next book in this delightful series!
As in all of Maddie Day's books, you can count on delicious mentions of food throughout the story. And, of course, lots of wonderful recipes are included at the back of the book for the home cook to try. Mac's fiancé, Tim, bakes up yummy blueberry scones for the wedding morning family breakfast. Using a food processor also speeds up the time it takes to get the scones into the oven and onto the table. Flaky, rich, and with the yummy sweetness of the blueberries, I'll be making these year-round thanks to being able to use either fresh or frozen blueberries, depending on the season.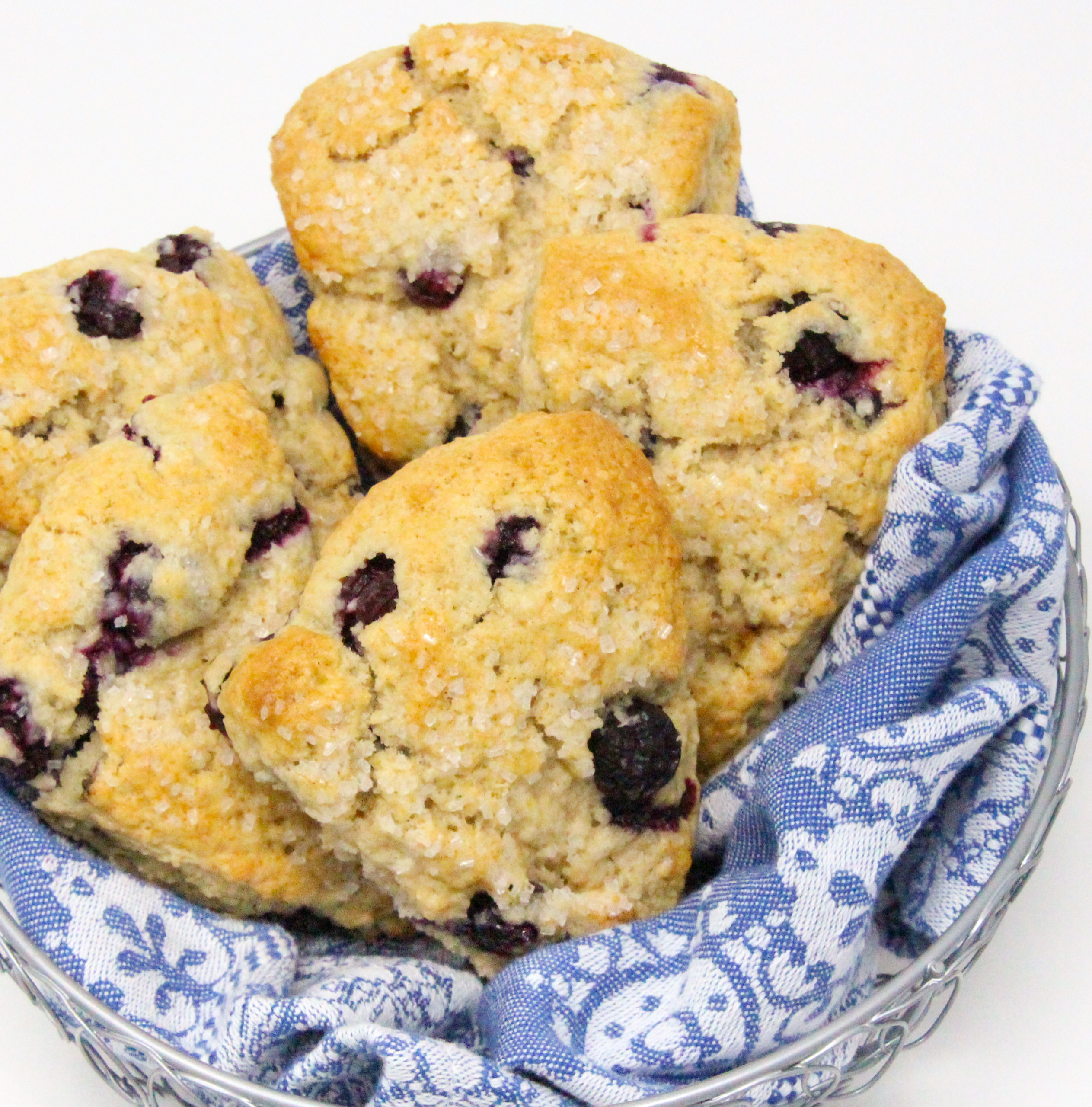 Amazon Synopsis
'Tis the day after Christmas, following a wicked-busy time of year for Mac's bike shop. It's just as well her Cozy Capers Book Group's new pick is a nerve-soothing coloring book mystery, especially when she has last-minute wedding planning to do. But all pre-wedding jitters fade into the background when Mac and her fiancé, Tim, begin a cottage renovation project and open up a wall to find a skeleton—sitting on a stool, dressed in an old-fashioned bridal gown . . .
As Mac delves into the decades-old mystery with the help of librarian Flo and her book group, she discovers a story of star-crossed lovers and feuding families worthy of the bard himself. Yet this tale has a modern-day villain still lurking in Mac's quaint seaside town, ready to make this a murderous New Year's Eve . . .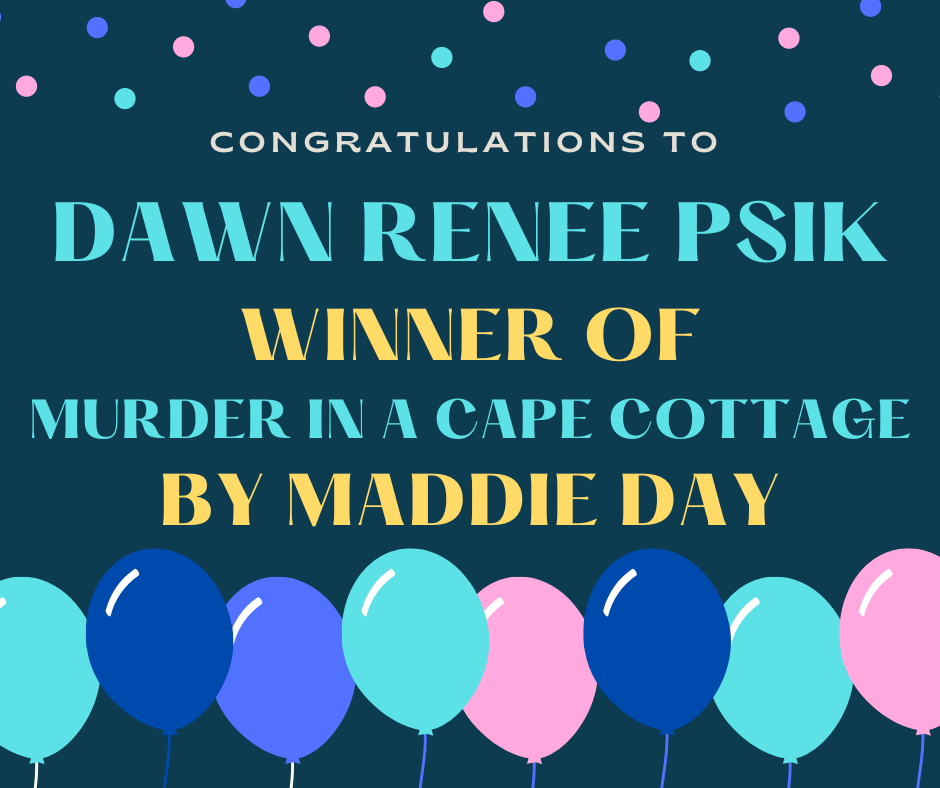 A special thanks to Maddie Day for providing a print copy of MURDER IN A CAPE COTTAGE! Contest ends October 5, 2022 at 11:59 pm PST and is limited to U.S. residents only. Please use the Rafflecopter box located below to enter. The winner will be announced on this page and on Cinnamon & Sugar's Facebook page, as well as notified by email (so check your spam folder!)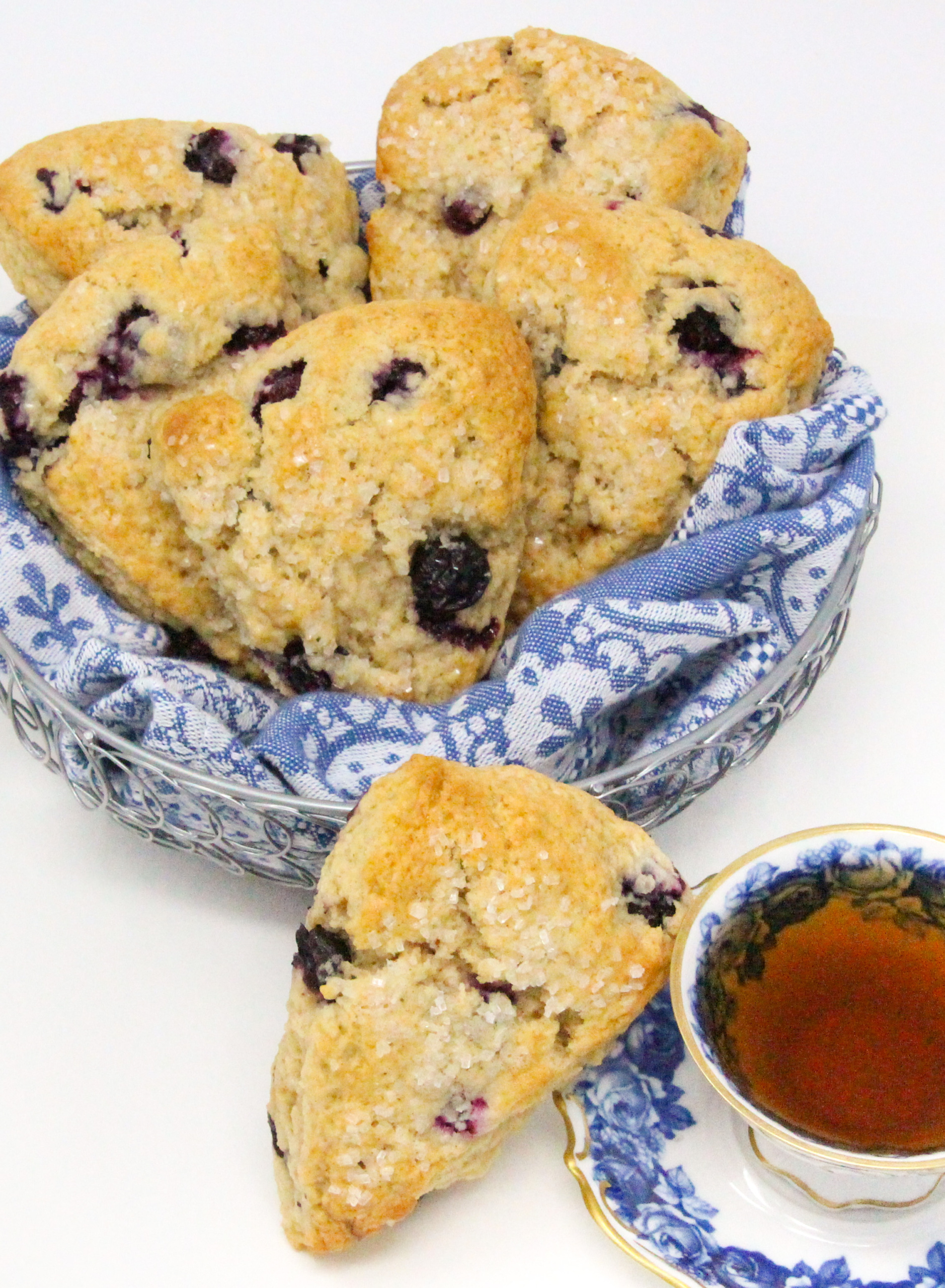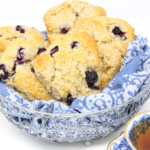 Blueberry Scones
Tim makes these for the wedding morning breakfast.
Ingredients
2

cups

all-purpose flour, spoon & leveled, plus more for hands and work surface

1/2

cup

granulated sugar

2-1/2

teaspoons baking powder

1

teaspoon

ground cinnamon

1/2

teaspoon

salt

1/2

cup

(1 stick) cold butter

1/2

cup

sour cream

1

large egg

1-1/12

teaspoons pure vanilla extract

1

heaping cup fresh or frozen blueberries (do not thaw)

2

tablespoons

whole milk

Coarse sugar
Instructions
Line a dinner plate with parchment paper.

Pulse flour, sugar, baking powder, cinnamon, and salt together in a food processor.

Cut the butter into inch cubes. Add it to the food processor and pulse until the mixture comes together in pea-sized crumbs.

Place in the refrigerator or freezer as you mix the wet ingredients together.

Whisk 1/2 cup sour cream, the egg, and vanilla extract together in a small bowl. Drizzle into food processor and mix for only a few seconds until it starts to clump.

Turn onto a floured counter and, with floured hands, mix in the blueberries, forming a ball. Dough will be sticky. If it's too sticky, add a little more flour. If it seems too dry, add 1-2 tablespoons milk.

Transfer to the lined dinner plate and press into an 8-inch disk. Refrigerate for at least 15 minutes.

Preheat oven to 400°F.

Transfer disk and parchment paper to a baking sheet. With a sharp knife or bench scraper, cut into 8 wedges.

Arrange chilled scones two inches apart. Brush with milk and for sprinkle with coarse sugar (or regular granulated if you don't have coarse).

Bake for 22-25 minutes or until golden brown around the edges and lightly browned on top. Remove from the oven and cool for a few minutes.

Serve hot or at room temperature.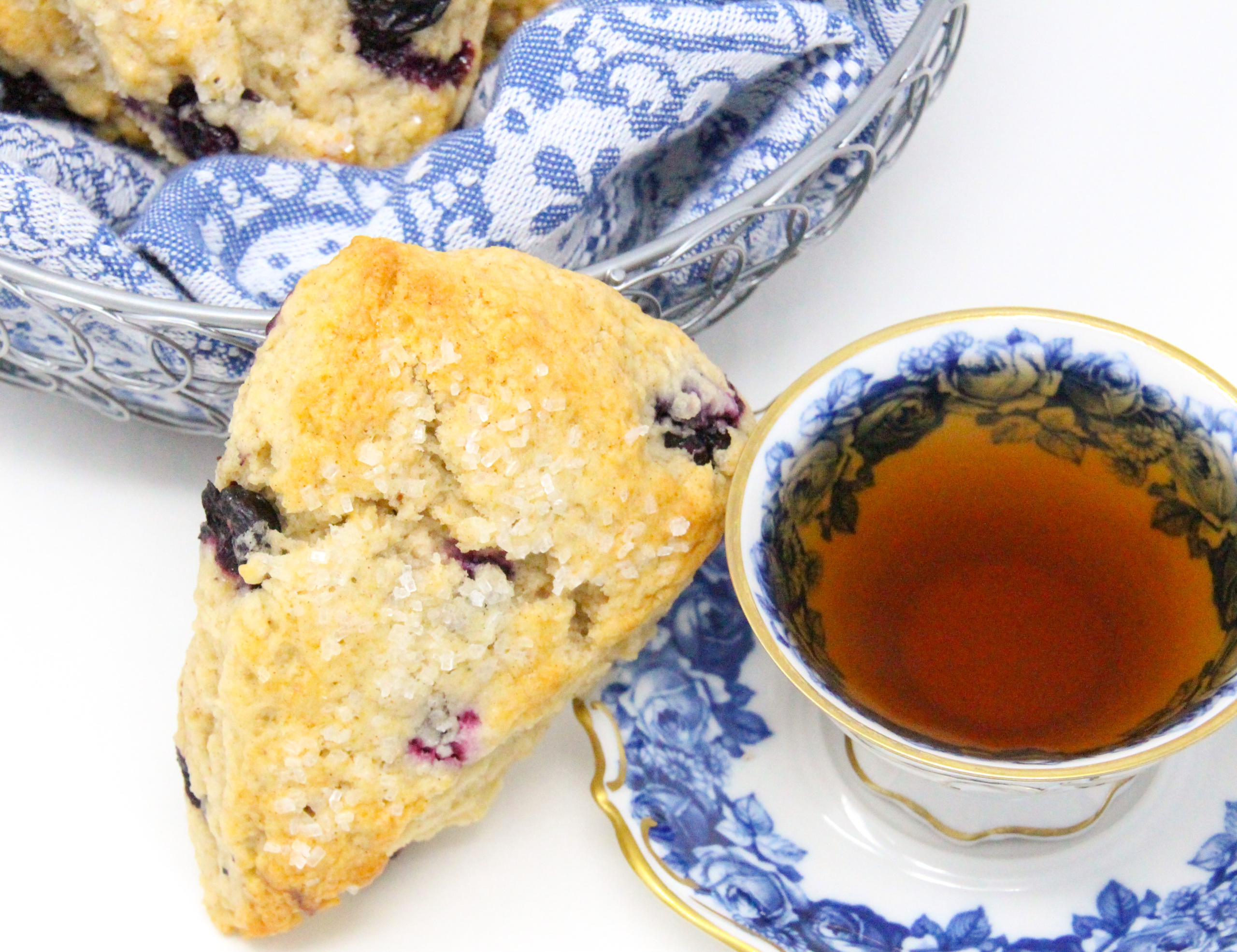 Pin to Pinterest: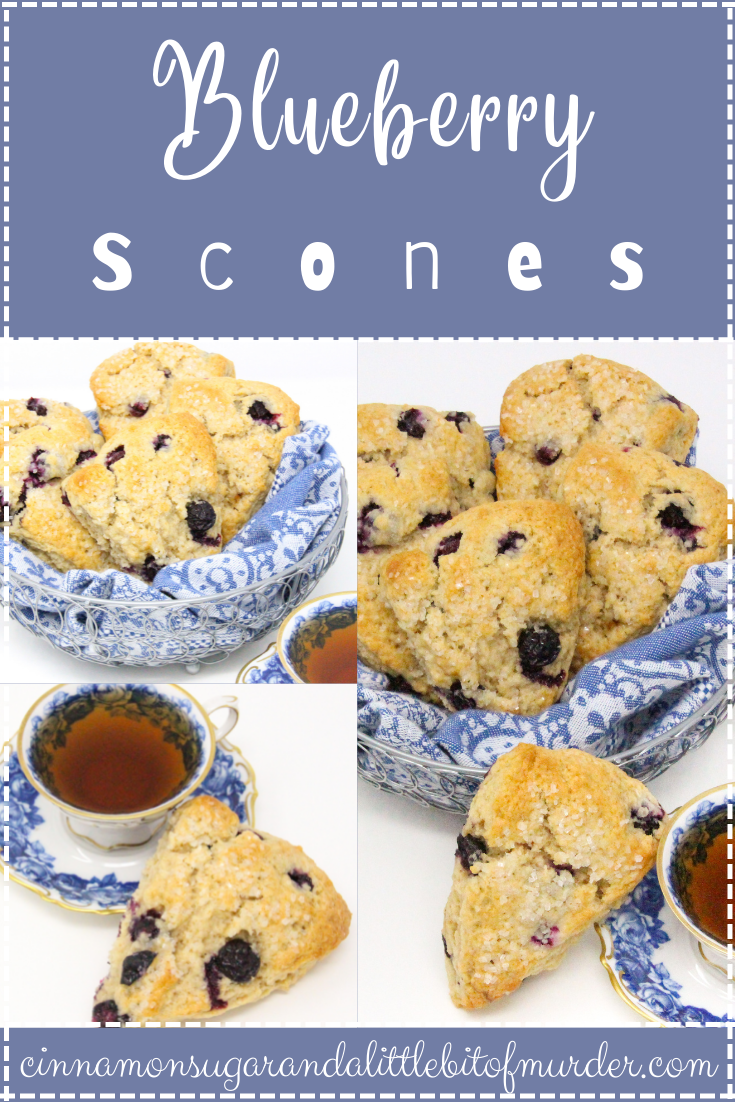 I was provided with an advance copy. All thoughts and opinions are my own.