While I have the opportunity to read and share so many wonderful cozy mysteries on my blog, every once in a while I come across one that has me grinning from ear-to-ear during the entire read. (I'm sure my seatmate on my flight home from the Malice conference was wondering what kind of drugs I was on…lol.) Such is the case with DEATH BY CHOCOLATE LAB, the first in a new series by Bethany Blake! This charming book captured me from the very first page. I adored the characters from the free-spirited pet-sitting protagonist, Daphne Templeton, to her long-suffering basset hound, Socrates, and especially her foster pet, an imprudent Chihuahua named Artie, who is "a big, hot, steaming mess"! The addition of Daphne's straight-laced veterinarian sister, Piper, added to the opportunity for humorous situations. Ms. Blake deftly writes great descriptive scenes and characterizations without detracting from the plot. With just a few creative sentences she had me envisioning the settings and the action, making me feel like I was right there.
The mystery about who killed Piper's ex-boyfriend was well plotted and the author provided plenty of suspects to keep the reader guessing. She also includes a subplot that brings to light the social issue of domestic violence, not only the physical kind but psychological abuse as well. Ms. Blake expertly weaves it into the storyline with a light hand, yet manages to convey the importance of an issue that is often ignored or overlooked.
The author includes several recipes at the back of the book, most for our furry friends and one dessert recipe for people. I chose to make Banana-Apple Pupcakes for a couple reasons: after reading the ingredients I realized that not only would my grand-puppy, Piper, love them, but my granddaughters would have fun eating them as well! With just a bit of honey for sweetness, these mostly whole-wheat pupcakes rely on flavor using ripe bananas and apples. Of course my granddaughters added maple syrup to their pupcakes, but Piper gobbled them up as is and literally whined and begged for more after seeing the container going into the refrigerator. We made Piper share the Banana-Apple Pupcakes with some of her friends in the neighborhood and it wasn't long before I received requests for the recipe. It's safe to say these pupcakes received 2 paws up for deliciousness!
Amazon Synopsis
Pet sitter Daphne Templeton has a soft spot for every stray and misfit who wanders into the quaint, lakeside village of Sylvan Creek. But even Daphne doesn't like arrogant, womanizing Steve Beamus, the controversial owner of Blue Ribbon K-9 Academy. When Steve turns up dead during a dog agility trial, Daphne can think of a long list of people with motives for homicide, and so can the police. Unfortunately, at the top of the list is Daphne's sister, Piper—Steve's latest wronged girlfriend.
Certain that Piper is innocent, in spite of mounting evidence to the contrary, Daphne sets out to clear her sister's name—and find Axis, Steve's prize-winning chocolate Labrador, who went missing the night of Steve's death. Aided by Socrates, her taciturn basset hound, and a hyperactive one-eared Chihuahua named Artie, Daphne quickly runs afoul of Detective Jonathan Black, a handsome and enigmatic newcomer to town, who has no appreciation for Daphne's unorthodox sleuthing.
Can a free-spirited pet sitter, armed only with a Ph.D. in Philosophy and her two incompatible dogs, find the real killer before she becomes the next victim?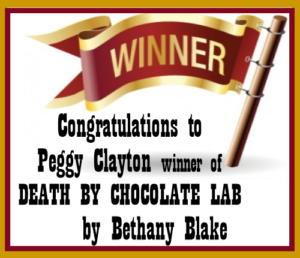 A special thank you to Kensington for providing a print copy for one lucky winner! Contest ends Thursday, May 18, 2017 at 11:59 pm PST and is limited to U.S. residents. Please use the Rafflecopter box located below the recipe to enter. The winner will be announced on this page and on Cinnamon & Sugar's Facebook page, as well as notified by email (so check your spam folder!)
Ingredients
Have you ever felt guilty about whipping up a stack of pancakes while your dog sits at your feet, drooling hopefully? Because who doesn't love pancakes? Unfortunately, dogs don't need extra sugar in their diets and usually get shut out of the feast. This sweet, but sugarfree, recipe is Socrates's absolute favorite. He likes the tang the buttermilk adds, but if you don't have any on hand - and let's face it, most people probably don't - just double the amount of regular milk.

Ingredients

2 large eggs
1/2 cup whole milk
1/2 cup buttermilk
1 tablespoon honey
1 cup whole-wheat flour
1/2 cup all-purpose flour
1 teaspoon baking powder
1/2 cup mashed bananas, plus 1/2 cup for topping (optional)
1/2 cup diced apples, plus 1/2 cup for topping (optional)
Cooking spray, for greasing the griddle
1/2 cup plain yogurt (optional)
Instructions
Heat up a griddle or a large skillet.
Whisk together the eggs, milk, buttermilk, and honey in a medium bowl.
Carefully add the whole-wheat flour, the all-purpose flour, and the baking powder to the egg-milk mixture, doing your best not to make a mess.
Take a moment to clean up the mess.
Fold the bananas and apples into the egg-flour mixture.
Spritz your skillet or griddle with the cooking spray.
Next, spoon 2 to 3 tablespoons of the batter at a time onto the hot surface, forming pupcakes.*
Cook until the tops of your pupcakes get bubbly, and then flip and cook them another 2 minutes or so, being careful to not burn them. When both sides are light golden brown, they're done.
Allow the pupcakes to cool. then serve them topped with extra diced apples and mashed bananas, if desired. A dollop of yogurt is nice too.
Makes about 10 pupcakes, depending upon size.

*If you are a perfectionist like Piper, you can make cute bone shapes by pouring the batter into cookie cutters placed on the griddle or skillet. And if you're really clever, you can form the bones freehand with a piping bag. Although she didn't do a great job painting my van, artistic Moxie is pretty good at free-forming pupcake batter.
https://cinnamonsugarandalittlebitofmurder.com/banana-apple-pupcakes/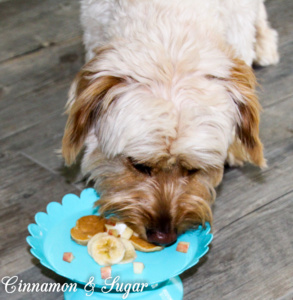 Pin to Pinterest: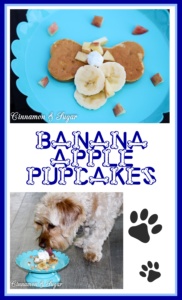 If you receive my blog post via email you will need to visit my website to view the video.
I was provided an advanced copy with the hopes I would review. All thoughts and opinions are my own.