HOSPITALITY AND HOMICIDE, the eighth book in the Tourist Trap Mystery series by Lynn Cahoon, has plenty to keep the reader entertained: A young missing boy, a friend who seems to be going off the deep end, romance, and… a murdered bed & breakfast owner. Jill Gardner has her hands full juggling school while running her business Coffee, Books, and More. She is also trying to balance her relationship with her boyfriend, Greg, who just so happens to be the town's local law enforcement. Things are rarely quiet in the tourist town of South Cove, California and Jill finds herself involved in trying to solve another murder.
The story flows and it captured my attention from the beginning. This is one of those books that I read in one sitting as I turned pages and ignored how late it was. I love the characters of South Cove and enjoy that in each book different residents are introduced and given a prominent role in the storyline. This gives the reader better insight into the town, and while HOSPITALITY AND HOMICIDE can be read as a standalone, starting from the beginning is a great way to see the characters grow and develop. The author does a wonderful job in stretching the characters, allowing them to gain skills and growth as humans. I especially like the transformation Jill's Aunt Jackie has gone through…she is very sweet with her beau, Harold. One character that I hope doesn't change too much is Toby! Part-time barista and part-time law enforcement officer… no wonder there's a line of women waiting to buy coffee drinks whenever he's working. I'd be joining that line too…
While the author doesn't include any recipes with the book, there is certainly lots of yummy food and desserts mentioned! The protagonist definitely has a thing for cheesecake and I was fortunate to be able to share Lynn's recipe in a previous post, which you can see by clicking on this link: Sadie's Lemon Summer Surprise. Another delectable dessert that the characters enjoy in this book is Sugar High Chocolate Meringue Pie and I was honored when Lynn asked me to develop the recipe for this post. Sure you could use boxed instant pudding to make the pie but you'd be missing out on a chocolate pie full of fudgy rich flavor and texture. A generous amount of sweetened meringue is piled on top to lighten the pie's creaminess then browned to bring out a delicate flavor. This Sugar High Chocolate Meringue Pie is as delectable as it is comforting, making you feel like you're sitting at your grandma's table enjoying her home cooking or sitting in a quaint cafe!
Amazon Synopsis
A visit to the serene coastal town of South Cove, California, could make anybody feel refreshed and inspired. But as Jill Gardner-owner of Coffee, Books, and More-discovers, some folks won't live to tell about it . . .
Mystery author Nathan Pike checked into South Cove Bed & Breakfast to compose a compelling novel, not commit murder. But things get real when a rival B&B owner ends up exactly like the victim in his draft-undeniably dead. As Nathan prepares to complete his magnum opus behind bars, Jill's the only one who can prove his innocence and deconstruct the plot of a twisted killer!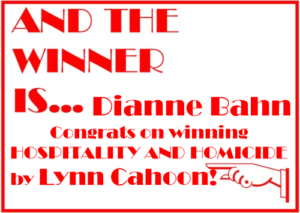 A special thank you to Lynn Cahoon for providing an e-book copy for one lucky winner! Contest ends Tuesday, May 23, 2017 at 11:59 pm PST. Please use the Rafflecopter box located below the recipe to enter. The winner will be announced on this page and on Cinnamon & Sugar's Facebook page, as well as notified by email (so check your spam folder!)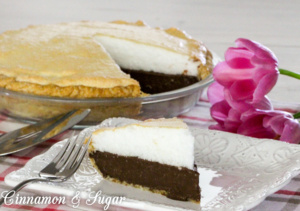 Sugar High Chocolate Meringue Pie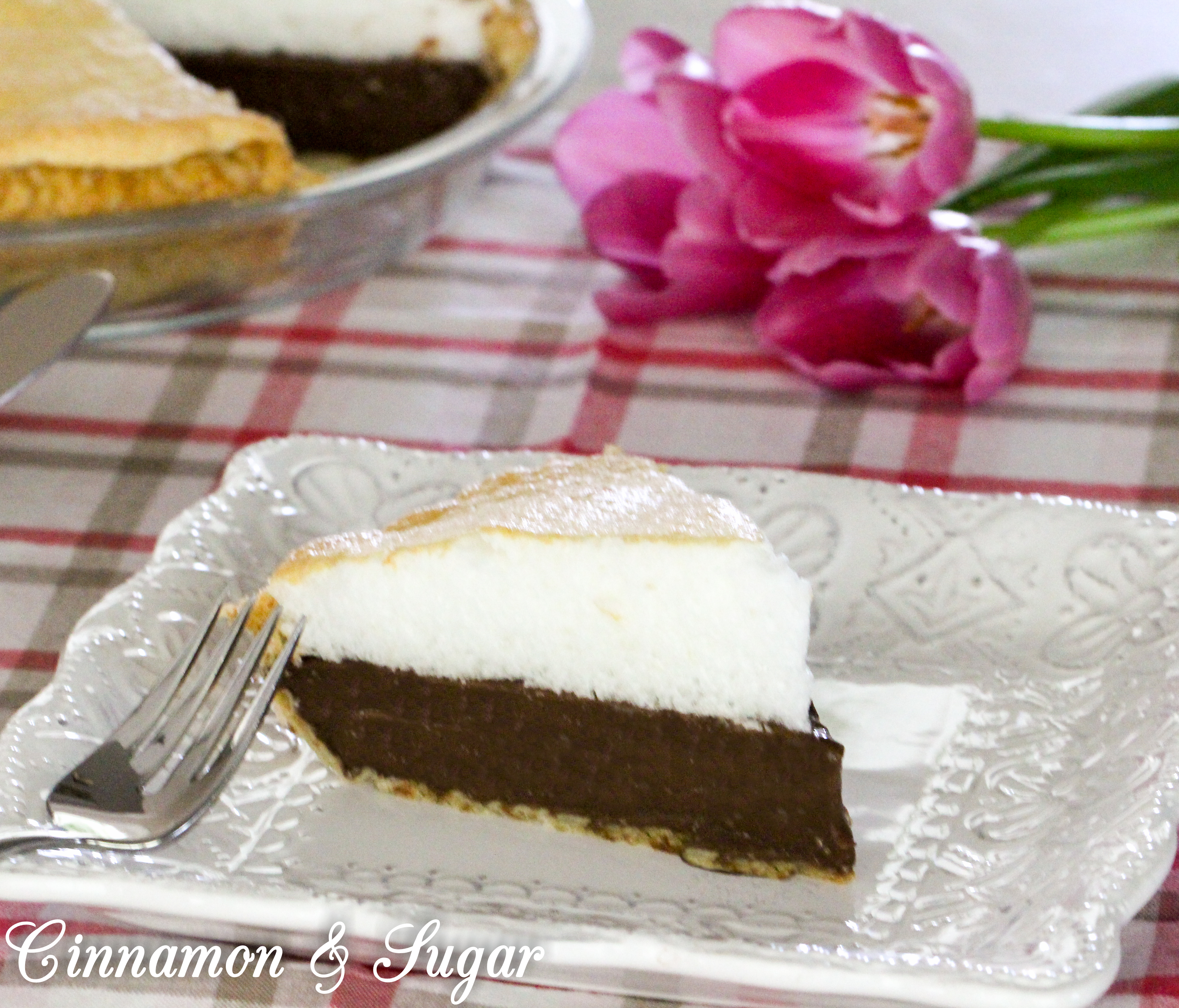 Ingredients
Pie

1 9-inch baked pastry shell
3 egg yolks
3 cups whole milk, divided
1 cup granulated sugar
1/4 cup unsweetened cocoa powder
3-1/2 tablespoons cornstarch
1/4 teaspoon salt
3 tablespoons unsalted butter
2 teaspoons vanilla extract

Meringue

3 tablespoons granulated sugar
1 tablespoon cornstarch
1/2 cup cold water
3 egg whites
Instructions
Preheat oven to 350 degrees (F).

Prep the cooked meringue stabilizer

In a small saucepan, blend the sugar, salt, and cornstarch with water.
Stirring constantly, cook over low heat until thickened.
Allow to cool to room temperature while you prepare the pie filling and meringue.

Pie

Heat 2-1/2 cups of milk over medium heat just until bubbles start forming around edges. Don't let the milk boil.
In a small-sized bowl, whisk together remaining 1/2 cup milk with 3 egg yolks. Set aside.
In a medium-sized bowl, whisk together the sugar, cocoa powder, cornstarch, and salt.
Add the egg yolk mixture to the cocoa mixture, whisking until smooth.
Very slowly add the hot milk to the cocoa mixture, whisking constantly; return the mixture to the saucepan.
Heat the pie filling over medium heat, stirring constantly, until it comes to a full boil. Allow to boil for 30 seconds then remove from the heat.
Stir in the butter and vanilla until thoroughly incorporated.
If mixture seems lumpy, strain filling through a sieve. You may need to use a spatula to push mixture through.
Pour hot mixture in to the prepared pastry shell and set aside while you make the meringue.

Meringue

Beat the egg whites until they are stiff.
Gently fold in the cooled cornstarch mixture.
Spread the meringue over the chocolate filling, making sure the meringue seals to the crust all the way around.
Bake for 12 to 15 minutes or until golden brown.
Allow pie to cool on wire rack for 1 hour then refrigerate at least 3 hours before serving.
Refrigerate any leftovers for up to 3 days.

Tip

My granddaughter said she would have liked whipped cream on this pie. If you're like her, omit the meringue and chill the pie completely, at least 3 hours. Once pie is thoroughly chilled, whip 1 cup of heavy cream until soft peaks form. Slowly add in 1/4 cup granulated sugar with 1/4 cup confectioners' sugar and whip until stiff peaks form. Spread whipped cream over pie and serve. (The addition of confectioners' sugar keeps the whipped cream from rapidly deflating and will last several days in the refrigerator.)
https://cinnamonsugarandalittlebitofmurder.com/sugar-high-chocolate-meringue-pie/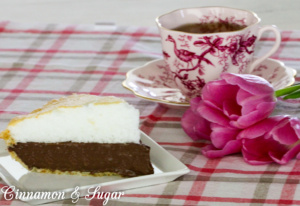 Pin to Pinterest: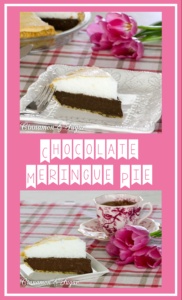 If you receive my blog post via email you will need to visit my website to view the video.
I was provided an advanced copy with the hopes I would review. All thoughts and opinions are my own.