HIDDEN BENEATH is the eleventh book in the Maine Clambake Mysteries by Barbara Ross. I always wait, with great anticipation, the release of each new book in this series, and this newest did not disappoint. The characters, from the protagonist, Julia Snowden, to her family, employees, and friends, have become like my own friends. It's been a delight watching them grow and change over the years! While you can read Hidden Beneath as a standalone, I've greatly enjoyed reading from the first book in order to fully appreciate the character development. Not only are there strong characters, but the setting is always captivating. The author's attention to detail and her descriptive voice truly make each scene come alive. In this book, Chipmunk Island is the focus, along with the ladies of the Wednesday Club. Be sure to read the author's acknowledgements at the back of the book for an insight into how the theme came to be.
As much as the characters and the setting attract my attention, it's the well-plotted mysteries—both a five-year-old disappearance and a current day murder—that kept me glued to the pages until I'd read the very last word. I enjoyed getting to know Julia's mother, Jacqueline, better and seeing the mother and daughter interact together on the pages. It's Jacqueline's school day's friend who went missing five years ago. And while authorities don't believe there was foul play, Julia and her mother think otherwise. When a new murder hits the tiny island community of Chipmunk Island, Julia believes the two mysteries are intertwined. Ms. Ross does a marvelous job of weaving in clues and while I erroneously guessed the culprit, the reveal brought everything together succinctly. With a hint of future things to come for Julia and her family, I'll be waiting on pins and needles for the next release!
The Wednesday Club serves up special desserts at their gatherings, or when Julia and Jacqueline come to visit. Ms. Ross has thoughtfully provided several recipes at the back of the book for the home cook to make. I was drawn to her recipe for Apricot Squares. I was especially happy to find it uses dried apricots instead of fresh, so it can easily be made year-round. With a buttery base crust, the filling is ooey-gooey and rich thanks to a generous portion of brown sugar, walnuts, and apricots. I also appreciated that it's baked in bar form for easy serving. Simply slice into squares, plate, and enjoy with a piping cup of tea or a cold glass of milk.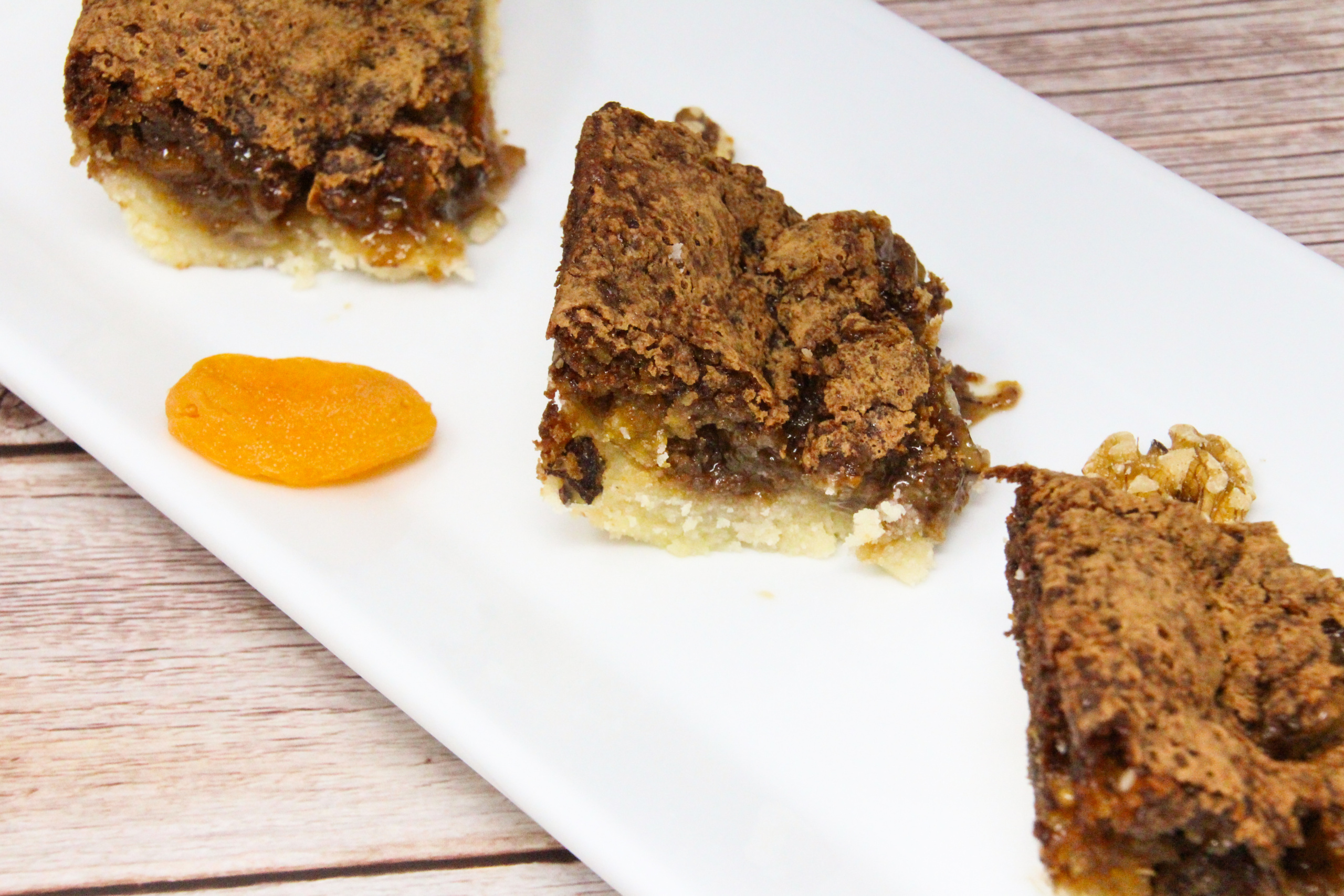 Amazon Synopsis
Julia and her mother, Jacqueline, have come to the exclusive summer colony of Chipmunk Island to attend a memorial service for Jacqueline's old friend Ginny, who's been officially declared dead half a decade after she went out for her daily swim in the harbor and was never seen again. But something seems fishy at the service—especially with the ladies of the Wednesday Club. As Julia and Jacqueline begin looking into Ginny's cold case, a present-day murder stirs the pot, and mother and daughter must dive into the deep end to get to the bottom of both mysteries . . .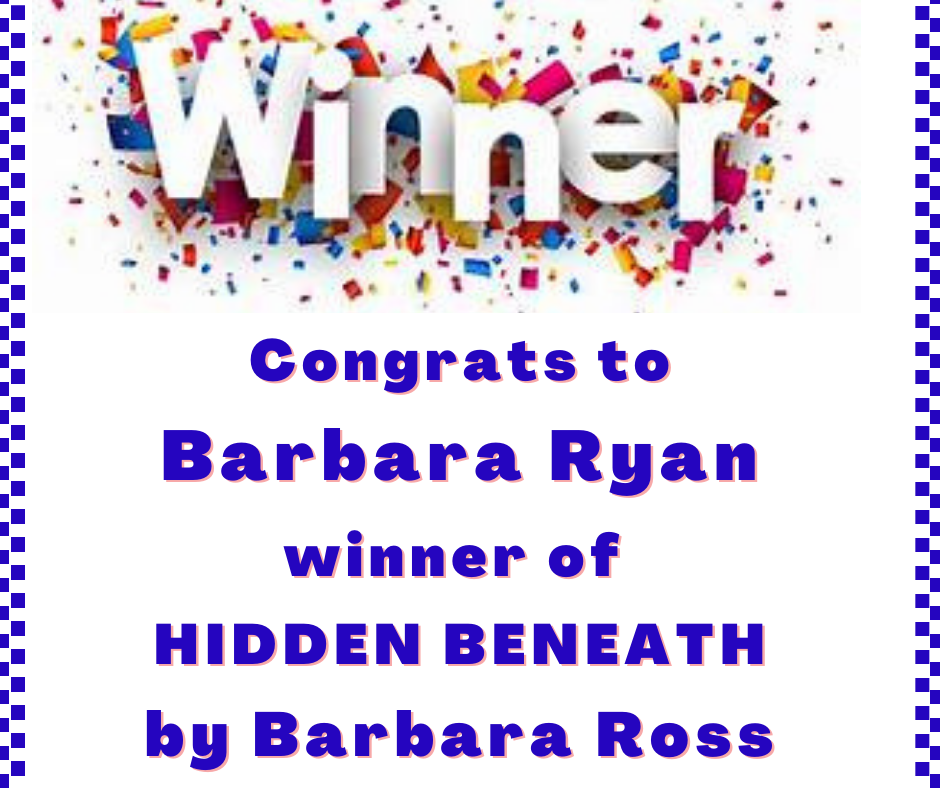 A special thanks to Kensington Publishing for providing a print ARC copy of HIDDEN BENEATH! Contest ends July 9, 2023 at 11:59 pm PST and is limited to U.S. residents only. Please use the Rafflecopter box located below to enter. The winner will be announced on this page and on Cinnamon & Sugar's Facebook page, as well as notified by email (so check your spam folder!)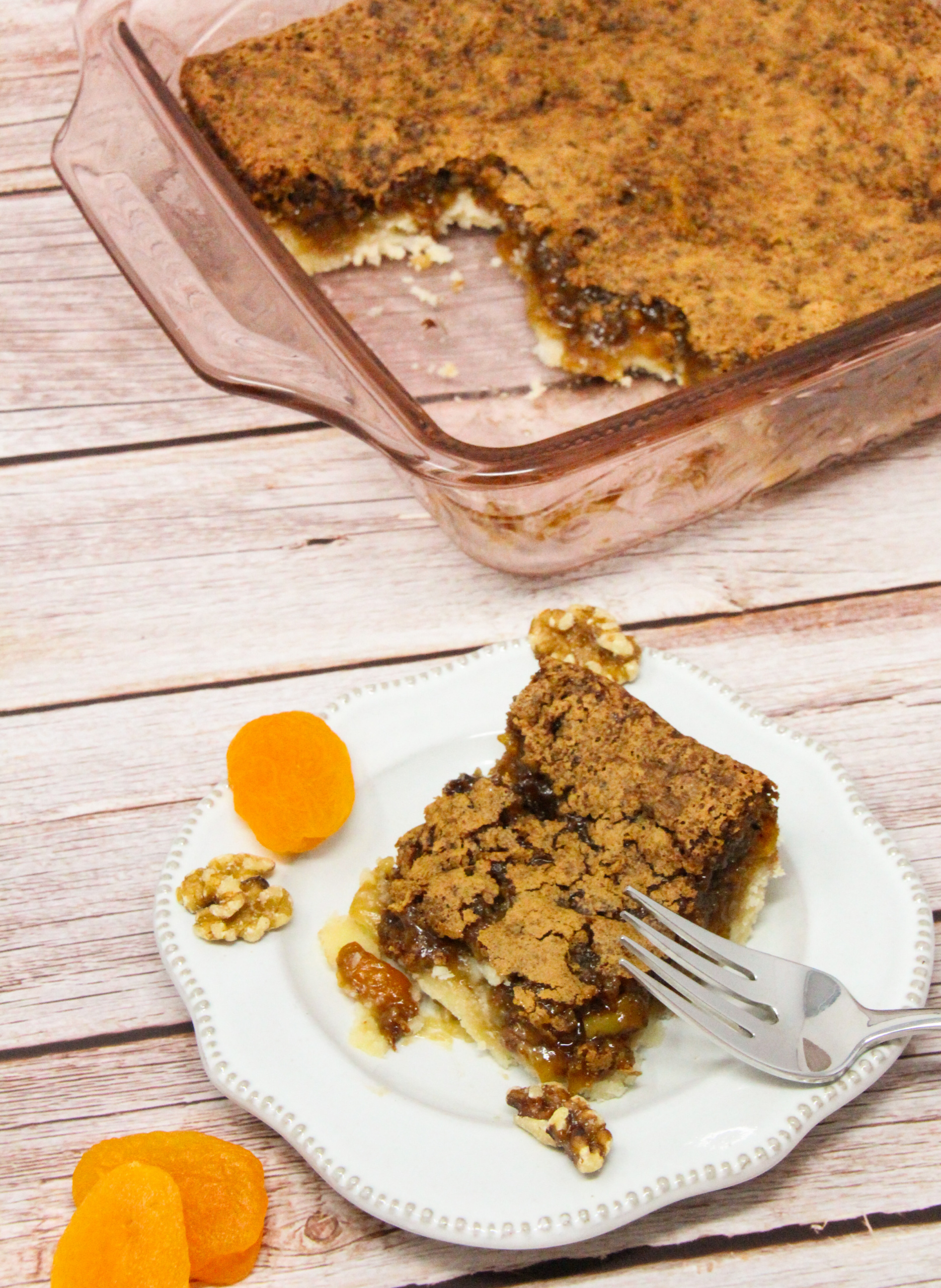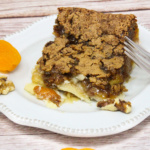 Apricot Squares
Another tradition of the Wednesday Club is apricot squares. This recipe has been handed down from their grandmother's day.
Ingredients
For base layer:
1/2

cup

butter, softened

1/4

cup

white sugar

1

cup

flour
For top layer:
1/3

cup

flour

1/2

teaspoon

baking powder

1/2

teaspoon

salt

2

well-beaten eggs

1

cup

packed brown sugar

1/2

teaspoon

vanilla

1

cup

chopped walnuts
Instructions
Simmer apricots (submerged in water) until soft, drain, cool, and chop.
For base layer:
Preheat oven to 350 degrees (F).

Mix butter, white sugar, and flour together until crumbly. Pack into an 8 by 8-inch pan. Bake for 25 minutes.
For top layer:
Mix flour, baking powder, and salt.

Beat eggs, brown sugar, and vanilla together.

Add in the flour mixture. Mix.

Stir in apricots and chopped nuts.

Spread over baked base layer.

Bake for 30 minutes at 350 degrees.

Cool to room temperature then cut into squares.
Cinnamon & Sugar's Notes
Due to the brown sugar, the bars will appear to brown too quickly. Ignore and make sure to cook until the center is set.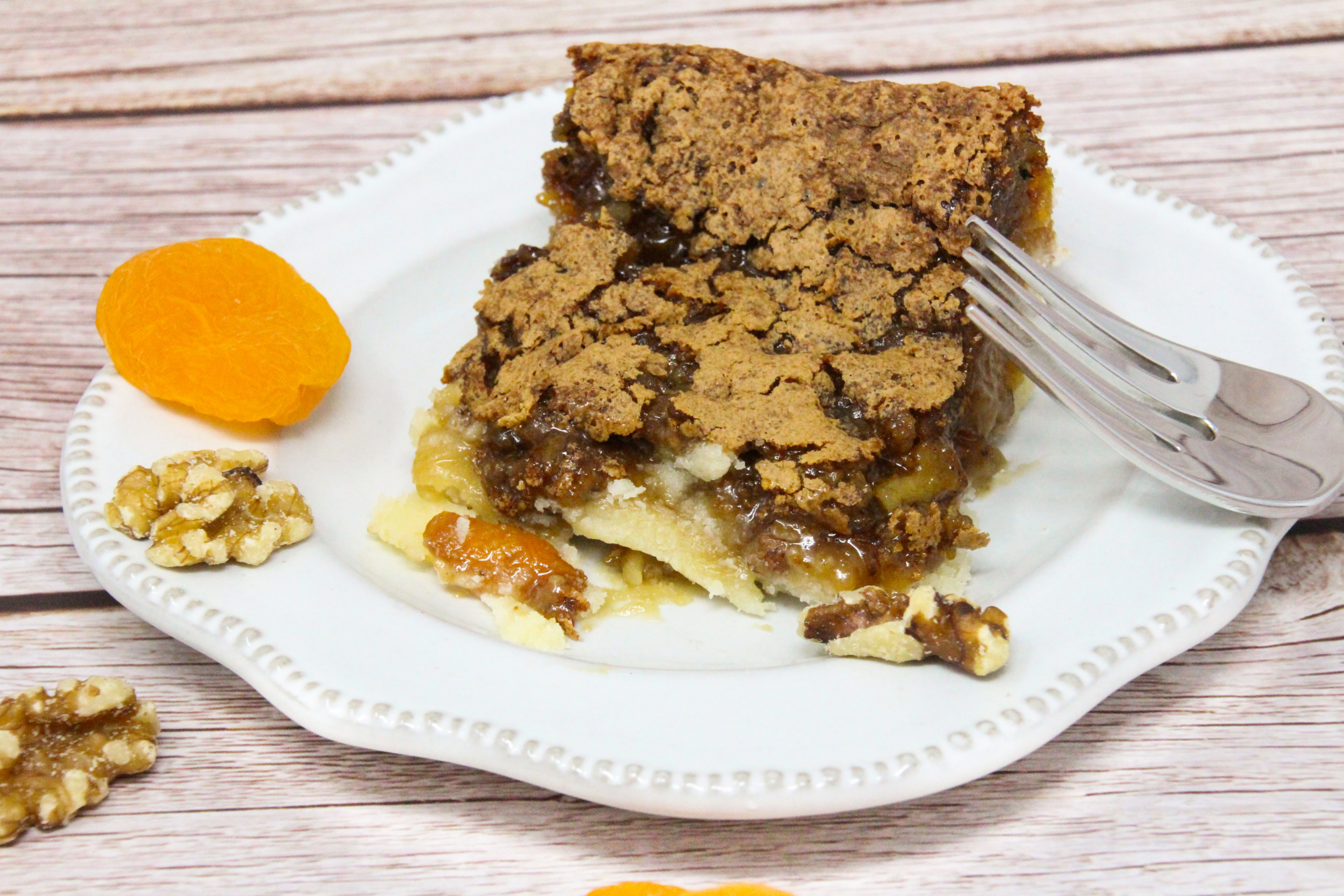 Pin to Pinterest: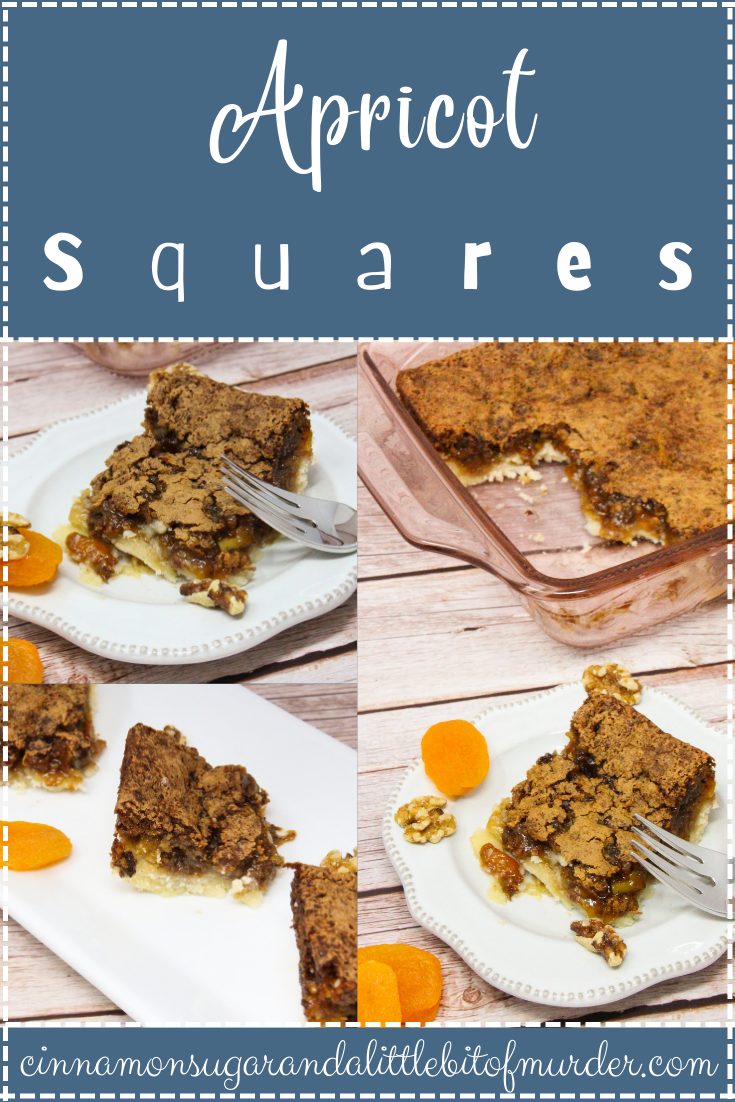 I was provided with an advance copy. All thoughts and opinions are my own.