I'll admit it…I'm not a huge fan of Halloween EXCEPT for the fun goodies and treats and the cute little kids dressed up so adorably. I'll pass on the scary clowns and bloodied zombies, thank you very much.
That said, Pamela DuMond has written a zany Halloween treat with lots of tricks thrown in to entertain the reader in CUPCAKES, BATS, AND SCARE-DY CATS! This sixth book in the Annie Graceland Cozy Mystery series is lighthearted with laugh out moments and quirky ghosts that kept me entertained. Annie is a thoroughly likable protagonist with a good heart. As much as she gets annoyed with ghosts wanting her to help solve their murder or help them find "the light", she still finds sympathy to help, even though she may have truly disliked the person while they were alive. There is plenty of action happening to move the plot along and enough suspects to keep it interesting. The supporting characters in this book are a hoot, from her friends to her huge Himalayan mix cat, Theodore von Pumpernickle, and the dog she's watching. Pamela has an interesting twist in this book: not only is the point of view from Annie's, but she also includes the point of view from the animals. Don't worry, it's not confusing at all as each short chapter clearly delineates each character.
In addition to a fun read, Pamela provides several yummy recipes (including my recipe for Cherry Dream Pie!) with the book. Since it's Halloween season, she has graciously allowed me to share the recipe for Spooky Surprise (Cookie Dough) Cupcakes, developed by Laura Devries. A delicious chocolate cupcake encases a gooey chocolate chip cookie dough center. The vanilla buttercream is light and fluffy, the perfect medium for making ghosts or puffy clouds to hold flying bats! Wishing you a spooktacular Halloween!
Since the e-book for CUPCAKES, BATS, AND SCARE-DY CATS is currently on sale for $0.99, Pamela is generously offering a print copy for one lucky winner AND an e-book copy of her brand new release, TO LIVE AND LET LIE! Read below for the synopsis for both these books.
Cupcakes, Bats, and Scare-dy Cats
Annie Graceland has a pinch of psychic ability… it turns out her cat, Theodore, does too!
Annie's dog sitting for her new neighbor, but her creepy apartment manager, Anthony Spiggottini, accuses her of violating the "No Dogs Allowed" lease, and threatens to evict her. She's at a Halloween party when Anthony busts into her place, and literally lets the dog and cat out! She'd gladly have killed him, but someone beats her to it. Now Annie's desperately searching for her lost cat while dealing with Anthony's ghost who refuses to accept he's dead.
It's a good thing she doesn't know that Theodore her cat, Mozart the dog, and Bloody Mary, (the spirit cat they conjured), are running loose on Venice streets, sniffing out Anthony's murder suspects!
To Live and Let Lie: A Theodore von Pumpernickel Secret Agent Cat Mystery
Theodore von Pumpernickle looks like a mild mannered, domesticated, long-haired cat living a quiet life in the seaside village of Venice Beach, California.
Looks can be deceiving, can't they?
In reality, Theodore is a Secret Agent Cat Double O Nine, working undercover for the Pet Intelligence Agency (P.I.A.) spying on evil masterminds and diabolical geniuses that seek chaos and world domination.
When Theodore's bejeweled cat food bowl (worth ONE MILLION DOLLARS) is stolen, he takes on an international cartel of criminals trafficking in priceless stolen jewels.
With the help of other P.I.A. agents: Flyby the carrier pigeon, Mozart the German shepherd dog, and Susan — the eighty-five year old Super Spy, Theodore dives into dangerous espionage waters where he is forced to use all his Double O Nine brains, brawn, and special gadgets.
Will the evil masterminds and their minions win at last — or will Theodore von Pumpernickel, Secret Agent Cat save the day?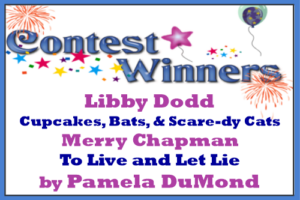 A huge thank you to Pamela DuMond for providing a print copy of CUPCAKES, BATS, AND SCARE-DY CATS to one winner AND an e-book copy of TO LIVE AND LET LIE to one winner! Please use the Rafflecopter box located below the recipe for a chance to win. Contest ends Monday, October 10, 2016 at 11:59 pm PST. Winner will be announced on this page and on Cinnamon & Sugar's Facebook page, as well as notified by email (so check your spam folder!) Print copy open to U.S. residents only.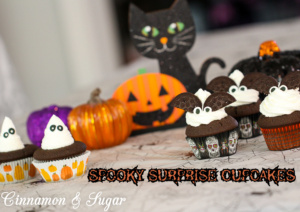 Spooky Surprise (Cookie Dough) Cupcakes!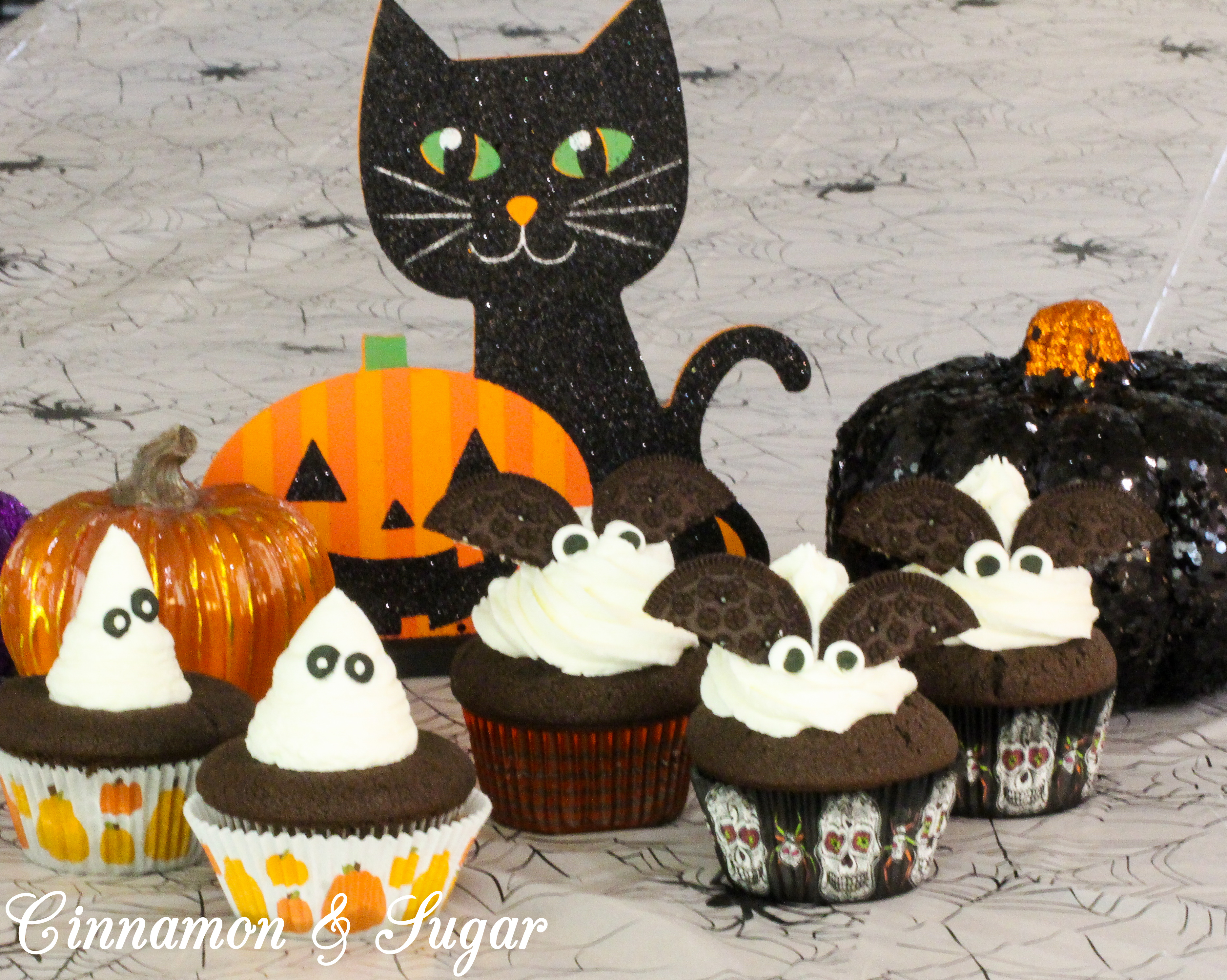 Ingredients
Cookie Dough

2-1/2 cups all-purpose flour
1 teaspoon baking soda
1 teaspoon salt
1 cup (2 sticks) butter, softened
3/4 cup granulated sugar
3/4 cup brown sugar
1 teaspoon vanilla extract
2 large pasteurized eggs OR equal amount liquid egg substitute (3-1/2 ounces)*
2 cups chocolate chips (mini or regular)

Cupcake Batter

1/2 cup (1 stick) butter, softened
1-3/4 cups granulated sugar
4 eggs
1 teaspoon vanilla
1/3 cup vegetable oil
2-3/4 cups cake flour
1-1/4 teaspoons baking powder
3/4 teaspoon baking soda
1/2 teaspoon salt
1/4 cup instant vanilla pudding mix
1/2 cup dark cocoa powder, sifted
1-1/2 cups whole milk

Vanilla Buttercream Frosting

1 cup (2 sticks) butter, softened
3 - 4 cups confectioners' sugar, sifted
A pinch of salt
2 - 3 tablespoons whole milk
2 teaspoons vanilla extract
Instructions
Cookie Dough

Combine flour, baking soda, and salt in a small bowl.
Beat butter, granulated sugar, brown sugar, and vanilla extract in a large mixer bowl until creamy.
Add eggs (or egg substitute) one at a time, beating well after each addition.
Gradually beat in flour mixture.
Stir in chocolate chips.
Using a tablespoon as a guide, scoop balls of cookie dough onto waxed paper or parchment and place in a container that will fit in your freezer.
Once all of the cookie dough is scooped, place in the freezer for at least 1 hour or until completely frozen.
*Using pasteurized eggs or liquid egg substitute will reduce any potential hazard that might result from using raw eggs. However, egg-free cookie dough can be used. Any uncooked or undercooked meat or egg product carries potential risk. Take appropriate precautions and safety measures as necessary.

Cupcake Batter

Preheat oven to 350 degrees (F).
In a large bowl or bowl of a standing mixer, cream butter and sugar together until light and fluffy.
Add vanilla and eggs. Mix on low speed until fully incorporated.
Add oil and mix thoroughly.
In a separate bowl combine dry ingredients: flour, baking powder, baking soda, salt, pudding mix, and cocoa powder.
Add half the flour mixture to the mixing bowl and mix until smooth.
Add half the milk to the mixing bowl and beat until smooth.
Repeat with remaining flour and milk.
Fill baking cups 2/3 full and and add a ball of frozen cookie dough to each cupcake just before placing into the oven.
Bake for 18 - 22 minutes (in a standard oven, less for convection ovens) until a toothpick inserted at the edge comes out clean. (Inserting in the center will not give an accurate reading as cookie dough will be gooey.)
Cool completely on a wire rack before frosting and decorating.

Vanilla Buttercream Frosting

Place softened butter into the bowl of a stand mixer that has been fitted with the paddle attachment. Turn the mixer on medium setting and cream the butter until it is smooth and has lightened in color, about 3 minutes.
Add confectioners' sugar, 1/2 cup at a time.
Add vanilla extract and a pinch of salt.
After each cup of confectioners' sugar has been incorporated, turn the mixer onto the highest speed setting for about 10 seconds to lighten the frosting.
Add milk until the frosting has reached the preferred consistency.
For a firmer frosting, add more confectioners' sugar, a 1/4 cup at a time. For softer frosting, add more milk, a tablespoon at a time.
Apply to cupcakes after they have cooled.
Serve fresh, or cover and refrigerate.

Tips

While this recipe is lengthy, you can prepare it in stages by making the cookie dough up to a month ahead of time. Make the dough and freeze the cookie dough balls. Once frozen solid, place the dough balls into a freezer-safe Ziplock bag. You can also prepare the buttercream frosting a few days ahead of time but be sure to rewhip it right before using.
To make the bat decorations, separate Oreo cookies and remove the frosting from the middle. Cut each circle in half for the wings. Attach a candy eye to one tip of each piece. Position 2 cookie halves on each cupcake.
Bake any extra cookie dough at 350 degrees (F) for 8 - 11 minutes, until slightly golden.
https://cinnamonsugarandalittlebitofmurder.com/spooky-surprise-cupcakes/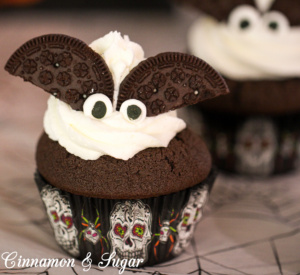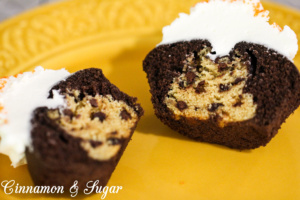 Pin to Pinterest: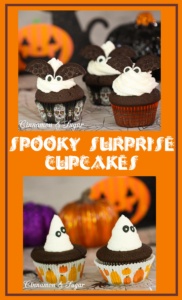 If you receive my blog post via email you will need to visit my website to view the video.