With Valentine's Day fast approaching, I'm always in a quandary about what to fix for a special dinner. My biggest problem is that my husband's birthday is the day AFTER Valentine's and he always wants a grilled filet mignon to celebrate. While I'm fine with serving red meat once in a great while, I just can't do it two nights in a row…besides…how boring 🙂 And you just might ask, why don't we go to a restaurant to celebrate? We've tried but with TWO HOUR waiting times for a table WITH reservations made months in advance, my husband just doesn't have the patience. It's a good thing I like to cook but when I'm in a celebrating mood I don't want to be in the kitchen an hour or more right before dinner.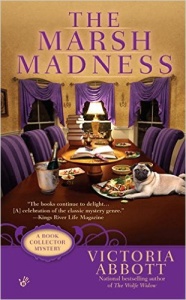 Not long ago I picked up THE MARSH MADNESS, the fourth book in the Book Collector Mystery series, by Victoria Abbott. I can always count on a wonderful story and delicious recipes provided by this mother and daughter author team! I was not disappointed and had several enjoyable evenings immersing myself in the world of books with Jordan Bingham. Jordan works as a researcher acquiring rare and collectible books for Vera Van Alst, the most hated person in all of Harrison Falls, New York. She is giddy with excitement when Vera is invited to luncheon at the exclusive Summerlea home of Chadwick Kauffman to purchase his collection of Ngaio Marsh first editions because that means she gets to tag along too. Vera also brings Jordan's Uncle Kev to drive them. The problem with Uncle Kev though, is that accidents always seem to follow in his wake. Plus, all her uncles seem to live on the wrong side of the law acquiring items to sell that may or may not have been obtained legally. Jordan is determined to keep her eyes on her uncle and prevent his "sticky" fingers from doing any damage while at Summerlea.
When Chadwick Kauffman is found murdered shortly after their visit, the police find Uncle Kev's fingerprints on the murder weapon along with eye witnesses that put Uncle Kev, Jordan and Vera at the scene of the crime and the last people to see the victim alive. As the evidence begins mounting against them, it becomes apparent that someone is framing them and when Officer Tyler "Smiley" Dekker dumps her, Jordan realizes she is going to have to find the culprit herself and clear her family's name.
A MARSH MADNESS is a well plotted mystery with so many memorable characters. Vera's long-time housekeeper and cook, Signora Panetone, creates some amazing dishes (I wish I could eat a few meals at Vera's table!) such as Scaloppine Al Limone. Thin cutlets of chicken breasts, pounded thin, seared and then cooked with a few simple, fresh ingredients elevates this dish to celebration worthy. And what makes it even better, I can prep all the ingredients earlier in the day and then spend less than 15 minutes from refrigerator to table for our special dinner. I have also included a short video tutorial towards the bottom of the page. A special thanks to Victoria Abbott for allowing me to share their wonderful recipe!
Be sure to scroll all the way down for a sneak peek at the next book in this wonderful series, THE HAMMETT HEX, debuting October 4, 2016!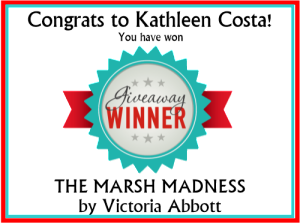 A huge thank you to Victoria Abbott for providing a copy of THE MARSH MADNESS to one lucky winner! Please use the Rafflecopter box located below the recipe for a chance to win. Contest ends Monday, Febraury 1, 2016 at 11:59 pm PST. Winner will be announced on this page and on Cinnamon & Sugar's Facebook page, as well as notified by email (so check your spam folder!) Open to U.S. residents only.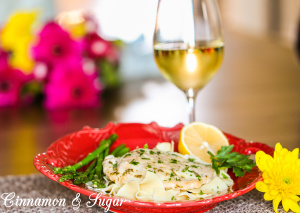 Scaloppine Al Limone aka: Chicken with Lemon
Everyone loves it when the signora serves these tender and delicious chicken cutlets.
Ingredients
6 small boneless chicken breasts (or turkey)
3 tablespoons flour
2 tablespoons olive oil
3 tablespoons finely chopped fresh parsley
Juice and grated zest of one large lemon
2-3 tablespoons dry white wine
Sea salt and freshly ground pepper
Extra parsley, lemon wedges or zest for garnish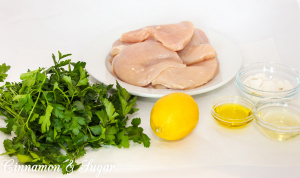 Instructions
If chicken pieces are large, cut in half. If they are thick, slice them in half. It is important to make sure they are thin enough.
Cover each piece of poultry with a sheet of plastic wrap.
Pound the scaloppine with a mallet or a cup or a rolling pin until they are 1/4 inch thick. This is pretty easy but also essential.
Coat with flour and shake off excess.
Heat two tablespoons of oil in a large skillet.
Sear the chicken quickly on both sides, and then sprinkle with parsley, lemon juice, zest and white wine. Add remaining oil if needed.
Lower the heat and cook for about five minutes.
Turn chicken over again.
Season with salt and pepper and cook for about five minutes until just cooked through. If you have an instant-read thermometer, chicken should reach 165 degrees F.
Serve at once with lemon and parsley as garnish.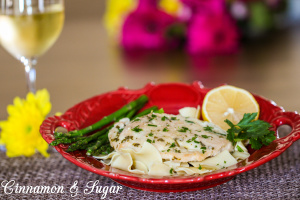 They are great with rice, potatoes or pasta.
The next book in the Book Collector's Mystery series is releasing October 4, 2016! Here's a sneak peak:
The national bestselling author of The Marsh Madness takes rare book collector Jordan Bingham on a trip to San Francisco—home to Dashiell Hammett's hard-boiled heroes—where nothing is as it seems.

On a getaway to the City by the Bay, book collector Jordan Bingham becomes entangled in a mystery with more twists than Lombard Street…

Jordan has been able to swing a romantic trip to San Francisco with Officer Tyler "Smiley" Dekker on one condition—she must return with a rare copy of Dashiell Hammett's Red Harvestfor her irascible employer, Vera Van Alst. For his own part, Smiley is full of surprises. He's a Dashiell devotee himself—excited to be in the city of Hammett's hard-boiled heroes like Sam Spade and the Continental Op—and also announces he plans to visit his previously unmentioned estranged grandmother, who lives in an old Victorian on Telegraph Hill.

But the trip goes downhill fast when Jordan is pushed from a cable car and barely escapes death. And when a dark sedan tries to run the couple down, it's clear someone's after them—but who? Just like in Hammett's world, nothing is quite what is seems…