I love learning that a brand new cozy mystery series is coming and I was not disappointed when I read TO HELVETICA AND BACK by Paige Shelton, the first book in her brand new A Dangerous Type Mystery series.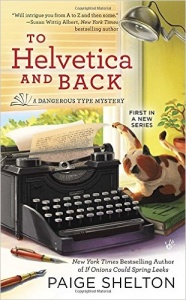 Clare Henry helps her grandfather, Chester, run his almost fifty-five-year-old shop, The Rescued Word, in Star City, Utah. They repair typewriters, restore books and manuscripts along with selling wonderful stationery and pens. After one of Chester's long-time customers brings in an old black Underwood No. 5 typewriter for repair, a strange man dressed in leather enters their shop, angrily demanding they sell it to him immediately. He disappears when the police are called and when Clare examines the ancient typewriter, she finds strange numbers and letters scratched into the key bars. When "leather man" is found murdered behind their shop the very next morning, Clare wonders if it had something to do with the old typewriter.
The police officer who shows up to take a report and secure the scene is none other than Clare's cheating ex-boyfriend who just happens to be the brother of her very best friend, Jodi, who is also a police officer. Clare doesn't have an alibi since she worked half the night and then fell asleep at her desk and it doesn't take long for her ex, Creighton, to become suspicious that she might have something to do with the crime. In amongst all the upheaval a new arrival to town, geologist Seth Cassidy, manages to turn Clare's head and she finds herself on a date. Sean has an idea about what the numbers and letters on the typewriter bar keys may be but when Jodi investigates his past, finds that he's had a brush with the law and Clare worries that he may be behind the crime.
As Clare begins asking questions around town she finds that many people are hiding secrets, including her own grandfather. Jodi helps her as much as she can which leads them to seeking answers from a goat relocating motorcycle gang and a crusty old newspaper reporter. When Clare's photograph shows up on the murdered man's camera, she decides she has to find the killer quickly before she or someone in her family becomes the next victim.
There was so much to love from the very beginning of the book! From The Rescued Word being a place I could literally spend hours browsing in to the tidbits of information on old typewriters and how to repair them to the well developed characters that could become friends to the twists and turns in a well plotted mystery. Paige Shelton has written a wonderful start to her new series that will make it difficult to patiently wait for her next book!
Even though TO HELVETICA AND BACK does not have recipes, there are certainly plenty of delicious food mentioned. After all, heroines have to eat too! One of the desserts that Clare shares with her family and friends is Chocolate Chip Bread Pudding from Tony's Italian Ristorante and Bistro. Paige has graciously allowed me to share my own version of Chocolate Chip Bread Pudding along with my review and I hope that Clare would have enjoyed my recipe as much as Tony's! I have provided a short video tutorial at the bottom of this page, on how to make this creamy dessert.
Paige has also very generously provided an autographed copy of TO HELVETICA AND BACK to one lucky winner!!! Please leave a comment below to be entered. Contest ends Monday, January 18, 2016 at 11:59 pm PST and is open to U.S. residents only. Winner will be announced on this page and on Cinnamon & Sugar's Facebook page, as well as notified by email (so check your spam folder!) and will have 5 days to respond or another winner will be chosen.
Chocolate Chip Bread Pudding
Ingredients
1-1/2 cups whole milk
1-1/2 cups + 1/3 cup half & half, divided
1/2 cup (3.5 ounces) granulated sugar
1 12-ounce package white chocolate chips (I used Nestle's brand), divided
1/2 cup (6 ounces) semi-sweet mini chocolate chips (and a few extras for garnish if desired)
6 eggs
1/2 loaf (8 ounces) stale or lightly toasted French bread*, cut into cubes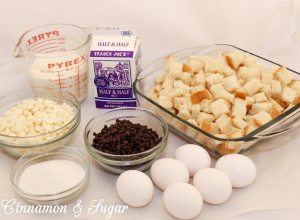 Instructions
Preheat oven to 350 degrees F.
Lightly spritz a 9″x9″ square baking dish with non-stick cooking spray.
Place the bread cubes into the dish and sprinkle the semi-sweet chocolate chips over the bread.
Heat the whole milk, granulated sugar and 1-1/2 cups of the half & half in a heavy, medium-sized saucepan over medium heat, just until the mixture starts to bubble around the edges. Temperature should reach 185 to 190 degrees F. Do not allow to boil!
Remove from heat and stir in 6 ounces of the white chocolate chips until melted. Set aside and allow to cool for at least 10 minutes.
Beat the eggs in a medium-sized bowl.
Slowly add the melted white chocolate mixture to the eggs, whisking continuously to incorporate. Don't try to add the eggs to the hot mixture, otherwise the eggs may curdle.
Pour the mixture over the bread cubes and press the bread down until it soaks up most of the liquid.
Cover the pan with foil and bake 1 hour.
Remove the foil and continue to bake another 15 – 20 minutes, until bread pudding is set and golden brown.
The pudding will puff up as it bakes but deflates when taken out of the oven.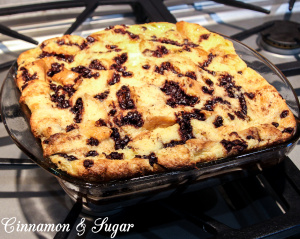 Remove from oven and allow to cool.
Just before serving, heat the remaining 1/3 cup half & half in a small sauce pan just until it begins to bubble around the edges.
Remove from heat and stir in the remaining 6 ounces white chocolate until melted and the sauce is smooth.
Pour over the bread pudding, garnish with additional mini chocolate chips if desired and serve!
Refrigerate any leftovers.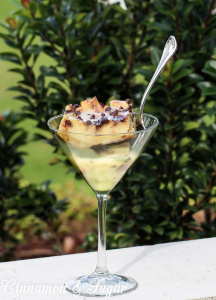 Tips
* Stale or lightly toasted bread soaks up the liquid much more readily than fresh bread. You can leave your bread sitting out on a baking sheet overnight before baking this dish. Alternatively, cut the bread into cubes and place on a baking sheet and allow to dry out in the oven on the lowest setting possible, for 5 to 10 minutes.
Recipe can be doubled and baked in a 9″x 13″ casserole dish.
If you subscribe to receive my post via email, you will need to visit my site to view the video.