A LIKELY STORY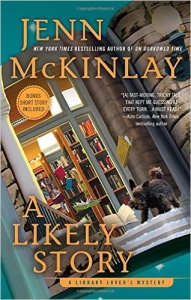 by Jenn McKinlay is another one of those series I haven't read up until now! Sure, I've read several of Jenn's Cupcake Bakery Mystery series and even shared her Orange Dreamsicle Cupcake recipe from BUTTERCREAM BUMP OFF, but some how had overlooked her Library Lover's Mystery series. And I have been missing out! A LIKELY STORY is the sixth book in her series (I have some catching up to do!) but is easily read as a stand-alone. I immediately jumped in and felt like I knew who the characters were and what was going on. Lindsay Norris is Briar Creek's Public Library Director. Lindsay is not your typical "older" shushing librarian, but instead is young and has brought numerous changes to the library to bring appeal to both young and old alike. One of the programs she has instituted is delivering books to some of the patrons living on the Thumb Islands, an archipelago dotting the coast of Connecticut.
She sets out to deliver some books to reclusive elderly brothers, Stewart and Peter Rosen, who live alone on Star Island. The water taxi boat captain is none other than her ex-boyfriend, Sully, who she'd like to get back together with if she knew it would work out this time. When they reach the island, Stewart isn't in his usual spot to receive the library books. His brother, Peter, is wheelchair bound, so after waiting awhile and still no Stewart, Lindsay and Sully decide they should make sure the elderly men are okay. After navigating the booby-trapped house – the hermits take their privacy seriously – they stumble upon the body of Peter Rosen, shot to death…and Stewart is missing.
With the Chief of Police, Emma Plewicki, out of commission with a broken leg sustained in the Rosen's booby-trapped house, Lindsay decides she must try to find the missing Stewart who is the prime suspect in his brother's murder. Feeling that elderly Stewart couldn't be the killer and worried he may be the next victim, spurs her on towards asking questions and digging into family secrets long buried and hidden on the isolated islands.
Jenn McKinlay weaves her characters into the setting in a wonderful way that draws you in and makes you sorry when the story ends. I loved her addition of Lindsay's friends, especially Beth, along with the Crafternoon group, which provides an outlet for sharing books, crafts, delicious recipes and the support of friendship. Jenn shares a craft, a reader's guide and a couple recipes at the back of her book, and has allowed me to share Beth's Irish Soda Bread with you.
While I've seen a lot of Irish Soda Bread recipes, this is the first time I've made it. Plump raisins and savory caraway seeds are encased in an easy buttermilk dough that relies on baking soda and baking powder for rising instead of yeast. Toasted with a bit of butter, Beth's Irish Soda Bread is the perfect accompaniment to breakfast, a teatime snack or with some hearty Irish Lamb Stew….which I'll share my recipe with you on Friday. Be sure to check back for my secret to making rich, meaty stew without the hassle of flouring and browning the meat!
Thank you to Jenn McKinlay, for allowing me to share Beth's Irish Soda Bread! I gave some to friends who agreed this recipe was a home-run! I have also included a short video tutorial below on how to make the bread.

As a bonus for my readers I am giving away one hardback copy of A LIKELY STORY by Jenn McKinlay. Please leave a comment below to be entered. Contest ends Thursday, January 7, 2016 at 11:59 pm PST and is open to U.S. residents only. Winner will be announced on this page and on Cinnamon & Sugar's Facebook page, as well as notified by email (so check your spam folder!) and will have 5 days to respond or another winner will be chosen.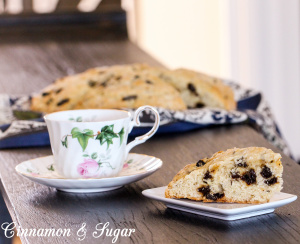 Beth's Irish Soda Bread
Ingredients
2-1/2 cups all-purpose flour
1/2 cup sugar
1/2 teaspoon baking soda
3/4 teaspoon salt
1/2 tablespoon baking powder (= 1-1/2 teaspoons)
1/2 stick unsalted butter, softened (this is 1/4 cup**)
1-1/4 cups buttermilk, shaken well
1 large egg
1 cup raisins
1 tablespoon caraway seeds
1 tablespoon melted butter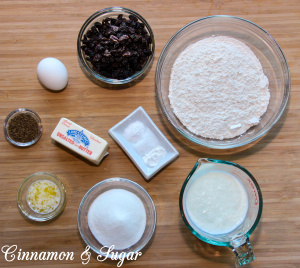 Instructions
Preheat oven to 350 degrees (F).
Butter and flour a large baking sheet, or line with parchment paper.
Whisk together the first six ingredients (flour thru butter). You can use a food processor to pulse the ingredients together quickly, or use a pastry/dough blender.
Mix buttermilk and egg in a separate bowl then add to flour mixture until dough is moistened but still lumpy.
Add the raisins and caraway seeds to the dough and knead on a well-floured surface about 8 times to form a soft and less sticky dough.
Pat into 6-inch round dome on baking sheet.
Cut a 1/2-inch-deep X on top of the loaf with a sharp knife, then brush the loaf with melted butter.
Bake in the middle of the oven until golden brown, 40 to 45 minutes.
Transfer loaf to rack to cool completely.
Serves 8.
If you subscribe to receive my posts via email, you will need to visit my website to view the video tutorial
** Blooper Alert!!! I typed the recipe as the author wrote it (I proof pretty closely before I start cooking) but when it came time to actually make the Irish Soda Bread, I MISREAD the recipe both the times that I made it. I used a 1/2 CUP of butter vs. the 1/4 cup (1/2 stick) it should have been and didn't realize until I began editing the video and adding the ingredient captions. The bread was still delicious but now I know why it spread out more than I thought it should 🙂 Had I had a couple days extra time to remake the recipe I would have…but trust me, this is a delicious bread even with my mistake!