CHRSTMAS SCARF MURDER is the novella trilogy by Carlene O'Connor, Maddie Day, and Peggy Ehrhart. With holiday cheer galore and a knotty mystery to solve in each story, this book is the perfect accompaniment to a glass of eggnog and a plateful of cookies in front of a roaring fire. Although each story is based on each author's beloved series characters, you can easily read the book as a standalone. It's a terrific way to catch up on the characters you love while waiting for the release of the next full-length book, or be introduced to new characters. While I'm quite familiar with, and fond of, Carlene O'Connor's and Maddie Day's series, I've not read anything by Peggy Ehrhart. I found it easy to jump into the story and follow the protagonist as she and her best friend solve the mystery. It also made me want to add her books to my TBR pile and catch up.
Each novella contains a mystery revolving around a Christmas scarf. The mysteries are well-plotted, despite the short length, and I have to give kudos to Maddie Day for the most creative use of the scarf as the murder weapon… no spoilers here! There are clues for the eggnog-sipping armchair detective to follow and several twists that kept me on my toes. Each mystery had a highly satisfactory conclusion, and despite the murder and mayhem involved, the stories exude the delight of the Christmas season.
I greatly enjoyed that there are recipes for the reader to make at home, and Peggy Ehrhart even included a cozy teddy bear knitting pattern! I'm not a knitter, so instead I headed to the kitchen and made up a batch (or three) of Maddie Day's Turtle Cookies to share. In the story, Maddie's protagonist, chef and owner of the Pans 'N Pancakes, creates a holiday menu based on the Twelve Days of Christmas… thus Two Turtle Doves turns into Turtle Cookies. A rich chocolate cookie base, rolled in chopped pecans, and filled with creamy caramel is decadent enough to make Santa linger hearthside. My taste testers swooned over these yummy cookies and I have a feeling they'll call me a grinch (behind my back) if I don't make more to include with my holiday cookie gift platters.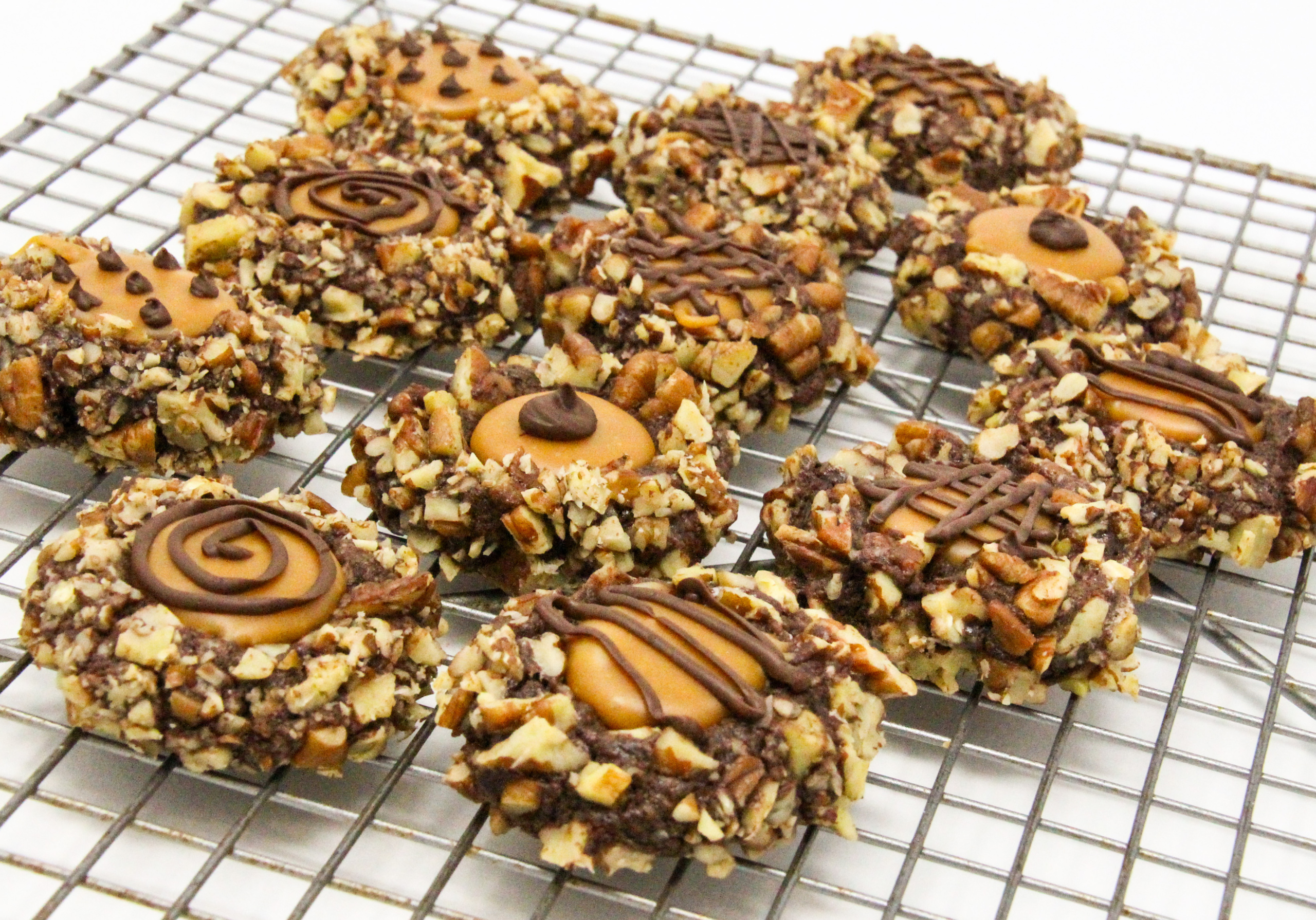 Amazon Synopsis
CHRISTMAS SCARF MURDER by CARLENE O'CONNOR
When grinchy thefts steal the good cheer at a local nursing home, Siobhan O'Sullivan manages to identify one missing item before Kilbane, Ireland's Christmas tractor parade—a hideous shamrock scarf wrapped around a very dead body. Now, with her holiday farmhouse bash approaching, Siobhan must dash to stop a deadly Secret Santa from gifting another unwanted surprise.
SCARFED DOWN by MADDIE DAY
It's beginning to taste a lot like Christmas at Pans 'N Pancakes, as twelve days of menu specials dazzle hungry locals. But the festivities go cold the instant a diner dies while knitting a brilliant green scarf. With Aunt Adele tied into a murder investigation, it's all on Robbie Jordan to find out who's really been naughty or nice in South Lick, Indiana.
DEATH BY CHRISTMAS SCARF by PEGGY EHRHART
Suspects pile up faster than New Jersey snow when frosty-tempered Carys Walnutt is found strangled by a handmade scarf auctioned at Arborville's tree-lighting ceremony. Between a winning bidder hiding behind the alias "S. Claws" and a victim who deserved coal in her stocking, can Pamela Paterson and the crafty Knit and Nibble ladies freeze a killer's merry murder plot?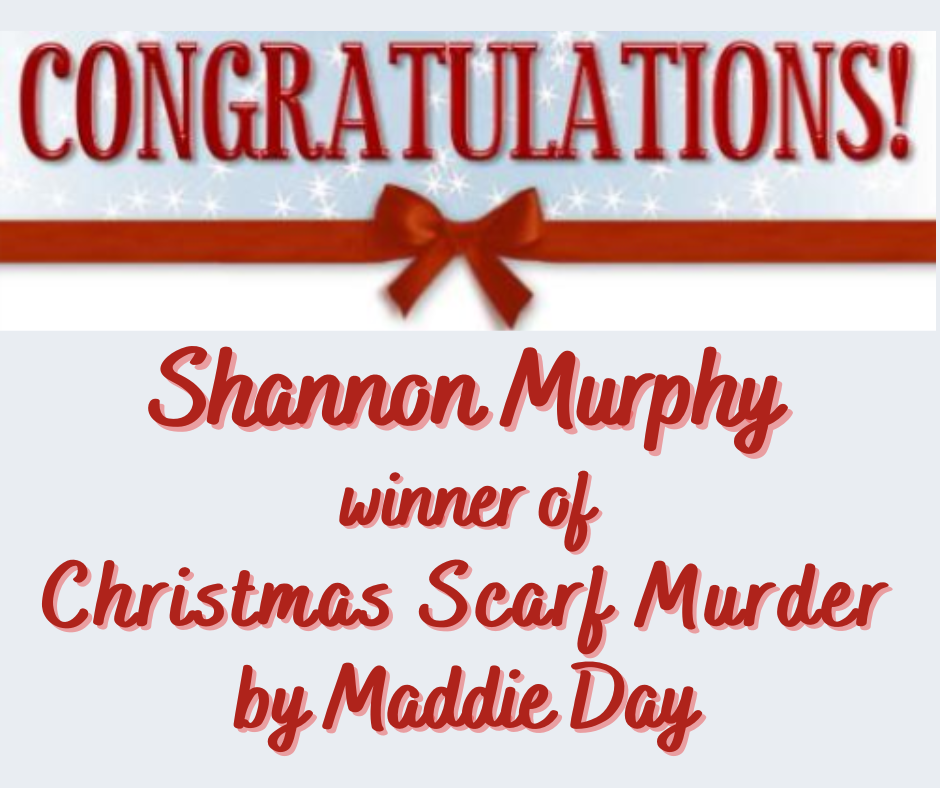 A special thanks to Maddie Day for providing a print copy of CHRISTMAS SCARF MURDER! Contest ends November 20, 2022 at 11:59 pm PST and is limited to U.S. residents only. Please use the Rafflecopter box located below to enter. The winner will be announced on this page and on Cinnamon & Sugar's Facebook page, as well as notified by email (so check your spam folder!)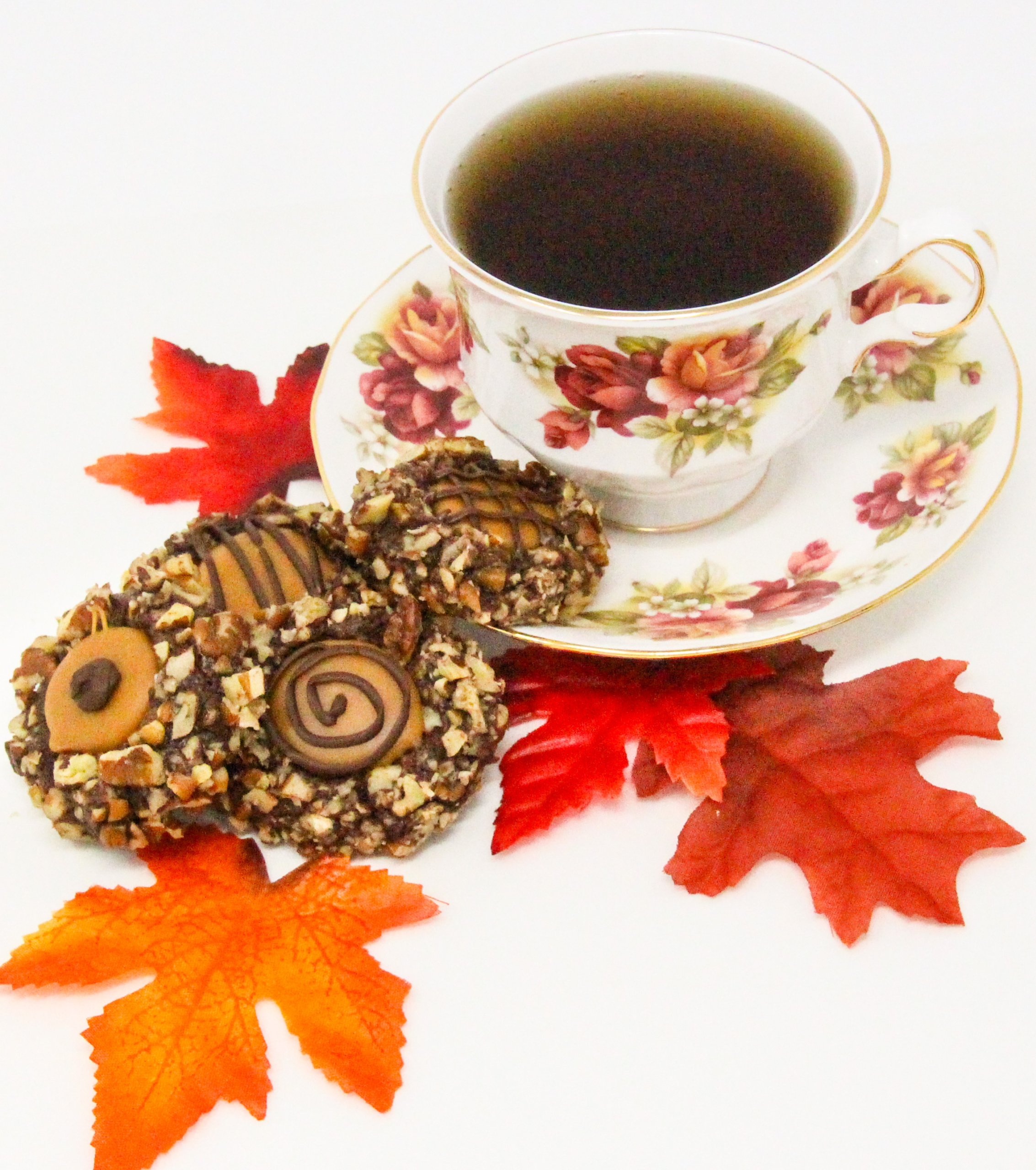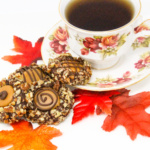 Turtle Cookies
Phil makes these, mimicking turtle candies, for dessert on the Two Turtle Doves day.
Makes about thirty.
Ingredients
For the cookies:
1

cup

all-purpose flour

1/3

cup

unsweetened cocoa powder

1/4

teaspoon

salt

1/2

cup

butter (1 stick), room temperature

2/3

cup

granulated sugar

1

large egg, separated

2

tablespoons

milk

1

teaspoon

vanilla extract

1

cup

pecans finely chopped
For the caramel filling:
2/3

cup

caramel chips or regular caramels, about 15

1/2

teaspoon

water

1/2

cup

semisweet chocolate chips
Instructions
Combine flour, cocoa and salt. In a separate bowl, cream together butter and sugar until light and fluffy. Mix in the egg yolk, milk and vanilla. Stir in flour mixture until just combined.

Chill dough in the refrigerator for one hour.

Preheat oven to 350 degrees Fahrenheit.

Whisk egg white in a shallow bowl until frothy. Place chopped pecans in another shallow bowl.

Remove dough from fridge. For each cookie, scoop out less than a tablespoon and roll into a small ball.

Roll each ball in the frothy egg whites, and then roll and press in the chopped pecans.

Place on a greased baking sheet (or a parchment-lined baking sheet).

Use the back of a small round measuring or soup spoon to make an indentation in the center of each dough ball or use your thumb.

Bake for about 10-12 minutes, or just until set. Don't over bake, as cookies will harden as they cool.

As the cookies come out of the oven, gently re-press the indentations with a small round spoon. Transfer cookies to a wire rack to cool completely.

In a microwavable bowl mix the caramel bits and water. Microwave at 30-second intervals, stirring after each interval, until caramel is melted (1-2 minutes).

Pour small spoonfuls of caramel into the indented cookies. Let cool.

Melt chocolate and drizzle lines over cookies.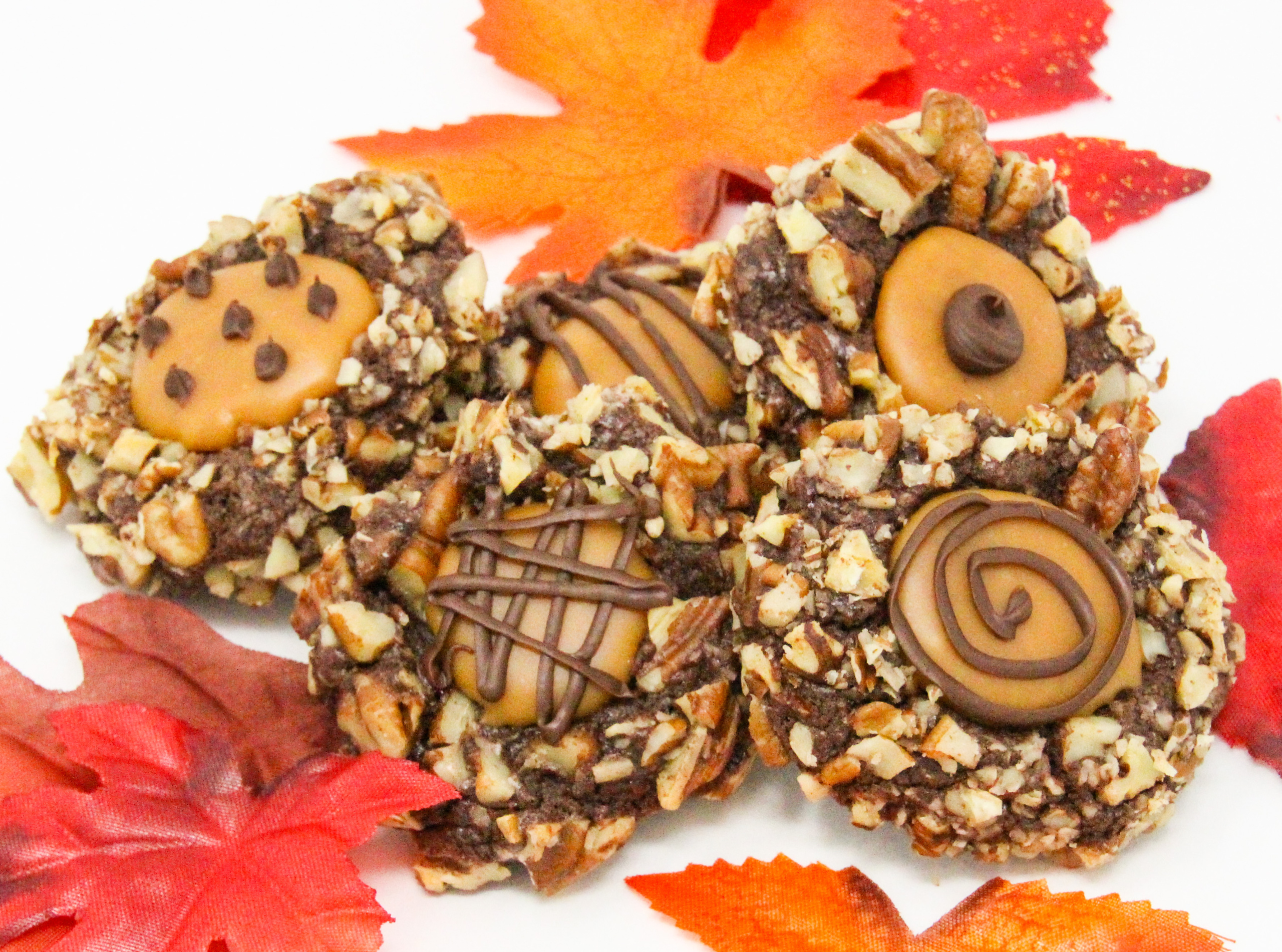 Pin to Pinterest: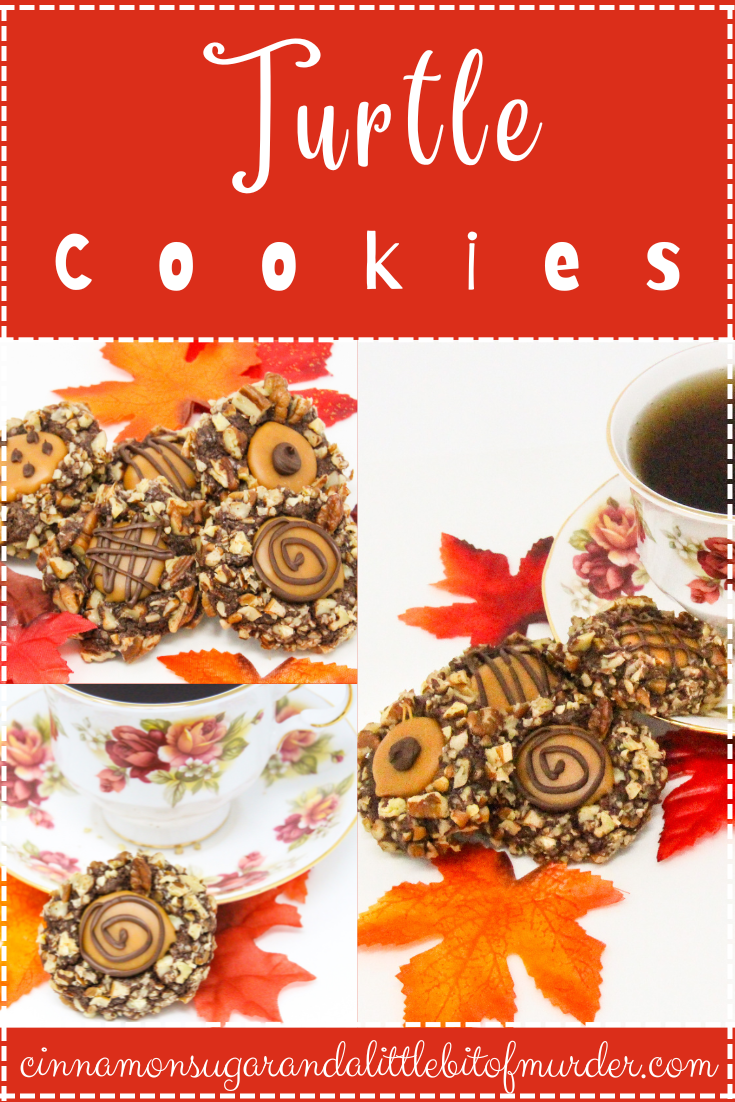 I was provided with an advance copy. All thoughts and opinions are my own.