I have been a fan of the books written by Elizabeth Buzzelli (aka Elizabeth Lee) for some time. When she told me she was writing a new series and asked if I would be an early reader for A MOST CURIOUS MURDER: A Little Library Mystery, I jumped at the chance! Even though the book does not have recipes, Elizabeth created a special dessert, Topsy-Turvy Pineapple Torte, to celebrate the Alice in Wonderland theme of the book. The torte is a meringue-based cake, baked in a cast iron skillet which creates crispy edges. Brown sugar mixed with butter, crushed pineapple, and maraschino cherries provides an easy base to support the cake while baking. But when it's turned upside down for serving, that's when the magic happens. The sugar caramelizes with the pineapple, creating a rich contrast to the light cake. Even though my husband shouldn't eat dairy, he couldn't stop eating this delightful dessert and declared it was one of the best he's ever had! Elizabeth has also included a yummy optional rum sauce to drizzle over the cake. While not necessary to use, it does add an additional level of decadence!
Synopsis
Jenny Westson has returned home to Bear Falls, Michigan after a bitter divorce and the loss of her job and friends. When she pulls up to her mother's house in the early morning hour, she finds her mother's Little Library broken into smithereens with the books destroyed. Sick at heart, her deceased father had built the Little Library as an anniversary gift just months before he was killed in a hit and run accident, Jenny tries to clean up the mess before her mother sees it.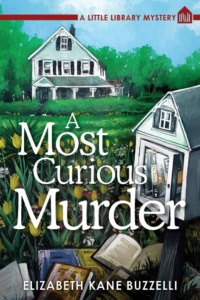 She's interrupted by her mom's "little person" neighbor, Zoe Zola, who loves to quote Lewis Carroll. With her exhaustion and emotional heartache, Jenny doesn't care for Zoe all that much, but despite her attitude, Zoe pitches in to clean up and help break the news to Jenny's mom, Dora. When the police tell them it's probably just a hit and run, Zoe points out all the evidence which indicated it was something much more malicious. She thinks it could be one of their neighbors, Adam Cane, who destroyed the Little Library since he hated it and her dog, Fida. When Fida disappears Zoe points the police in the direction of Adam again, but when he turns up dead in Zoe's fairy garden, she's suddenly suspected of murder.
Evidence is even more incriminating when Adam's brother, Aaron, is found murdered with Zoe's dog locked in his impoverished cabin. Jenny knows Zoe is innocent, despite her quirks, and decides she has to find the real killer before the small-town police railroad Zoe right into prison. With the madness of murders going on around her, Jenny must find the answers that they and the killer are looking for but time may be running out for another innocent victim.
My Review
I enjoy reading cozy mysteries for a variety of reasons: good character development, happy endings, and of course they are a source of wonderful entertainment. A MOST CURIOUS MURDER fits my criteria for what makes a book good, but then the author went a step further and made it great! This first book in her brand new series has a strong plot with plenty of twists, turns, and falls into the rabbit hole which kept me up late at night turning pages. But what made this book stand out in my mind is the intertwining of emotions in the subplots that pulled me in, made me relate, and made me think about the story and the characters long after I had finished the book. Ms. Buzzelli has a lyrical cadence to her writing which fit the theme of Lewis Carroll's Alice In Wonderland and enhanced the settings so I felt like I was experiencing the book instead of just reading a story.
One of the quotes Zoe shares with Jenny that I thought was quite appropriate for my review is "….words and words and words – until the words sort themselves out and everything is clear, or it becomes completely unclear and it doesn't matter anymore." Elizabeth Kane Buzzelli's words are perfectly clear and come together to make a delightful, thought provoking read. Well done!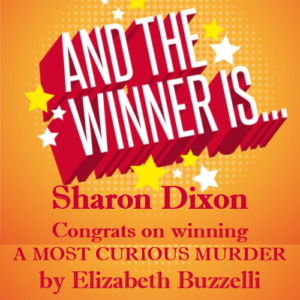 A very special thank you to Elizabeth Kane Buzzelli for providing an autographed hardcover of A MOST CURIOUS MURDER! (U.S. residents only.) Please use the Rafflecopter box located below the recipe to enter. Contest ends Monday, July 11, 2016 at 11:59 pm PST. Winners will be announced on this page and on Cinnamon & Sugar's Facebook page, as well as notified by email (so check your spam folder!)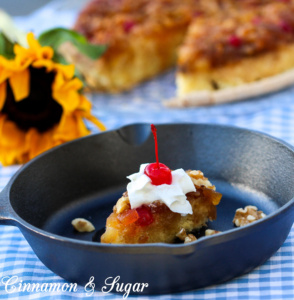 Topsy-Turvy Pineapple Torte
Ingredients
Cake
1/2 cup butter
1/2 cup dark brown sugar
1/2 cup light brown sugar
1 twenty-ounce can crushed pineapple, drained and patted dry (reserve juice for rum glaze)
10 Maraschino cherries, halved
4 eggs, separated
1 cup cake flour
1 teaspoon baking powder
1/4 teaspoon salt
1 cup granulated sugar
1 tablespoon butter, melted
1/2 teaspoon vanilla extract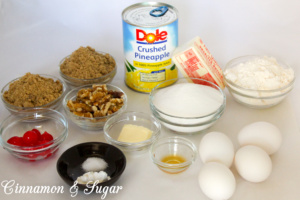 Rum Sauce (optional)
1 cup granulated sugar
1/4 cup pineapple juice
1/4 cup dark rum
1/4 cup butter (optional)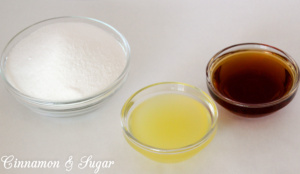 Garnish
1/2 cup crushed walnuts
Whipped cream
Maraschino cherries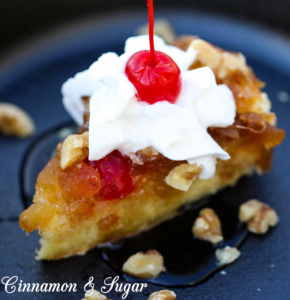 Instruction
Cake
Preheat oven to 325 degrees (F).
Warm a well-seasoned 9-inch cast iron skillet in the preheated oven for about 5 minutes. Don't let it smoke.
Remove skillet from the oven and melt 1/2 cup butter in it, over low stovetop heat.
Remove from heat and sprinkle brown sugars evenly over the pan.
Sprinkle pineapple over the brown sugars, to cover bottom of the skillet.
Arrange halved cherries around pineapple.
Sift together the flour, baking powder, and salt. Set aside.
In a large bowl, beat egg whites just until soft peaks form.
Gradually add the granulated sugar, beating well after each addition, then beat until medium-stiff peaks form.
In a small bowl, beat egg yolks at high speed until very thick and yellow, about 2 minutes.
Using a whisk, gently fold egg yolks and flour mixture into the egg whites until blended.
Fold in 1 tablespoon melted butter and vanilla.
Spread batter evenly over pineapple in skillet.
Bake until surface springs back when gently pressed with fingertip and a wooden skewer inserted into the center comes out clean, about 40 minutes.
Loosen the edges of the cake with table knife.
Cool the cake for 5 minutes before inverting onto serving plate.
Flip the skillet and leave a few minutes before removing. The cake will release easier this way.
Rum Glaze
Add all the ingredients to a saucepan and boil for 3 minutes.
While the sauce is hot, pour over cake and garnish with crushed walnuts, whipped cream, and Maraschino cherries.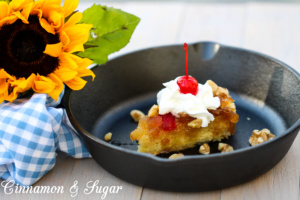 Tips
Separate the eggs while they are cold then allow them to come to room temperature while you collect the remaining ingredients. Cold eggs separate easier while room temperature eggs will whip up fluffier.
Make sure there is not even a speck of yolk in the whites and your bowl and beaters are grease-free or the egg whites won't whip up fluffy.
The difference between light and dark brown sugar is simply the amount of molasses each contains. Dark brown sugar has a more assertive flavor but they can both be used interchangeably.
Pin to Pinterest: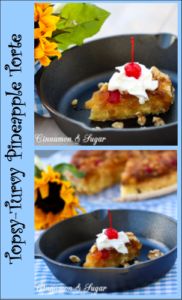 If you receive my blog post via email you will need to visit my website to view the video.
I was provided a copy in exchange for my honest review. All thoughts and opinions are my own.