UP TO NO GOUDA, the first book in the brand-new Grilled Cheese Mystery series by Linda Reilly, is a scrumptious feast for the reader! Ms. Reilly is known for writing captivating cozy mysteries, and this hits the mark on all accounts. With a small-town setting in Vermont, a yummy grilled cheese shop, and a well-paced plot that balances mystery with friendships, I couldn't put the book down. I've long appreciated that the author also creates kind, sweet characters, people you'd like to hang out with on a consistent basis. The protagonist, Carly Hale, is a delightful woman set on making a new life for herself and making her dreams become a reality after the death of her husband. Assisting her in her new grilled cheese eatery is her friend, Suzanne, and an older teen, Grant, who has his sights set on culinary school. I love the comradery of the trio and the care they take with each other.
It's no wonder that when Suzanne is suspected of murdering Lyle, Carly's ex-boyfriend, Carly and Grant jump in to clear her name. It doesn't help matters that Lyle ended Carly's lease and she has no choice but to close her restaurant and move out within thirty days. Ms. Reilly sets the murder up with strong motives for the suspects, and plenty of townspeople who disliked the victim. The plot was well-paced with some twists I didn't see coming. I fell for the author's misdirection several times and was taken by surprise at the suspenseful reveal. And best of all, you can always count on a heartwarming conclusion in Ms. Reilly's books, making me eager for the chance to visit with Carly and her friends soon!
I've always enjoyed grilled cheese sandwiches but reading this book made me crave one! The author includes several grilled cheese sandwich recipes at the back of the book and they all sound fantastic. I couldn't help but be drawn to her recipe for Smoky Steals the Bacon because, well, bacon! What I didn't expect was to be smitten with the smoked gouda oozing between the slices of bread or the heavenly addition of grilling the bread on top of a layer of grated parmesan cheese. Oh. My. Word. This has become my all-time favorite sandwich and I find myself looking at the clock an hour or two after breakfast, wondering if it's too early for lunch yet. …checks clock again… okay, it's close enough to noon and it's time to go grill up another sandwich or two!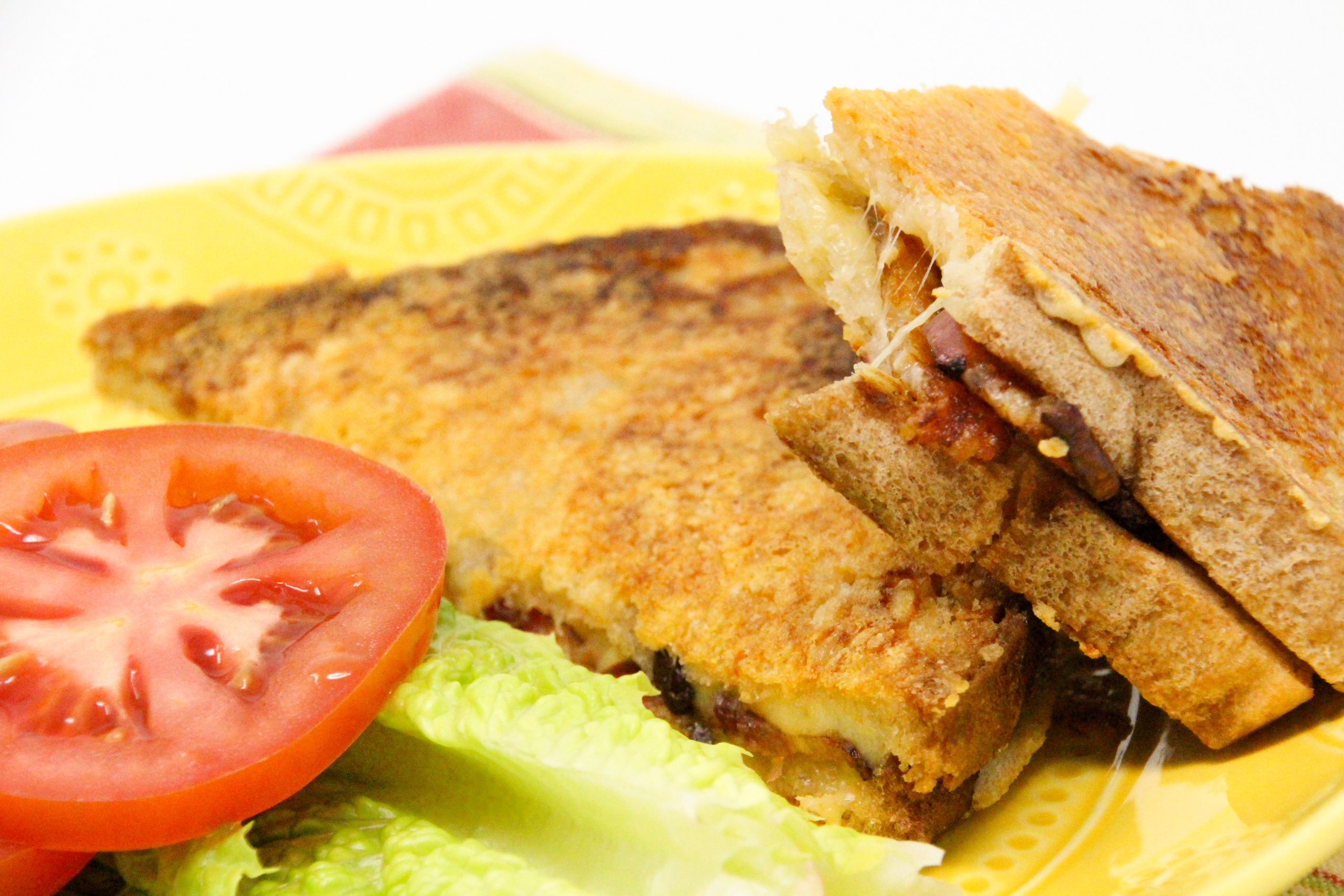 Amazon Synopsis
Back in Balsam Dell to heal after the death of her husband, Carly Hale is finally pursuing her lifelong dream—opening Carly's Grilled Cheese Eatery. After only five months, business is booming as Vermont vacationers and townspeople alike flock to lunch on her Party Havartis and other grilled cheese concoctions. All but Lyle Bagley, Carly's one-time high school boyfriend and now town bully who just bought the building that houses her eatery and wants Carly out. After a muenster of a fight, Carly's forced to put her nose to the rind and find a solution to keep her business afloat.
That is…until Lyle is discovered dead behind the dumpster of Carly's shop, and one of her employees becomes the prime suspect. In order to save her eatery and prove her friend's innocence, Carly must sleuth out the killer before she's the one who gets grilled.
With a delightful cast of characters, an inventive amateur sleuth, and a whole host of cheesy hijinks, Up to No Gouda is the perfect cozy murder mystery to melt into.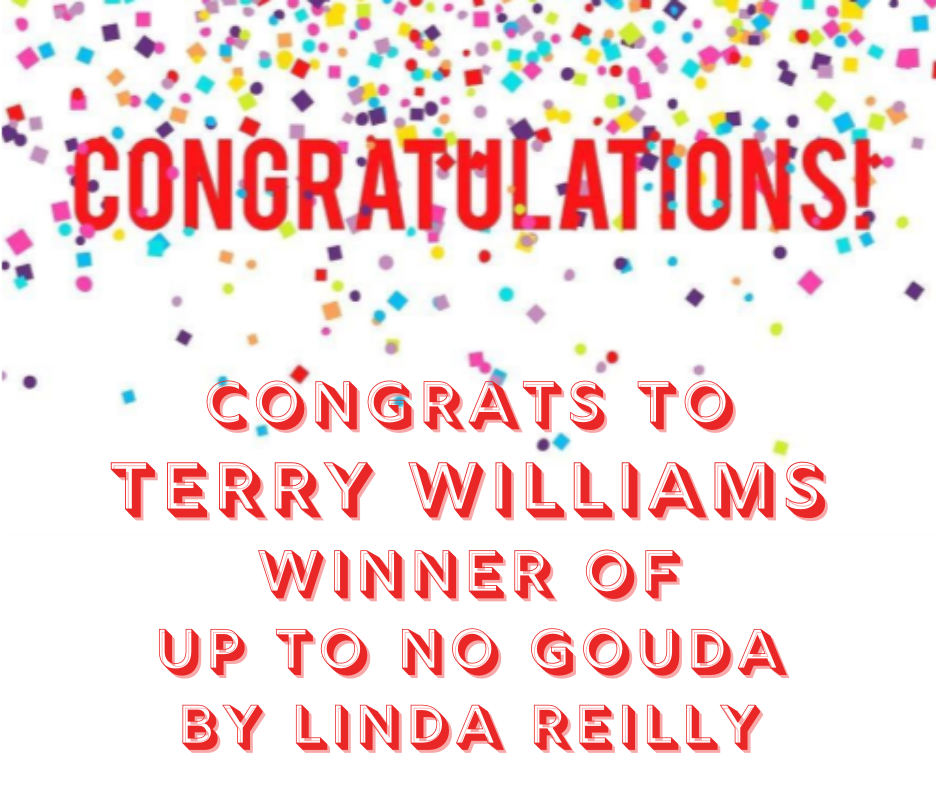 A special thanks to Linda Reilly for providing a winner with a print copy of UP TO NO GOUDA. Contest ends February 3, 2022 at 11:59 pm PST and is limited to U.S. residents. Please use the Rafflecopter box located below to enter. The winner will be announced on this page and on Cinnamon & Sugar's Facebook page, as well as notified by email (so check your spam folder!)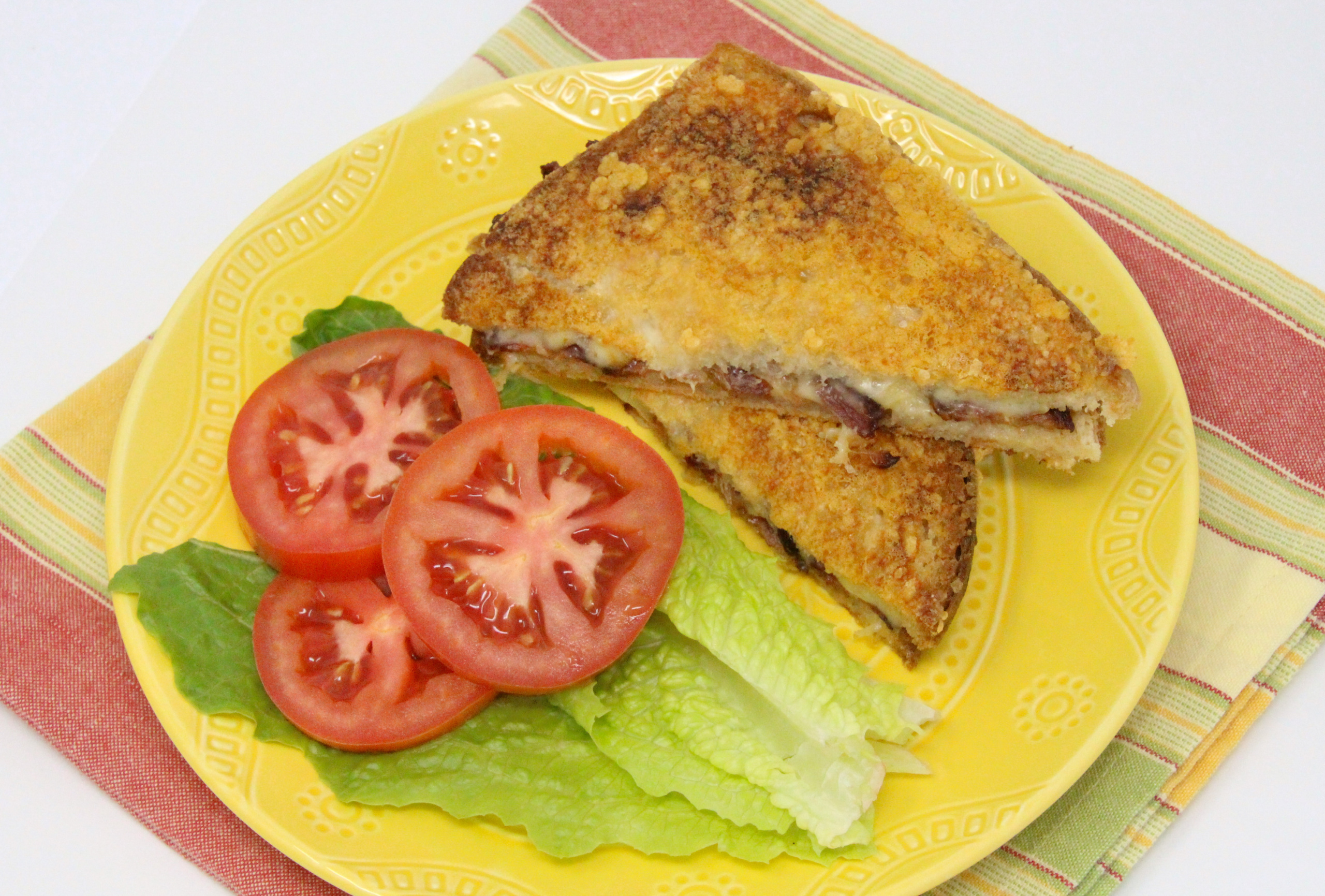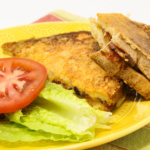 Smoky Steals the Bacon
This simple recipe produces a grilled cheese that bacon lovers will add to their list of favorites!
Ingredients
Salted butter, softened

2

slices

asiago bread

4 - 6

slices

thin-sliced smoked gouda

3 - 4

slices crispy cooked bacon

Grated parmesan cheese
Instructions
Butter one side of each slice of bread.

On the unbuttered side of one slice, stack half the gouda slices; add the crispy bacon slices and then the remaining gouda. Top with the remaining bread slice, butter side up.

Sprinkle a generous layer of grated parmesan cheese in a cast-iron pan or nonstick skillet.

Place the sandwich on top of the parmesan and grill over medium heat for about 3 minutes.

As you grill, press lightly with a spatula or grill press. Before flipping over to grill the remaining side, remove the sandwich from the pan and sprinkle another layer of parmesan cheese in the skillet. Place the ungrilled side of the sandwich down, on top of the parmesan, and then grill the other side for approximately 3 minutes. The outside should be golden and the cheese thoroughly melted.

Slice in half diagonally and serve with chips, pickles, tomato soup, or whatever else makes your taste buds sing!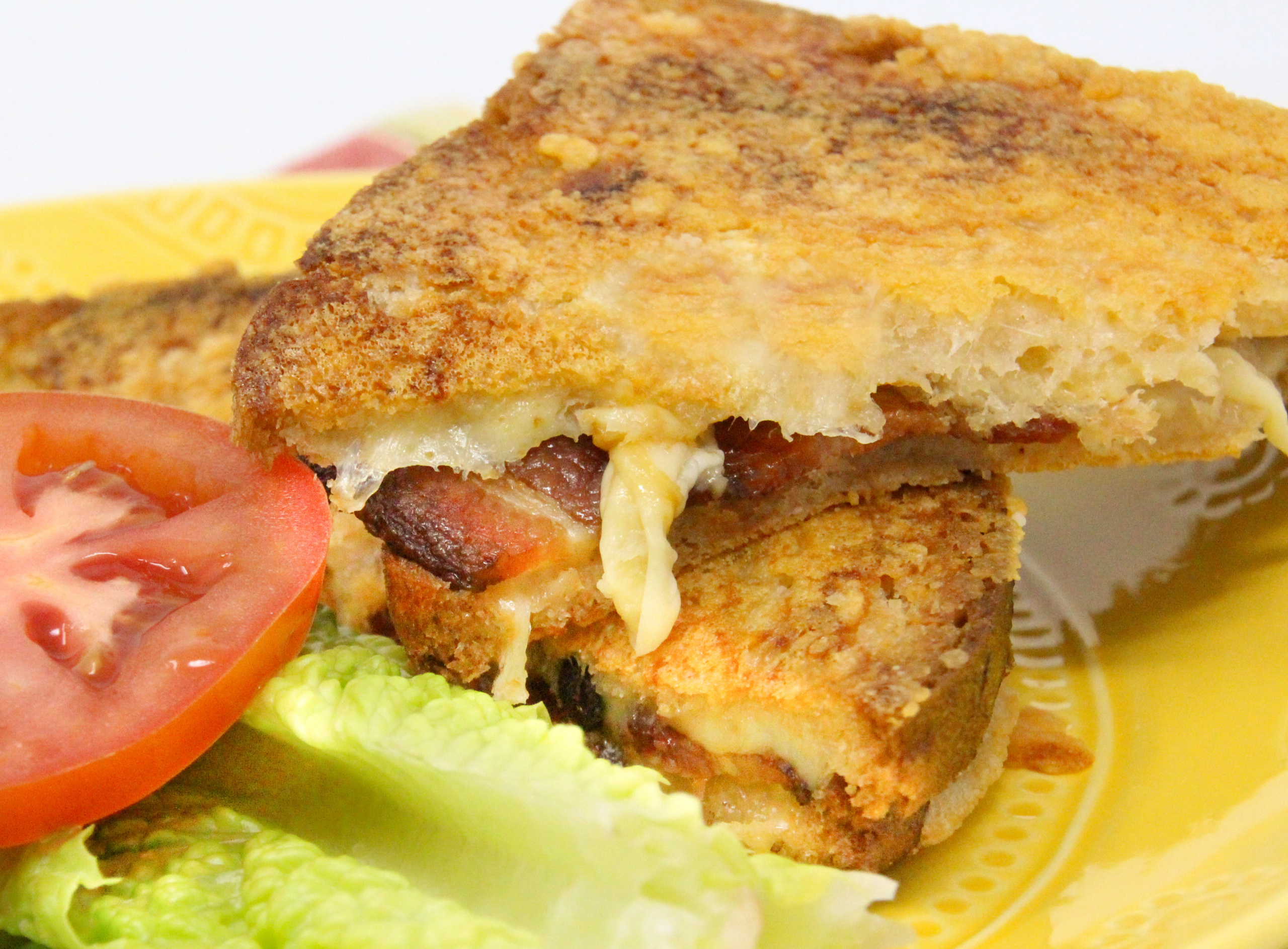 Pin to Pinterest: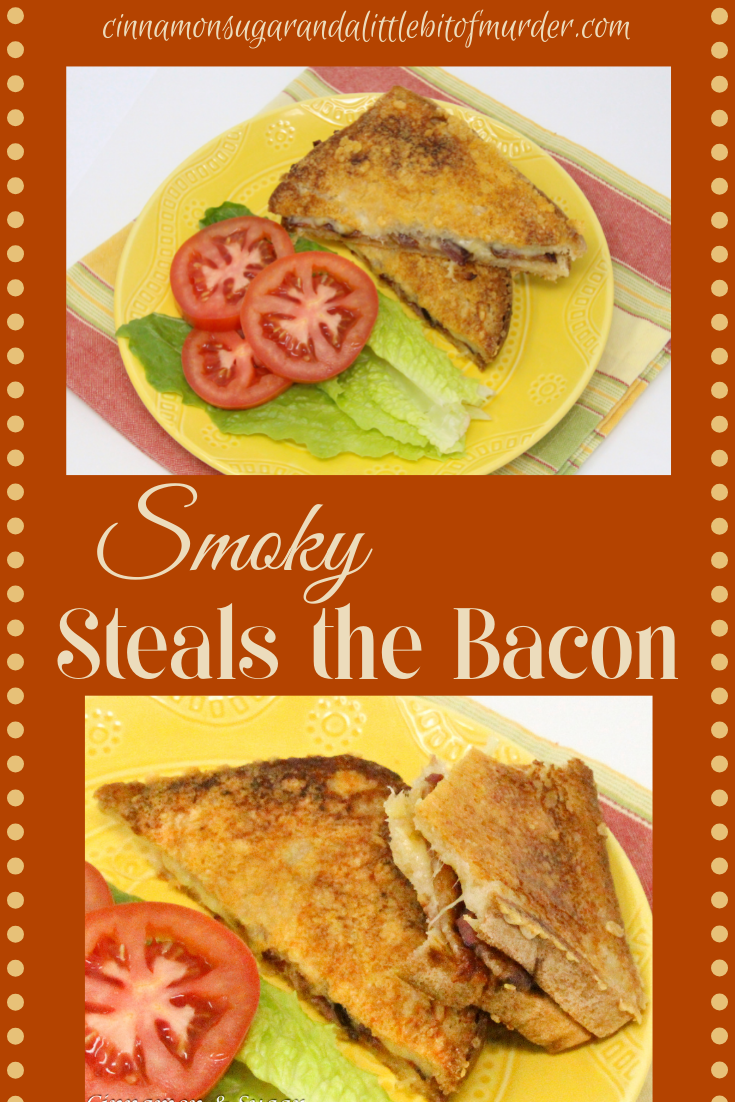 I was provided with an advance copy. All thoughts and opinions are my own.