HOT POT MURDER is the second book in the L.A. Night Market series by Jennifer J. Chow. Once again, the reader is taken for a delicious sensory journey set amongst the backdrop of the L.A. night market scene while trying to solve a puzzling murder. I greatly enjoyed the first book in the series, but with this second book, Ms. Chow has found her stride and the story and the character development is even stronger. Protagonist Yale Yee and her cousin Celine run Yale's family food stall at the L.A. night market. Early on, they had a contentious relationship but have now bonded after solving a murder. I enjoy how they have their own strengths and weaknesses, which they recognize and use to support each other, whether it's making the business a success or solving a crime.
There's also a very strong sense of family and community displayed on the pages. Ms. Chow offers a bit of Chinese customs along with a tantalizing view of Los Angeles settings. I especially enjoyed the visits Yale and Celine make to the local restaurants as they visit the people who were at Yale's father's restaurant when tragedy struck. With the strong descriptive voice, the characters and the food jump to life on the pages as the two young women seek answers to the death of the president of the restaurant owners' association.
Given that the murder takes place during a Thanksgiving gathering at Yale's father's restaurant, it resembles a closed room murder. And, because the attendees were colleagues or close friends, Yale and Celine are faced with trying to find clues without alienating the people they know so well. I like how they work in together, asking questions, and listening to gossip, to find justice. As the clues come together, so does the suspense of the killer's actions. I didn't suspect the perpetrator and at the reveal, I was on the edge of my seat to find out what happens next. Jennifer Chow's well-plotted mystery weaves together a story filled with wonderful characters, mouthwatering food, and a fun meander through the tantalizing L.A. night market. I'm looking forward to finding out what's in store next for Yale and Celine!
With all the mouthwatering restaurants Yale and Celine visit, you can't help but be hungry as you read. Thankfully, Ms. Chow includes a couple recipes at the back of the book for the home cook to try. I'm always on the lookout for side dishes to add to our evening meals, and couldn't wait to try the author's recipe for Scallion Pancakes. And to be perfectly honest, these would equally make for a great appetizer as well.  Super simple ingredients and a hot skillet are all that's necessary to whip up delicious fried dough pancakes. The fresh green scallions add just enough flavor and the salty, tangy dipping sauce, with just a hint of heat, added another dimension of deliciousness.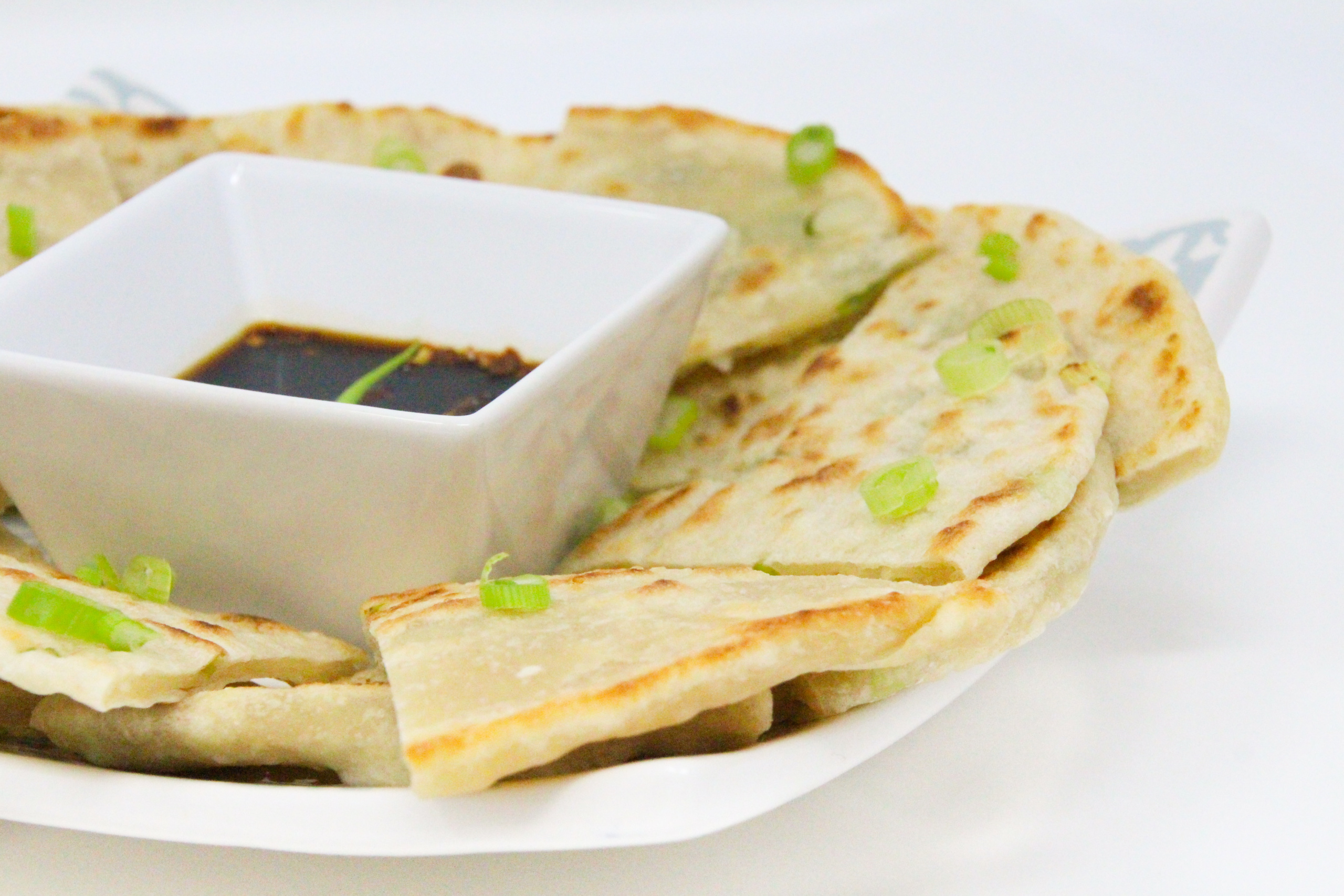 Amazon Synopsis
Yale and Celine Yee's food stall business is going so well that they've been invited to join an exclusive dinner with the local restaurant owners' association. The members gather together for a relaxing hot pot feast…until Jeffery Vue, president of the group, receives a literal shock to his system and dies.
Everyone at the meal is a suspect, but the authorities are homing in on family friend Ai Ho, owner of the restaurant where Jeffery was killed—and Yale's dad is a close second on their list. Yale and Celine step up to the plate and investigate the dinner attendees: the association's ambitious VP, a familiar frenemy, a ramen king, a snacks shopkeeper, and a second-generation restaurateur. It's up to the detecting duo to figure out what really happened before their friends and family have to close their businesses for good.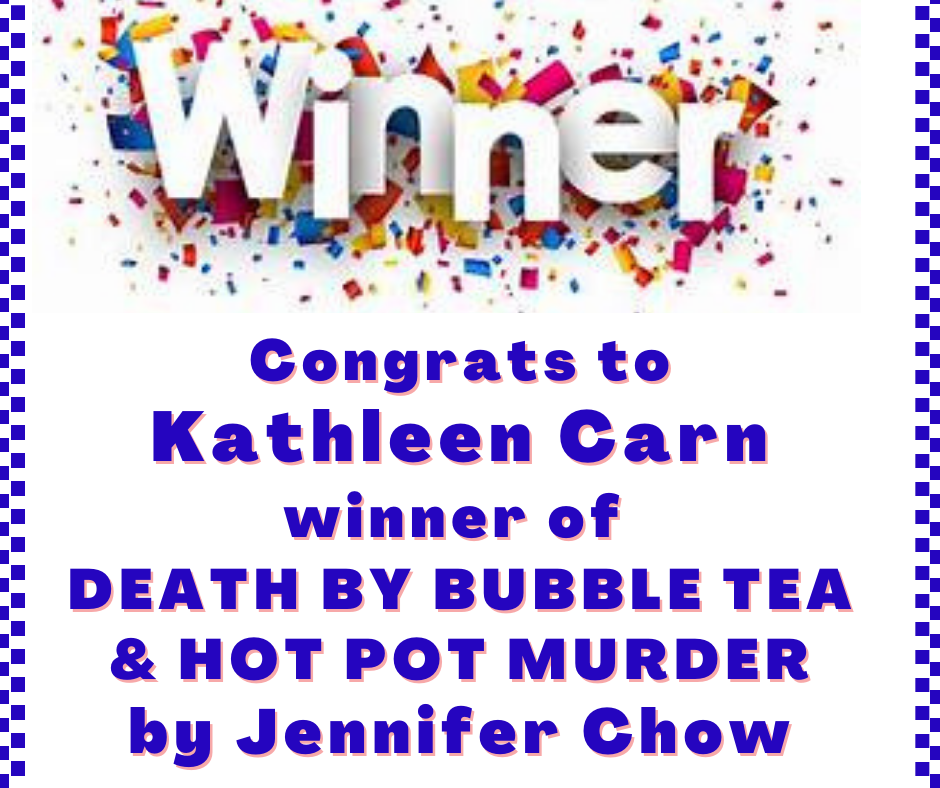 I'm pleased to offer one winner signed copies of both HOT POT MURDER and DEATH BY BUBBLE TEA! Contest ends July 23, 2023 at 11:59 pm PST and is limited to U.S. residents only. Please use the Rafflecopter box located below to enter. The winner will be announced on this page and on Cinnamon & Sugar's Facebook page, as well as notified by email (so check your spam folder!)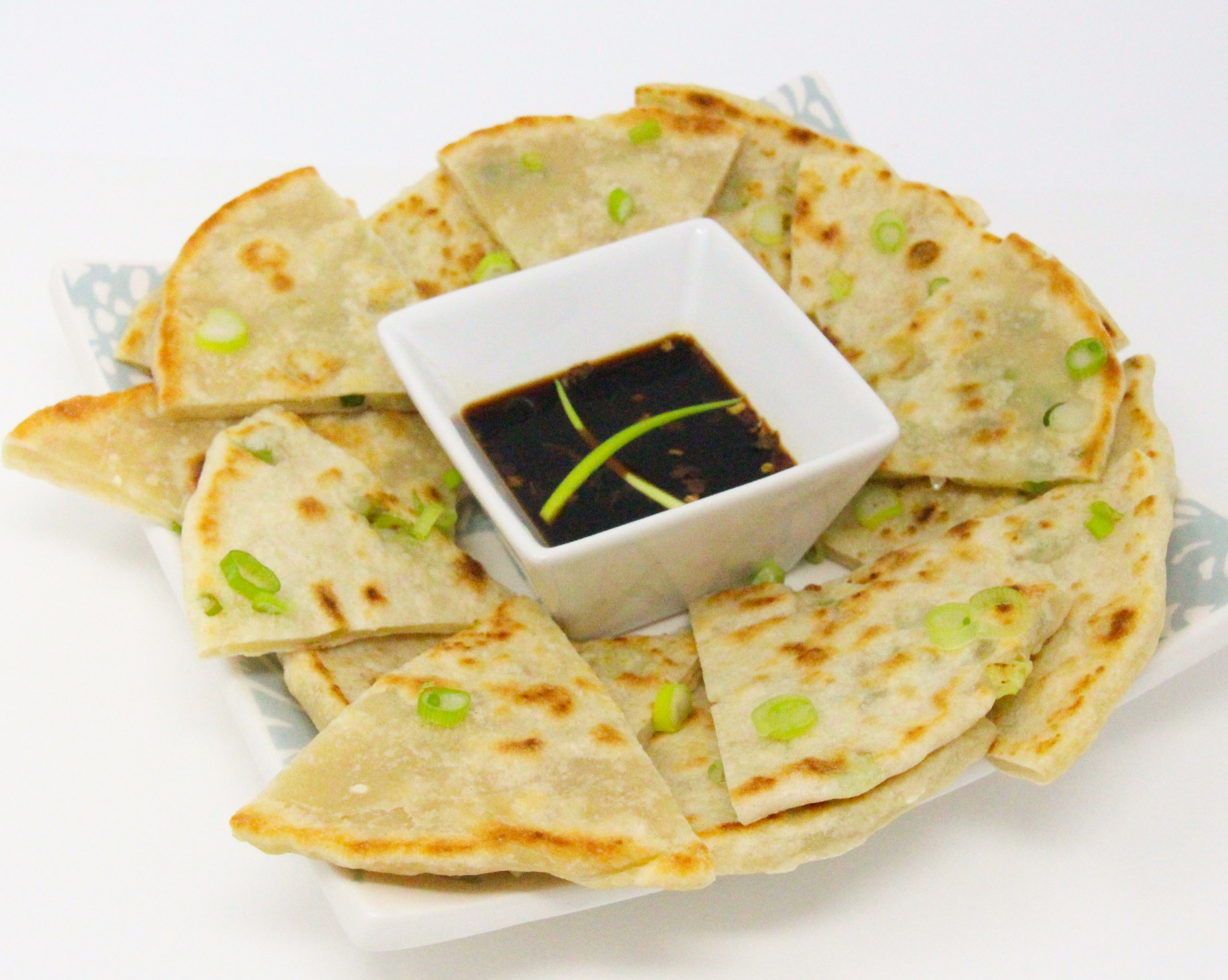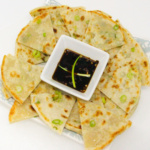 Scallion Pancakes
Ingredients
Scallion Pancakes
2

cups

flour

3/4

cup

water, plus 2 tablespoons water*

2

tablespoons

sesame oil*

5

scallions, chopped

Sesame seeds, toasted (as desired)

Oil to cook with (I used avocado oil)
Dipping Sauce (optional):
1

tablespoon

soy sauce

1

tablespoon

rice wine vinegar

Pinch of chili pepper flakes
Instructions
Scallion Pancakes:
Cover a cutting board with clear plastic wrap.

Combine the flour and the 3/4 cup of water to to form a dough.

Whisk together the 2 tablespoons water and the sesame oil in a small bowl.

Separate the dough into 4 balls. While holding a ball in the palm of your hand, brush it with the oil mixture to coat the ball evenly.

Flatten the ball into a disk on the cutting board.

Flatten the disk into a pancake approximately 6 inches in diameter, and sprinkle on scallions and sesame seeds.

Fold the dough onto itself so the scallions and sesame seeds are on the inside.

Flatten the dough into a pancake again. Repeat for all the dough balls.

Add 1 tablespoon oil to a skillet over medium heat.

Cook the pancakes for a few minutes on each side, until golden brown.
Dipping Sauce:
Whisk together the soy sauce, vinegar, and chili pepper flakes until well combined.

Serve in a small bowl with the pancakes.
Cinnamon & Sugar's Notes:
When flattening dough out, I found it worked easier after allowing the dough to rest for 10 to 20 minutes. I also used a small silicon rolling pin as well, but if you don't have, using the palm of your hand works.

*I found that mixing 1 tablespoon water with 1 tablespoon sesame oil was sufficient in coating each dough ball.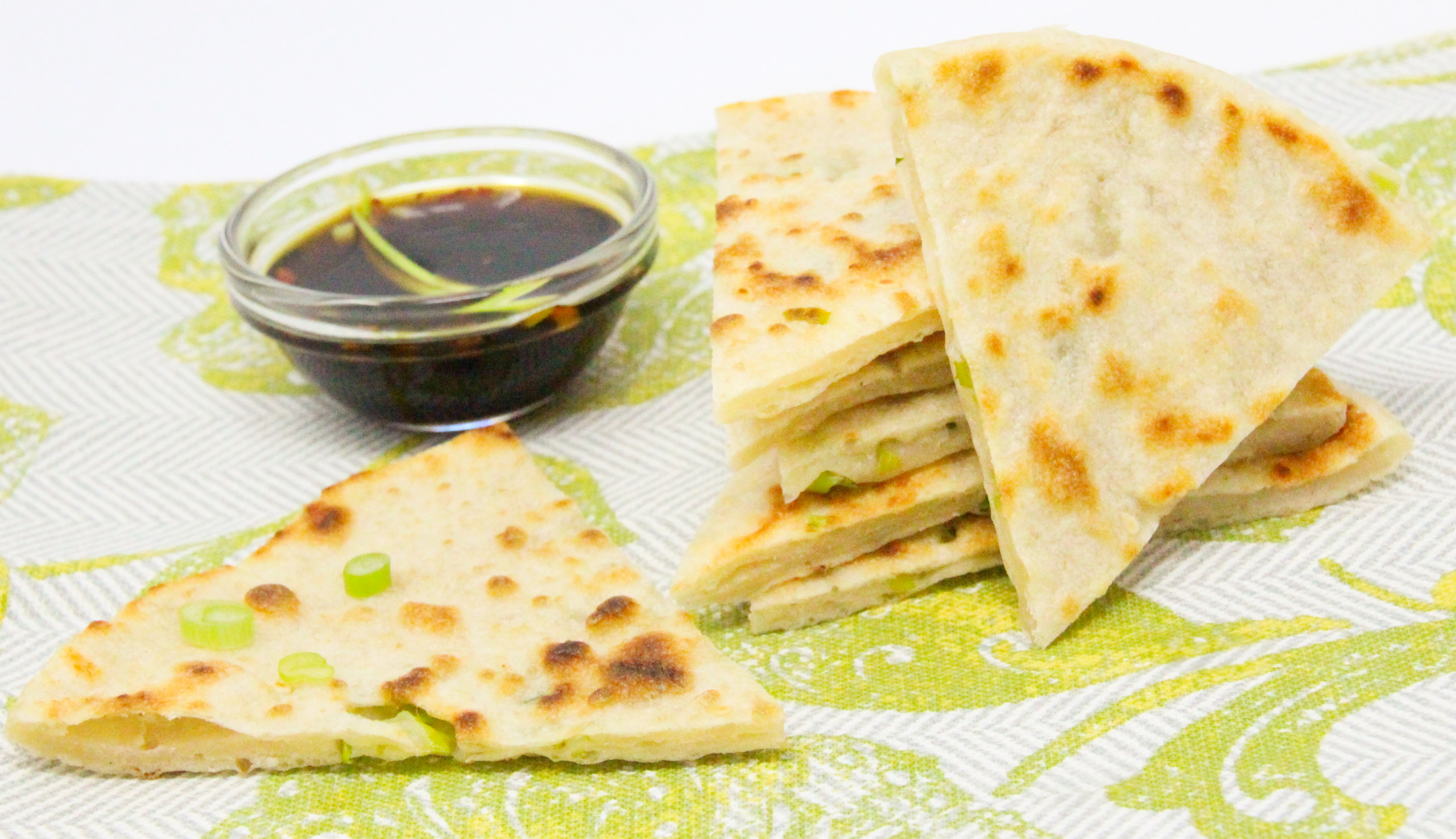 Pin to Pinterest: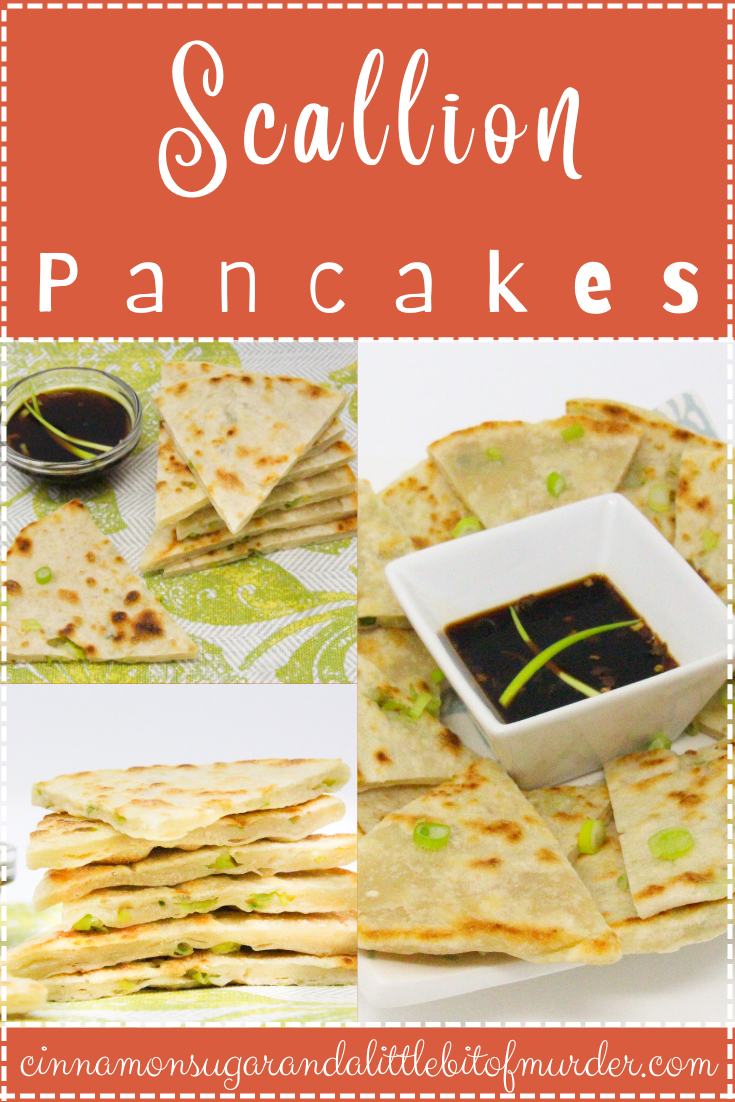 I was provided with an advance copy. All thoughts and opinions are my own.