A FATAL FAMILY FEAST, the sixth book in the Farm to Fork Mysteries by Lynn Cahoon, is an engaging, yet bittersweet read. Knowing that this delightfully sweet cozy mystery series was coming to an end when I started the book, I wanted to savor every word yet couldn't help but turn the pages faster and faster to find out what happened next. The entire cast of characters—from protagonist Angie Turner, to her best friend and business partner, Felicia, to her sous chef (and Felicia's fiancé), Estebe, to the entire staff at their County Seat restaurant—have felt like family. While there might be conflict leading up to a murder in each book, Ms. Cahoon has imbued the core cast of characters with admirable characteristics. With their sense of kindness and honor, it's been a pleasure observing their interaction with each other and with their community. There are also Angie's charming pets: her lovable Saint Bernard puppy, Dom, along with a rescue goat, and a barnyard chicken. They add some humor to the story and steal each scene they inhabit.
With the story centered around the upcoming nuptial of Felicia and Esteban, there is plenty to celebrate and plenty to stress over. Felicia is especially distraught when her family tries to break up her engagement right before the big day, by bringing in her ex-fiancé to woo her. And when the ex is found murdered, law enforcement fingers Esteban for the dastardly deed. With strong descriptive writing, the author makes the reader feel the tension that Angie and her friends are experiencing and the terror that Felicia's happily ever after might not ever take place. Uniting their creative intellects, the friends piece together clues and hunt down long ago secrets that might have had a hand in the death. Expertly weaving the past into the present, the threads of the crime came together in a surprising way and, in the end, left this reader highly satisfied yet quite sad to say goodbye to such great friends.
Owning the County Seat restaurant, Angie and Estebe are always creating delicious dishes to serve to customers and friends alike. Be prepared to be hungry as you read! Ms. Cahoon includes her recipe for Workday Quick and Easy Risotto. I love risotto, especially when there are lots of vegetables to complement the creamy Arborio rice. This recipe can either be served as a side dish or if desired, a main course, which is my preference. While the recipe doesn't call for it, I enjoy grating some fresh parmesan over the top right before serving… perfection in a bowl!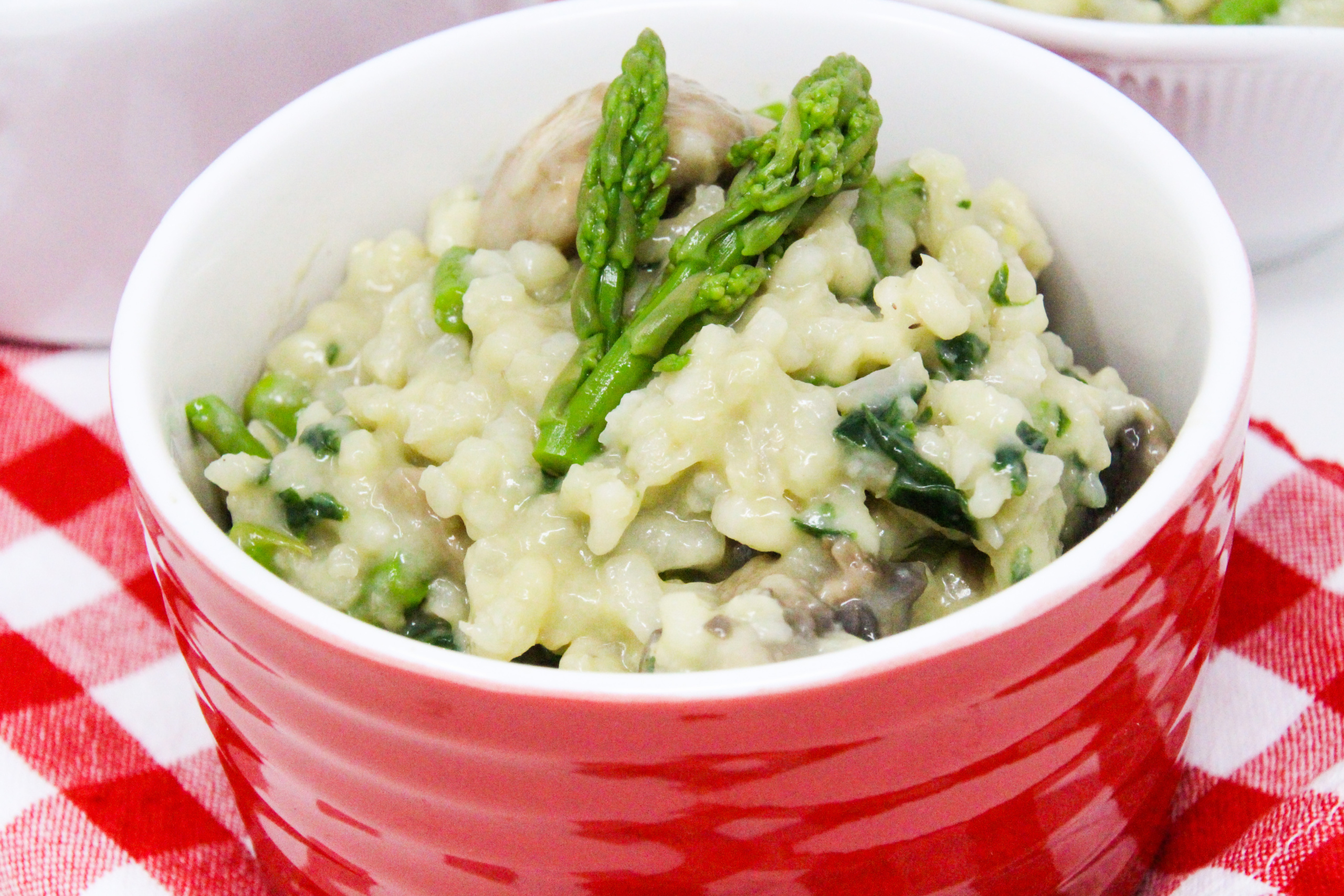 Amazon Synopsis
When Angie's best friend and business partner, Felicia Williams, picks the County Seat to host her upcoming nuptials, Angie wants it to feel like a family affair–especially since Felicia is set to marry the farm-to-fork restaurant's talented sous chef, Estebe Blackstone. Unfortunately, the bride's actual family is far less enthusiastic about the union. They're pulling out all the stops to cancel the couple's wedding, even arranging for a surprise visit from Felicia's ex-fiancé (and her father's current lackey). But when her ex is killed days before the ceremony and Estebe is framed for the crime, Angie and the County Seat crew must scramble to solve the murder and save the wedding . . .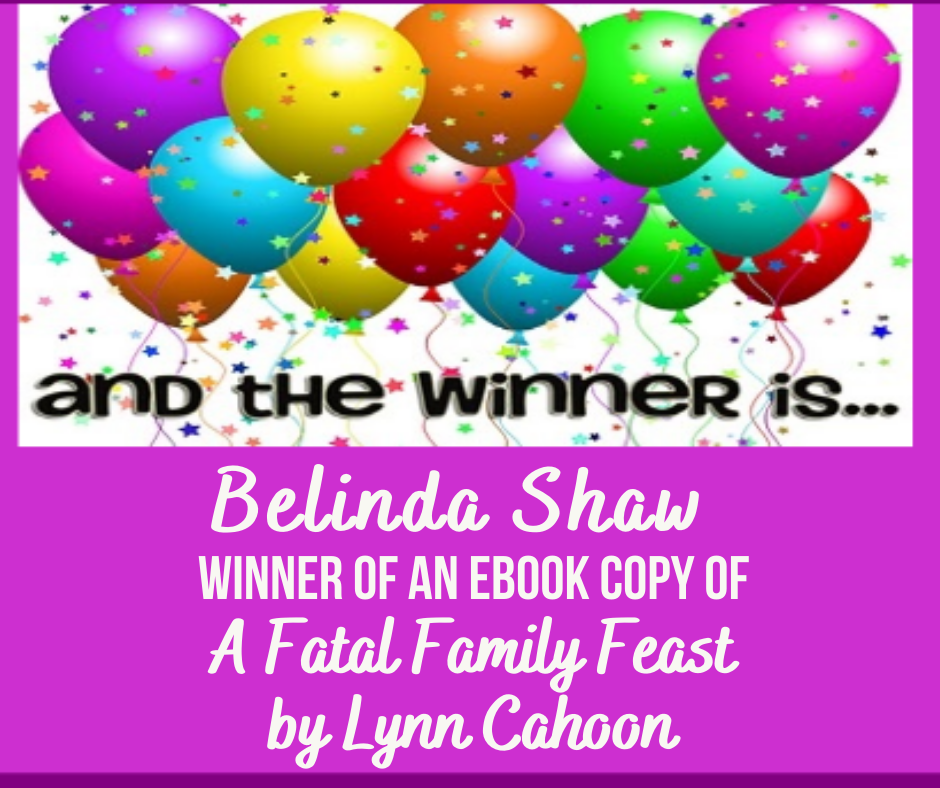 A special thanks to Lynn Cahoon for providing a winner with an ebook copy of A FATAL FAMILY FEAST. Contest ends March 27, 2022 at 11:59 pm PST. Please use the Rafflecopter box located below to enter. The winner will be announced on this page and on Cinnamon & Sugar's Facebook page, as well as notified by email (so check your spam folder!)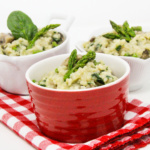 Workday Quick and Easy Risotto
Ingredients
*4

cups

chicken stock (or 4 cups of boiling water mixed with 4 bouillon cubes)

Assorted chopped veggies: Onions (or green onion), mushrooms, asparagus

1 to 1-1/2

cups

Arborio rice

Optional: a handful or two of spinach leaves

Salt and pepper to taste
Instructions
Put a pot of chicken stock (or bouillon broth) on the stove to warm.

Chop the assorted veggies - I usually chop the onions pretty fine, but the others can be coarsely chopped or sliced.

Heat a large skillet, and when warm, add a touch of olive oil (1 - 2 tablespoons).

Sauté the onion and mushrooms until the onion wilts but doesn't brown, and the liquid from the mushrooms mostly evaporates.

Then add a cup or cup and a half of Arborio rice to the skillet. Keep stirring as the rice browns (think Rice-A-Roni) for a minute or two.

Then add a ladle or two of the chicken stock. Stir to mix. **Add asparagus now. Let the risotto cook as you prepare your main dish.

Continue to stir and add stock when rice appears dry.

When the stock is all added, and the rice is creamy, you're done. It should take about 30 minutes.

If you want a veggie boost, add a handful or two of spinach leaves with your last bit of chicken stock. The leaves will wilt into the risotto and give you a nice color and extra nutrients. And that's it!
Cinnamon & Sugar's Notes:
*I found that 4 cups of stock worked well for 1 cup Arborio rice, but I needed 6 cups of stock for 1-1/2 cups of Arborio rice.

**My family likes our asparagus crisp tender, so I added it with the last addition of the stock, along with the spinach. Or, steam the asparagus ahead of time in the microwave for a couple of minutes (plunging the stalks into an ice bath to preserve the deep green color), then add to risotto to warm up the last minute or two before serving.

Feel free to sprinkle freshly grated parmesan on top just before serving.

This makes a nice meatless main dish meal too! Substitute vegetable broth for the chicken stock for vegetarian needs.
Pin to Pinterest: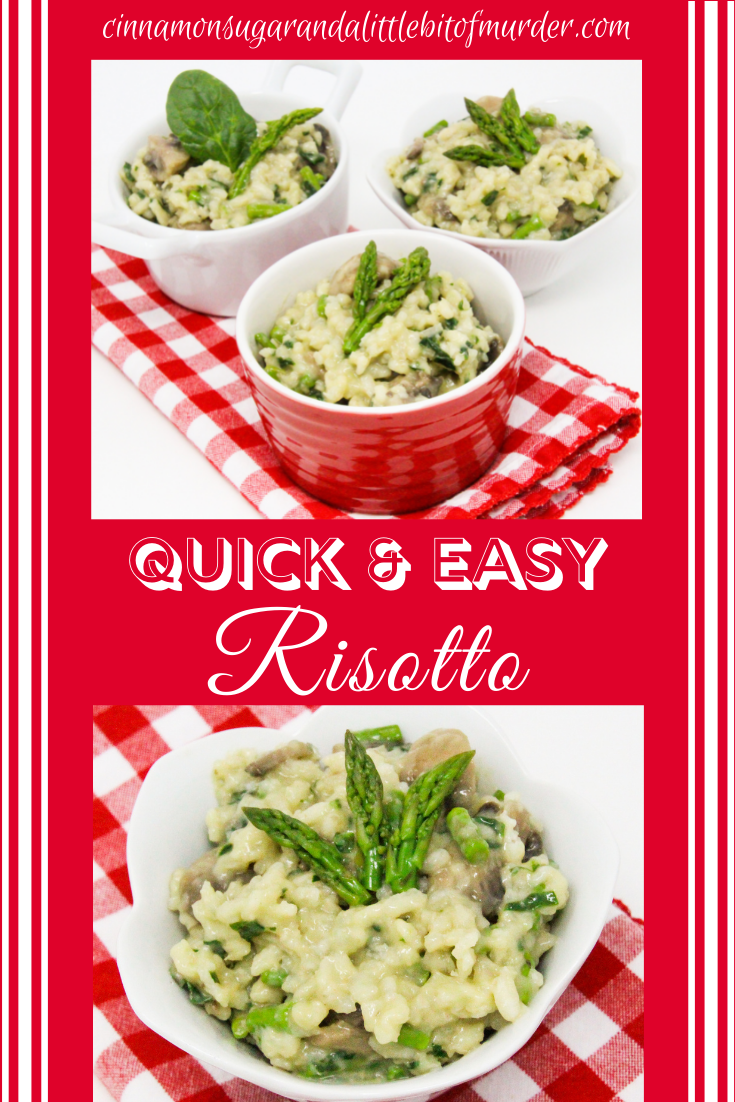 I was provided with an advance copy. All thoughts and opinions are my own.