CINNAMON TWISTED is the seventh book in the Deputy Donut Mysteries by Ginger Bolton. This character-driven cozy mystery has all the right ingredients to tempt a reader and keep them coming back for more. Protagonist Emily Westhill is part owner of Deputy Donut Café in the charming town of Fallingbrook, Wisconsin. Together with her former father-in-law, they keep the town, the police, and emergency personnel filled with sweet donut treats and coffee. I just adore the relationship Emily has with her former in-laws and law enforcement personnel after losing her detective husband years earlier. She's caring and supportive, and has an inquisitive nature which makes her the ideal person to reach out to a troubled woman visiting her café. Ms. Bolton's descriptive style brings both the setting and the characters to life, making the reader feel like they're right there.
When Emily tracks down the troubled woman, in order to return an earring left behind and offer assistance, she finds the woman murdered. From there, the plot takes off with twists worthy of a cinnamon twist donut. With a new police chief on the scene, his antics add angst to Emily's discovery and investigation. His directive sending Emily's detective beau out-of-town leaves her to suss out the killer on her own. Could he be setting Emily up to take the fall for the woman's murder, or is he just incompetent? The subplots provided added interest and speculation about who might have wanted the woman dead. With ancient Viking artifacts found in Emily's yard thrown into the mix, along with a wedding, the story flowed and kept me turning pages. I was surprised by the reveal… I didn't see it coming. And in her trademark fashion, Ms. Bolton weaves the subplots together with a murder mystery in one satisfying conclusion.
Reading the scenes at Deputy Donut will have you drooling over the sweet descriptions of the treats they serve. Fortunately for the home baker, there are a few recipes at the back of the book to try. Naturally, recipes for Cinnamon Twists are included—one made from scratch, and the other quick and easy. Given many people don't have the hours required to making yeast dough, then forming twists, then deep frying, I decided to stick with the Quick Cinnamon Twists. Starting with puff pastry, these delectable goodies have cinnamon and sugar encased in the pastry, then twisted and baked. The flaky twists are full of sweet and warm spice flavor and served warm, are utterly scrumptious!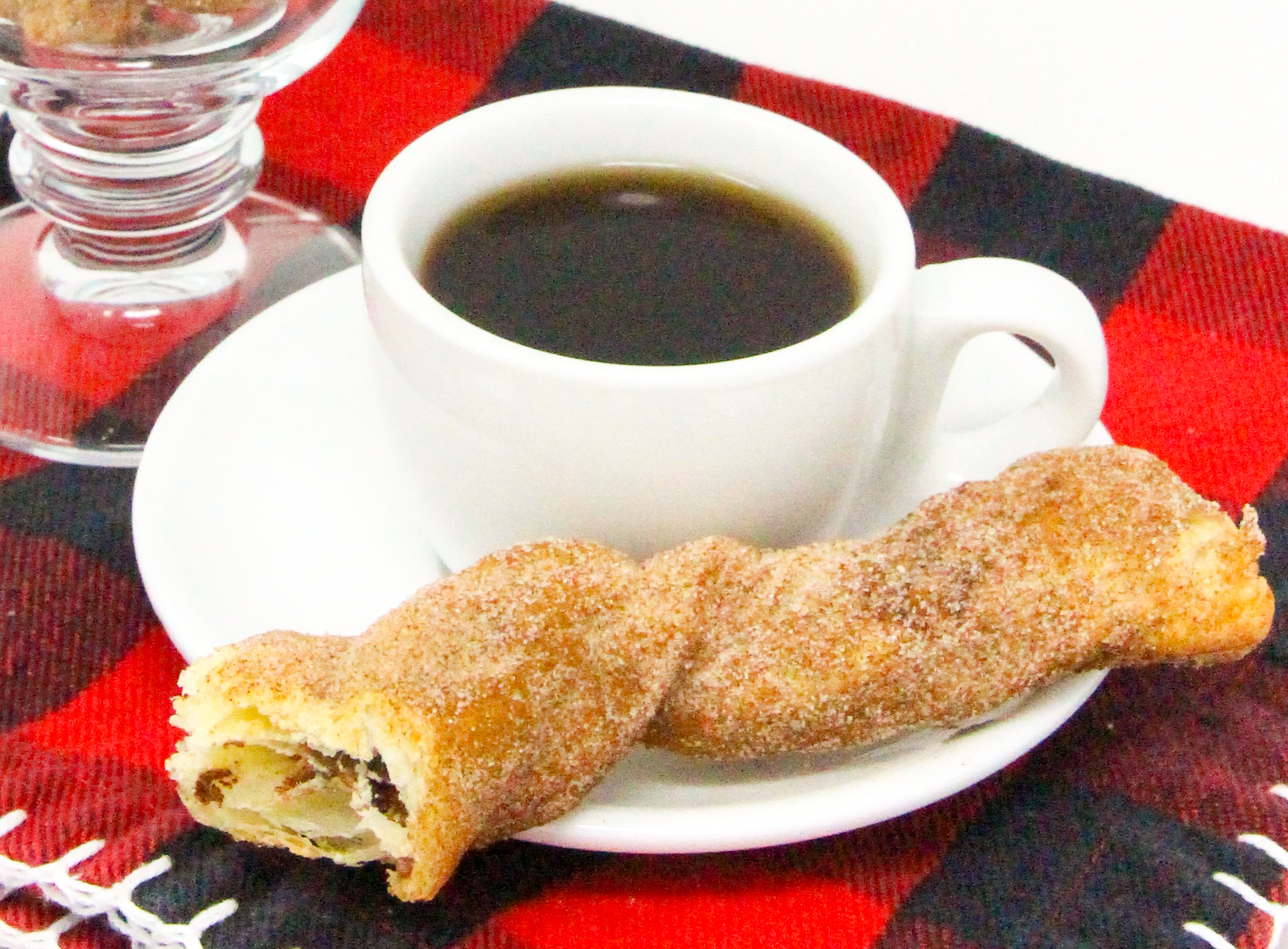 Amazon Synopsis
Weeks before summer begins, Deputy Donut Café owner Emily Westhill has it all—a tabby cat by her side, cinnamon twists powdered to perfection, and a murderer on her case . . .
An ordinary late-spring afternoon for Emily becomes one that will remain baked into her memory from the moment a customer gives Emily's cat a toy donut and then flees Deputy Donut, dropping an earring in her panic. Concerned about the customer, Emily attempts to return the earring . . . only this time the customer doesn't have a pulse. Things get more complicated when an ambitious police detective finds the earring and an unsealed envelope addressed to Emily at the murder scene. The envelope contains a cryptic letter and a fading photograph of a woman standing in front of Emily's house.
Why did the customer grab her cinnamon twists and flee Deputy Donut? With the detective eying Emily as a prime suspect, Emily is determined to find out. But once a donut-shaped murder weapon is discovered in her own backyard, Emily has no time to lose as she pulls apart the connection between the victim and the strange history of her property—while stopping the real culprit from ensuring her fate is done and sugar-dusted . . .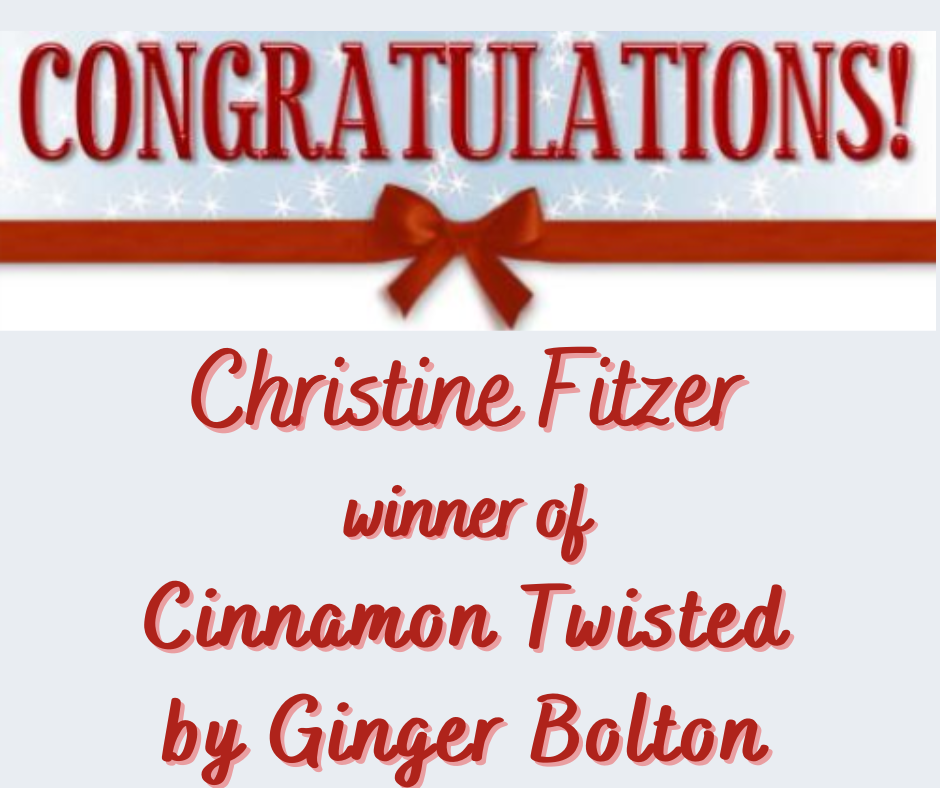 A special thanks to Ginger Bolton for providing a print copy of CINNAMON TWISTED! Contest ends April 30, 2023 at 11:59 pm PST and is limited to U.S. residents only. Please use the Rafflecopter box located below to enter. The winner will be announced on this page and on Cinnamon & Sugar's Facebook page, as well as notified by email (so check your spam folder!)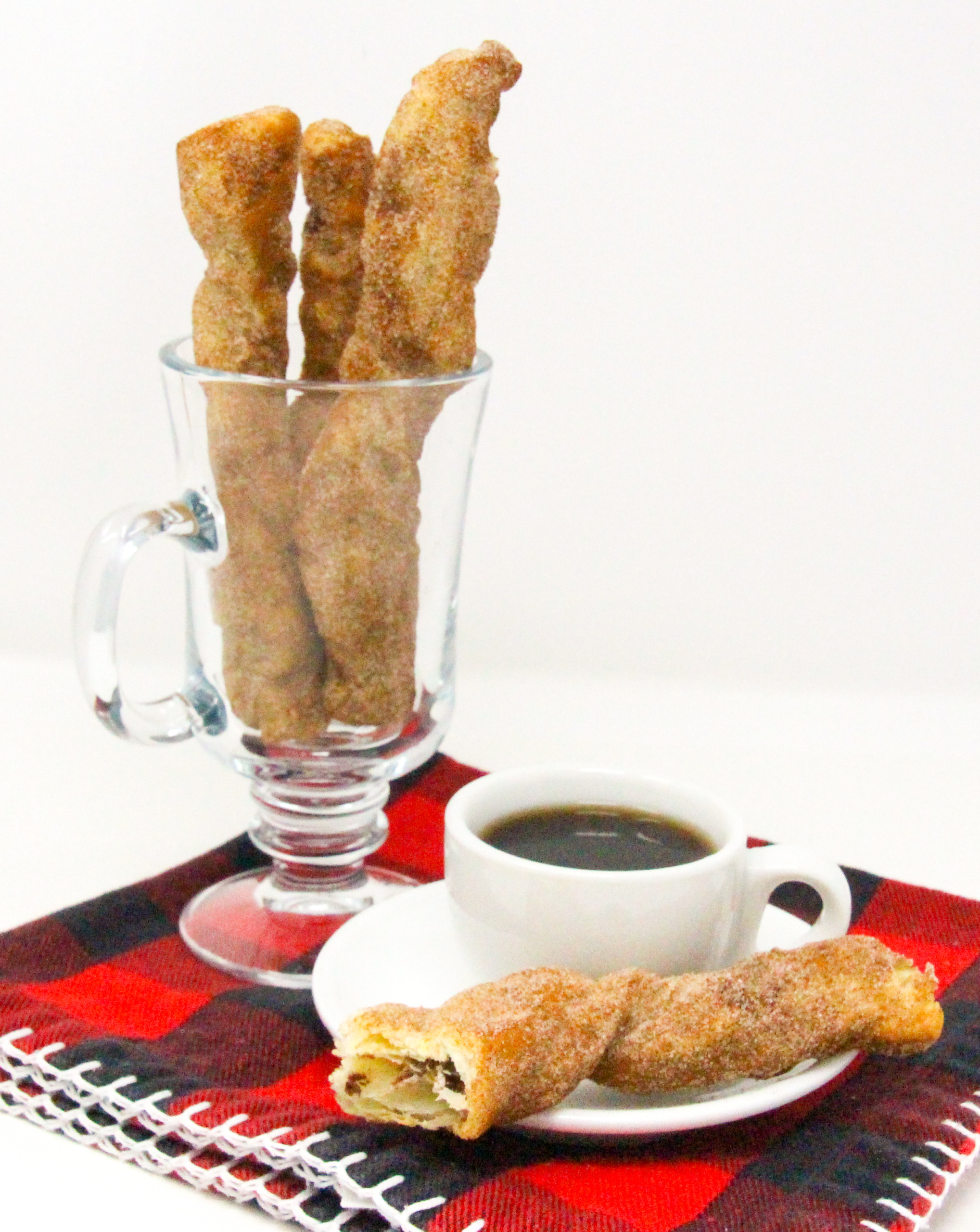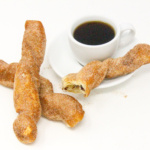 Quick Cinnamon Twists
Ingredients
1

sheet of store-bought puff pastry. If frozen, thaw in fridge overnight.

1

teaspoon

butter, softened

1/8

cup

packed brown sugar

1

heaping teaspoon

cinnamon
Cinnamon-Sugar Topping:
1/4

cup

granulated sugar mixed with

1

tablespoon

ground cinnamon
Instructions
With a rolling pin, roll the puff pastry to smooth and uncurl it.

Cut the pastry into 9 equal rectangles.

Stir the butter, sugar, and cinnamon together. They do not need to be thoroughly blended.

Spread approximately 1 teaspoon of the butter, sugar, and cinnamon mixture in the center of each rectangle of pastry leaving edges uncovered.

Fold the long edges of each rectangle to the middle and pinch them together to seal. Pinch the ends to seal them, too. You'll have a long, thin envelope containing the filling.

While gently stretching, twist each pastry. Some of the filling will end up on the outside. This is fine.

Arrange the twists on a parchment-lined baking sheet with an inch separating them to allow for rising.

Refrigerate the sheet of twists for 15 minutes.

Preheat oven to 400 degrees (F).

Remove from the oven. Coat with Cinnamon-Sugar Topping while they're still warm.
Cinnamon & Sugar's Note:
These are best when served right away.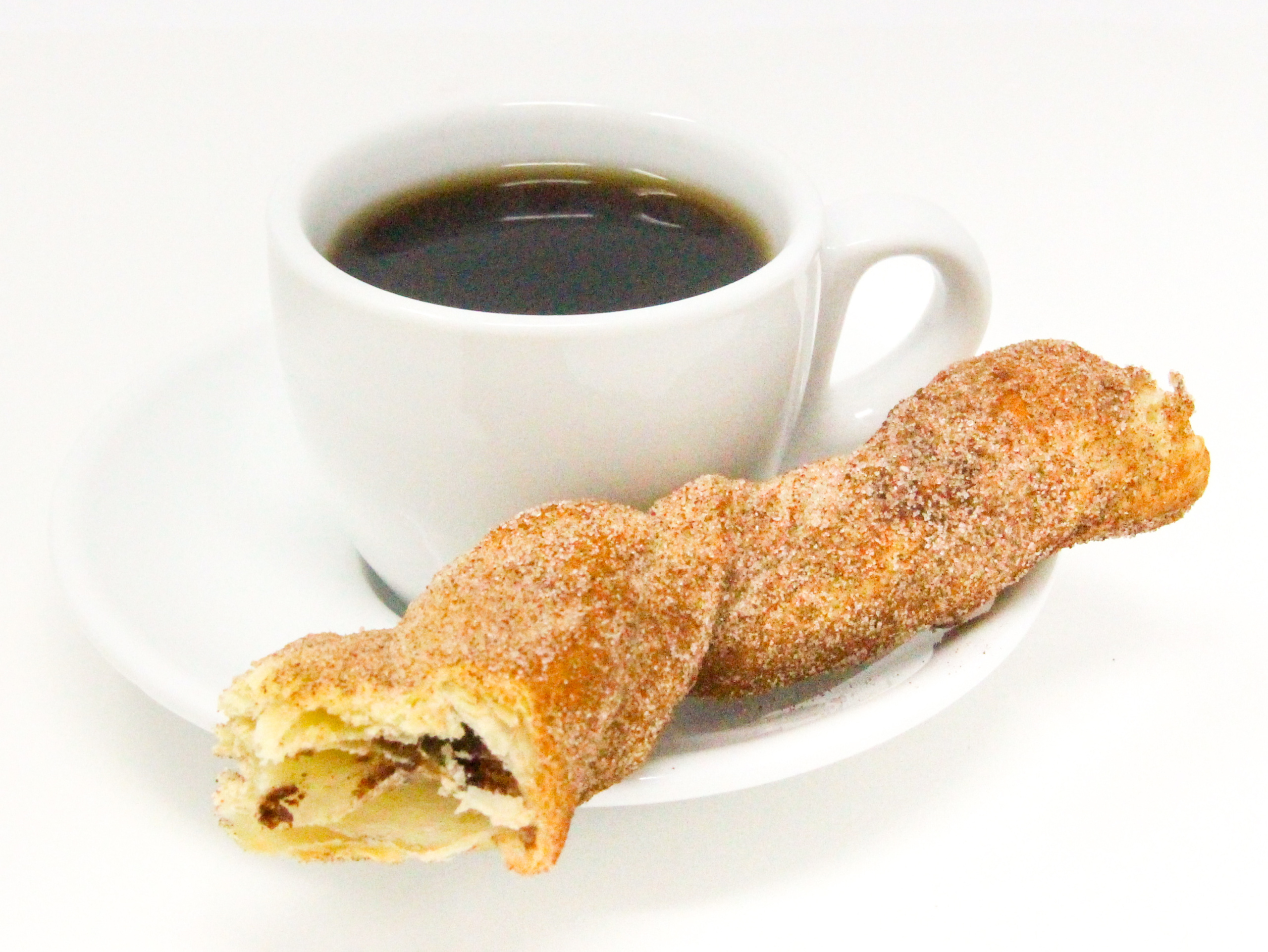 Pin to Pinterest: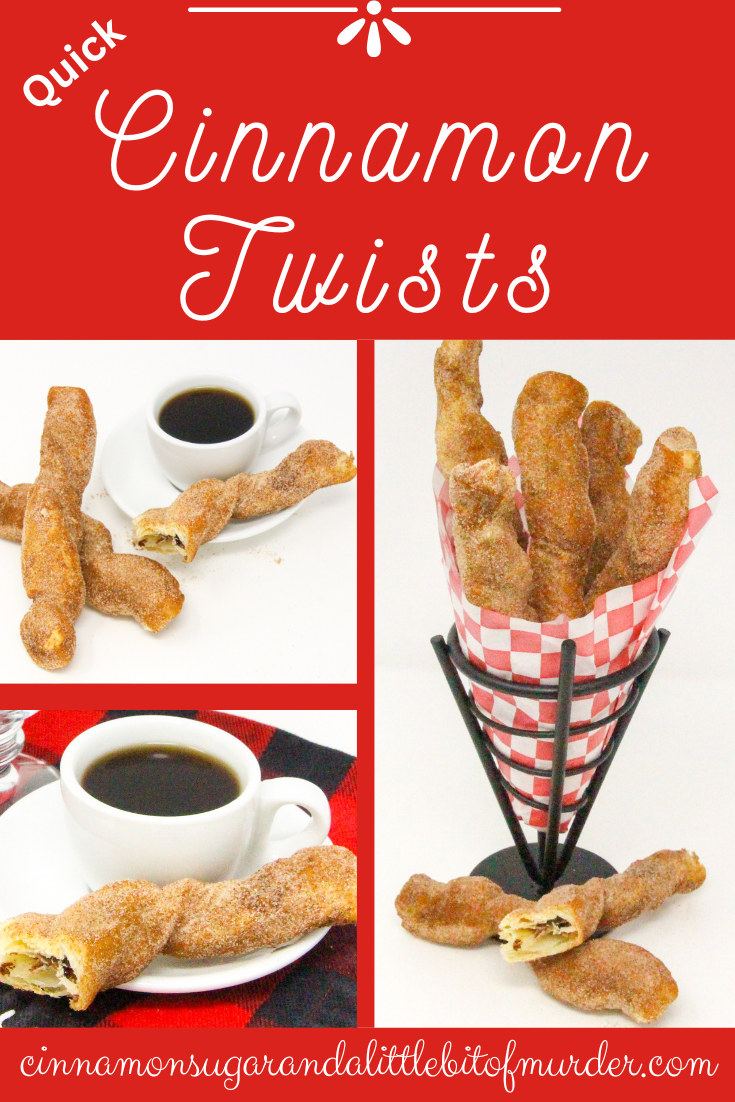 I was provided with an advance copy. All thoughts and opinions are my own.