MURDER OUTSIDE THE LINES, the third book in the Pen & Ink Mysteries by Krista Davis, is a hauntingly great story that provides just the right amount of shivers to put me in the mood for Halloween! A spooky ambiance via decorations is created, not only in Color Me Read, the bookstore where protagonist Florrie Fox works, but around the neighborhood as well. The author's descriptive voice brings the ghosts, ghouls, skeletons, and witches to life as neighbors try to outdo each other in creating creepy tableaus. Adding to the spirit of the holiday, Ms. Davis weaves in an element of ghost stories and the paranormal into the mystery. Florrie Fox is a delightful character. She's inquisitive yet is unobtrusive in her quest for finding answers. Her cheery helpfulness endears her to friends and customers alike. Surrounding her are a cast of entertaining and downright quirky characters. How about a mysterious skull, named Harry, that seems to move about on his own when no one is around? Or Hilda Rattenhorst, a psychic author, who "sees" a foot sticking out of a carpet on her way to the bookstore? These, and many more, make the story a page turner.
Hilda's insistence that a murder has taken place, leads Florrie on a search to find out if Hilda is merely trying to create publicity for herself, or if in fact, a crime was actually committed. Twists, turns, and shivers abound as the clues unfold. The plot is well-paced and when the body(s) turn up, Florrie delves into who could have done the dastardly deed. With the victims well-known to Florrie and her friends, it seems like the killer might be someone they know. This opens up a list of suspects for Florrie to weed through and readers will be kept on their toes as they follow the clues. With a heart stopping reveal, the spider webs of the plot come together to create a story that's perfect for a frighteningly good Halloween read!
One of the things you can count on when reading a book penned by Krista Davis is that there will be mouthwatering mentions of food and delightful recipes at the back of the book. Ms. Davis doesn't disappoint and has included several autumn-themed recipes in Murder Outside the Lines. I decided to try her recipe for Pumpkin Cupcakes with Cream Cheese Frosting. First off, I'll be making a double batch next time and serve some, sans frosting, as muffins for breakfast. With the addition of the cream cheese frosting, these had my taste testers swooning over the delectable little cakes. Rich and moist, the warm flavors hit the mark for bringing to mind chilly fall days and looking forward to jack-o-lanterns and trick-or-treaters. Whether you serve these for breakfast, as a snack, or as dessert, your ghosts and ghouls will gobble up every single crumb!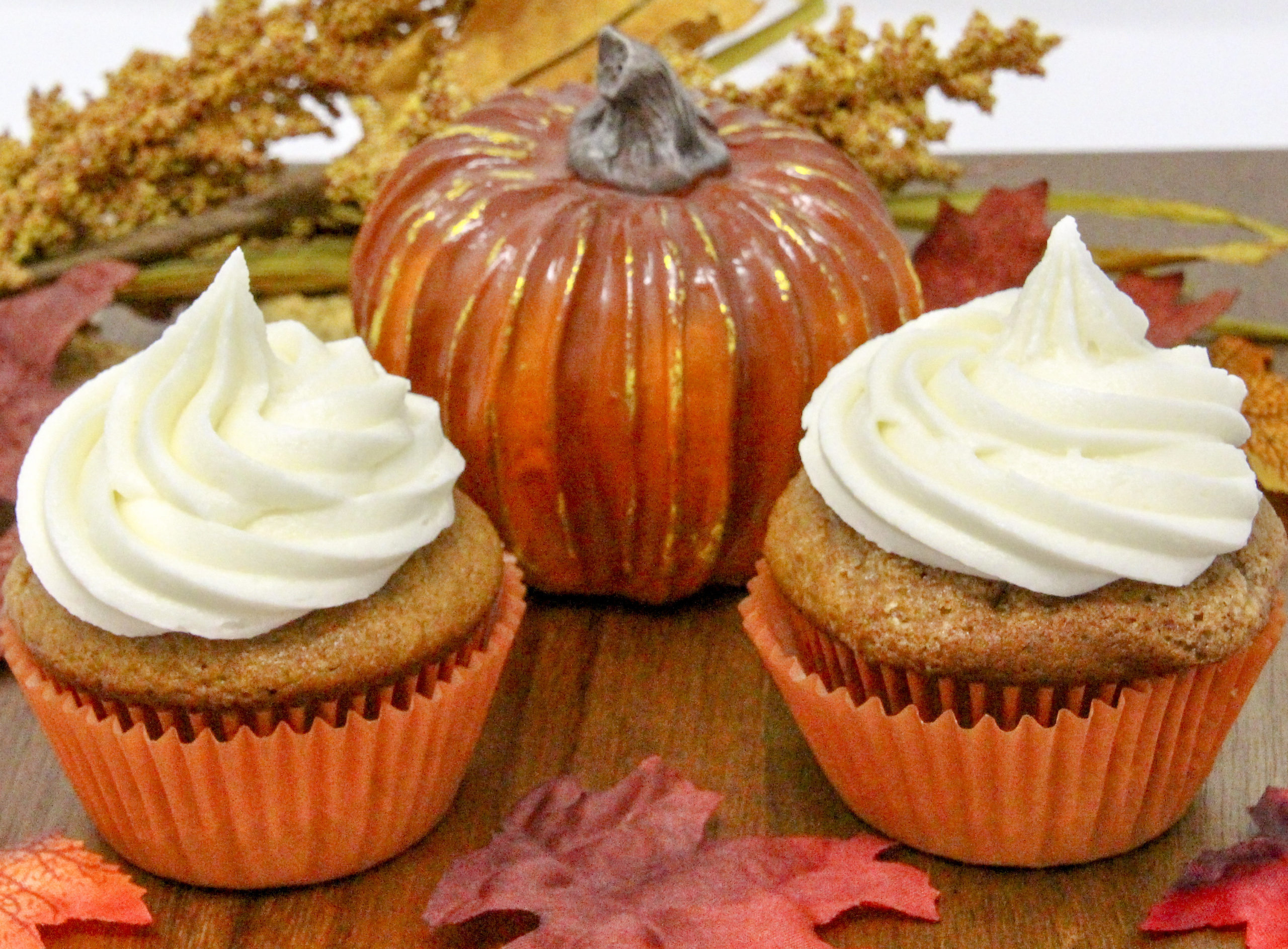 Amazon Synopsis
With Halloween just around the corner, the fall colors in Georgetown are brilliant. As manager of the Color Me Read bookstore, coloring book creator Florrie Fox has arranged for psychic author Hilda Rattenhorst to read from Spooktacular Ghost Stories. But the celebrity medium arrives for the event in hysterics, insisting she just saw a bare foot sticking out of a rolled-up carpet in a nearby alley. Is someone trying to sweep murder under the rug? Florrie calls in her policeman beau, Sergeant Eric Jonquille, but the carpet corpse has disappeared without a trace. Then in the middle of her reading, Hilda chillingly declares that she feels the killer's presence in the store. Is this a publicity stunt or a genuine psychic episode? It seems there's no happy medium. When a local bibliophile is soon discovered missing, a strange mystery begins to unroll. Now it's up to Florrie and Jonquille to expose a killer's true colors . . .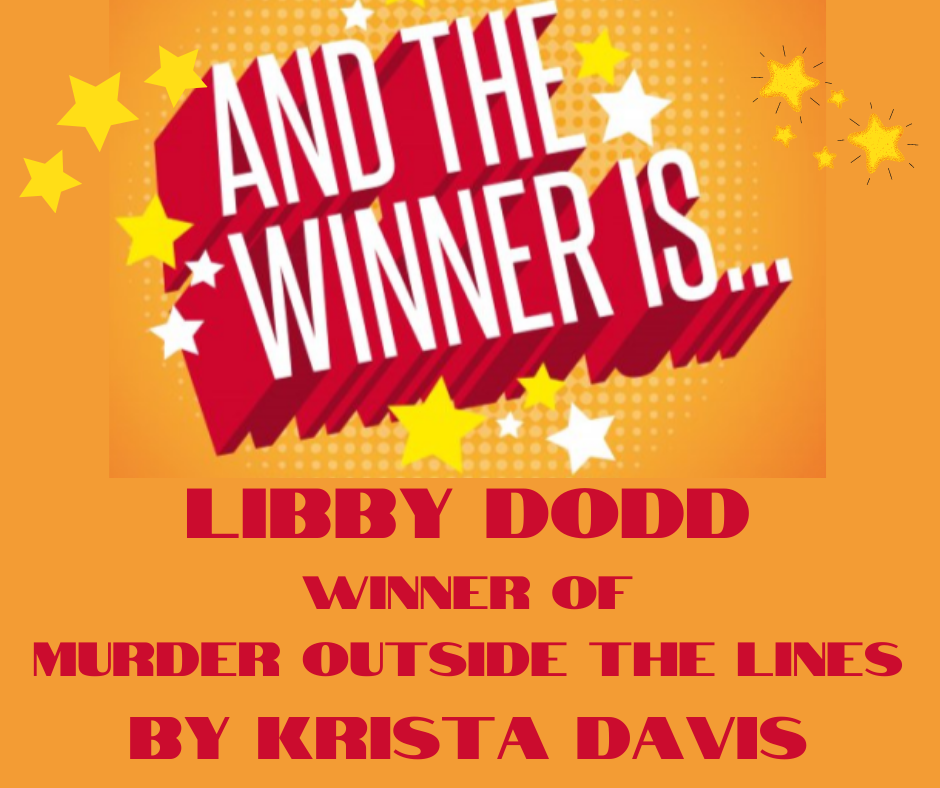 A special thanks to Krista Davis for providing one lucky winner with a print copy of MURDER OUTSIDE THE LINES. Giveaway is limited to U.S. residents. Contest ends Sunday, October 17, 2021 at 11:59 pm PST. Please use the Rafflecopter box located below to enter. The winner will be announced on this page and on Cinnamon & Sugar's Facebook page, as well as notified by email (so check your spam folder!)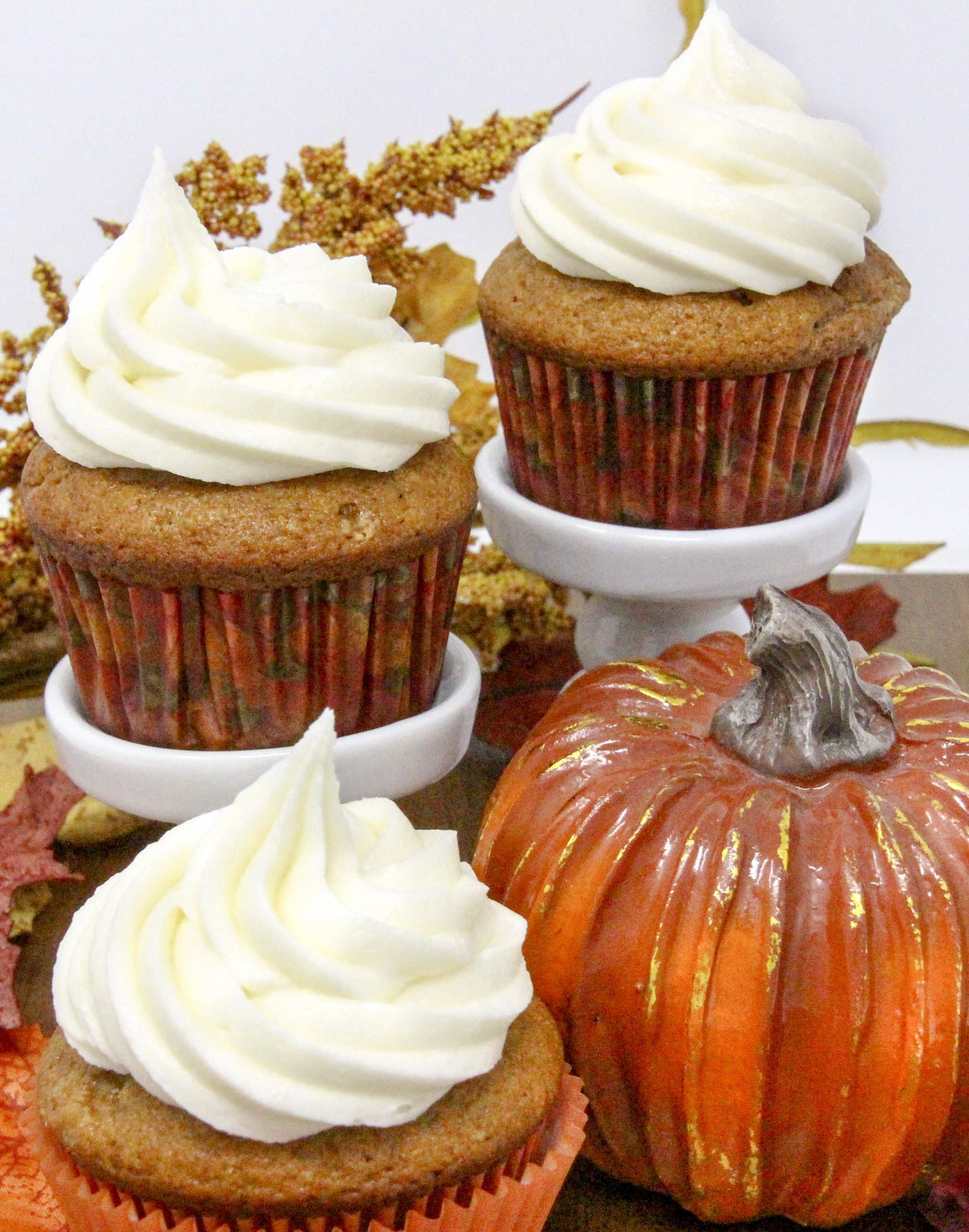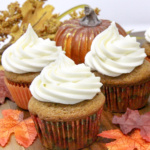 Pumpkin Cupcakes with Cream Cheese Frosting
Makes 12 regular-size cupcakes
Ingredients
For the cupcakes:
2

eggs

1/2

cup

sugar

1/2

cup

dark brown sugar

1-1/2

cups

flour

1

teaspoon

baking powder

1

teaspoon

baking soda

1/2

teaspoon

pink sea salt

1

teaspoon

ground cinnamon

1/4

teaspoon

nutmeg

Pinch of cloves

1/2

cup

vegetable oil

1

cup

mashed pumpkin

3/4

teaspoon

vanilla
For the cream cheese frosting:
12

tablespoons

unsalted butter, softened

8

ounces

cream cheese, softened

2

teaspoons

vanilla

4

cups

powdered sugar (more if needed)
Instructions
For the cupcakes:
Preheat oven to 350 degrees (F). Place cupcake liners in wells of cupcake pan.

Crack the eggs into the bowl of a mixer. Add sugar and dark brown sugar. Beat on slow for several minutes, until thick.

In the meantime, place the flour, baking powder, baking soda, sea salt, cinnamon, nutmeg, and cloves in a bowl and stir well with a fork to combine.

While the mixer is running, slowly add the oil. When it is incorporated, on low speed, slowly spoon in the flour mixture. Add the pumpkin and vanilla and mix to combine.

Divide among the cupcake liners, filling each cup three-quarters full.

Bake 20 minutes or until a cake tester comes out clean. Test two cupcakes to be sure they are done. The cupcake papers should be pulling away from the pan.

Completely cool the cupcakes on a wire rack before frosting.
For the cream cheese frosting:
Place the butter, cream cheese, and vanilla in a mixer and set on high speed.

Lower the speed and gradually add the powdered sugar. Return to high setting and beat for 10 minutes. (You can beat it for a shorter time, but it's creamier if you let it beat longer.)

Frost completely cooled cupcakes. Refrigerate any leftovers.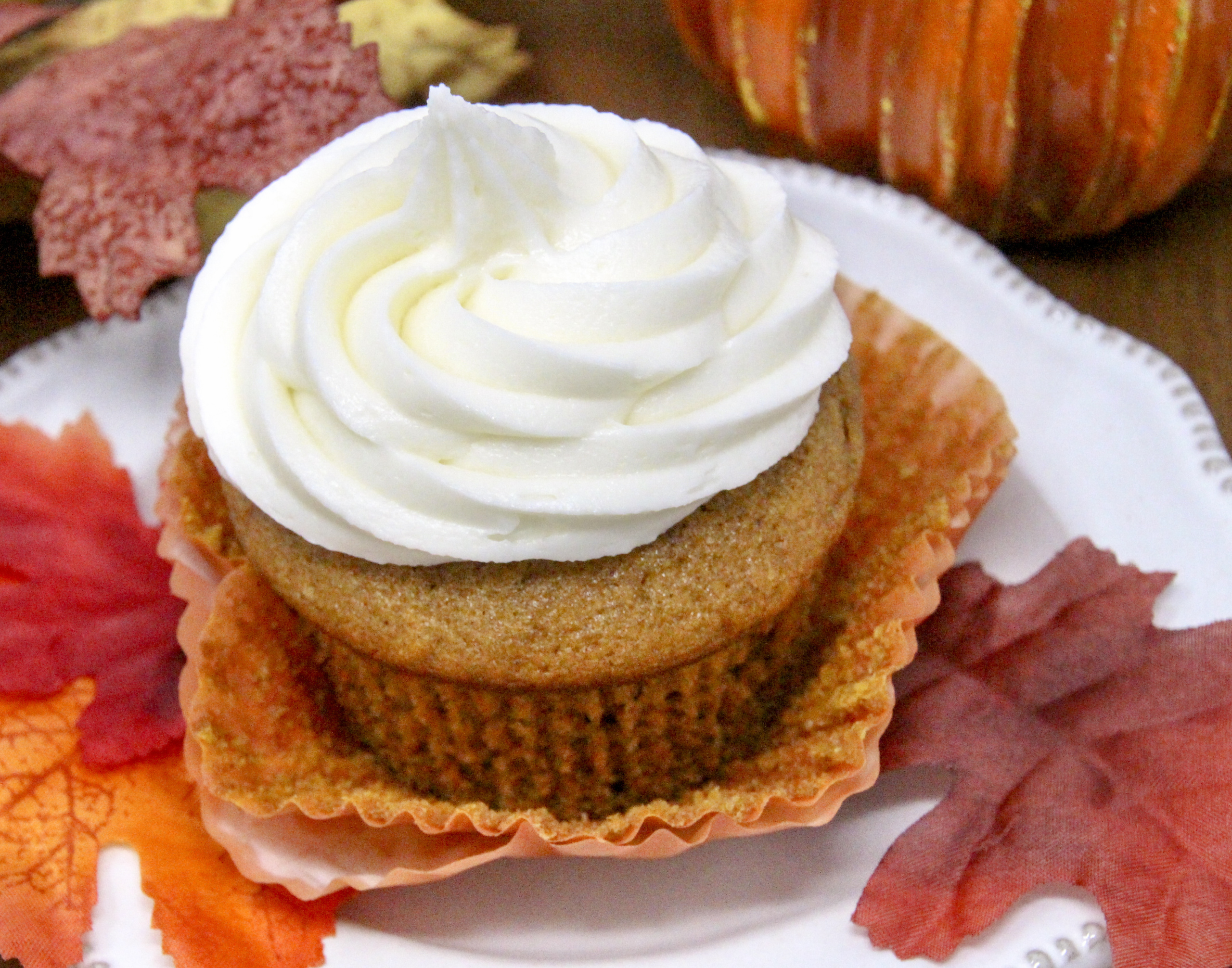 Pin to Pinterest: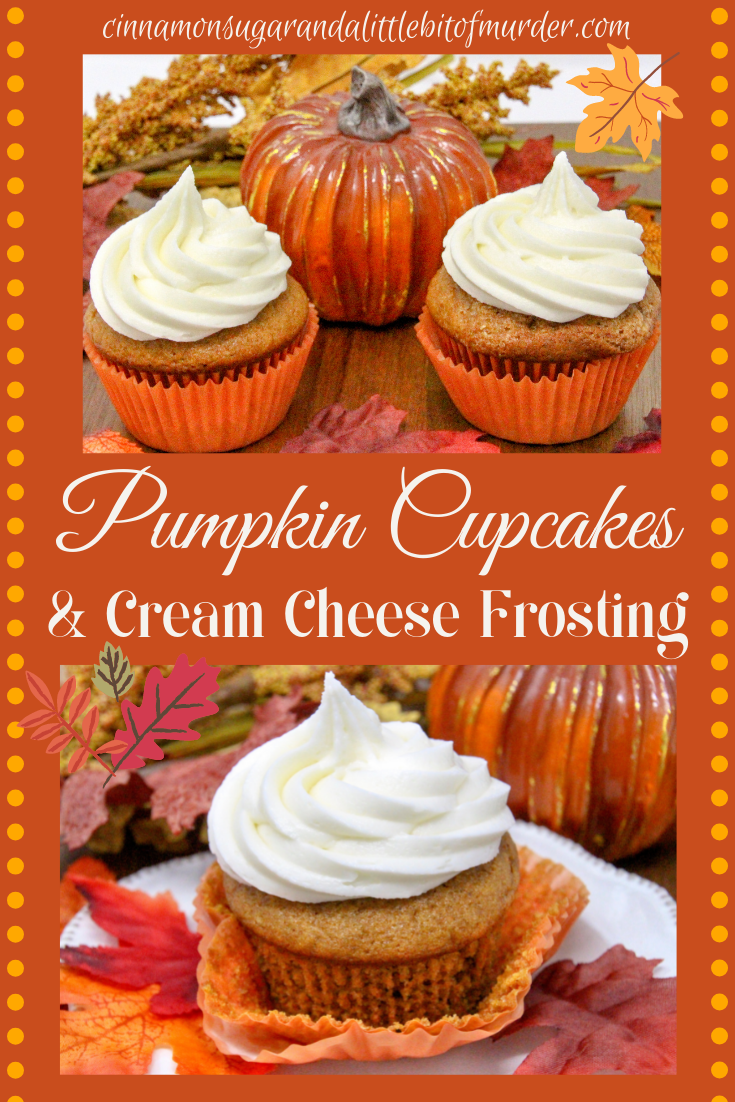 I was provided with an advance copy. All thoughts and opinions are my own.