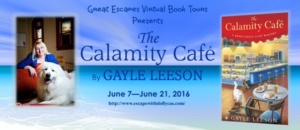 I am very happy to be a part of the Great Escapes Virtual Book Tour with the first book in a brand new series, THE CALAMITY CAFÉ by Gayle Leeson! While it's always comforting to sit down with a book where the characters are well known in a long running series, there's something very exciting about getting to start a brand new series with the very first book right when the author releases it. It's like I'm taking a journey with the author and have no idea where we might end up!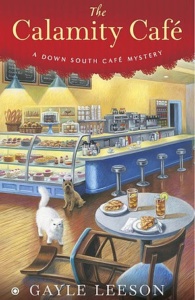 Synopsis
Amy Flowers, a culinary school graduate, dreams of opening her own café, Down South Café. In the meantime, she's been working as a waitress for Lou Lou, a mean-spirited bully who steals half their tips and doesn't even bother to pay them minimum wage. When Amy's grandmother passes away, she leaves Amy a sizable inheritance. Amy decides to buy Lou Lou's Joint and turn it into her dream. Lou Lou, however, has no intention of selling to Amy. Pete, Lou Lou's son, has other ideas though and asks Amy to meet his mother along with Winter Garden's only attorney after closing. Pete is sure he can convince his mother to sell. Amy arrives at the Joint and finds Lou Lou alone…and murdered.
The local sheriff shows up with a new deputy in tow, Ryan Hall. Deputy Hall is easy on the eyes and takes an interest in Amy. Amy feels, however, that she's living under a cloud of suspicion and worries that too many people may think she killed Lou Lou. She was, after all, the one to find the victim, had a conflict over wanting to buy Lou Lou's restaurant, and her missing necklace was found beneath the dead body. Amy determines that it wouldn't hurt to ask a few questions and see if any of the answers provide clues to the murderer. Except the killer isn't too happy with her digging into the past and may decide to put an end to her nosiness. Can she stay one foot ahead of the culprit or will she become the next victim?
My Review
This is a stellar start to the Down South Café Mystery series! Amy lives and works in a small Virginia town and it is heartwarming to find so many people rally around her after the murder and while she is trying to get her new café up and running. The "regulars" at Lou Lou's Joint are true characters and I especially enjoyed getting to know Homer. Homer has a new hero every day, such as Henry Ford, past presidents, notable celebrities and authors, and always provides a thought provoking quote from his current hero. Homer adds to the heart of the story. Amy also has a kind, generous heart and is quick to take in strays, be it animal or in human form. The author deftly weaves an 80-year-old robbery and murder mystery that's shrouded in gossip and folklore into the current day plot, which kept me turning pages. She provides many suspects since Lou Lou never met a person she didn't offend and I was kept guessing up until the very end. I look forward to reading future books in this series!
Of course there wouldn't be a Down South Café without delicious food! Gayle provides many recipes with her book and has allowed me to share her recipe for Preacher Cookies. When I received the recipe I was intrigued since I've never heard of them, so did a bit of research (the author also provides a brief background in her book as well). These cookies got their name from the "olden" days, when preachers would walk the countryside to visit their flock. A family would see the preacher in the distance heading their way and could whip these cookies up in no time, thereby providing refreshments by the time he made it to their porch. Using pantry and dairy staples, these delicious no-bake cookies can be made in bar form or as a drop cookie. Since I didn't have to worry about a "preacher" or anyone showing up unexpected, I jazzed the recipe up some by creating both a plain peanut butter layer and a chocolate layer, then drizzling chocolate over the chilled bars, giving both visual appeal and an added depth of flavor. I've included a tip on how to make these gluten-free as well. Thank you, Gayle, for allowing me to share your yummy recipe!

Be sure to enter to win a $50 Amazon gift card, courtesy of Gayle Leeson and given away by the Great Escapes Virtual Book Tour. Please enter via the Rafflecopter located below the recipe.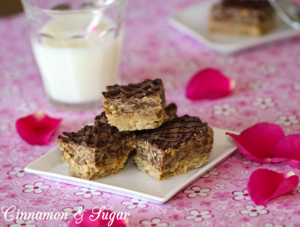 Preacher Cookies
Ingredients
Cookies
2 cups sugar
1/2 cup (1 stick) butter
1/2 cup cream
3/4 cup peanut butter (smooth or crunchy, your choice)
1 teaspoon vanilla
2-1/2 cups quick oatmeal**
For chocolate cookies, add one to two tablespoons of cocoa.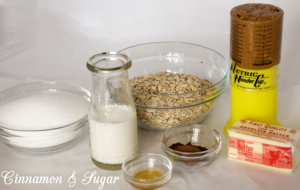 Chocolate Drizzle
1/2 cup chocolate chips
1/2 teaspoon vegetable shortening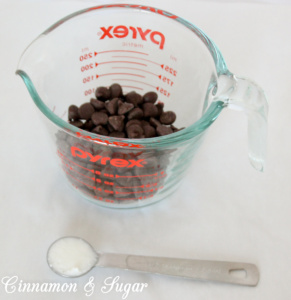 Instructions
The author provides super easy instructions. But because I can't help myself, I've added my own detailed instructions for my variation below her directions, along with a video tutorial below the Rafflecopter.
Author's Instructions
Mix and boil all cookie ingredients for 1-/2 minutes. Spread into greased pan. Refrigerate.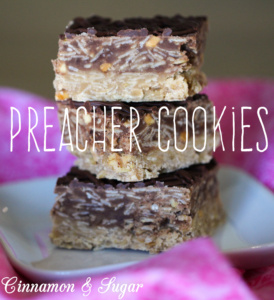 My instructions for peanut butter and chocolate layered Preacher Cookies with chocolate drizzle:
Cookies
Line an 8-inch x 8-inch baking dish with foil, allowing the ends of the foil to drape over the edges of the pan to create handles. Spray with non-stick cooking spray.
Combine the sugar, butter, and cream together in a medium-sized saucepan. Bring to a rolling boil and cook for 1-1/2 minutes.
Remove from the heat and stir in the peanut butter and vanilla, then add the oatmeal.
Once combined, spread half the mixture evenly into the prepared pan.
Add 1 to 2 tablespoons cocoa powder to the remaining cookie mixture and stir until thoroughly incorporated.
Spread chocolate cookie mix on top of peanut butter cookie layer.
Refrigerate until thoroughly chilled, at least one hour.
Using the foil handles, pull the cookies from the baking dish.
Chocolate Drizzle
Heat the chocolate chips and vegetable shortening in the microwave for 30 seconds on high power.
Stir and heat in additional 10 second increments, stirring each time, until mixture is smooth.
Place chocolate in a pastry bag or ziplock bag, snip the corner and drizzle over the bars.
Refrigerate 15 minutes to allow the chocolate to set and then cut into squares.
Store in the refrigerator for up to one week.
Tips
** I used gluten-free old-fashioned oats (I couldn't find gf quick oats) so I could eat these but the end product was a bit on the chewy side. Still quite tasty though and I enjoyed them! Quick oats are the best choice if gluten is not an issue. If gluten is an issue, but sure to use gf vanilla.
The cookie mix can be made into individual cookies as well. Drop tablespoon-size dollops of hot cookie mix onto a baking sheet lined with parchment paper. Refrigerate for 1 hour then serve.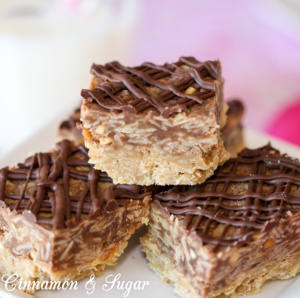 If you receive my blog post via email you will need to visit my website to view the video.
Tour Schedule
June 7 – Moonlight Rendezvous – Review
June 7 – The Self-Rescue Princess – Character Interview
June 8 – Reading Is My SuperPower – Review, Giveaway
June 8 – Book Babble – Review
June 8 – Queen of All She Reads – Review, Giveaway
June 9 – Sapphyria's Book Reviews – Review
June 9 – Community Bookstop – Review, Giveaway
June 10 – Cinnamon, Sugar and a Little Bit of Murder – Review
June 10 – Books Direct – Guest Post, Giveaway
June 10 – Mystery Playground – Guest Post – Drinks and Reads
June 11 – Booklady's Booknotes – Review
June 12 – Shelley's Book Case – Review, Giveaway
June 13 – A Holland Reads – Review, Character Guest Post, Giveaway
June 14 – Books, Movies, Reviews. Oh my – Review
June 14 – Classy Cheapskate – Review
June 15 – Back Porchervations – Review
June 16 – The Book's the Thing – Review
June 16 – Island Confidential – Interview
June 17 – Melina's Book Blog – Review
June 18 – Brooke Blogs – Review, Guest Post, Giveaway
June 19 – I Read What You Write – Review, Interview
June 20 – Jersey Girl Book Reviews – Review, Character Guest Post, Giveaway
June 20 – cherylbbookblog – Review
June 20 – StoreyBook Reviews – Review
June 21 – Cozy Up With Kathy – Review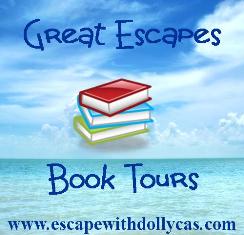 I was given a copy of the book in exchange for an honest review. All thoughts and opinions are my own.