DYING FOR DEVIL'S FOOD, the eleventh book in the Cupcake Bakery Mystery series, by Jenn McKinlay, is another fun addition to an entertaining series! The three long-term friends, who banded together during the tumultuous years during high school, have created a successful chain of cupcake bakeries called Fairy Tale Cupcakes. I greatly admire the strong bond between Mel (Melanie), Angie, and Tate and how they have strengthened their friendship throughout the years. It's been fun watching them evolve throughout the series while the author inserts lots of laugh out loud humorous moments. In DYING FOR DEVIL'S FOOD, Ms. McKinlay recreates the angst of bullying in high school when the committee planning their fifteen class reunion asks Mel and Angie to design and provide a huge order of cupcakes for the party. Mel, a victim of bullying, is adamant that they aren't going to do it and she will not attend their reunion. Angie, on the other hand, has her own plans and she creatively changes Mel's mind through joining forces with their bakery's nemesis.
While murder is never good, it's a little more palatable when a truly awful person is the victim. Such was the case in this newest release. A bully that tormented Mel all through high school and hasn't grown out of that bullying, is found murdered in the ladies' room. Unfortunately it's Mel that finds the victim. Ms. McKinley weaves clues into a tightly plotted tale of angst, ambition, and acceptance. There are many suspects (because there's almost no one who didn't hate the victim) but still the author manages to bring some twists and turns to surprise the reader. With a heartwarming ending, this reader is looking forward to the next book in this series.
Fairy Tale Cupcakes serves an amazing assortment of delectable cupcakes! Ms. McKinlay offers several delicious recipes at the back of the book and they all sound mouthwatering. I was drawn to the Pineapple Upside-Down Cupcakes because they provide a gorgeous presentation without relying on heavy buttercream. Perfect for hot summer months when frosting can melt during outdoor picnics or parties. Plus, the generous amount of pineapple keeps the mini cakes super moist.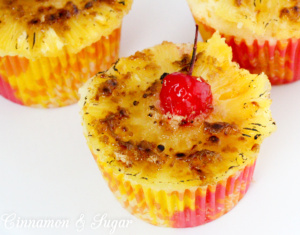 Amazon Synopsis
Melanie Cooper has zero interest in catering her fifteen-year high school reunion, but Angie insists it's only right that they bask in the success of Fairy Tale Cupcakes–and Mel's engagement to the delicious Joe DeLaura is the cherry on top!
Everything is going better than expected until Cassidy Havers, resident mean girl and Mel's high school nemesis, picks a fight. No longer willing to put up with Cassidy's bullying, Mel is ready to tell the former homecoming queen to shut her piehole and call it a night. But as Mel and Joe prepare to depart, Cassidy is found dead in the girl's bathroom, next to a note written in lipstick that points right to Mel–making her the prime suspect.
Now, Mel must follow the clues to find the real killer and keep her reputation from being frosted for a crime she didn't commit.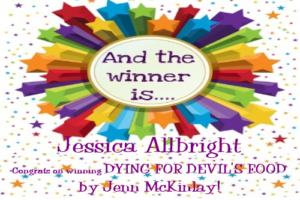 I'm please to have a print copy of DYING FOR DEVIL'S FOOD for one lucky winner. Contest ends Monday, June 24, 2019 at 11:59 pm PST and is open to U.S. and Canadian residents. Please use the Rafflecopter box located below to enter. The winner will be announced on this page and on Cinnamon & Sugar's Facebook page, as well as notified by email (so check your spam folder!)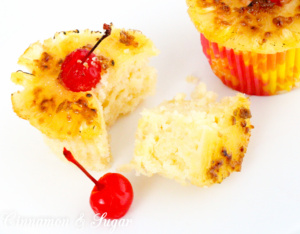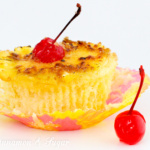 Pineapple Upside-Down Cupcakes
A rich, buttery pineapple cake topped with a caramelized pineapple ring and maraschino cherry.
Ingredients
1/2

cup

(1 stick) butter, softened

3/4

cup

sugar

2

eggs

1

teaspoon

vanilla extract

1-2/3

cup

all-purpose flour

1

teaspoon

baking powder

1/2

teaspoon

salt

1

(8-ounce)

can crushed pineapple, undrained
Topping:
12

pineapple rings

12

maraschino cherries

Brown Sugar
Instructions
Preheat oven to 350 degrees. Line cupcake pan with paper liners.

In a large mixing bowl, cream together butter and sugar until light and fluffy. Add the eggs and vanilla.

In a medium bowl, sift together the flour, baking powder, and salt.

Alternately, add the flour mixture and the crushed pineapple to the butter and sugar mixture, mixing until batter is smooth.

Fill paper liners until two-thirds full. Place one pineapple ring and one cherry on top of each cupcake.


Bake for 17 - 22 minutes until golden brown.

After cupcakes cool, sprinkle brown sugar on top of the pineapple ring and use a kitchen torch to caramelize the sugar and pineapple.

Leave plain or top with vanilla buttercream.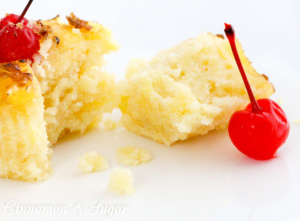 Pin to Pinterest: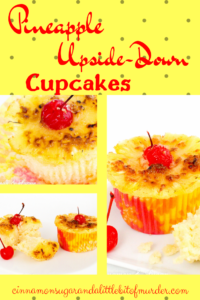 If you receive my blog post via email you will need to visit my website to view the video.