A warm tropical location, colorful characters, and a plot that keeps you turning pages sums up Catherine Bruns' brand new release, DEATH OF THE BIG KAHUNA. The sixth book in the Aloha Lagoon Mystery series, which is written by different authors, DEATH OF THE BIG KAHUNA is Catherine's first contribution to the series and the first I've read…and I'm hooked!
I so enjoyed the protagonist, Carrie Jorgenson. She's had a very difficult life and has moved from Vermont to Hawaii to escape it, thinking once she's reunited with her surfer boyfriend, life will be perfect…except it's not. Carrie starts the story out as a weak personality, wanting to please everyone else without regard to her own well being but discovering the murder victim provides the catalyst for her personal growth. Not only does the author portray Carrie becoming a stronger person but she also provides more humorous moments. I got several laughs over her desire to become a professional singer when in reality her voice can end a karaoke party pretty quick. And then there's Tad, a quirky character, full of life and encouragement, and I'm hoping that he will fill the role of future sidekick. The story starts out with a quick pace that continues throughout the entire book. There are many, many people who wanted the Big Kahuna dead and the author kept me guessing the entire time, right up to the suspenseful finale!
Catherine includes several recipes at the back of the book, including Poncho's Pineapple Salsa, which she has graciously allowed me to share. Poncho is the chef at Loco Moco Café where Carrie works and where the Big Kahuna meets his demise. Terrific as an appetizer served alongside tortilla chips or served over grilled fish or chicken, this dish will transport you to tropical paradise! I've been to Hawaii numerous times and one of the must-have dishes is Pulled-Pork sandwiches. Catherine includes a recipe for Pulled Pork in her book and my husband is dying for me to make it. Made in a slow-cooker, it will be the perfect accompaniment for Super Bowl parties along with Poncho's Pineapple Salsa!
Amazon Synopsis
From USA Today bestselling author Catherine Bruns, comes an Aloha Lagoon Mystery that proves sometimes paradise isn't all it's served up to be.
New to both Hawaii and the Aloha Lagoon Resort, Carrie Jorgenson has big dreams of stardom. But while she awaits fame and fortune, she's forced to accept a job waitressing at the resort's The Loco Moco Café. It isn't long before she discovers the dish on her new boss—also known to many as "The Big Kahuna." Hale Akamu is rich, handsome, repulsive…and dead. When Carrie discovers Hale's lifeless body, she's suddenly forced into yet another role—amateur sleuth. With everyone from Carrie to the saucy chef to the café's hot assistant manager under suspicion, Carrie needs to track a killer before she becomes his next main entrée!
Be sure to grab a copy DEATH OF THE BIG KAHUNA while it's on sale for $0.99! This special release price ends soon.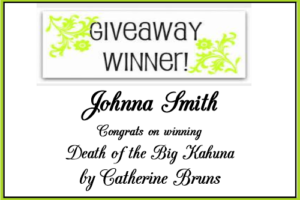 A huge thank you to Catherine Bruns for providing winner's choice of either a print copy or an e-book copy of DEATH OF THE BIG KAHUNA for one lucky winner! Print limited to U.S. residents only. Contest ends Monday, January 30, 2017 at 11:59 pm PST. Please use the Rafflecopter box located below the recipe to enter. The winner will be announced on this page and on Cinnamon & Sugar's Facebook page, as well as notified by email (so check your spam folder!)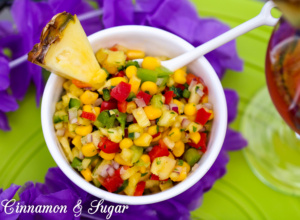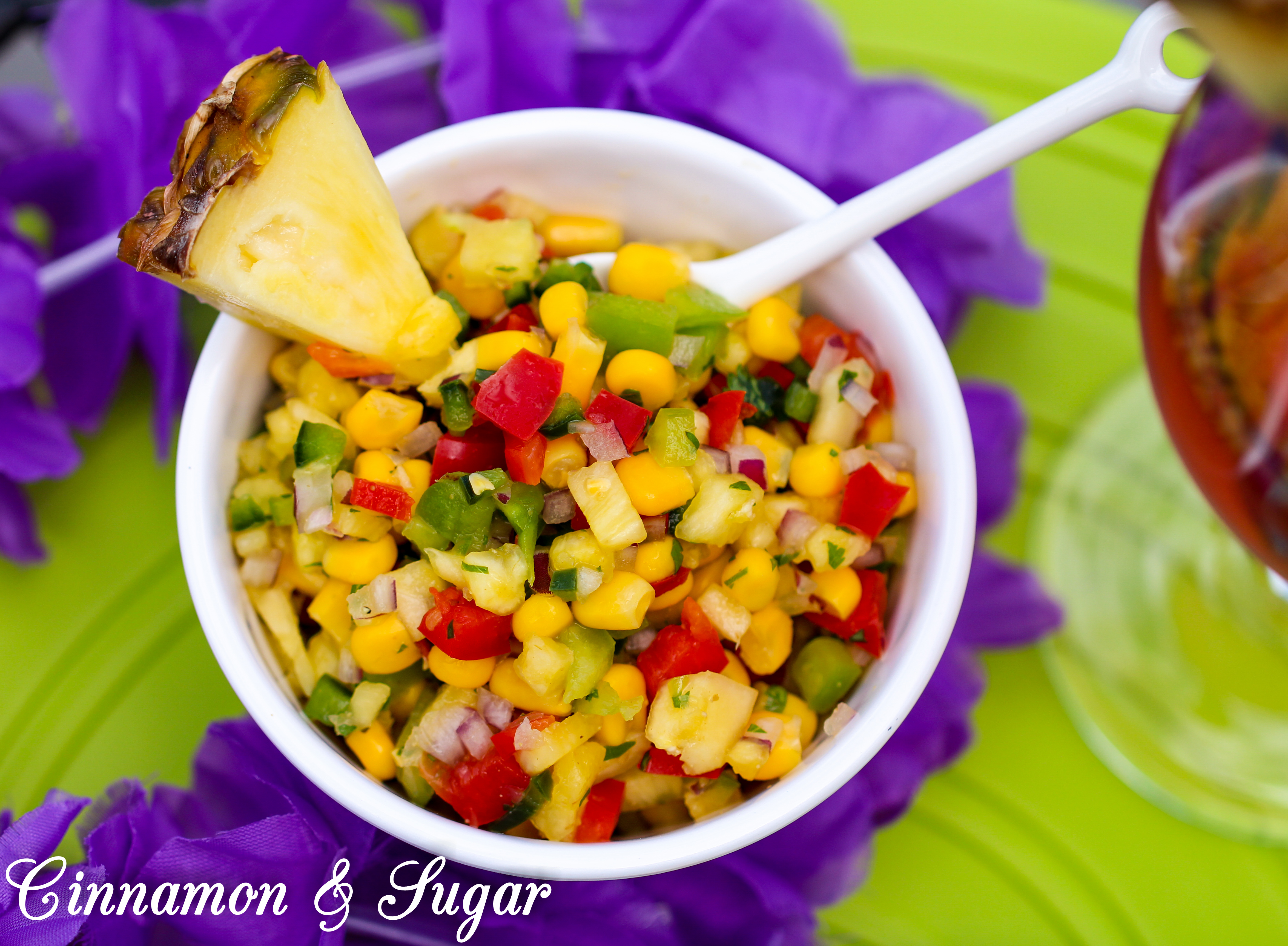 Ingredients
1 cup finely chopped fresh pineapple
1/2 cup diced red bell pepper
1/2 cup diced green bell pepper
1 cup frozen corn kernels, thawed
1/4 cup chopped onions
2 green chile peppers, chopped
1/4 cup orange juice
1/4 cup chopped fresh cilantro
1/2 teaspoon ground cumin
Dash of salt and pepper
Instructions
In a large bowl, mix together pineapple, red and green peppers, corn, onions, green chile peppers, orange juice and cilantro.
Season with cumin, salt and pepper.
Cover and chill in fridge until serving.
Serve with tortilla chips or as a side dish. It pairs perfectly with grilled fresh fish or chicken!

Tip

Most major chain grocery stores sell pre-cut fresh pineapple.
https://cinnamonsugarandalittlebitofmurder.com/pineapple-salsa/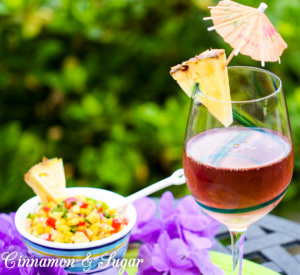 Pin to Pinterest: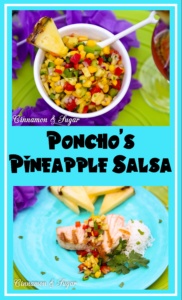 If you receive my blog post via email you will need to visit my website to view the video.
I received a copy in exchange for my honest review. All thoughts and opinions are my own.