I love anything to do with whales! I find them to be majestic, a bit mysterious, creatures that captivate my imagination. I had the lovely good fortune to be in Hawaii one early March during the whales migration and experience a whale breaching at least 30 times within a 20 minute period! Since I am highly susceptible to motion sickness I avoid boats but this whale came close to shore and we could watch from firm ground. It was magnificent and a truly unforgettable experience!
I was delighted to pick up the new release, WHALE OF A CRIME, the seventh book in the Gray Whale Inn Mystery series by Karen MacInerney. I've been a long time fan of this series, and while I haven't read every single one (they're on my Kindle waiting for me!) each book is easily read as a standalone. Karen includes heart-tugging scenes regarding the plight of whales and I appreciate how she wove facts about these magnificent mammals into her story. The protagonist, Natalie Barnes, is a personable young woman and as owner of the Gray Whale Inn, finds herself surrounded by colorful characters that add to the appeal of this series. She has a sweet relationship with her niece, Gwen, and I enjoyed seeing their interaction. When Gwen's mother (and Natalie's sister) shows up, the fireworks start with the contentious relationship. It adds drama to the story, without detracting from the plot, and had me hoping for a reconciliation. The author deftly wove this subplot into the grand finale with satisfying results.
The mystery itself kept me guessing and I so enjoyed the multi-layered subplots. Between a murder, an old crime of a stolen tiara, someone sabotaging Natalie's inn, an abandoned kitten, and a whale in distress, the book was never slow. I had a hard time putting it down when it was time to attend to other commitments. Be prepared to be hungry while reading this book as both Natalie and her husband, John, are great cooks! Fortunately, Karen includes numerous recipes at the back of the book, and they all sound fabulous. Karen was gracious enough to allow me to share her recipe for Oatmeal Raspberry Crumble Bars. Oh my, this is one of those treats that I really didn't want to share with anyone else. Super easy to make, I adapted it to make it both gluten-free and dairy-free so I could share with my husband and my granddaughter's therapist. See, I did share after all! These delectable bars are melt-in-your-mouth yummy with the sweet tang of raspberry jam and I will certainly be making this again soon!
Amazon Synopsis
When a tour company books the Gray Whale Inn for a full week, innkeeper Natalie Barnes can't wait to get cooking — and to hitch a ride on the antique schooner Summer Winds, getting up close and personal with the local whales. But when one of the humpback whales turns up dragging a mass of fishing gear from its tail, the tour takes a dark turn. It turns darker still when the schooner's handsome captain winds up attached to the vessel's anchor, sixty feet underwater… and not by accident. Before long, the tour naturalist (and Natalie's best friend's beau) is behind bars, charged with a murder Charlene swears he didn't commit. Stir in a surprise visit from Natalie's quarrelsome sister, midnight kitchen sabotage, a sick orphan kitten, and a mysterious investor with plans for a massive resort on the quaint island, and Natalie's got a recipe for potential disaster. When a second body turns up just outside the inn, the heat is on Natalie to solve the double murder… or risk ending up with her own goose cooked.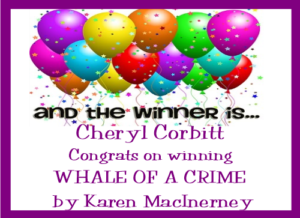 A special thank you to Karen MacInerney for providing an e-book copy of WHALE OF A CRIME for one lucky winner! Contest ends Thursday, February 2, 2017 at 11:59 pm PST. Please use the Rafflecopter box located below the recipe to enter. The winner will be announced on this page and on Cinnamon & Sugar's Facebook page, as well as notified by email (so check your spam folder!)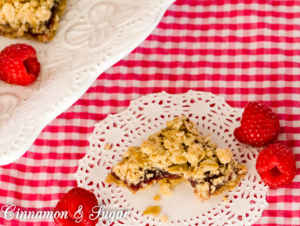 Oatmeal Raspberry Crumble Bars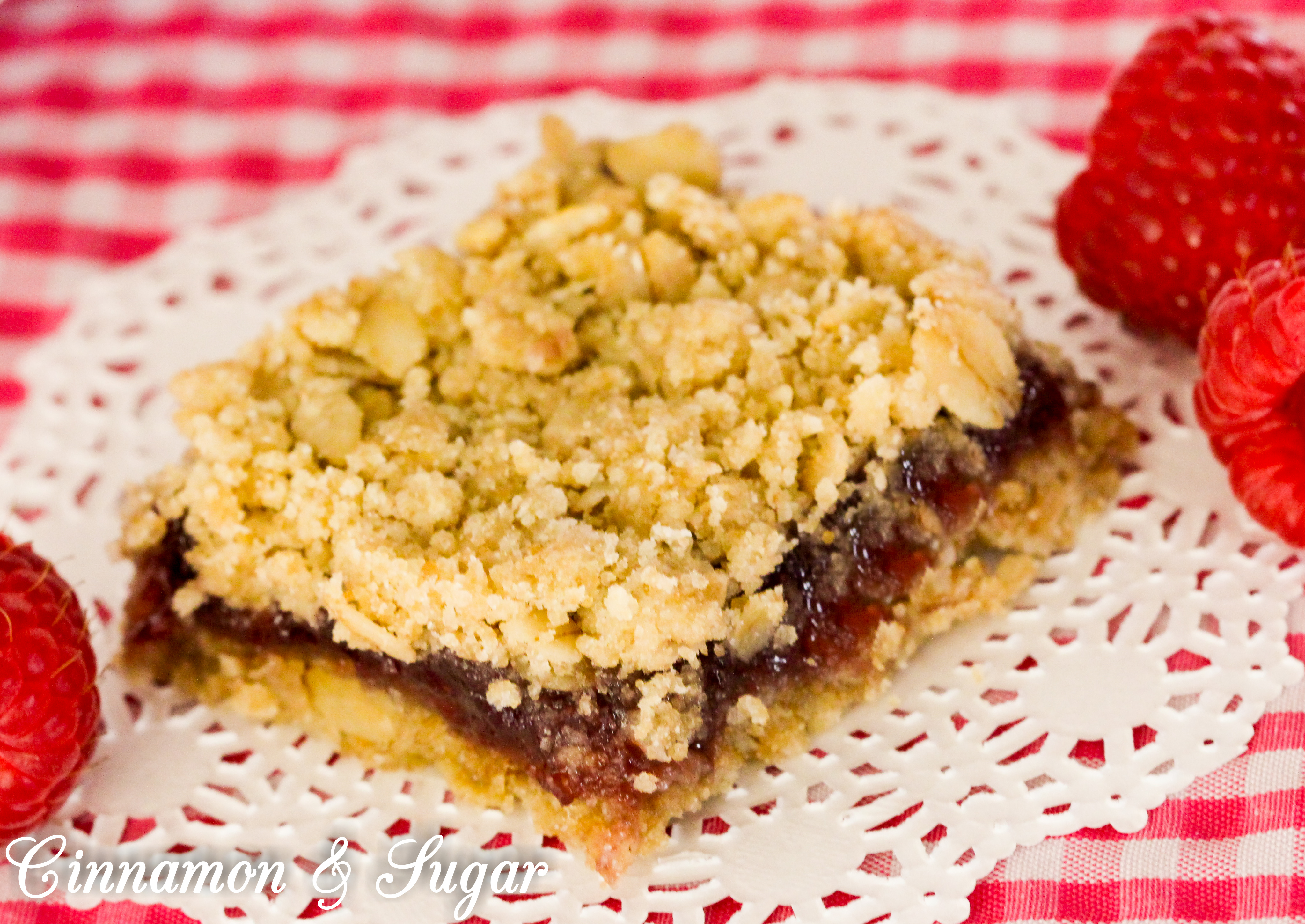 Ingredients
1/2 cup packed light brown sugar
1 cup all-purpose flour (or gluten-free all-purpose flour)
1/4 teaspoon baking soda
1/8 teaspoon salt
1 cup rolled oats
1/2 cup butter (or vegan margarine, such as Earth Balance) softened
3/4 cup seedless raspberry jam
Instructions
Preheat oven to 350 degrees (F).
Grease an 8-inch square pan, then line it with greased foil.
Combine brown sugar, flour, baking soda, salt, and rolled oats in a medium-sized bowl.
Rub in the butter using your hands or a pastry blender to form a crumbly mixture.
Press 2 cups of the mixture into the bottom of the prepared pan.
Spread the jam to within 1/4 inch of the edge.
Sprinkle the remaining crumb mixture over the top and press lightly into the jam.
Bake for 35 to 40 minutes or until lightly browned.
Allow to cool before cutting into bars.
https://cinnamonsugarandalittlebitofmurder.com/oatmeal-raspberry-crumble-bars/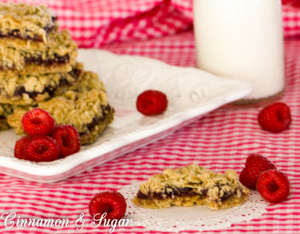 Pin to Pinterest: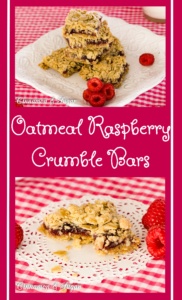 If you receive my blog post via email you will need to visit my website to view the video.