Summer brings so many delicious treats from nature and peaches are at the top of my list for enjoying during the short season. I was excited when I received a copy of PEACHES AND SCREAM by Susan Furlong a couple weeks ago and found a delectable recipe for preserving the taste of summer so I could enjoy it year round.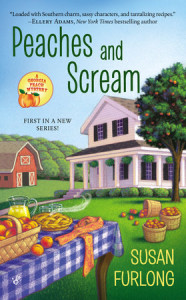 First off though, PEACHES AND SCREAM (a Georgia Peach Mystery and the first book in Susan's new series) is a delightful read! I loved the title from the first moment I saw it along with the cute Georgia Belle facts that appears at the beginning of each chapter. Susan does a wonderful job weaving "mini-mysteries" throughout the book…everyone has secrets to hide, including the protagonist, and she keeps you guessing until the very end.
Nola Mae Harper has spent the last 15 years traveling around the world as an aide worker with a humanitarian organization and hasn't been home to visit her family in almost 3 years. But when the organization relegates her to desk duty and her parents win a 3-week cruise thanks to her mother's peach recipe, Nola returns to Cays Mill, Georgia to help run the family peach farm. Walking through the peach orchard the morning after her parents' anniversary and send-off party, Nola finds one of the guests, Ben Wakefield, murdered. Her very pregnant sister's scarf is found wrapped around his neck and it's not long before Nola's brother-in-law, Hollis, becomes the prime suspect. To make matters worse, she finds that the family's peach farm is in financial hardship and with the lack of funds the trees are distressed and could be dying. When the local sheriff, who happens to hold a long-time grudge against Nola's sister, refuses to look any further than Hollis as a suspect, Nola decides she must find the murderer and save her family and their livelihood.
In addition to telling a great story, Susan also includes some fantastic recipes. Honestly I had a very difficult time deciding which one to make first! In the end I chose Harper's Spiced Peach Preserves and Susan has graciously allowed me to share with you – thank you!!! Harper's Spiced Peach Preserves combines the taste of juicy summer peaches with the warm fall flavors of allspice and ginger. I think the combination is perfect, especially as we ease towards September. I also appreciated the author including instructions on using frozen peaches, which means I can enjoy this treat year round.
Of course yummy peach preserves should have a base to go on…although I'll admit I enjoyed eating the jam straight out of the jar on its own. So I've also included a recipe for It's So Easy It Shouldn't Taste This Good No-Knead Rustic Bread, inspired by King Arthur Flour. Literally it takes all of 5 minutes to mix up! After a rest period there is minimal fuss in forming the rustic loaves and baking. My bread recipe along with a video tutorial follow's Harper's Spiced Peach Preserves recipe. Enjoy!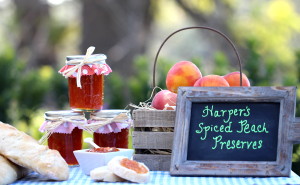 Harper's Spiced Peach Preserves
Ingredients
4 cups fresh peaches (or 4 cups frozen peaches macerated in sugar*)
2 lemons, juiced
1 package powdered pectin
5 cups sugar
1 teaspoon allspice
1 teaspoon finely grated ginger
7 8-ounce jelly jars & lids, sterilized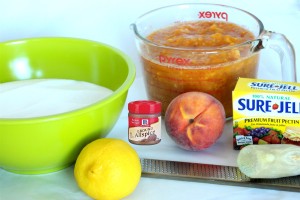 Instructions
Blanch peaches for easy removal of skins by placing in boiling water for 30 seconds and then immediately rinsing with cold water.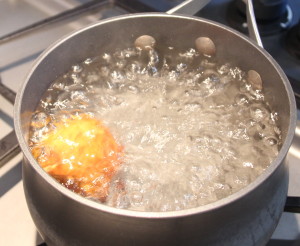 Peel, pit and chop peaches (I used my food processor to chop – just don't puree since you want some small chunks).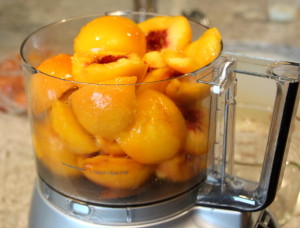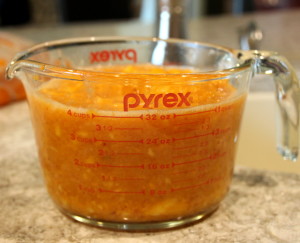 In a large pot combine peaches, the juice of 2 lemons, pectin, allspice and grated ginger.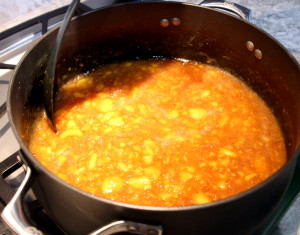 Stirring continuously, bring mixture to a full rolling boil (one that cannot be stirred down) and add sugar.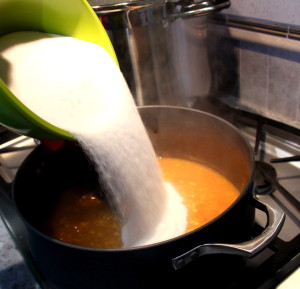 Bring mixture back up to a boil and cook for an additional minute.
Remove from heat and skim foam from the surface.
Ladle into sterilized jelly jars leaving 1/4-inch headspace.
Wipe the rim with a clean paper towel.
Center sterilized lid on the jar and screw on the band until firmly in place.
Place jars into boiling water bath and process for 5 minutes.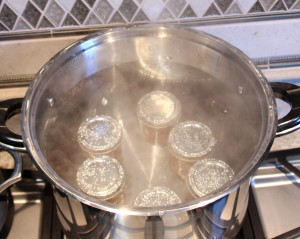 Remove and let cool.
After twenty-four hours, check each jar for proper sealing.
Properly processed preserves can be stored in the cupboard for one year.
* Frozen Peaches: If you're too busy during peach season to make preserves, freeze your fresh peaches and make preserves anytime of year! The key is to macerate the frozen peaches in sugar as they thaw. This will prevent your preserves from becoming runny.
Here's how: Place 4 cups of frozen peaches in a large bowl and cover with 2 cups of sugar (reserved from the initial 5 cups). Make sure the peaches are completely coated and allow them to thaw at room temperature. The sugar will absorb excess liquid from the thawing peaches. Proceed with the rest of the recipe as directed, remembering to add only 3 cups of sugar after fruit mixture has reached a full rolling boil.
Tip
To easily grate fresh ginger, peel the root, place in a freezer-safe ziplock bag and freeze for about 1 hour. Using a microplane zester, grate the amount of frozen ginger called for in the recipe. Store unused ginger in the freezer until needed again. Freezing fresh ginger and then grating eliminates the fibers that tangle and clog graters.
I make a lot of bread every week for my family and always have my homemade sourdough rolls on hand since they are my husband's favorite. When I came across this recipe from King Arthur Flour I was skeptical…no knead dough that could sit in the refrigerator for up to a week? With a tang that was reminiscent of sourdough? I was sure it wasn't going to live up to my standards, but I still had to try it out. Oh my…I think my husband has found a new favorite and that's saying something! I don't know how it works, but the longer this dough sits in the refrigerator it smells and taste like sourdough! The rest of the family gave it a two-thumbs up as well. I like the fact that I can mix the dough up within a few minutes on the weekend and then have freshly baked bread a couple times a week without going through all the hassle of digging out all the ingredients and a bread machine. I certainly won't abandon my sourdough starter but this is a nice EASY change!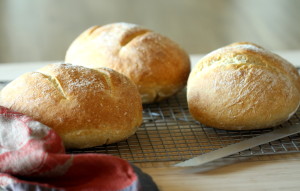 It's so easy it shouldn't taste THIS good!
AKA: No-Knead Rustic Bread
Ingredients
3 cups warm water (100 – 107 degrees)
6-1/2 cups (32 ounces) all-purpose flour, (measure using scoop & level method)
1 tablespoon salt
1-1/2 tablespoons instant yeast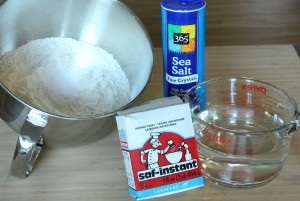 Instructions
In a large mixing bowl (at least 6-quarts) whisk the flour, salt and yeast together.
Mix in the water and stir until the dough incorporates all the flour.
It will look sticky and rough.
Cover the mixing bowl with plastic wrap…or an impeccably clean shower cap…and let rest at room temperature for 2 hours.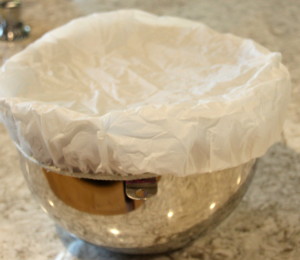 Refrigerate the dough for at least 2 hours or up to 7 days. You can skip the room-temp rise and put the dough straight into the refrigerator but let it rest for at least 8 hours before baking.
The longer you let the dough rest in the refrigerator (up to 7 days) the tangier it becomes, similar to sourdough bread.
When you're ready to bake the bread, sprinkle the top of the dough with a light coating of flour and grease your hands.
Pull a ball of dough from the bowl, about the size of a grapefruit, and place on a floured work surface. I like using parchment paper for forming my bread on and then I can easily transfer the parchment and dough to a baking sheet for cooking.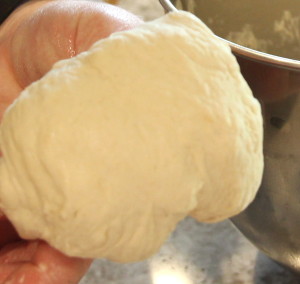 Form the dough into a round ball or baguette shape and sprinkle a light coating of flour on top.
Repeat with remaining dough if desired or cover and return to the refrigerator to use at another time.
Let dough rise for 60 minutes. It won't look like it's risen much but that's okay.
Preheat oven to 450 degrees.
Place a shallow metal pan, filled with 1-1/2 cups of hot water, on the lowest rack in the oven.
Once oven has preheated slash the top of the bread dough 2 or 3 times using a sharp knife. Don't worry if it deflates a bit.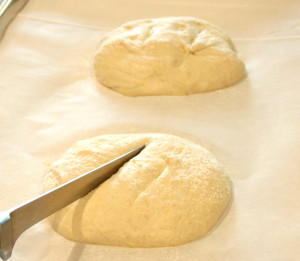 Place the dough into the hot oven and bake 25 – 35 minutes, until crusty and golden brown and internal temperature reaches 190 degrees. Baking time will depend on how large you made the bread.
Cool the baked bread on a wire rack and store any leftovers in a plastic bag at room temperature.
Tip
This Tovolo dough whisk makes quick work mixing up a batch of this dough.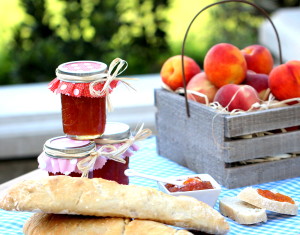 Peaches and Scream was gifted to me by the author but all opinions and views are my own.