Southern Girl Secret #060: "There are only two reasons someone new comes into your life: They're either gonna be a blessin' or a lesson." WAR AND PEACH, the newest release in the Georgia Peach Mystery series by Susan Furlong, is chock-full of fun tidbits like this at the beginning of each chapter. Each "secret" while cute, also has a ring of truth to it that I so enjoyed! Susan has created a tight-knit Georgia peach farming family for the feisty protagonist, Nola Mae Harper. No matter what troubles they find themselves in, they know they have the full support of each other. In WAR AND PEACH, Nola's daddy, Raymond, finds himself in the cross-hairs of the vengeful Sheriff Maudy Payne when she suspects him in the murder of his rival, Clem Rogers. Nola Mae has never understood the antagonistic nature between the two men but as she starts digging into the past to clear her daddy's name, she uncovers secrets that both her parents have tried hard to keep buried. Despite the circumstantial evidence that is found, she has trust that she will find the truth and her daddy will be exonerated.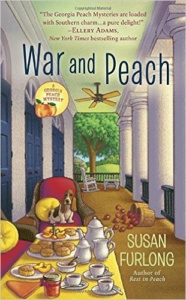 Susan Furlong also deftly explores the prejudices Southerners and Northerners have for each other… or any "newcomer". Apropos for the current events going on in our world today and will hopefully make a reader give pause to consider while at the same time being entertained. The story has a strong plot with several subplots intertwined which connect at the shocking reveal…I just didn't see it coming! With plenty of suspects to keep the reader guessing I had a very difficult time pausing to take notes for this review and it was nearly impossible to put down to attend to other commitments.
Nola Mae has also just opened her peach shop, Peachy Keen. I adored the clever and humorous names she created for her gift baskets and I want to order some of them! Thankfully, the author includes a few recipes at the back of the book so some of her treats can be recreated at home. Susan has graciously allowed me to share her own mother's recipe for Ginny Wiggins's Perfect Peach Cake. Using a boxed cake mix as the base, a few simple pantry and dairy ingredients are added, resulting in a delicious, beautiful dessert! I love knowing that this is an old family recipe and I always like having recipes that riff on boxed cake mixes on hand. Thanks to my granddaughter, Emory, for making this cake for our family!
Amazon Synopsis
Nola Mae Harper is too busy restocking the jars of preserves and chutney flying off the shelves of her shop, Peachy Keen, to keep up with all the gossip about the upcoming mayoral election, but she does know the debate is sure to be a real barn burner.

Local farmer Clem Rogers claims he has a bombshell that could take small business owner Margie Price out of the running. But before Clem can reveal his juicy secret at the debate, his actual barn goes up in flames—with him inside of it. The town casts its vote against Margie, but Nola isn't convinced the hardworking woman is capable of murder. Now to clear Margie's name Nola will have to work fast under pressure, before Margie gets taken in by the fuzz…
A huge thank you to Susan Furlong for providing the choice of any book from her Georgia Peach Mystery series: WAR AND PEACH; REST IN PEACH; or PEACHES AND SCREAM for one lucky winner! Contest ends Monday, February 13, 2017 at 11:59 pm PST. Please use the Rafflecopter box located below the recipe to enter. The winner will be announced on this page and on Cinnamon & Sugar's Facebook page, as well as notified by email (so check your spam folder!)
Ginny Wiggins's Perfect Peach Cake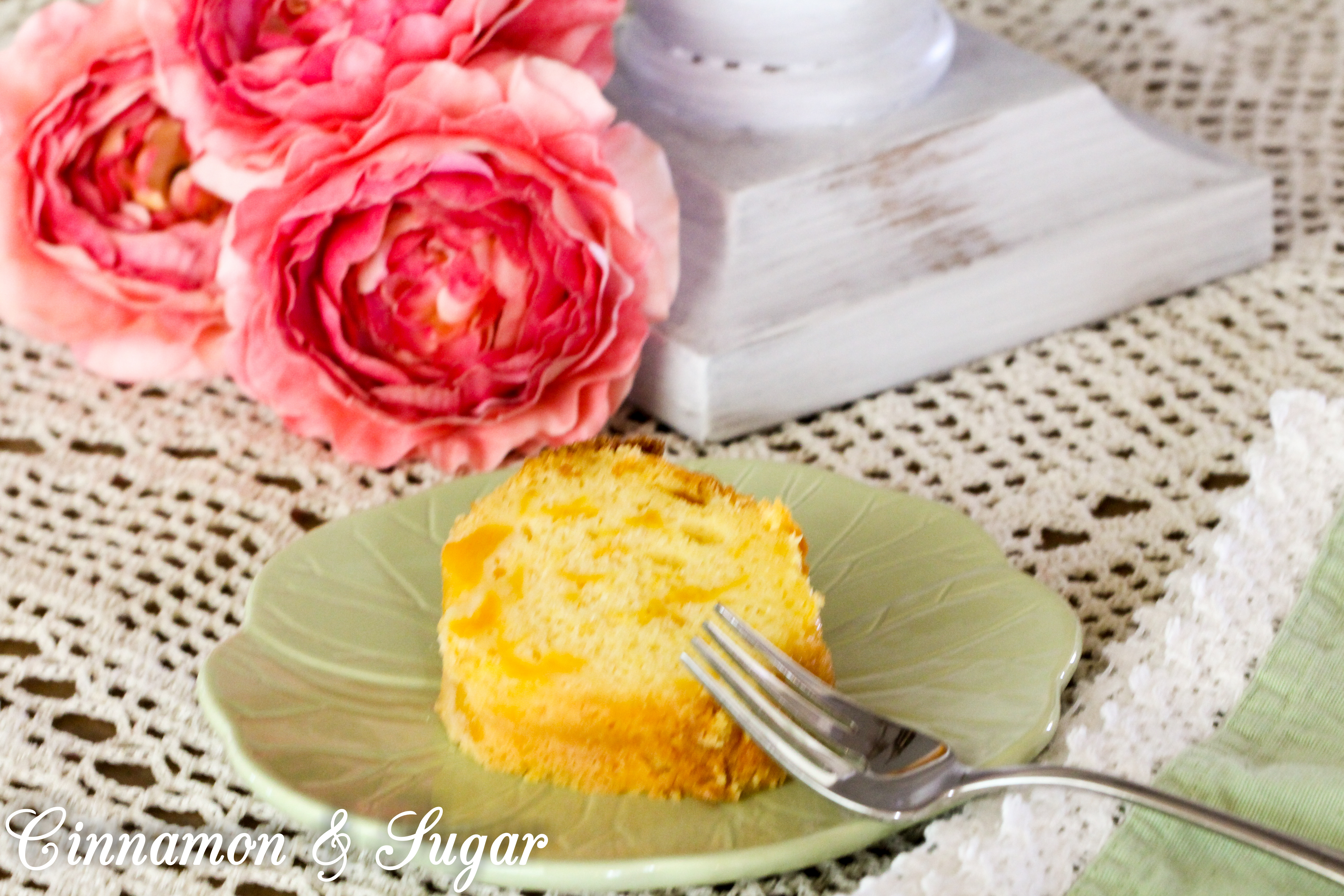 Ingredients
2 cans (15 ounces each) sliced peaches in heavy syrup, divided
1/3 cup vegetable oil
2 eggs
2 teaspoons vanilla extract
1/4 cup sour cream
1 (15.25-ounce) box yellow cake mix
Instructions
Preheat oven to 325 degrees (F).
Lightly butter and flour a 10-inch Bundt pan.
Drain 1 can of peaches and discard the syrup.
Arrange peach slices evenly on the bottom of the Bundt pan and set aside.
With an electric mixer, beat together oil, eggs, vanilla, sour cream, and the remaining can of peaches with syrup and any leftover peaches from the first can.
Add the cake mix and continue to beat the mixture until it's smooth.
Pour the batter into the prepared pan and bake for approximately one hour, or until cooked through.
Cool completely.
After cooled, loosen cake from the sides of the pan and invert onto a cake plate.
*Hattie's version: For a little extra kick, Hattie likes to substitute the peach syrup in the batter with 1/4 cup of Peach Jack or dark rum.
https://cinnamonsugarandalittlebitofmurder.com/peach-bundt-cake/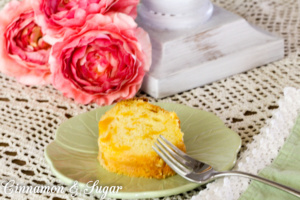 Pin to Pinterest: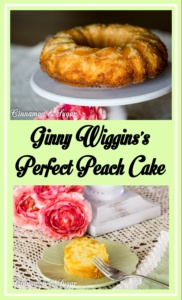 If you receive my blog post via email you will need to visit my website to view the video.
** If you read the recipe then watched the video you will notice Emory and I didn't follow the directions exactly. Somehow we both missed the part where you beat everything together EXCEPT the cake mix, then add the mix in…lol! No worries though, it turned out super yummy anyway!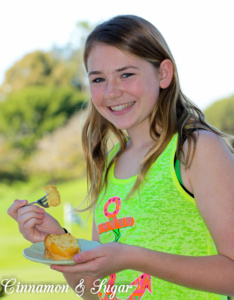 I received a copy in exchange for my honest review. All thoughts and opinions are my own.