A couple years ago I downloaded the first book in the Alvarez Family Murder Mystery series by Heather Haven and loved it. I purchased another two books in the series but they somehow got buried in my long list of to-read Kindle books and I never got around to reading them. By chance, I ended up sitting at dinner with Heather at the Left Coast Crime banquet in Phoenix this past February. As soon as I heard what she authored, I remembered how much I enjoyed her book and vowed to read more. Once I returned home from Phoenix, I started reading DEAD….IF ONLY, and immediately lost myself in this story that kept me on the edge of my seat.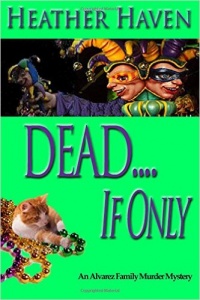 Synopsis
With a black belt in karate, Lee Alvarez is the in-house Private Investigator for her family's company, Discretionary Inquiries, in California's Silicon Valley. Her impeccably dressed and well-mannered mother is the CEO while her brother, Richard, is the techie. Richard's pregnant wife, Vicki, is opening a new branch of her hat shop in New Orleans and except for Lee, the family has joined her for the grand opening. While trying, unsuccessfully, to enjoy the Calistoga mud baths, Lee receives frantic texts and phones calls from her brother telling her that Vicki will be arrested for murder.
The police would rather not look for any other suspects so Lee goes to New Orleans to clear her sister-in-law's name. Once she arrives, Lee is faced with tracing the history of a brutal man declared dead ten years previously, who Vicki swears she saw roaming the streets of New Orleans. Vicki has reasons for wanting to make sure this man is dead for good and the police use that against her. Lee's search intertwines with a decade old incident involving her now deceased father and corruption in the New Orleans police department. She doesn't know who she can trust and when her questions hit home, her life is put into danger. A warning, in the form of a voodoo doll, makes her realize she needs to step up her game before it's too late.
My Review
The Alvarez Family Murder Mystery series has a lot of action and at times is a bit dark, but it is interspersed with humor that had me laughing out loud on several occasions. Being a black belt in karate and a career private investigator, Lee isn't your typical amateur. She knows how to do her job and while she takes risks, she's confident of her skill to see her through…although her family often thinks her risks are too dangerous. Lee is highly loyal and the family motto is Honor Above All, which shows in how she views her cases. The close-knit Alvarez family has a unique dynamic that adds interest. Lee is just the opposite of her prim, properly dressed mother who doesn't quite understand her daughter, and it adds levity to the book. But the humor does not detract from the well plotted mystery that kept me turning pages late into the night to see "what happens." The story pulls you in with its twists and turns and keeps you on the edge of your seat! I am looking forward to catching up and reading all the books in this series!
While Heather's books don't contain recipes, Lee's uncle is a master chef and Heather was gracious enough to share one of his specialties: Flan de Naranja, aka Orange Flan. Oh my goodness…this is the epitome of decadence! Silky orange and vanilla scented custard that's been spiked with orange liqueur and then garnished with candied orange peel. Tio's Flan de Naranja is worthy of any special occasion, but be warned, you're going to need to provide extra candied orange peel for your guests to take home along with the recipe for this Orange Flan. Thank you, Heather, for allowing me to share!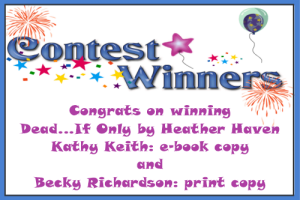 A very special thank you to Heather for providing 1 print copy AND 1 e-book copy of DEAD….IF ONLY! (Print copy for U.S. residents only.) Please use the Rafflecopter box located below the recipe to enter. Contest ends Monday, June 20, 2016 at 11:59 pm PST. Winners will be announced on this page and on Cinnamon & Sugar's Facebook page, as well as notified by email (so check your spam folder!)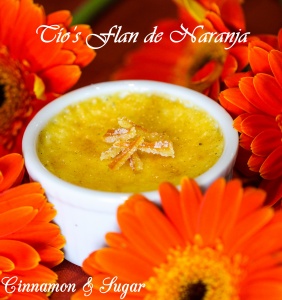 Tío's Flan de Naranja

(Orange Flan)
Lee Alvarez, protagonist of the Alvarez Family Murder Mysteries by Heather Haven, shares one of her uncle's recipes:
I don't mean to brag, but as the central character of the humorous Alvarez Family Murder Mystery Series, I get to eat a lot of terrific food. That's because my uncle, better known as Tío, is the retired head chef of the world famous 'Las Mananita's' Restaurant in San Jose, California. During his illustrious career, his recipes were often written up in gourmet food magazines. They'd throw in a few pics, too, as Tío is one elegant and classy-looking man. I have all the articles and pictures in a scrapbook I started in my early teens. That was before my PI days. I don't have time to make scrapbooks anymore – too busy chasing bad guys over rooftops – but I always seem to find time to sit down at the dinner table and scarf down one of his culinary masterpieces.
Tío's desserts undo me. While he's creating a recipe, he makes it again and again until it reaches his idea of perfection. Meanwhile, lucky me gets to gobble up every version, as he strives for the ultimate. When Tío was working on his homemade mango and red plum ice cream garnished with fresh spearmint leaves, I must have gained six pounds. Worth every ounce.
Don't ever tell him, but my favorite is his Flan de Naranja. His flan has gone down in song and legend. Tío even picks the oranges himself from our backyard and candies only the best. All I have to say is Olé!
Serves 4-6
Ingredients
5 egg yolks
1 cup white sugar
3 cups heavy cream
1 cup half-and-half cream
1 vanilla bean, split and scraped
1 orange peel
1/2 fluid ounce orange liqueur (I used Grand Marnier)
2 ounces candied orange peel, grated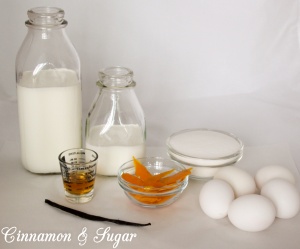 Instructions
Preheat oven to 350 degrees F (175 degrees C). (If you use smaller ramekins, decrease the heat to 325 degrees.)
In a medium bowl, beat egg yolks.
Beat in sugar until smooth. Set aside.
In a large saucepan over medium heat, combine cream, half-and-half, the vanilla bean and its scrapings, and the peel of one orange.
Heat until bubbles form at edges of liquid, reduce heat to low and simmer 15 minutes, stirring frequently.
Remove orange peel and vanilla bean.
Allow cream mixture to cool for 10 minutes then beat into egg mixture, a little at a time, until all is incorporated. Be sure to whisk constantly so the eggs don't scramble.
Stir in orange liqueur. Pour into 4 to 6 individual custard cups.
Line a roasting pan with a damp kitchen towel. Place cups on towel, inside roasting pan, and place roasting pan on oven rack.
Fill roasting pan with boiling water to reach halfway up the sides of the cups.
Bake in preheated oven 45 to 60 minutes, until set. The center should still be a bit jiggly and if you have an instant read thermometer, the internal temperature should read 170 to 175 degrees (F).
Let cool completely. Sprinkle candied orange peel on top of each cup before serving. Yum!
My Note: While Flan de Naranja is incredibly delicious on it's own, the candied orange peel elevates the dessert! And trust me, this candied peel is yummy enough to eat long after the Flan is gone! My leftovers ended up in my husband's office for him to snack on… not sure how I lost out 🙂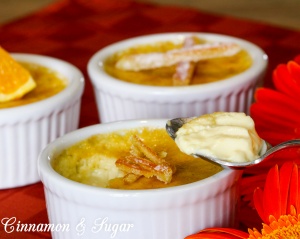 Tío's Candied Orange Peel
Ingredients
6 thick-skinned Valencia or navel oranges*
4 1/2 cups sugar, plus extra for rolling*
1 1/2 cups water*
Great Latin music. (As Tío lets me help with the candying, I like to listen to Latin music while we work. Sets a mood.)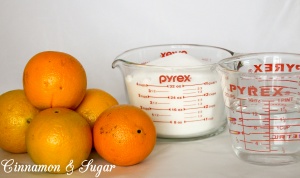 Instructions
Cut tops and bottoms off of the orange and score the orange into quarters, cutting down only into the peel and not into the fruit. Don't cut yourself.
Peel the skin and pith of the orange in large pieces, use the orange for another recipe.
Cut the peel into strips about 1/4-inch wide.
Put the orange peel in a large saucepan with cold water to cover, bring to a boil over high heat. Pour off the water. Repeat 1 or 2 more times depending up how assertive you want the orange peels to be. Tío likes his peel assertive, so he only does it once.
Remove the orange peels from the pan.
Whisk the sugar with 1 1/2 cups water.
(Put on another CD. I like some disco at this point, but that's me.)
Bring sugar water to a simmer and cook for 8 to 9 minutes.
Add the peels and simmer gently, reducing heat to retain a simmer. Sing along with the music. Helps to pass the time.
Cook until the peels get translucent, about 45 minutes. Resist the urge to stir the peels or you may introduce sugar crystals into the syrup. If necessary, swirl the pan to move the peels around.
Drain the peels and cool for several seconds.
Roll the peels in sugar and dry on a rack, for 4 to 5 hours. Return to the sugar to store, unless you've eaten them all. In that case, back to square one. Been there, done that.
* I cut the recipe down to 2 oranges and used the following ingredients:
2 oranges
1-1/2 cups sugar
1/2 cup water
Pin to Pinterest: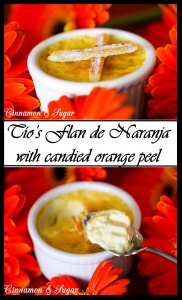 If you receive my blog post via email you will need to visit my website to view the video.