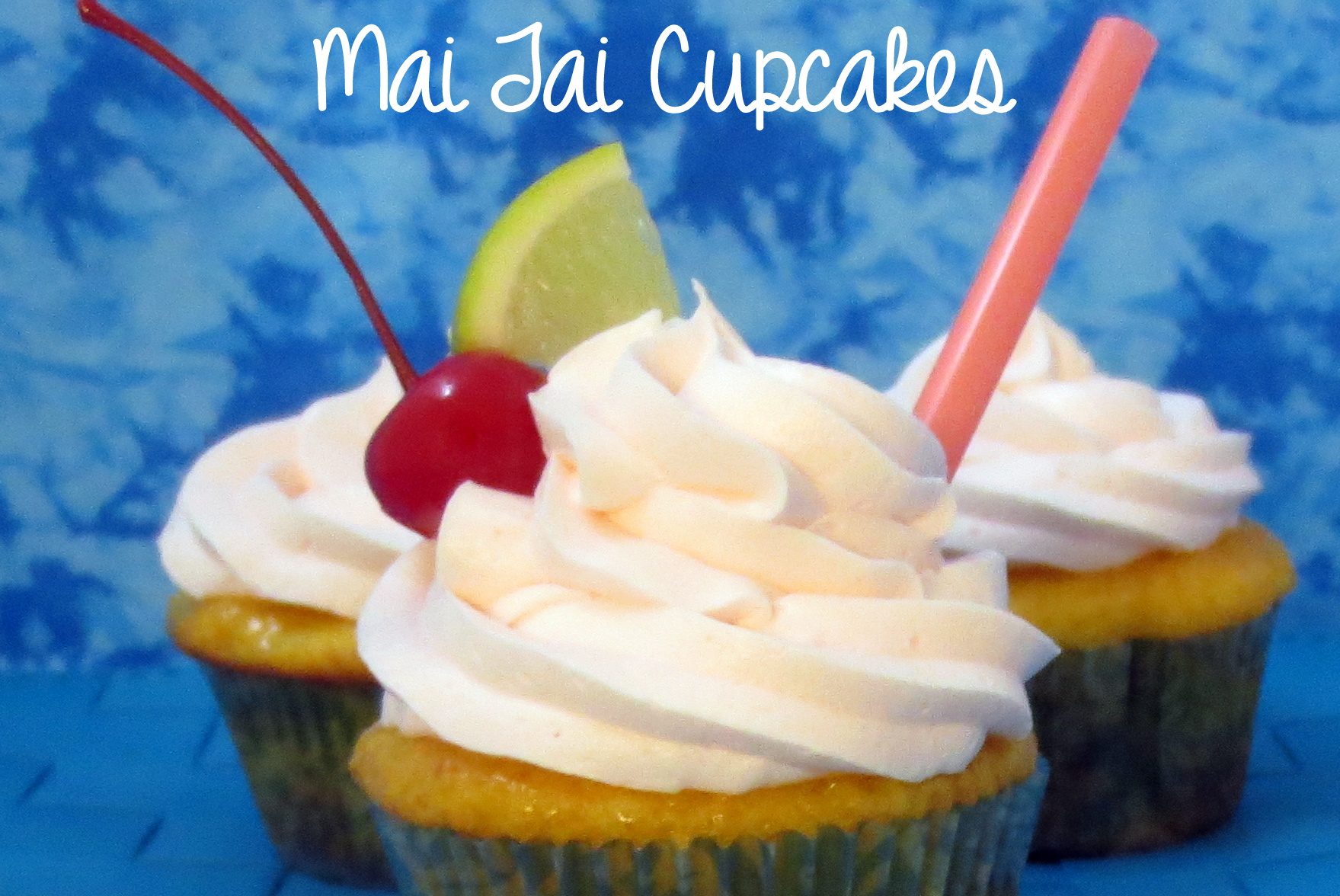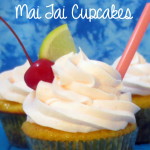 Mai Tai Cupacakes
Tropical cupcakes that will make you feel like you're sitting on a warm, sunny beach!
Ingredients
1

box

yellow cake mix with pudding in the mix

3/4

cup (6 ounces)

pineapple juice

1/2

cup

vegetable oil

2

tablespoons

orange juice

Juice from one lime

3

eggs, room temperature

Optional: Orange food coloring
Glaze
2

tablespoons

powdered sugar

2

tablespoons

butter

4

tablespoons

spiced rum ++

4

drops

coconut extract

(++ If serving to children, substitute 2 teaspoons run extract and 3 tablespoons orange juice)
Icing
1/2

cup

shortening

1/2

cup

butter, room temperature

4

cups

(1 pound) confectioner's sugar

1/8

teaspoon

almond extract

1/8

teaspoon

coconut extract

1

tablespoon

maraschino cherry juice

1

tablespoon

spiced rum (omit if serving to children and increase the milk)

2

tablespoons

milk (plus more if needed for consistency)
Garnish
Pineapple or lime wedges, maraschino cherries
Instructions
Cupcakes
Line cupcake pan with 16 paper or foil liners. Lightly spritz liners with non-stick cooking spray.

Place all the cupcake ingredients into a larger bowl and blend with an electric mixer 30 seconds on low speed. Increase speed to medium and beat another two minutes.

Divide half of the batter equally between the cupcake liners, and then tint the remaining batter in the bowl a light orange color.

Divide orange batter between the cupcake liners, layering on top of the yellow batter.

Bake 18 to 20 minutes (rotate pan half way through baking) until a wooden skewer inserted into center of a cupcake comes out clean.

Cool cupcakes in pan for five minutes then remove and place on a wire cooling rack. Cool completely before glazing.
Glaze
Place all ingredients in a microwave safe dish and microwave on high for one minute. Stir and heat again in 20 second intervals until butter melts. Set aside to cool a bit.
Icing
In the bowl of a standing mixer, beat the shortening and room temperature butter together until creamy, about 2 minutes on low speed.

Gradually add 2 cups of the confectioner's sugar, beating until incorporated.

Add the 2 tablespoons of milk and beat until smooth.

Gradually add the remaining 2 cups of sugar and incorporate.

Add the tablespoon of rum, the tablespoon of cherry juice and the extracts.

Beat until icing is light and fluffy, adding more milk one teaspoon at a time until desired consistency is reached.
Procedure
Once the cupcakes are completely cooled, prick the tops with the tines of a fork several times, piercing about 1/4-1/2 inch deep.

Brush the glaze over the top of each cupcake.

Fill a pastry-decorating bag, fitted with a large star tip, with the icing.

Pipe decorative swirls on top of each cupcake and garnish with fruit.