As my granddaughter, Emory, gets older she has become too busy to spend as much time at my house.  Dance and gymnastics consume most of her spare time but I'm happy that she's found something she loves so much. Jaidyn's schedule has mostly stayed the same so I continue to spend Monday and Wednesday afternoons with her and I treasure every second. When it became apparent that Em would have to give up her two days a week with me, we made a standing lunch date where I would pick her up from school on a given Wednesday and at least have that time together to catch up.
Now most ten-year-olds would probably choose McDonald's or Del Taco or Chick fil A…. not my granddaughter.  She always wants a picnic in the park near her school with my Swedish Thin Pancakes, which are basically crepes. She's happiest when there's fresh strawberries and powdered sugar to sprinkle on top, but even when berries are out of season, dipping the crepe into hot maple syrup is almost as good.  My Swedish pancake recipe was handed down to me by my mother, who without fail, never let us leave the house without a hot breakfast. I'm happy that Em loves them as much I did as a kid and it links my granddaughter to her great-grandmother whom she never had a chance to meet.
When I came across the book The Crepes of Wrath by Tamar Myers I immediately snatched it up. The crepe recipes in the back of the book are very similar to my mother's recipe, but a few had a twist to them which intrigued me and I knew I'd have to try them out. The story centers around Magdalena Yoder who runs the Penn-Dutch Inn in a large Amish and Mennonite area in Pennsylvania. Having myself been born and raised in Southern California, I had no idea what this meant, but Tamar Myers weaves their culture into the book and provides insight into their community. Magdalena, while a Mennonite, doesn't fit the stereotype. She's humorously feisty and has a mind of her own while solving murders that her Chief of Police brother-in-law can't. She also has a cast of characters staying at her Inn and their interaction provides even more humor. The Crepes of Wrath was a light read but thoroughly enjoyable!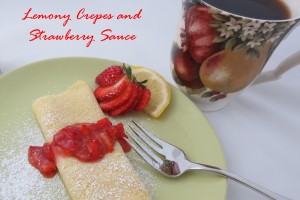 Lemony Crepes with Strawberry Sauce
Ingredients
Crepes
3 eggs
1-1/2 cups milk (2%, coconut, almond, soy)
3/4 cup flour, scoop and level to measure
1/4 teaspoon salt
2 tablespoons granulated sugar
1 tablespoon vegetable oil
1-1/2 teaspoons lemon zest
1/2 teaspoon vanilla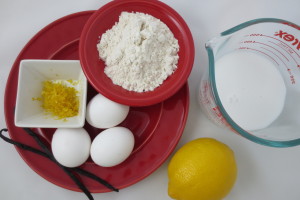 Strawberry Sauce
2 cups (approximately 10 ounces) diced fresh strawberries
2/3 cup water
1/4 cup granulated sugar**
1 tablespoon cornstarch
1-1/2 tablespoons water
1 teaspoon lemon juice
**More may be needed if your strawberries are tart or if serving for dessert. Taste the sauce and adjust accordingly.
Instructions
Crepes
Place all the ingredients into the jar of a blender and blend until smooth.
For breakfast (or lunch!) crepes, heat an 8-inch non-stick skillet until hot.
Lightly grease with butter or margarine then add a 1/4 cup batter to the pan.
Tilt skillet and swirl the batter until the bottom of pan is evenly covered with the batter.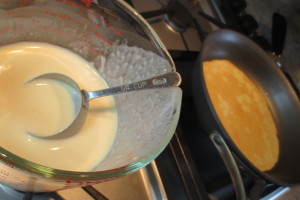 Cook until bottom of crepe is slightly golden then carefully flip over and cook an additional 30 seconds.
Remove to plate, spoon hot strawberry sauce down middle and roll crepe burrito style.
Top with additional strawberry sauce and powdered sugar.
If making dessert crepes, use a 6-inch non-stick skillet and reduce batter to 2 or 3 tablespoons. Cook and serve as directed above.
Strawberry Sauce
Place 1 cup of the diced strawberries into a medium sized sauce pan.
Add 2/3 cup water, lemon juice and sugar to berries.
Bring to a simmer and cook until strawberries begin to soften enough to mash with a fork.
Mash the strawberries until small bits remain.
Dissolve cornstarch in 1-1/2 tablespoons water.
Add cornstarch mixture to the simmering berries and cook, stirring constantly one minute.
Add the reserved 1 cup fresh diced strawberries to the thickened sauce and heat a couple of minutes until thoroughly warmed.
Tips
If you have any leftover crepes, roll them individually in plastic wrap, place in a freezer safe ziplock bag and freeze for up to 3 months. Defrost overnight in the refrigerator then reheat for 25 – 30 seconds in the microwave or until hot.  Don't overheat or they could become rubbery.  I like to serve the leftovers with hot maple syrup which helps keep the crepe warm.
Recipe inspired by Tamar Myers and my mother