Holidays seem like the perfect time to get kids into the kitchen and let them learn to enjoy the creating process of cooking. I assume most kids are like my granddaughter, Emmy, where sweets are at the top of her list of things to make. After Em and her friend, Tess, made the Mummy Dogs for dinner I let them create Frankenstein Pudding Cups to finish off their Halloween meal. I loved that this dessert is no-cook and the girls could make this with minimal supervision from me. Even though the ingredients and prep are super simple the resulting dessert is quite spooktacular!
Scroll to the end to see a video of the process. Thank you to my granddaughter, Emmy, for re-doing this dessert a second time since our first video attempt didn't work…those pesky technical difficulties!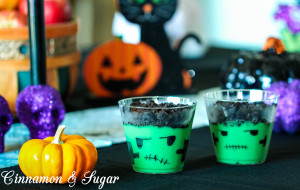 Frankenstein Pudding Cups
One small box (3.4 oz) of instant pudding will make 3 pudding cups, assuming  you monitor how much pudding your kids add. My assistants preferred to "over-fill" the cups so we only got 2-1/2 servings out of the batch.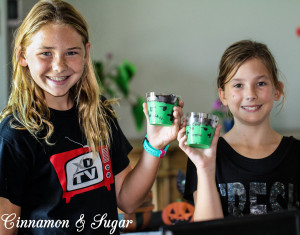 Supplies
Small, clear plastic cups (we used the 9 ounce size)
Black Sharpies
Ingredients
1 small box (3.4 oz) instant vanilla pudding
2 cups milk (1%, 2% or whole)
Green food coloring (we used Ameri-Color Leaf Green and Forest Green)
10 Oreo cookies
Instructions
Using a Sharpie pen draw Frankenstein's face on the OUTSIDE of 3 clear plastic cups. Make sure the eyes/eyebrows only go to halfway up the cup. Set aside.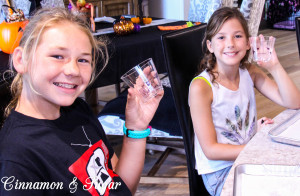 Whisk the milk and instant pudding together for about one minute, then add green food coloring until desired shade is reached. (We used 3 drops Leaf Green and 2 drops Forest Green.)
Whisk pudding an additional minute then pour into the decorated cups until it reaches just above the eyes/eyebrows.
Crush the Oreos. We placed them in heavy-duty ziplock bags and used cans of pumpkin to crush them. Or use a meat mallet as Em did the second time around.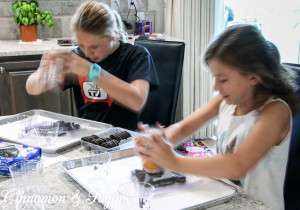 Top the pudding with the crushed Oreos.
Refrigerate until ready to serve.
If you receive this post via email you will need to visit my actual website to view the video.