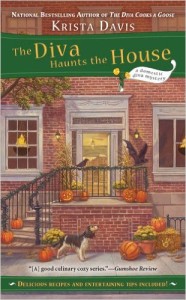 It's always fun to come across holiday themed cozy mysteries and THE DIVA HAUNTS THE HOUSE, by Krista Davis, is the perfect choice for the Halloween season. Domestic diva, Sophie Winston, is in charge of organizing a community haunted house in an old boarding house, that is supposedly really haunted. Grown men have practically run from the house screaming and refuse to step foot back in, so she has her hands full trying to get it put together before the debut. Sophie has enlisted her twelve-year-old niece along with other pre-teen and early teen kids to help her plan the event. The kids are more than thrilled to be in a "real" haunted house, especially when they find that a vampire had supposedly lived there.
Sophie's nemesis and ex-husband's girlfriend, Natasha, decides she won't be outdone by Sophie's haunted house and throws a high-class Halloween party for the town's influential. But things go terribly wrong when Sophie, her niece and Natasha's niece stumble upon one of the party-goers who turns out to be dead, staged to look like one of her gruesome vignettes. What is even more puzzling are the two puncture wounds in the murdered guest's neck.
Soon vampire theories are flying and Sophie's haunted house is threatened to be shut down. When Sophie is attacked (but saved by her loyal dog, Daisy) she's determined to find out who the murderer is and find out who or what is behind the bizarre occurrences happening in her haunted house.
In addition to a fun and only slightly scary story (the only kind I like!) Sophie or Natasha begin each chapter with tips for celebrating Halloween. The tips range from crafty to decorating to costumes to food and are a great way to get in the mood for Halloween! I also really enjoyed how Sophie interacted and included her twelve-year-old niece in all the holiday prep. I was fortunate enough to have my eleven-year-old granddaughter and her best friend come spend the day with me, so I enlisted their help in making the Mummies….or as we've always called them, Mummy Dogs. Emmy has been making them for our Halloween dinner for almost eight years now! Thanks Em and Tess for helping me out!!! And thanks, Krista, for allowing me to share your wonderful Halloween story and Mummies recipe!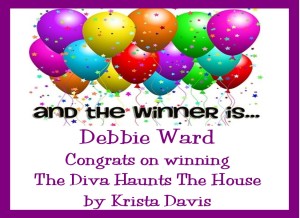 A huge THANK YOU to Krista Davis for providing an autographed copy of THE DIVA HAUNTS THE HOUSE to one lucky winner! Please comment below for a chance to win. Contest ends Thursday, October 22nd at 11:59 pm PST. Winner will be announced on this page and on Cinnamon & Sugar's Facebook page, as well as notified by email (so check your spam folder!) Open to U.S. residents only.
Mummy Dogs
Ingredients
1 package refrigerator crescent rolls
1 package hot dogs (beef, chicken, or soy, doesn't matter)
Yellow mustard
Instructions
Preheat the oven to 375 degrees.
Unroll the crescent dough and slice into long strips.
Wrap strips around each hot dog, leaving a small part uncovered where the eyes will be.
Use mustard to create two dot eyes.**
Bake 12 – 15 minutes or until light golden brown.
Other Variations
Slice thin arms and legs into the hot dogs and wrap the crescent rolls strips around each limb. Bake as directed.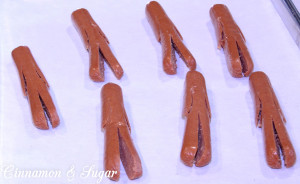 **Alternate eyes:
Cut small rounds from any thin sliced cheese (Em and Tess used Halloween themed smoothie straws).
Use a regular sized straw and punch a hole in the middle of the first cheese round.
Using the regular sized straw, create a round from olives and place in the small hole you created in the first cheese round.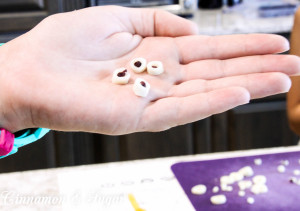 Attach to mummies with mustard AFTER they have baked.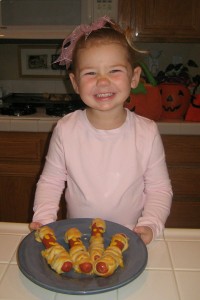 Mummy dogs have been a Halloween tradition in our family with Emmy helping to prepare our pre- trick-or-treat dinner since she was three-years-old!