It's always a delight to open a new book in a long-enjoyed series and visit with friends. Such is the case with BISCUITS AND SLASHED BROWNS, the fourth book in the Country Store Mystery series by Maddie Day. The protagonist, Robbie Jordan, is a no-nonsense, can-do type of young woman. Not only is she a great chef at her restaurant, Pans 'N Pancakes, in South Lick, Indiana, but she is also a skilled carpenter. Robbie has a keen intelligence, solving the hardest crossword puzzles (in ink, no less!) and creates her own crossword puzzles when trying to figure out murder mysteries. I'll be honest here, the ability to do crossword puzzles completely eludes me and I greatly admire anyone who can get even a few answers on the easiest of puzzles! When I "retired" from a day job many years ago, I read that doing crossword puzzles keeps your mind sharp. I tried a few in the newspaper and quickly gave up. Then I came across the book Crossword Puzzles for Dummies… I had to use the answers in the back more than solving any puzzles on my own so I came to the conclusion that it wasn't my cup of tea so to speak. Anyway, this is about Robbie and not me… Robbie is an admirable character who cares for not only her friends but the townspeople and visitors alike and I've enjoyed getting to know her with each book. The town of South Lick is preparing for the fifth annual National Maple Syrup Festival and Robbie is gearing up by creating maple themed dishes. The fact that Indiana has forests of maple trees and produces maple syrup was news to me and I enjoyed doing a bit of research on the subject. (Here is the link if you're curious: Indiana Department of Natural Resources)
When a visiting professor is found murdered after arguing with Robbie's assistant's father, Robbie knows she needs to get involved. Even when the family appears to be hiding something and clearly does not want her help, Robbie is driven to find the truth. She feels a compelling urge to protect her town especially when it appears the local law enforcement is on the wrong track. I love how the community rallies behind each other, pitching in to help each other no matter what. The local colloquialisms are quaint and adds to the charm of both the characters and the setting. Ms. Day captures the essence of a small mid-west farming community perfectly, and I could see and experience it all as I read. There are plenty of viable suspects provided to keep you guessing and a suspenseful, dangerous climax wraps the story up for an exciting ending.
Robbie, being such a great cook, serves up lots of delectable dishes at Pans 'N Pancakes, often with an ethnic culinary theme involved. She creates Chocolate Almond Biscotti for her Italian day and fortunately for the reader, the author includes several recipes at the back of the book including the biscotti. There are so many reasons I love biscotti and this recipe is no exception: It's sturdy and packages up extremely well, so it's perfect for gift giving; you don't have to eat it within a day or two of baking since it stores well in an airtight container; it adds to the enjoyment of a cup of coffee or tea on a chilly morning! I loved the combination of chocolate with the added crunch of almonds while the drizzle of chocolate was pure bliss. Buona mangiata!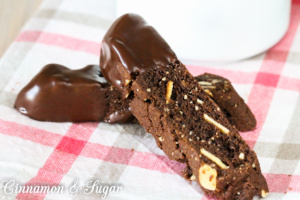 Amazon Synopsis
For country-store owner Robbie Jordan, the National Maple Syrup Festival is a sweet escape from late-winter in South Lick, Indiana—until murder saps the life out of the celebration . . .

As Robbie arranges a breakfast-themed cook-off at Pans 'N Pancakes, visitors pour into Brown County for the annual maple extravaganza. Unfortunately, that includes Professor Connolly, a know-it-all academic from Boston who makes enemies everywhere he goes—and this time, bad manners prove deadly. Soon after clashing with several scientists at a maple tree panel, the professor is found dead outside a sugar shack, stabbed to death by a local restaurateur's knife. When an innocent woman gets dragged into the investigation and a biologist mysteriously disappears, Robbie drops her winning maple biscuits to search for answers. But can she help police crack the case before another victim is caught in a sticky situation with a killer?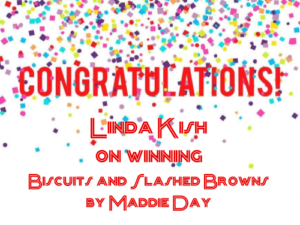 A special thanks to Maddie Day for providing one winner with a signed copy of BISCUITS AND SLASHED BROWNS! Contest ends Thursday, February 8, 2018 at 11:59 pm PST and is limited to U.S. residents only. Please use the Rafflecopter box located below the recipe to enter. The winner will be announced on this page and on Cinnamon & Sugar's Facebook page, as well as notified by email (so check your spam folder!)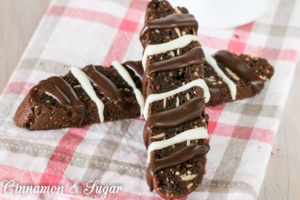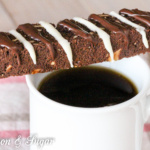 Chocolate Almond Biscotti
Ingredients
1-1/2

cups sliced almonds, toasted and divided

1

cup

butter, softened

2

cups

sugar

2/3

cup cocoa

1

teaspoon

baking powder

1

teaspoon

baking soda

1/2

teaspoon salt

3

eggs

1

teaspoon

almond extract

3-1/2

cups all-purpose flour

1/2

cup semi-sweet chocolate chips

optional

1/2

cup white chocolate chips

optional

2

teaspoons

shortening

optional
Instructions
Preheat oven to 350 degrees.





Lightly grease a cookie sheet or line with parchment paper. Set aside.




Place 3/4 cup of toasted almonds in a food processor and pulse until ground.

Beat butter in large bowl for 30 seconds, then add sugar, cocoa, baking powder, baking soda and salt; beat until combined.




Beat in eggs and almond extract.

Beat in as much of the flour as you can with mixer.




By hand, stir in remaining flour, the ground almonds and the remaining 3/4 cup of sliced almonds.




On pieces of wax paper, shape dough into two 14 inch long rolls.




Place rolls on prepared cookie sheet at least 5 inches apart, flatten slightly.




Bake 25-30 minutes or until wooden pick inserted near centers comes out clean.




Cool on cookie sheet for 1 hour.




Cut each roll diagonally into 1/2 inch thick slices.




Place slices, cut sides down, on ungreased cookie sheets (or cookie sheets that have been lined with parchment paper).




Turn slices; bake 7 to 9 minutes more or until cookies are dry and begin to crisp (do not overbake).




Remove from cookie sheets to wire racks.




If desired, to make glaze or drizzle, place semi sweet chips and white chips in separate small microwave safe bowls.




Add 1 teaspoon of shortening to each bowl.




Microwave on high for 45 seconds, stirring once; stir. If necessary, microwave an additional 15 seconds or until chips are melted and mixtures are smooth when stirred.




Dip biscotti into mixtures or drizzle over tops.

Pin to Pinterest: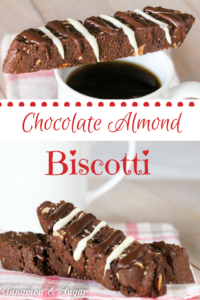 If you receive my blog post via email you will need to visit my website to view the video.
I was provided an advance copy with the hopes I would review. All thoughts and opinions are my own.