A THREE BOOK PROBLEM is the seventh book in the Sherlock Holmes Bookshop Mystery series by Vicki Delany. This has long been one of my favorite series and while this newest release might not be my favorite of the bunch, it still proved to be a captivating read full of intrigue and clever homage to the Great Detective. With the backdrop of a weekend working and socializing at a Sherlockian getaway at a crumbling manor house, the scene is set for an old-fashioned whodunit. Protagonist, Gemma Doyle, owner of Sherlock Holmes Bookshop and Emporium, has agreed to work alongside Jayne Wilson, her best friend and part owner of Mrs. Hudson's Tea Room, to cater the weekend event. Rounding out the trio of friends at the event is Ryan Ashburton, Gemma's boyfriend and local police detective. He's taken time off from his job to help out. In previous books, Ryan's been more standoffish due to the murder investigations he's been involved in but, in this informal setting, it was much easier to get to know him a little bit better which I appreciated. One of the great strengths of Ms. Delany is her character development and character growth over the course of the series. They are memorable and capture my imagination… including Gemma's elusive and quite mysterious great-uncle Arthur, a renowned Sherlock expert.
When the host is murdered, by a poisonous dart no less, Gemma has the unique opportunity of being right in the midst of things. Not only is she helping serve the catered meals to the guests, but she's one of the Sherlock experts, representing her uncle and their shop. This gives her plenty of occasions to ask questions and observe the behavior of the guests and the staff hired by the host. And since the manor house is out in the middle of nowhere, Gemma realizes that the murderer must be someone staying at the house with them. Could it be the sulky housekeeper or the rude butler? Or could one of the guests, who are supposedly there because of their love of all things Sherlock Holmes, have cause to wish their host harm? As the story progresses, it becomes apparent that there are secrets to uncover and clues to suss out. Ms. Delany proves once again that she's a masterful storyteller with the ability to create a memorable book!
While there aren't any recipes in the book, Jayne Wilson creates all sorts of tempting dishes to serve over the weekend. From breakfast to lunch to afternoon tea to dinner to dessert, the guests were well-fed. I might have gained a few pounds just reading about the food! Vicki has graciously shared a shortbread recipe with us, which claims to be a favorite of Buckingham Palace. Simple ingredients mix together quickly and I like that the dough is rolled out into a square, then cut into squares or triangles after it's baked. With a sprinkle of confectioners' sugar, these flaky shortbread cookies are the perfect afternoon treat whether you prefer tea, coffee, milk, or just plain water.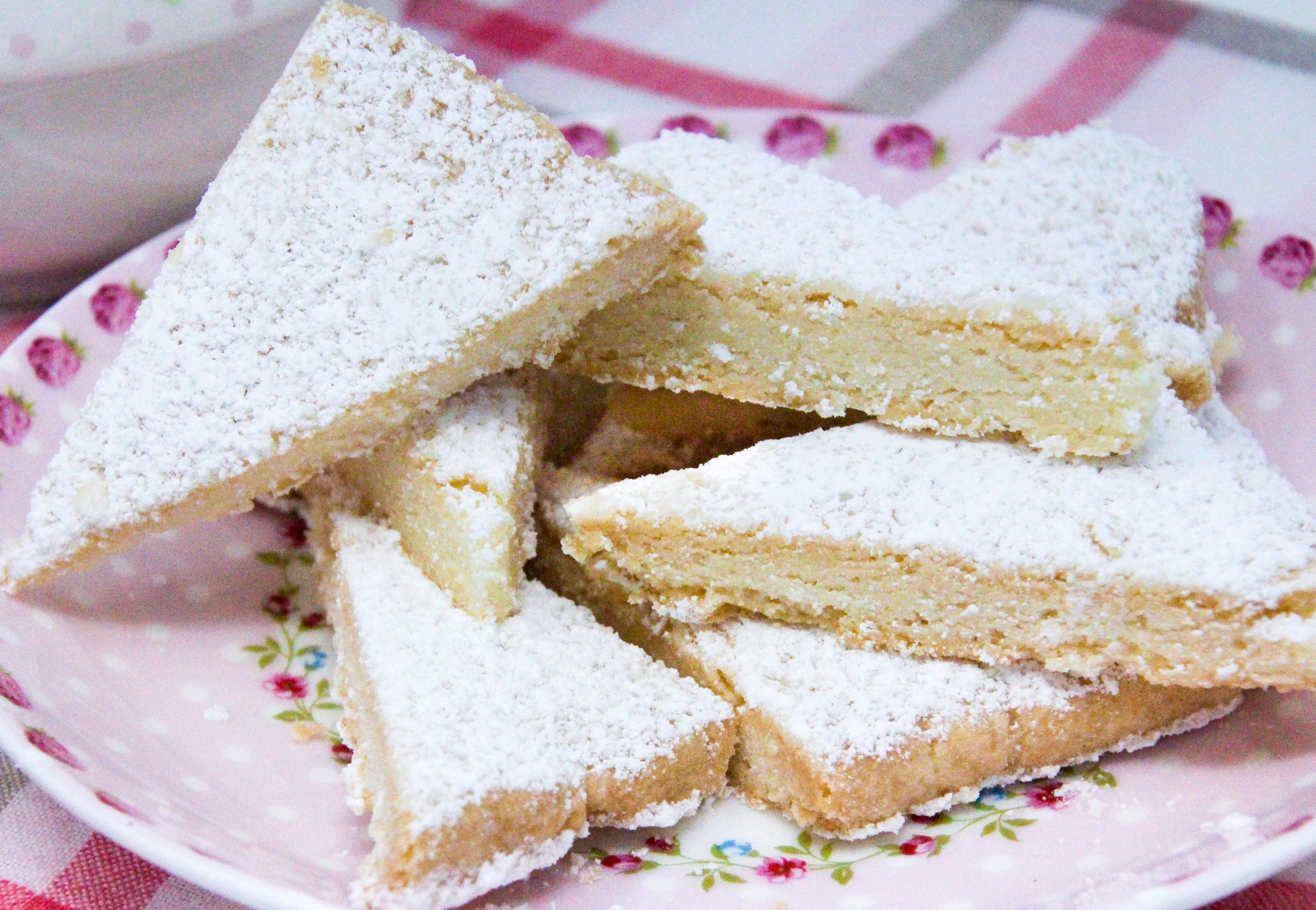 Amazon Synopsis
It's a crisp, early October weekend, and business is slowing down as fall descends at the Sherlock Holmes Bookshop and Emporium and adjacent Mrs. Hudson's Tea Room. Wealthy philanthropist and prominent Sherlockian David Masterson has rented Suffolk Gardens House, where he plans to entertain his friends in a traditional English country house weekend.
As the chosen caterers, Jayne Wilson and Gemma Doyle get to work preparing lavish meals and setting up Sherlockian books and props for entertainment. Meanwhile, police detective Ryan Ashburton has taken time away from his duties to assist in the kitchen. It quickly becomes apparent that David's guests don't like each other–or their host. Plus, some of them aren't even acquainted with the adventures of the Great Detective.
Before Gemma can ponder their relationships a poisoned dart sails through the window of the library, presenting Gemma Doyle with a three-book problem.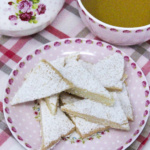 Buckingham Palace Shortbread from Mrs. Hudson's Tea Room
From Vicki Delany: Jayne Wilson, part owner and head baker at Ms. Hudson's Tea Room, is hired to cater a traditional Victorian country house weekend for a Sherlock Holmes gathering in the seventh book in the Sherlock Holmes Bookshop series A Three Book Problem. She intends to pull out all the stops in making the meals perfect. The dessert at the Saturday night banquet is a trifle, and she accompanies that with slices of delicious buttery shortbread made in the English style. In her hunt for the perfect recipe, she found this one, which is supposedly the recipe they use for shortbread at Buckingham Palace. Jayne has seen several different recipes that apparently are the ones favoured by the queen, so she takes take that claim with a pinch of salt. However, they are made in her kitchen, so that's just as good. Right?
Ingredients
2

cups

cake flour

3/4

cup cornstarch + 1 tablespoon

1/4

teaspoon salt

1

cup

unsalted butter at room temperature

1/3

cup granulated sugar

1/4

cup confectioners' sugar
Instructions
In a medium bowl, whisk together the flour, cornstarch, and salt until well blended.

In a stand mixer set on medium speed, beat the butter until creamy. Beat in the granulated sugar until light and fluffy, about 2 minutes, scraping down the sides and bottom of the bowl as necessary.

On low speed, add the flour mixture in two or three additions until it forms a soft dough. Wrap the dough with plastic wrap and chill for 30 minutes.

Preheat the oven to 350°F

On a lightly floured piece of parchment paper, roll the dough out to a 3/4-inch-thick slab, Transfer, parchment and all, to the baking sheet and bake until lightly golden and firm to the touch, about 40 minutes.

Slip the parchment paper with the shortbread onto a hard surface.

Immediately sprinkle the shortbread heavily with the confectioners' sugar. While still warm, cut the shortbread into 1- or 1 ½-inch pieces. Let cool completely.
Pin to Pinterest: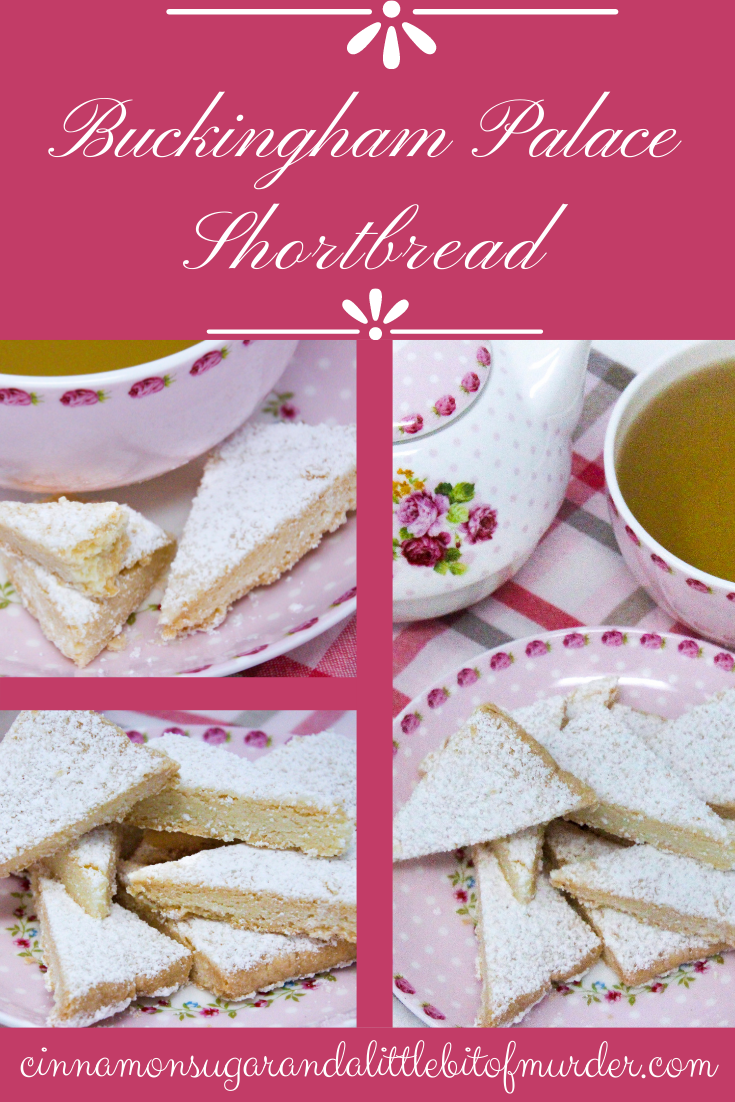 I was provided with an advance copy. All thoughts and opinions are my own.