A COLORFUL SCHEME is the fourth book in the Pen & Ink Mystery series by Krista Davis. You can always count on this author delivering a topnotch story with a riveting mystery, colorful characters, and a charming setting, and this newest release doesn't disappoint. Protagonist Florrie Fox is a delightful young woman, sweet as she is kind, to both her friends and customers alike. Not only does she manage a bookstore, but she's also a talented adult coloring book creator. The supporting characters are equally well-rounded and are people you'd like to spend time with. I enjoyed that Florrie's sister, Veronica, has a greater role in the story, acting as the wedding planner for Florrie's wealthy boss who is marrying a famous romance author (their second time marrying). A bit of humor is thrown in with Veronica needing to tackle wedding plan issues… until an issue turns serious with the discovery that the bride is missing.
There are multi-faceted mysteries for the reader to muse over in the story and I greatly enjoyed the literary thread of writing and publishing set amongst the wedding festivities. From an agent, to authors, to author and journalist wannabes, to a literary critic, Ms. Davis creates stressful situations that might lead to strife and even murder. On top of that, Florrie discovers she has a stalker who won't leave her alone even when confronted. When a murder victim is discovered after the wedding festivities, Florrie can't help but become involved. With plenty of suspects to choose from (there were over 500 guests at the wedding and reception!) it takes Florrie's sharp mind and colorful art pencils to narrow down the list. The creative use of Florrie's artistic skills to capture details of the people and clues involved in the case is unique and added another layer of entertainment to her sleuthing. I'll admit I was way off the mark in guessing who the culprit was, but it was a fun read following along with Florrie's investigations. As the story concluded, all questions were answered and the subplots fit together quite satisfactorily. It left me wanting to immediately color the inviting coloring book cover before picking up the next book in the series.
Another highlight of Krista Davis's books are the tempting recipes she includes at the back of the book. I couldn't pass up the opportunity to try out her recipe for Blueberry Coffee Cake with Crumble. Chock full of fresh blueberries in a tender vanilla cake, the cinnamon, brown sugar-based crumble adds both flavor and a pleasing crunchy texture. And since this makes a generous amount, it's perfect for family breakfasts or brunch gatherings!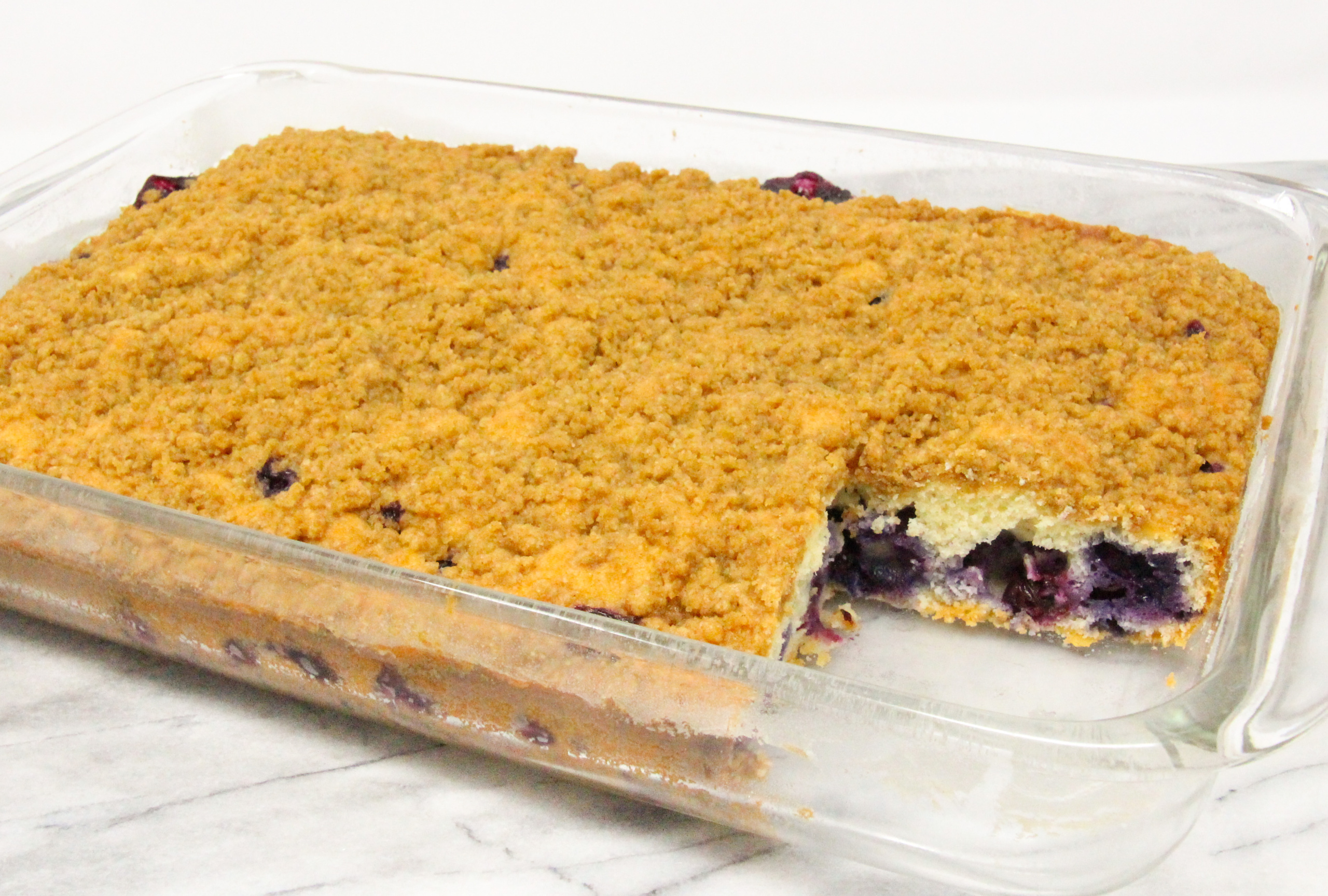 Amazon Synopsis
Coloring-book creator and Washington, DC, bookstore owner Florrie Fox is attending the wedding of her wealthy boss and a famous romance author, who are taking their vows—for the second time—on the grounds of the gorgeous Maxwell mansion.  But it soon becomes clear that the soothing vibe of coloring books is very different from the stress and backstabbing in some corners of the literary world.
Arthur Bedlingham, for example, barely makes a living despite the many awards he's won—and his chances for better sales haven't been helped by the vicious review he just got from another guest at the party. Then there's an ex–FBI agent whose popular thrillers are a magnet for female fans; a less-successful romance writer; and an ambitious waitress who's intent on a career in journalism.
When Arthur's assistant, an aspiring writer, is murdered during the festivities, Florrie realizes this is no color-by-numbers case, and she'll have to sort out the complicated secrets among this creative crowd of suspects . . .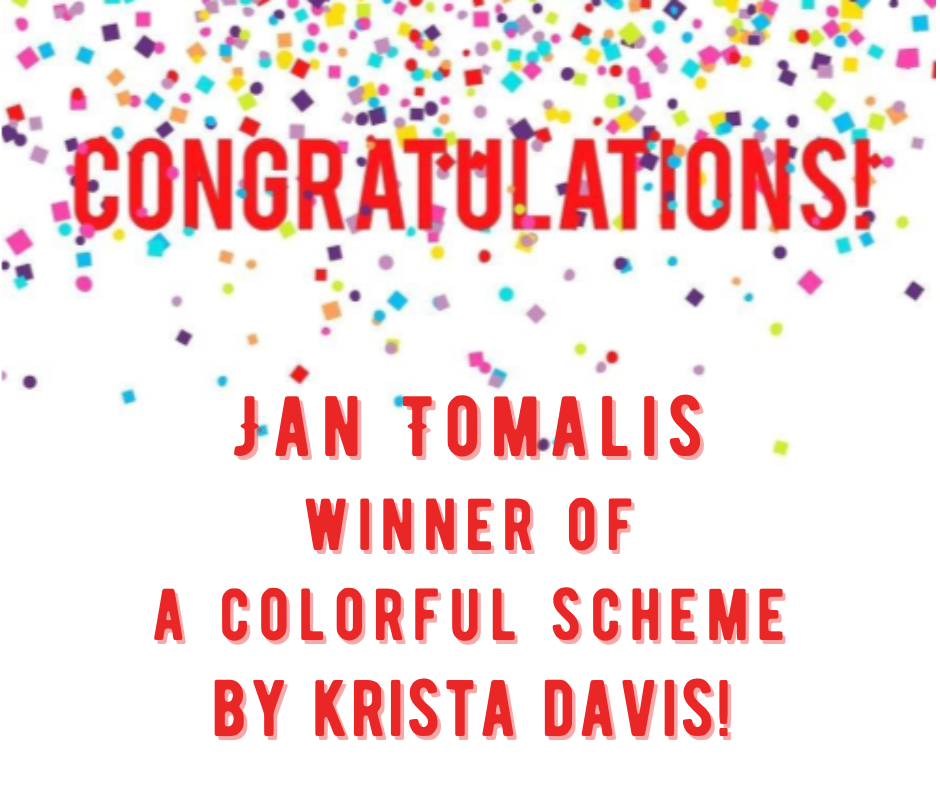 A special thanks to Krista Davis for providing a print copy of A COLORFUL SCHEME! Contest ends September 14, 2022 at 11:59 pm PST and is limited to U.S. residents only. Please use the Rafflecopter box located below to enter. The winner will be announced on this page and on Cinnamon & Sugar's Facebook page, as well as notified by email (so check your spam folder!)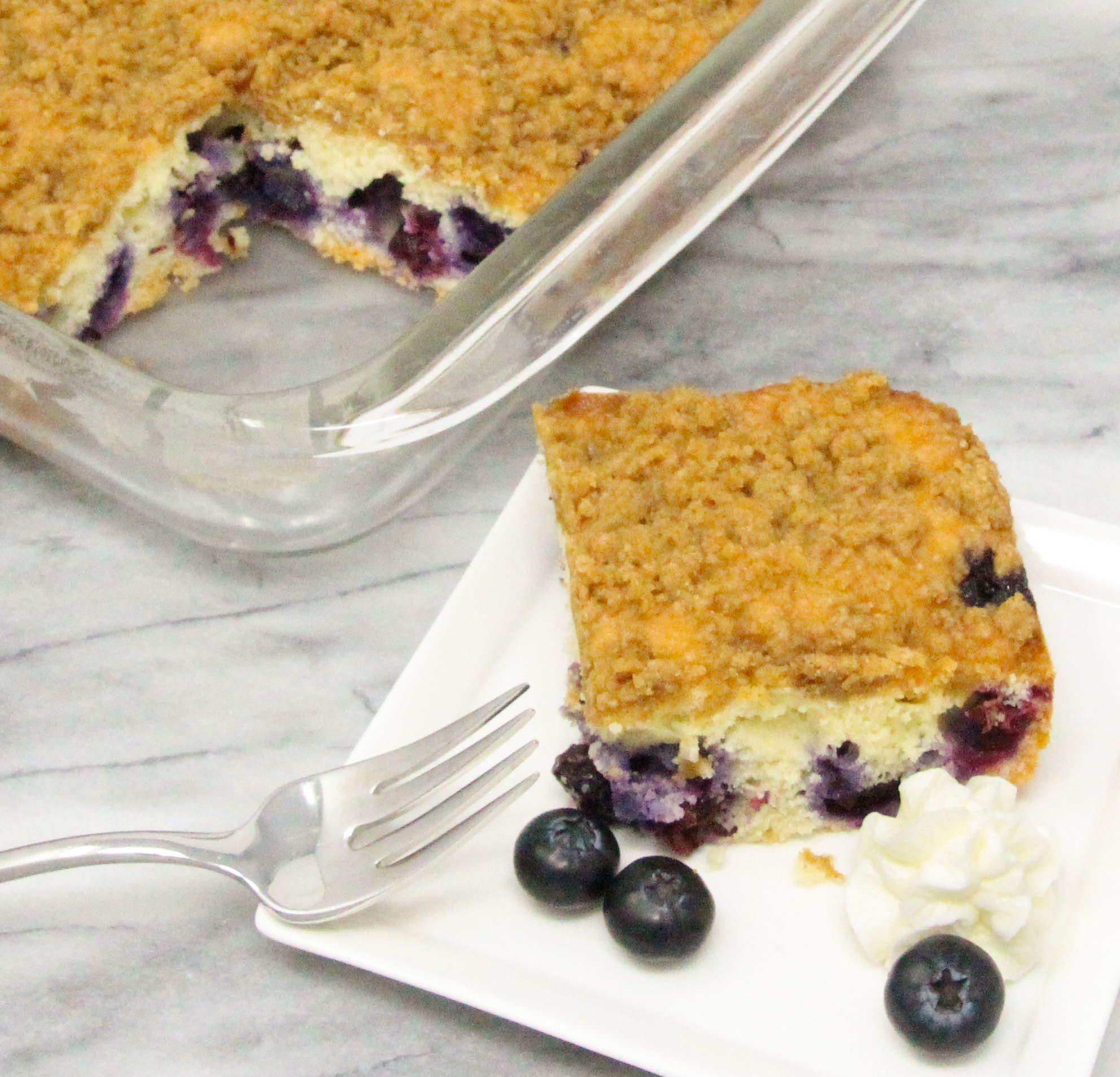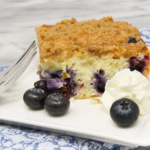 Blueberry Coffee Cake with Crumble
Use a 9" x 13" baking pan.
Note: butter must be softened.
Ingredients
For the Crumble
1/2

cup

flour

1/3

cup

dark brown sugar

1

teaspoon

cinnamon

4

tablespoons

unsalted butter, softened

1/4

teaspoon

salt
For the Cake
2

cups

flour

2

teaspoons

baking powder

1/2

teaspoon

salt

3/4

cup

sugar

6

tablespoons

unsalted butter, softened, plus extra for baking pan

2

eggs

3/4

cup

milk

1-1/2

teaspoons

vanilla

2

cups

blueberries (two 6-ounce clamshell packages)
Instructions
For the Crumble
Place all the ingredients in a bowl. Using your fingers, squish them together, rubbing them between your fingers as you go, until they are all mixed and crumbly. Set aside.
For the Cake
Grease the baking pan and preheat the oven to 350 degrees (F).

Combine the flour, baking powder, and salt in a bowl and stir well with a whisk or fork to combine.

Cream the sugar with the butter. Add the eggs and beat, one at a time. Alternate adding the milk and the flour mixture. Add the vanilla and beat briefly.

Stir or fold in the blueberries gently. Pour into the prepared pan. Sprinkle the top with the crumble mixture.

Bake 40 minutes or until a cake tester comes out clean.
Pin to Pinterest: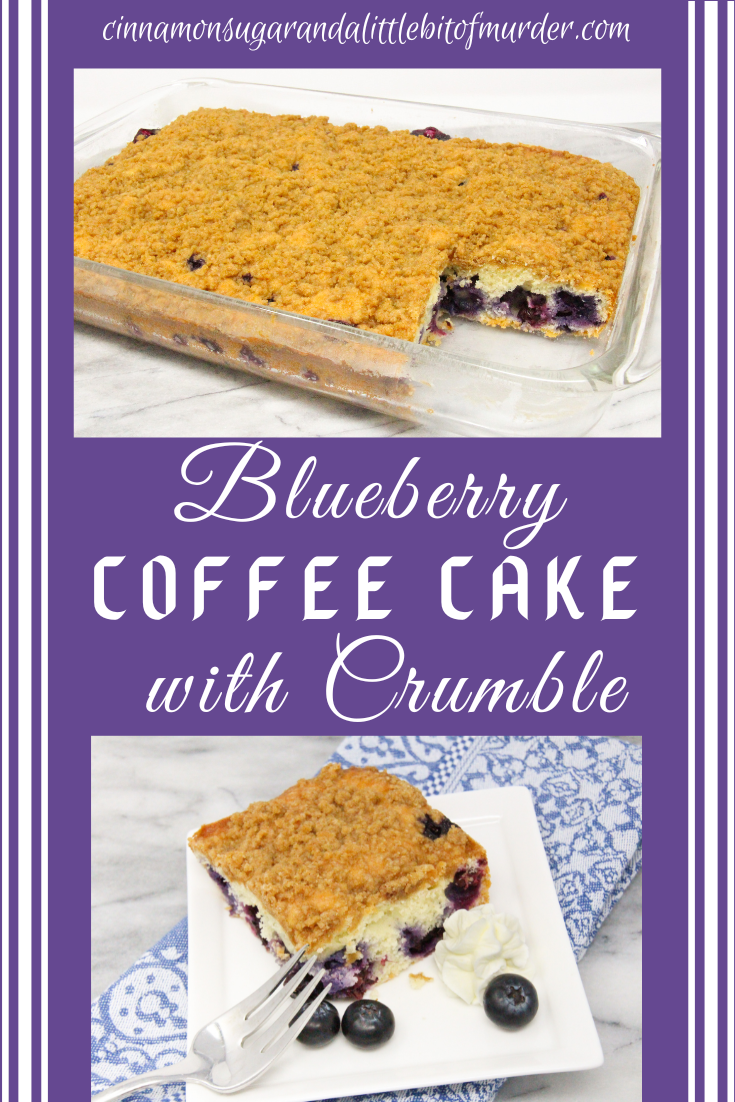 I was provided with an advance copy. All thoughts and opinions are my own.