STOWED AWAY, the sixth book in the Maine Clambake Mystery series by Barbara Ross will have you dreaming of warm summer weather while visiting the islands off the coast of Maine! Unfortunately, I have not had the pleasure of enjoying this particular geographic location. However, Barbara paints such an inviting vivid picture of each scene, especially of Morrow Island, the Snowden's family-owned island, that I feel I need to start planning a vacation to this area. While this book can definitely be enjoyed as a stand-alone, I have to opine that reading the series in order gives the reader the full effect of the author's impressive character development, especially with her protagonist, Julia Snowden. I love how Julia has grown, discovering new things about herself and those around her through self-introspection and life experiences. The author carefully avoids the "information" dump but instead, reveals who Julia is in a natural way, over the course of the stories told over the years. I think strong, interesting characters, such as Julia, makes us readers long for new releases and keeps us coming back again and again. However, if you do jump in and start the series with this new book, you won't be disappointed at all!
Of course with a strong character there must be a riveting story to hold our attention. Barbara delivers on that premise as well. A reclusive murdered billionaire, a detested school roommate from long ago, and the fate of Julia's ancestors' half-destroyed family mansion are woven together to keep the reader turning pages long into the night. And just when I thought I had a handle on who the suspects were and narrowed down the culprit, the author threw in a doozey of a twist that completely changed the game! The satisfying, suspenseful conclusion wrapped up the murder mystery while a heartwarming scene sets the tone for future books.
Julia and her boyfriend, Chris, attend dinner on the billionaire's yacht, shortly before he is murdered. Much to Julia's surprise, her friend, Genevieve, is the chef on board. Genevieve prepares a delightful Tarragon Ricotta Gnocchi with Lobster Velouté for the second course. Fortunately for us readers, Barbara has thoughtfully included this recipe, along with others, at the back of the book. Traditional gnocchi is made with potatoes and can be quite time consuming to make. Substituting ricotta for the potatoes is brilliant! Super-fast to mix up, you can either roll the dough into a long rope and cut into a traditional gnocchi shape, or scoop the dough into the boiling water, such as you would for dumplings. Either way, when paired with the lobster sauce, this gnocchi is amazing! I thought a small serving made a delectable appetizer or larger servings would easily satisfy the heartiest of appetites if served as an entrée. Bon appétit!
Amazon Synopsis
It's June in Busman's Harbor, Maine, and Julia Snowden and her family are working hard to get their authentic Maine clambake business ready for summer. Preparations must be put on hold, however, when a mysterious yacht drops anchor in the harbor—and delivers an unexpected dose of murder . . .

When Julia's old prep school rival Wyatt Jayne invites her to dinner on board her billionaire fiancé's decked-out yacht, Julia arrives to find a sumptuous table set for two—and the yachtsman dead in his chair. Suspicion quickly falls on Wyatt, and Julia's quest to dredge up the truth leads her into the murky private world of a mega-rich recluse who may not have been all that he seemed . . .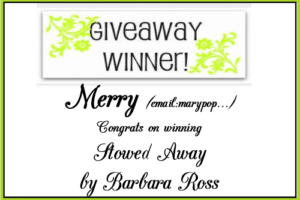 A special thanks to Barbara Ross for providing one winner with an arc signed copy of STOWED AWAY! Contest ends Thursday, January 4, 2018 at 11:59 pm PST and is limited to U.S. residents only. Please use the Rafflecopter box located below the recipe to enter. The winner will be announced on this page and on Cinnamon & Sugar's Facebook page, as well as notified by email (so check your spam folder!)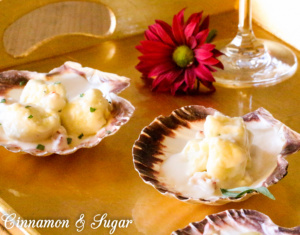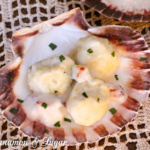 Tarragon Ricotta Gnocchi with Lobster Velouté
The yacht Garbo is in Busman's Harbor, Maine, so naturally lobster is on the menu. The velouté was one of the signature dishes at Genevieve's Portland restaurant, which is why it tastes so familiar to Julia.
Ingredients
For the Gnocchi
1

16-ounce

container ricotta

3/4

cup

Parmesan cheese

3/4

cup

Romano cheese

1/4

teaspoon

salt

1/8

teaspoon

pepper

2

eggs, beaten

3/4

cup

all-purpose flour*

1

tablespoon

fresh tarragon, finely chopped
For the Velouté
3

tablespoons

butter

3

tablespoons

all-purpose flour

1-1/2

cups

lobster stock

1/3

cup

heavy cream

4-6

ounces

cooked lobster, chopped

Fresh tarragon or parsley for garnish
Instructions
Heat oven to 350 degrees (F). Boil and salt 4 - 6 quarts of water in a pot. Grease a small baking dish with butter.
For the Gnocchi:
In a bowl, stir together the ricotta, grated cheeses, salt, pepper, tarragon, and eggs.

*Stir in the flour in 1/4-cup helpings until it reaches the consistency of a sticky dough. You may need to add more depending on how wet your ricotta is. Add an extra tablespoon of flour at a time until dough is sticky but workable.

**Using a tablespoon, drop rounded spoonfuls into the boiling water. When the gnocchi rise back to the top of the water, cook for about a minute more, then remove to the baking dish using a slotted spoon.
For the Velouté:
In a saucepan over medium heat, melt the butter. Add the flour and stir together to create a roux. Cook for 1 to 2 minutes being careful to not allow the roux to brown.

Whisk in the stock and cook until the velouté coats the back of a spoon. Stir in the cream and the lobster meat and cook for one minute more. Keep warm.
Putting it together:
Pour 1/2 cup of the velouté over the gnocchi, reserving the remainder in the pan.

Put the gnocchi in the oven and bake for 15 to 20 minutes, until the sauce is barely bubbling.

To serve, put a puddle of the reserved velouté on a plate. Add 3 to 4 gnocchi and garnish with tarragon or parsley. Serve immediately.
Tip:
If you can't find lobster stock, boil 4 cups of water with lobster shells, along with 1/2 chopped carrot, 1/2 stalk celery, and a small slice of onion until reduced to 1-1/2 cups. Strain and discard solids. Allow stock to cool before using for velouté.

When cooking the gnocchi, cook in batches and don't crowd the pot.

**To form traditionally-shaped gnocchi, roll the dough into long, thin ropes on a well-floured surface. Cut into 1-inch to 1-1/2-inch pieces, then cook as directed above.
True story: I didn't realize when I purchased my lobster tails that they were still in the shell with the digestive track still intact. Thank goodness for YouTube because I had no idea what I was supposed to do with it! My apologies to Barbara and lobster fishermen… I know I mutilated it. Next time I'll know to check with the butcher to make sure it's already done for me!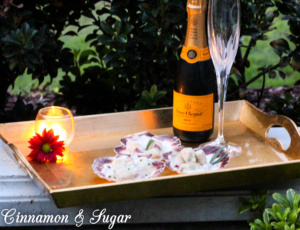 Pin to Pinterest: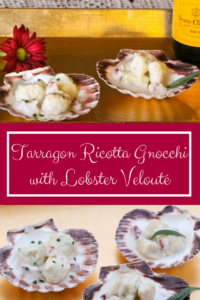 If you receive my blog post via email you will need to visit my website to view the video.
I was provided an advance copy with the hopes I would review. All thoughts and opinions are my own.