DEATH AL FRESCO, the third book in the Sally Solari Mystery series by Leslie Karst, is a delightful addition to Sally's story. I enjoy that each book (all can be read as a stand-alone) focuses on a sense: the first book is taste, the second is sound, and this third book is sight. Ms. Karst weaves in plein air painting* into Sally and her dog discovering the body of an elderly Italian fisherman which had washed up on the beach. When she realizes the man frequented her father's Italian restaurant, Sally feels a personal connection to the death. I found the bits and pieces that are provided about the Italians settling in the Santa Cruz area in the early 1900's very interesting and it piqued my curiosity. The descriptions of the sea side setting made me feel like I was on vacation at this popular tourist destination. Sally Solari is a likeable character. She is one busy woman though, running her own restaurant, Gauguin, and helping her father as his restaurant prepares for a huge banquet to welcome an Italian mayor who is coming for a visit. There is also a hint of romance to come and I, for one, am hoping things work out between Sally and her ex in future books. I've always enjoyed the way they work together in the previous books and this one is no exception.
With so much responsibility demanding her attention, Sally doesn't have much extra time on her hands. But when people start blaming her father for the death of the fisherman and she finds incriminating evidence, she knows she needs to start asking questions to clear his name. The action starts off early in the story with a good build-up to a satisfying conclusion. There are plenty of suspects to keep the reader guessing and I found the reason for the murder quite unique. It wasn't at all what I had anticipated which added a nice twist to the mystery.
With Sally working at two restaurants in this book, there are so many delicious dishes mentioned! It made me want to visit Santa Cruz and track down both Solari's and Gauguin… if they really existed. Fortunately, Ms. Karst has included a few recipes at the back of the book. All sound exceptional and since the author graduated from culinary school, you can count on them being delicious. Ms. Karst has graciously allowed me to share her recipe for Tagliarini Pasta with Brown Butter, Sage, and Porcini Mushrooms. Butter, cheese, sage and mushrooms don't seem like many ingredients, yet they combine to create an amazing delicious pasta dish! The earthiness of the mushrooms and sage are complemented by the richness of the butter and Parmesan. I found some gluten-free tagliatelle pasta and I'll admit I was a bit worried there wouldn't be any pasta left over for me to photograph… once I started eating, I really didn't want to stop! I also couldn't find porcini mushrooms. I'm going to keep my eyes open at my local farmers' market and snatch them up and make this dish again. In the meantime, supermarket cremini mushrooms worked well.
*According to Artists Network "Plein air painting is about leaving the four walls of your studio behind and experiencing painting and drawing in the landscape. The practice goes back for centuries but was truly made into an art form by the French Impressionists."
Amazon Synopsis
It's early autumn in Santa Cruz and restaurateur Sally Solari decides an open-air painting class is the perfect way for her to learn more about Paul Gauguin, the inspiration for her the restaurant she has recently inherited. But the beauty of the Monterey Bay coastline is shattered when Sally's dog Buster sniffs out a corpse tangled up in kelp.
The body is identified as Gino, a local fisherman and a regular at the Solaris' until he disappeared after dining there a few nights before. Witnesses claim he left reeling drunk, but his waitress swears the old man only had two beers with his meal. And then the fingers begin to point at Sally's dad for negligently allowing an inebriated customer to walk home alone at night.
From a long menu of suspects, including a cast of colorful characters who frequent the historic Santa Cruz fisherman's wharf, Sally must serve up the tall order of clearing her father's name in Death al Fresco, Leslie Karst's third delectable Sally Solari mystery.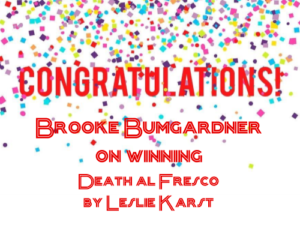 A special thank you to Crooked Lane Books for providing one lucky winner a hardcover copy of DEATH AL FRESCO! Contest ends Thursday, March 22, 2018 at 11:59 pm PST and is limited to U.S. residents only. Please use the Rafflecopter box located below the recipe to enter. The winner will be announced on this page and on Cinnamon & Sugar's Facebook page, as well as notified by email (so check your spam folder!)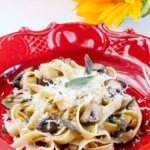 Tagliarini with Brown Butter, Sage, and Porcini Mushrooms
Tagliarini is an egg pasta from Northern Italy, similar to its wider and more famous cousin, tagliatelle (the name comes from the verb tagliare, to cut). These thin, flat ribbons are often served with butter and truffles, but Mario prefers the earthy notes supplied by porcini mushrooms and sage. If you can't find tagliarini, feel free to substitute tagliatelle or fettuccine.
Note that unlike many other pastas, tagliarini cooks extremely quickly - in three or four minutes for dried, one or two minutes for fresh.
Porcini means "little pigs" in Italian and is their name for the sumptuous mushrooms known as the "king bolete" in the U.S. and as cèpes in France. You can substitute dried porcini for this recipe (soak them in boiling water for twenty minutes before using), or use cremini- those small, brown button mushrooms - if you can't find porcini.
Ingredients
1/4

pound

(1 stick) butter

2

tablespoons

olive oil

1

pound

porcini mushrooms, sliced

1/2

cup

sage leaves, coarsely chopped if large (plus extra for garnish)

1

pound

tagliarini pasta

1

tablespoon

salt

1

cup

grated Parmesan or Pecorino cheese

freshly ground black pepper to taste
Instructions
Melt the butter in a thick-bottomed pan over low heat. Continue cooking, stirring frequently to prevent burning, until the foam subsides and the butter begins to turn brown - about 5 minutes. (Watch carefully, as it can burn quickly.)

Add the sage leaves and stir, and continue to cook another five minutes or so. Once the butter starts to release a nutty aroma and the sage becomes crisp, the sauce is done. Take the pan off the heat and set aside.

In a separate large frying pan, heat half the olive oil over medium heat and, when shimmering, add half the mushrooms. Spread them out in one layer and let sit without stirring until they turn a golden brown. Then stir and cook another minute or two, till cooked through. Remove with a slotted spoon to a bowl and repeat with the rest of the oil and mushrooms. Return the cooked mushrooms to the pan and set aside. (The brown butter/sage and the mushrooms can be prepared up to several hours in advance.)

Bring a large (at least 4 quart) pot of water to a boil.

Add the tagliarini and salt to the boiling water, and cook over high heat until al dente (still slightly firm in the center, 3 - 4 minutes if dried), stirring occasionally to prevent sticking. (If using dried fettuccine, it will take 10 - 12 minutes to cook.)

While the pasta is cooking, reheat the brown butter/sage and the mushrooms over medium heat.

Drain pasta and place into a large serving bowl (without rinsing). Add the brown butter/sage and toss, then add mushrooms and half the cheese and toss again. Add salt to taste.

Serve garnished with the rest of the grated cheese, a few fresh sage leaves, and freshly ground black pepper.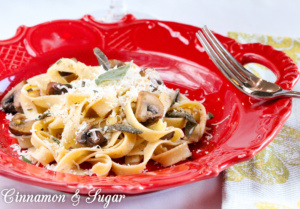 Pin to Pinterest: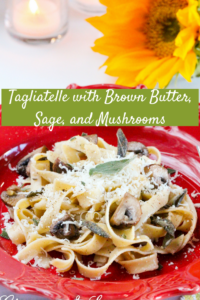 If you receive my blog post via email you will need to visit my website to view the video.
I was provided an advance copy with the hopes I would review. All thoughts and opinions are my own.